20 Top Bagel Shops in NYC to Get Your Shmear On!
The Top 20 Bagel Shops in NYC to Get Your Shmear On!
It's no coincidence that New York City is home to some of the best food around—especially bread-based goodies (like pizza and bagels). Believe us, there's no shortage of NYC restaurants or awesome bagel shops to choose from. In fact, among the cheap restaurants in Times Square, shops, hotels, venues, street vendors, and bagel shops fill all the gaps in between.
Dig In to the Best Bagels in NYC
There's just something about the water, air, skilled bakers and chefs that make this metropolis famous for its bagels. So, where do you go when you're in the mood for a good schmear? We've narrowed down thousands of options to breakdown the top 20 bagel shops in NYC to get you started. Check them out:
1 | Finn's Bagels | Finn's Bagels is the master of the perfect egg-to-cheese ratio when it comes to bagel sandwiches. The staff here is also super friendly, often greeting customers by name, memorizing their regular orders, and chatting about anything and everything. Who could ask for more?
Where: 477 10th Ave, New York, NY 10018 | Who: (212) 273-0700
2 | Bagelsmith | Hand-rolled, freshly baked bagels, unique deli sandwiches, and an impressive selection of cream cheeses are top offerings at this joint. In the mood to spice things up ? Try topping off your favorite bagel with their delicious jalapeño-cheddar cream cheese. Goodies are available 24/7!
Where: 189 Bedford Ave, Brooklyn, NY 11211 | Who: (718) 218-7414
3 | Ess-A-Bagel | Ess-A-Bagel is a renowned cafe serving up the perfect bagel—warm, tender, slightly chewy, and crispy on the outside. They're also noteworthy for their luscious salads, choice deli meats, and an impressive selection of cream cheeses.
Where: 831 3rd Ave, New York, NY 10022 | Who: (212) 980-1010
4 | Absolute Bagels | Here you can get fresh bagels with a side of Thai iced tea from this Thai family-owned and run bakery. This place is well known for its signature "tofutti" aka, a homemade vegan "cream cheese" spread made with garlic and chives.
Where: 2788 Broadway, New York, NY 10025 | Who: (212) 932-2052
5 | David's Bagels | This little gem is an East Village classic, serving up some of the most memorable bagels that you'll be dreaming of long after breakfast. They're also well-known for being a healthy eatery that's had the same friendly owners running the place for the past 25 years.
Where: 273 1st Ave, New York, NY 10003 | Who: (212) 780-2308
6 | Bagel Hole | Hearty deli sandwiches and no-nonsense perfect bagels are what you'll find here. Let's just say, this is where Russ & Daughters gets their bagels from—enough said.
Where: 127 Orchard St, New York, NY 10002 | Who: (212) 475-4881
7 | Best Bagel and Coffee | Hand-rolled and kettle-boiled are the two secrets to creating the best bagel, and that's exactly how bagels are done here. Right on the premises. They also offer deli sandwiches and soups, but we're pretty sure you'll want to go for a fresh bagel.
Where: 225 W 35th St A, New York, NY 10001 | Who: (212) 564-4409
8 | Black Seed Bagels | Hear us out: Montreal-style bagels, boiled in honey and baked in a wood-burning stove. That's it. You can thank us later.
Where: 176 First Avenue, New York, NY 10009 | Who: 646.915.1500
9 | Murray's Bagels | Some of the finest bagels in Greenwich Village exist at Murray's. Be prepared for the old-school way of eating a bagel with cream cheese, which is fresh out of the oven. Although, they've recently begun allowing customers to toast their bagels too.
Where: 500 6th Ave, New York, NY 10011 | Who: (212) 462-2830
10 | Utopia Bagels | This bagel shop in Queens is 100% worth the subway commute. Their salt bagel is legendary, as are all the other bagel options and fixings you'll come across here.
Where: 1909 Utopia Pkwy, Queens, NY 11357 | Who: (718) 352-2586
11 | Bagel Pub | You won't just find the perfect "vehicle" for your schmear, lox, and capers. You can also get fresh smoothies and quite a few unique brunch items from this Park Slope joint.
Where: 313 36th St, Brooklyn, NY 11232 | Who: (929) 276-3266
12 | Tompkins Square Bagels | Feed your need for cheese with the Tompkins Square mac-n-cheese bagel. You can order normal bagels and breakfast stuff here too, but why not turn breakfast into an adventure? They've also got some one-of-a-kind deli sandwiches too for the late risers.
Where: 165 Avenue A. New York, NY 10009 | Who: (646)-351-6520
13 | Bo's Bagels | Bo's Bagels is the hot bagel lovechild of a Harlem couple that couldn't find any decent bagels in their neighborhood. All of their bagels and spreads are homemade, and the shop itself is a great place to sit down and enjoy yourself.
Where: 235 W 116th St, New York, NY 10026 | Who: (917) 902-8345
14 | Brooklyn Bagel & Coffee Company | This place is the king of bagel and schmear combos, meaning that the options are virtually endless. We'd suggest starting out with the bacon and scallion cream cheese on your favorite type of bagel so you don't hold up the line.
Where: 63 E 8th St. New York, NY 10003 | Who: (212)-477-3070
15 | H&H Midtown Bagels East | The bagels at H&H Midtown East are LEGENDARY and have been since 1972. This is mostly thanks to the high-quality and natural ingredients used to bake fresh bagels daily. Either way, they're so legendary that they are shipped nationwide!
Where: 1551 2nd Ave, New York, NY 10028 | Who: (212) 734-7441
16 | Zabar's | Zabar's is arguably NYC's worst-kept secret. They also ship nationwide and get their cream cheese from a *secret* supplier. Let's just say, Zabar to New Yorkers is like water to fish in that the city lives on these bagels and other goods.
Where: 2245 Broadway, New York, NY 10024 | Who: (212) 787-2000
17 | Leo's Bagels | Leo's is a staple breakfast and lunch spot in the financial district. It's not fancy, but then again, when you're serving up the best bacon, egg, and cheese bagel sandwiches in town, you don't need to be fancy.
Where: 3 Hanover Square, New York, NY 10004 | Who: (212) 785-4700
18 | Bagel Buffet | Fresh bagels and breakfast all day, great value, and tacos? Yup. It's got buffet in the name for a reason. Check it out and see for yourself!
Where: 510 6th Ave, New York, NY 10011 | Who: (212) 924-8911
19 | Davidovich Bakery | Let's just say the bakers here are wizards. Everything from their regular loaves of bread to their bagels, breakfast pastries and desserts is an artisan treat. So, stop in and order everything.
Where: 88 Essex St, New York, NY 10002 | Who: (212) 391-2870
20 | Bagels & Schmear | No frills—just exceptional bagels, spreads, breakfast sandwich options, and more. This place is probably the most underrated yet best bagel spot in the city.
Where: 114 E 28th St, New York, NY 10016 | Who: (212) 725-7873
Use Our Handy Map to Find Your Way Around!
Don't Leave NYC Without Having a Bagel
Out of all the NYC restaurants you'll encounter, you'd be hard-pressed not to find a bagel spot you'll remember for the rest of your life.
And bagels are just the start—there's so much food to be eaten, historic bars to drink from that you're going to have to make several trips back to the city just to put a dent in your foodie bucket list.

RELATED ARTICLE: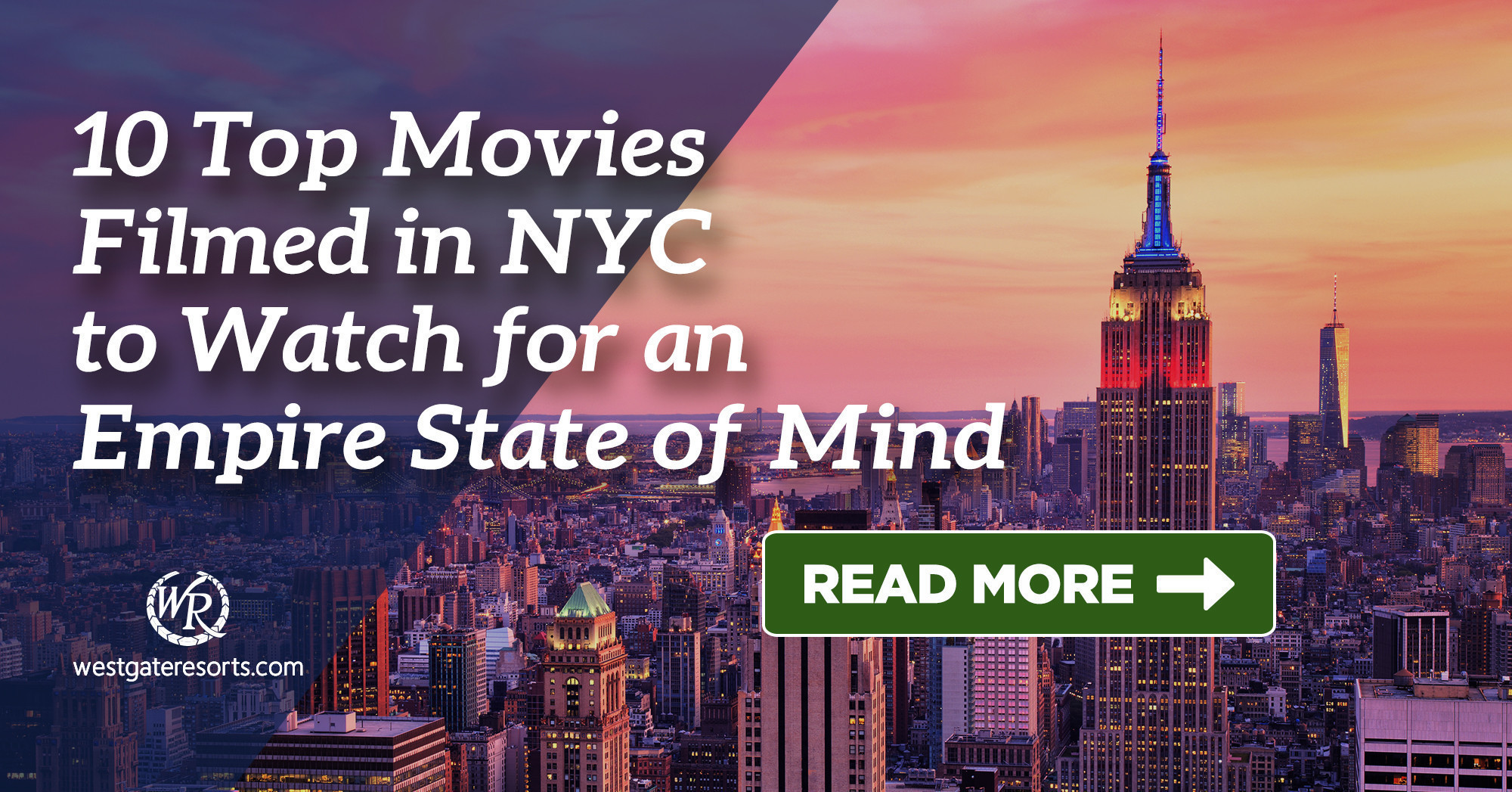 At Westgate Resorts, when you Check-In, there's a LOT to Check-Out! Your New York City vacation awaits! Explore our New York City hotel today or talk with a vacation planner at 888-852-2959 or 407-355-2690.
* Westgate Resorts is in no way affiliated with the attractions featured in this article. Items or places listed are current as of the publishing date of this article. Please call or visit the respective website for the most up-to-date offerings and details.
When You Check-in, There's a Lot to Check Out
Sign up for our newsletter and check-in to great offers, secret stuff, and special events.