10 Historical Landmarks in NYC You Have to See at Least Once
10 Historical Landmarks in NYC You Have to See
As one of the oldest cities in America, there is no shortage of things to do in NYC. Take for instance the area surrounding Westgate New York Grand Central conveniently located in Tudor City in Midtown Manhattan. Just steps away are the United Nations, Tudor City Greens, a plethora of historic bars and the transportation hub that is Grand Central Station which connects you to all of the exciting things to do outside NYC.
Best Historic Landmarks in NYC
But there's also another side to NYC - its long, loud and proud history! Did you know that New York City served as the nation's capital from 1785 to 1790? During this time, the Founding Fathers were laying the groundwork and setting up important government offices here, including the first Congress, Supreme Court, and Executive Branch offices. As more and more working class Americans came to NYC, more and more iconic landmarks of the city were constructed, many of which we still enjoy today!
History buffs rejoice! Keep reading and let's take a journey to the 10 Historical Landmarks in NYC You Have to See!
1 | Federal Hall | Come walk the halls of the site where George Washington took the oath of office as our nation's first president! Federal Hall National Memorial, located on Wall Street, was also home to the first Congress and first Supreme Court. One of the most interesting exhibits on site is the Washington Inaugural Gallery, where you can see the very bible that Washington used to swear in as president, as well as a stone slab from the balcony he stood on that day in April 1789. While the building was first constructed in the early 18th century to serve as City Hall, the current standing structure opened in 1842 as a Customs House. It has also served as the nation's Sub-Treasury, housing millions of dollars of gold and silver in the basement vaults.
WHERE: 26 Wall St, New York, NY 10005 | WHO: 212-825-6990
2 | Grand Central Station | As New York City grew throughout the 1800s, it needed a transportation hub fitting for the bustling city bursting at the seams with culture, industry and innovation. The grandeur of Grand Central Terminal became the perfect landmark to welcome long-distance railroad travelers to the city. Today, expertly restored back to its 1913 splendor, you can find over 20 restaurants, cocktail lounges, and casual eateries throughout the concourse, in addition to 50 specialty shops and transportation options to get you all around Manhattan and the boroughs beyond. Taking in all the sites in the city is going to take a few days – but you're in luck! Westgate New York Grand Central, in historic Tudor City, is located just steps from Grand Central Station. This landmark hotel, previously known as Hotel Tudor, just completed a $20 million renovation that is the perfect mix of historic touches and modern luxuries to ensure your comfort after a long day of exploration and sightseeing.
WHERE: 89 E 42nd St, New York, NY 10017 | WHO: 212-340-2583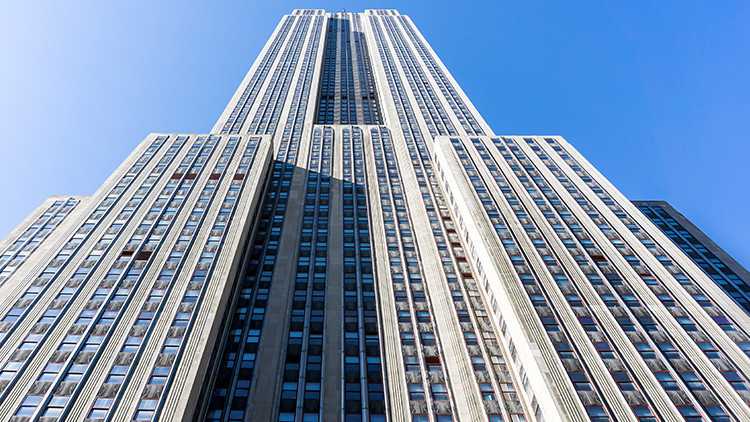 3 | Empire State Building | This art deco skyscraper is one of the most recognizable buildings in NYC and around the world! It was the world's tallest building from its completion in 1931 until the opening of the World Trade Center in 1970. The 102-story building hosts two popular observation decks, providing unobstructed city views to millions of visitors per year, and has been featured in many movies and instances of pop culture – from King Kong to Sleepless in Seattle. No trip to New York is complete with a stop to the Empire State Building. This year is the perfect time to visit – the iconic landmark is celebrating 90 years!
WHERE: 20 W 34th St, New York, NY 10001 | WHO: 212-736-3100
4 | Fraunces Tavern | Raise a glass to freedom! Among the oldest of New York's most historic bars, Fraunces Tavern is a must-visit for history buffs in Manhattan as it was once a very popular meeting spot for some of America's Founding Fathers! In December of 1783, at the conclusion of the Revolutionary War, George Washington stood in Fraunces Tavern as he gave an emotional farewell address to a group of his officers – announcing that the last of the British troops had departed and it was time to return home. The building was constructed in 1719 and throughout its history has served as a private residence, hotel, and tavern. Today, you can stop by this staple of the Financial District for a pint or visit the museum to learn all about the building's long and captivating past.
WHERE: 54 Pearl Street, New York, NY 10004 | WHO: 212-968-1776
5 | The Metropolitan Museum of Art | Block out an entire day to explore this expansive art gallery – it's the largest art museum in the country! The location on Fifth Avenue opened in 1872 and houses over 2 million pieces in the permanent collection. Some of the most famous pieces housed in The Met include "Washington Crossing the Delaware" by Emanuel Leutze, "Bridge Over a Pond of Water Lilies" by Claude Monet, "The Dance Class" by Edgar Degas, as well as other brilliant and recognizable works of art by Vincent van Gough, Georgia O'Keefe, Rembrandt, Jackson Pollack, Raphael, and many more. In addition to these masterful paintings, you'll also find sculptures and holdings of African, Asian, Oceanian, Byzantine, and Islamic Art. One of the most popular exhibits within their Egyptian Collection? The ancient Temple of Dendur, built in Egypt around 15 BC!
WHERE: 1000 5th Ave, New York, NY 10028 | WHO: 212-535-7710
6 | Brooklyn Bridge | A fantastic spot for photography in the city, the Brooklyn Bridge is as historic as it is Instagram-able! The bridge between the boroughs first opened in 1883 and was the longest suspension bridge in the world at the time. It is over 6,000 feet in length and its Gothic Revival suspension towers with pointed arches are instantly recognizable. With paths for both motor vehicles, bicycles, and pedestrians, all are welcome to make the 1.1 mile trek, stopping along the way to admire the magnificent Manhattan skyline in the distance.
WHERE: Brooklyn Bridge, New York, NY 10038 | WHO: N/A
7 | Trinity Church | Located at the intersection of Wall Street and Broadway in the Financial District of Lower Manhattan, Trinity Church is a stunning example of Gothic Revival style architecture. The church is steeped in history – it is said that George Washington visited the church to pray after his inauguration as President in 1789. Today, one of the main draws for visitors to the parish is its adjacent cemetery, the resting place for several notable historical figures, including Alexander Hamilton and his wife Eliza and her sister Angelica. In recent years, the cemetery has become a bit of a place of pilgrimage for fans of the hit musical Hamilton, who visit the site and often leave coins or small American flags on the Founding Fathers grave. The churchyard is also home to the oldest carved gravestone in New York City – belonging to Richard Churcher, a young child who was laid to rest there in 1681.
WHERE: 89 Broadway, New York, NY 10006 | WHO: 212-602-0800
8 | Tenement Museum | Unlike the other museums in Manhattan, the Tenement Museum blends in with the other residential buildings on the Lower East Side – because it once was one! Discovered in 1988 after being abandoned for more than 50 years, this tenement building housed thousands of immigrant families between 1860 and 1930. Today, it serves as an incredibly tangible reminder of their way of life and of the people that helped shape New York City into the cultural mecca it is today. Take a tour of the restored tenement building as you hear stories about the people who once called the building home.
WHERE: 103 Orchard St, New York, NY 10002 | WHO: 1-877-975-3786
9 | National 9/11 Memorial & Museum | A thoughtfully curated memorial and museum to one of the darkest days in history, the National 9/11 Memorial & Museum contains many artifacts, photos, and personal stories from first responders, survivors, and families members of the nearly 3,000 victims from the Twin Towers, Pentagon, and Somerset County, Pennsylvania. Spend the morning walking around the memorial, two massive reflecting ponds where the towers once stood, taking in the sounds of the running water from the largest man-made waterfalls in North America and reading the names inscribed on the memorial. You may notice a white rose placed near a name – those are put down to honor victims on their birthday. Inside the museum, which will take a few hours to go though, you'll find historic remnants from the World Trade Center site, including plane parts, mangled steel beams, and what became known as the Survivors' Stairs – a staircase that survived the impact of the building's collapse and provided an exit for hundreds of survivors who fled the building. A truly somber and moving experience, this museum should not be missed on your trip to NYC.
WHERE: 180 Greenwich St, New York, NY 10007 | WHO: 212-312-8800
10 | Statue of Liberty & Eilis Island | Since being gifted to the United State by France in 1886, the Statue of Liberty has cemented its status as the ultimate symbol of New York City. Built by the same architect who constructed the Eiffel Tower, the statue is visited by millions annually and has largely become a symbol of American freedom and pride. After exploring the grounds of Liberty Island, hop aboard a ferry and make your way to nearby Ellis Island, the port where over 12 million immigrants in the 1890s and 1900s were processed and welcomed to America. Many Americans today can visit Ellis Island to retrace their family's history – a true symbol of the American Dream!
WHERE: 17 Battery Place #232 New York, NY 10004-3507 | WHO: 212-561-4588

Use Our Handy Map To Help Navigate Your Way Through History
Bottom Line
New York City is known for its arts, culture, food, people, and of course – its history. Learning about the way the city once was will give you a newfound appreciation for how it is today. Tackle the city on your own, with your friends, or with your entire family. So much has happened here, it would take a lifetime of visits to take in all the historical sites of this vibrant city!
What better place to stay for your adventure than in a historic NYC hotel? Westgate New York Grand Central is the premier spot to stay in Midtown Manhattan, putting you smack dab in the center of the action with luxurious and spacious guestrooms and suites.

RELATED ARTICLE:
At Westgate Resorts, when you Check-In, there's a LOT to Check-Out! Your New York City vacation awaits! Explore our New York City hotel today or talk with a vacation planner at 888-852-2959 or 407-355-2690.
* Westgate Resorts is in no way affiliated with the attractions featured in this article. Items or places listed are current as of the publishing date of this article. Please call or visit the respective website for the most up-to-date offerings and details.
When You Check-in, There's a Lot to Check Out
Sign up for our newsletter and check-in to great offers, secret stuff, and special events.