10 Reasons to Host Your Family Reunion in Kissimmee, Florida!
10 Reasons to Host Your Family Reunion in Kissimmee!
When deciding on a destination to host your family reunion, put Kissimmee at the top of your list! This world-class spot is the ideal place to host your distant relatives and keep them entertained around the clock.
Florida family reunions are wonderfully fun with so much entertainment planned to keep everyone busy and happy to be together, and with Kissimmee so close to Orlando, the Theme Park Capital of the World, there are tons of things to do even outside of Disney World. In fact, you may be surprised to know about all the awesome happenings - from the Kissimmee nightlife to what goes on in the more adventurous parts of the city, keep reading this article to see why Kissimmee is a great spot to host your family reunion.
Family Reunions in Kissimmee
From amusement parks to helicopter tours, there is almost a limitless source of fun activities to be had by you and your family in Kissimmee, Florida. As if the entertainment wasn't enough, there are also many Orlando hotels that offer fantastic group packages to help save you money. With this guide, you can start planning out your next family reunion to see what it could be like.


1 | Westgate Resorts | As you plan your reunion, we highly recommend that you consider hosting your gathering at our family-friendly, Westgate Kissimmee hotel. In fact, we have three resorts, Westgate Town Center, Westgate Towers and Westgate Vacation Villas that are perfect in any order. Here you can expect spacious accommodations with the comforts of home, a bevy of restaurants, an onsite water park (there's even a lazy river and pool bar) and so many resort activities to keep everyone entertained, venturing into the city for fun will be an afterthought. To top it all off, the great group rates and accommodation with large spaces are like icing on the cake!
WHERE: 7700 Westgate Boulevard, Kissimmee, FL 34747 | WHO: 407-396-2500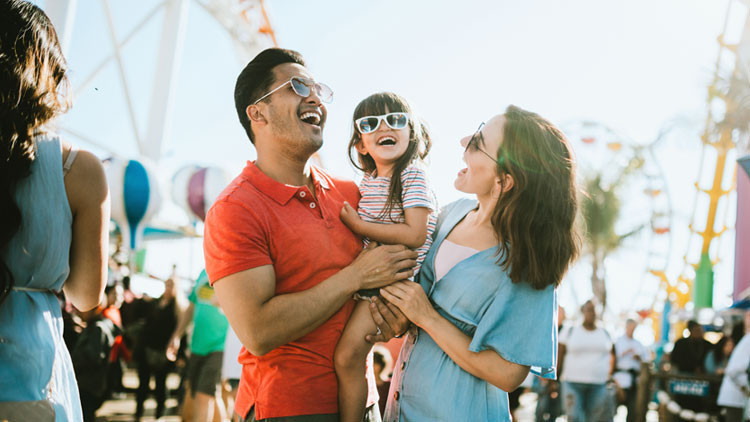 2 | Great Spots for Amusement Parks | Before we get on to anything else on the list, we need to point out the obvious reason for hosting your reunion in Kissimmee, Florida: Theme parks! From Universal Orlando to Walt Disney World, Florida is home to many of the biggest theme parks in the country. What's great is that many of these parks such as Legoland, Silver Springs and Race City are also located near to Kissimmee.
Theme parks are a definite choice for anyone looking to organize a big family reunion. You can get the kids involved and keep them engaged with many activities that happen within the park. There's also plenty of fun for grown ups too. If you're looking to unwind a little, there's Disney World's House of Blues and City Walk in Universal Orlando. Even then, there remains more to see, such as Westgate Resorts' water park for fun under the sun and a trip around the lazy river!
WHERE: 6000 Universal Blvd, Orlando, FL 32819 | WHO: 407-363-8000
3 | Perfect for Outdoor Enthusiasts | There are so many things to do in Kissimmee! While the kids and young adults get to play around in theme parks, some of the milder dispositioned family members may want to wind down their way with fishing, cruising and sunbathing. For these quiet-time lovers, we recommend Brinson Park, situated right by Neptune Road, for a good time to sit down and possibly enjoy some afternoon picnics.
Family members with pets can also visit Partin Triangle Park, a bit further south on Neptune Road, by St. Cloud to enjoy a nice and simple playground setup with pet-friendly amenities and access to the nearby East Lake Tohopekaliga, where you can enjoy some good bass fishing alongside your furry companion.
WHERE: 406 Neptune Rd, Kissimmee, FL 34744 | WHO: 407-518-2501
4 | Ideal for Vintage Attractions | There are bound to be family members who are into the more bizarre and unique aspects of entertainment. For these types of family members, Kissimmee offers many more eccentric things to do that you won't just stumble upon anywhere else. Old Town, off Irlo Bronson Memorial Highway, offers a fun little trip to learn about the history of different automobiles presented in colourful and exciting ways. Although technically an amusement park, we wanted to give this particular spot a shoutout for its commitment to old-timey attractions and vintage aesthetics.
For the even more unique, interested families can dine in Kissimmee's Medieval Times Dinner on Vine Street to see full re-enactments of renaissance-era events like jousting and theatre, while devouring period-inspired grub.
WHERE: 4510 W Vine St, Kissimmee, FL 34746 | WHO: 866-935-6878
5 | Visit Military Museums & Monuments | Sometimes family reunions can also be used as a way to honor the men and women who have so bravely served our country, as well as to explore the history of our nation through the different lenses that the armed services have.
Military enthusiasts and curious history junkies in the family can explore Kissimmee's Museum of Military History, which offers up some interesting exhibits and dioramas about the vehicles, armaments and important events that occurred during America's wartime past.
WHERE: 5210 W Irlo Bronson Memorial Hwy, Kissimmee, FL 34746 | WHO: 407-507-3894
6 | Appreciate Art History | Kissimmee also offers more perspectives into history beyond those that were challenged through battle. The city also includes the Osceola County Welcome Center and History Museum, which showcases many historical exhibits that best paint the rich cultural background of the town while providing an interactive experience for the entire family.
Osceola Arts in Kissimmee, Florida, is a great destination for family members who enjoy seeing both traditional and contemporary art brought to life. Whether it's art exhibits, live performances or children's theatre, the locations and culturally significant galleries and museums can be great tools to keep education going even when on a family reunion vacation.
WHERE: 2411 E Irlo Bronson Memorial Hwy, Kissimmee, FL 34744 | WHO: 407-846-6257
7 | Showstopping Arenas | Family is best to have around when watching something truly spectacular and Westgate River Ranch (in nearby Lake Wales) is a great place for rodeo fans to watch professional performers in a heck of a show. Expect to also see real-life cowboys saddle up for trick riding, barrel racing, and bull riding in the 1,200-seat rodeo every Saturday night. This is family entertainment that everyone will love!
WHERE: 3200 River Ranch Boulevard, River Ranch, FL 33867 | WHO: 863-692-1321
8 | Get Moving with Sports Activities | A family reunion list for Kissimmee, Florida, wouldn't be complete for the dads without a mention of the many great golfing ranges and courses. Family patriarchs can hop on down to the Remington Golf Club to enjoy a few swings near East Toho Lake or visit Oaks National Golf Club for the full golf experience.
Don't leave the rest of the family out of the fun, as eager golf fans can also enjoy mini-golf ranges around Kissimmee, such as Congo River Golf or Pirate's Cove. Non-golf enthusiasts can join in on the sports action by skating around the Ice Factory, on Partin Settlement Road, or catching a baseball game at Osceola County stadium. Whatever you and your family might enjoy as a sports pastime, Kissimmee is likely to have you covered.
WHERE: 2995 Remington Blvd, Kissimmee, FL 34744 | WHO: 407-344-4004
9 | Take a Swamp Boat Ride | For the more nature-inclined families, the many different rivers, marshes and lakes can offer up a great way to get your feet wet. See the sights with a quick water adventure through Kissimmee's many different water-based tours. Those looking for something slow-paced can visit The Paddling Center at Shingle Creek for some scenic views of the surrounding marshland alongside many of the peaceful wildlife moving around the water.
Those looking for a bit more speed can either try Marsh Landing Adventures or the Spirit of the Swamp Airboat rides, both with expert tour guides who can bring you around all the different nooks and crannies that Kissimmee has to offer.
WHERE: 2830 Neptune Rd, Kissimmee, FL 34744 | WHO: 407-572-3561
10 | The Kissimmee Nightlife | If you're wondering what to do in Kissimmee Florida when your family gathers for that wonderfully planned reunion, there are plenty of options available at night and day!
Kissimmee offers plenty of tourist spots for sightseeing, family friendly restaurants - and an exciting nightlife. One highly recommended spot - The Chateau Bar Lounge & Nightclub, just a short drive away from the Kissimmee airport is perfect for families looking to celebrate a big occasion or unwind with some food and cocktails.
WHERE: 4636 W Irlo Bronson Memorial Hwy I, Kissimmee, FL 34746 | WHO: 407-507-0272
BONUS | Take to the Skies | While there are many amusement parks in Kissimmee that can take you to new heights through the many attractions and rides available, there are also helicopter tours and hot air balloon rides to give you and your family a truly unique view of the skyline above the city. Try Maverick Balloon Adventures for tours in the Kissimmee, Davenport and Clermont areas.
WHERE: Publix Super Market Parking Lot at Summer Bay 17445 US Highway 192, Clermont, FL 34714 | WHO: 407-786-7473
Use Our Handy Map to Find Your Way Around!
Even More Activities Beyond What We Just Mentioned
Despite talking about almost a dozen different places to visit for your family reunion in Kissimmee, there still remains a handful of things to do in Kissimmee, Florida.
Whatever you end up doing, we're sure you and your family are bound to stumble upon something new and exciting. To learn more about things to do in Kissimmee and across Central Florida, visit the Westgate Resorts Blog.

RELATED ARTICLE:
At Westgate Resorts, when you Check-In, there's a LOT to Check-Out! Your vacation awaits! Start planning your next vacation today or talk with a vacation planner at 888-852-2959 or 407-355-2690.
* Westgate Resorts is in no way affiliated with the attractions featured in this article. Items or places listed are current as of the publishing date of this article. Please call or visit the respective website for the most up-to-date offerings and details.
When You Check-in, There's a Lot to Check Out
Sign up for our newsletter and check-in to great offers, secret stuff, and special events.