15 Things to do in Kissimmee Florida That Have Nothing to do With Disney
15 Things To Do in Kissimmee Florida That Have Nothing To Do with Disney
"When all else fails, take a vacation." – Betty Williams
Beyond all the best things to do in Orlando you can shake a stick at, there are also limitless things to do in Kissimmee! And yes, make no mistake about it, Walt Disney World Resort is truly "The Most Magical Place on Earth," but there are certain times during your Central Florida vacation getaway when you simply need to avoid theme park burnout and take a much-needed break from the unbelievably long lines, obnoxious fellow tourists, whining kids, overpriced souvenirs, ride breakdowns, designated photo spots and Stitch's Great Escape (named by Travel + Leisure as the absolute worst attraction at Disney World, by the way!). Fortunately, Kissimmee, Florida – the "Gateway to Walt Disney World" – offers a multitude of Disney-free vacation experiences ranging from multi-level go-kart tracks and jungle-themed mini golf to thrilling outdoor obstacle courses, exhilarating airboat rides and some of the most scenic hiking trails in Central Florida – and everything in between! Keep reading these 15 things to do in Kissimmee, Florida, that have nothing to do with Disney. Also check out 12 free things to do in Kissimmee listed on our Travel Blog!

1 | Fun Spot America Kissimmee | Ideally located adjacent to Old Town (see No. 2), Fun Spot America Kissimmee offers fun for all ages with such thrilling attractions as the SkyCoaster (at 300 feet, the tallest Skycoaster in the world), Mine Blower Coaster (the only wooden coaster in the state to go upside down), Vortex Go-Kart Track (featuring the world's steepest banking curves at 32 degrees) Head Rush 360, Galaxy Spin and Hot Seat, among others. By the way, a second Fun Spot America location can be found just off world-famous International Drive at 5700 Fun Spot Way in Orlando.
WHERE: 2850 Florida Plaza Boulevard, Kissimmee, FL 34746 | WHO: (407) 363-3867
2 | Old Town | For "classic American fun," nothing beats a visit to 18-acre Old Town Kissimmee, the re-creation of a classic Florida town in Kissimmee that features more than 70 eclectic specialty shops (including Skully's Rock 'N Roll Experience, Groovy Store and Tiki Jim's) and popular eateries and bars like Frogger's, El Borrego and Sun on the Beach. Other highlights of Old Town include plenty of family-friendly hotels, attractions and rides such as a massive Ferris Wheel, Happy Days Family Fun Center, Rootin & Tootin's Shooting Gallery, The Great Magic Hall and Mortem Manor Haunted Attraction. Classic car lovers will not want to miss the weekly Saturday Nite Classic Cruise starting at 8:30 PM.
WHERE: 5770 W. Irlo Bronson Memorial Highway, Kissimmee, FL 34746 | WHO: (407) 396-4888
3 | Shingle Creek Regional Park – Steffee Landing | Just off the busy tourist corridor of U.S. 192 in Kissimmee lies a beautiful natural wildlife sanctuary at the headwaters of the Florida Everglades where visitors can hike, bike, fish, picnic, and rent kayaks and canoes or arrange guided tours at The Paddling Center at Shingle Creek, as well as view the restored 1890 Shingle Creek Cabin and 1920 Caretaker House. Oh yeah, be on the lookout for the friendly white squirrel that calls Steffee Landing its home! If you're into the great outdoors, Steffee Landing is one of the most enjoyable Florida day trips you can shake a stick at in the Kissimmee area!
WHERE: 4266 W. Vine Street, Kissimmee, FL 34741 | WHO: (407) 344-0881
4 | Mighty Jungle Golf | Seeking a "new, wild and exotic experience" in Central Florida that has absolutely nothing to do with the Gorilla Falls Exploration Trail at Disney's Animal Kingdom? Your next best bet is Kissimmee's Mighty Jungle Golf, which consists of two renovated 18-hole miniature golf courses known as Bwindi Impenetrable Forest and Plains of the Serengeti. Voted "Best Mini Golf" by the Orlando Weekly, Mighty Jungle Golf also offers a shaded picnic area on the premises.
WHERE: 7836 W. Irlo Bronson Memorial Highway, Kissimmee, FL 34747 | WHO: (407) 390-6453
5 | Orlando Tree Trek Adventure Park | Don't let the name fool you – the Orlando Tree Trek Adventure is an amazing outdoor aerial obstacle course for all skill levels located right here in Kissimmee! Highlights of the Orlando Tree Trek adventure course include hanging nets, suspended bridges, swinging logs, hanging skateboards, Tarzan ropes, and of course, a pair of thrilling 425-foot-long giant zip lines.
WHERE: 7625 Sinclair Road, Kissimmee, FL 34747 | WHO: (407) 390-9999
6 | Lazy H Ranch | Enjoy horseback riding trail rides across the Kissimmee Valley near the shores of scenic Lake Tohopekaliga (AKA Lake Toho) at Lazy H Ranch in Kissimmee. During the guided horseback rides, you also will hear fascinating tales of legendary Florida cowboys and cattlemen (AKA "Florida crackers"). Reservations are required and the minimum age requirement for horseback riding at Lazy H Ranch is 8 years old.
WHERE: 2120 Macy Island Road, Kissimmee, FL 34744 | WHO: (407) 414-3113
7 | Kissimmee Lakefront Park | A scenic waterfront park in Kissimmee nestled on the north shore of Lake Toho, Kissimmee Lakefront Park offers a multitude of outdoor recreational opportunities such as walking trails, fishing piers and viewing decks, shaded playground, splash area, Big Toho Marina, boat ramps and picnic pavilions. Kissimmee Lakefront Park is also known for its great birdwatching opportunities (it is listed on the Great Florida Birding Trail). Keep an eye out for Wood Storks, Fulvous Whistling-Ducks, Snail Kites, Limpkins, Boat-tailed Grackles, Snowy Egrets, Purple Martins, Bald Eagles, Ospreys and others.
WHERE: 201 Lakeview Drive, Kissimmee, FL 34741 | WHO: (407) 518-2501
8 | Florida Orange World | Driving down U.S. 192, you simply can't miss Florida Orange World – it's actually shaped like the top half of a huge orange! Billed as "The World's Largest Orange Store," the family-owned Florida Orange World in Kissimmee offers delicious oranges and other citrus fruits from the Indian River region of Florida for sale, as well as a variety of Florida-inspired souvenirs such as T-shirts, travel mugs, hats and much more.
WHERE: 5395 W. Irlo Bronson Memorial Highway, Kissimmee, FL 34746 | WHO: (800) 531-3182
9 | Kissimmee Air Museum | Ideally located at the Kissimmee Gateway Airport, this fascinating air museum is home to vintage aircraft from World War II through the Vietnam War. The museum's star attraction is a P-51 XR Mustang, a single-seat bomber. The Kissimmee Air Museum is part of Warbird Adventures, a vintage flight school.
WHERE: 4134 Aviation Drive, Kissimmee, FL 34741 | WHO: (407) 870-7366
10 | Marsh Landing Adventures / Orlando Airboat Tours | Owned and operated by Marsh Landing Adventures, Orlando Airboat Tours in Kissimmee offers thrilling airboat tours aboard state-of-the-art, "stadium-seating" boats that provide unobstructed views of the spectacular wildlife scenery. Choose from one hour, 90 minute, two hour or four hour Wilderness Excursion Airboat Safaris into the headwaters of the Florida Everglades. Advance reservations are required for Orlando Airboat Tours. As a noteworthy alternative, if you're up for a family dude ranch vacation, then you can also catch a world-class airboat ride down at Westgate River Ranch which is sure to surprise and delight both young and old alike!
WHERE: 2830 Neptune Road, Kissimmee, FL 34744 | WHO: (407) 572-3561
11 | Lake Lizzie Conservation Area | Nestled along the Upper Kissimmee Chain of Lakes on Lake Lizzie, Trout Lake and Bay Lake, 1,076-acre Lake Lizzie Conservation Area in neighboring St. Cloud provides great hiking, wildlife viewing, horseback riding and primitive camping opportunities just east of U.S. 192. Wildlife that makes its home here include white-tailed deer, gopher tortoises, wild turkeys, sandhill cranes, limpkins, wood storks, bald eagles and limpkins. In addition, a new 3.5-mile section of the approximately 1,300-mile Florida National Scenic Trail, which stretches from Big Cypress National Preserve in South Florida to Gulf Islands National Seashore on Florida's Panhandle, winds through the Lake Lizzie Conservation Area.
WHERE: 6495 Old Melbourne Highway, St. Cloud, FL 34771 (South Entrance); 6810 Midland Drive, St. Cloud, FL 34771 (North Entrance) | WHO: (407) 742-0200
12 | Central Florida Animal Reserve | One of the largest repositories for tigers in the Sunshine State, the Central Florida Animal Reserve (CFAR) in neighboring St. Cloud is home to more than 20 tigers, lions, cougars and leopards. Operated entirely by volunteers, CFAR recently moved to its new home in East Osceola County near Forever Florida after being located for more than 20 years in Brevard County. CFAR's mottos are: "Compassion. Conservation. Commitment." Take a guided tour of this fascinating big cat and wildlife sanctuary, and learn all about these amazing creatures (be sure to call ahead to reserve a spot).
WHERE: 500 Broussard Road, St. Cloud, FL 34773 | WHO: (321) 637-0110
13 | Museum of Military History | The only military museum in Florida owned by veterans, the Museum of Military History in Kissimmee features incredible exhibits and artifacts from the Civil War and both World Wars to today's conflicts. In addition, the Museum of Military History includes a replica of the Florida Vietnam Wall and an extensive research library, as well as being close in proximity to a variety of military discount hotels in the area!
WHERE: 5210 W. Irlo Bronson Memorial Highway, Kissimmee, FL 34746 | WHO: (407) 407-3894
14 | Machine Gun America | Billed as the area's "Most Thrilling Attraction" and "First and Only Automatic Adrenaline Attraction," Machine Gun America in Kissimmee allows visitors to shoot fully automatic machine guns and "legendary firearms" under the instruction and supervision of NRA Certified Range Safety Instructors in a state-of-the-art facility. For some "big thrills" during your Kissimmee vacation getaway, nothing beats a trip to Machine Gun America!
WHERE: 5825 W. Irlo Bronson Memorial Highway, Kissimmee, FL 34746 | WHO: (407) 278-1800
15 | Reptile World Serpentarium | Founded in 1972 by herpetologist George Van Horn, Reptile World Serpentarium in neighboring St. Cloud houses an admirable collection of more than 80 species of snakes from around the world such as the King Cobra, East African Green Mamba and Black Mamba, as well as several lizard species, tortoises, iguanas and even a Nile Crocodile named Pete! Don't miss a chance to view the immensely popular Venom Extraction Show. Reptile World Serpentarium has been featured on such TV shows as Only in America on the History Channel, Venom Hunters on Discovery Channel and Swamp Thing on USA Network. A gift shop is on the premises.
WHERE: 5705 E. Irlo Bronson Memorial Highway, St. Cloud, FL 34771 | WHO: (407) 892-6905
BONUS | Monument of States | Listed on the National Register of Historic Places, the Monument of States in Kissimmee was conceived by a retired physician and local tourism booster named Dr. Charles W. Bressler-Pettis during World War II to help "inspire American solidarity" in response to the attack on Pearl Harbor on December 7, 1941, and as a local tourist attraction. Constructed entirely through volunteer labor and dedicated in 1943, the 40-foot-tall Monument of States is composed of unique stones from around the country, one from each state (even President Franklin D. Roosevelt even donated a rock from his New York estate in Hyde Park!). By the way, the Monument of States has been a featured selection of both Roadside America and Atlas Obscura, so you know it's worth a look!
WHERE: 300 E. Monument Avenue, Kissimmee, FL 34741 | WHO: N/A
Too Many Things To Do And Not Enough Time? Here's a Handy Map To Guide Your Kissimmee Crawl!
If you're thinking to yourself, "Wow, there's a lot to do in Kissimmee!" ... you're not alone! Truth be told, there might be more attractions in and around Kissimmee proper than in all of Orlando, so make sure you choose wisely! To that end, here's a super-sweet map of these things to do in Kissimmee so you can hit the sights with confidence!
There's Something for Everyone in Kissimmee, Florida!
The adventurous traveler who decides to take a day or two off from the Orlando area theme parks during their Central Florida vacation getaway will find rewarding experiences throughout Kissimmee that will serve as a fun-filled vacation from Disney World before returning to the Magic Kingdom, Epcot, Hollywood Studios and/or Animal Kingdom feeling refreshed and invigorated! Whether you're seeking information on Kissimmee attractions (like these awesome escape rooms near I Drive) or simply the best deals on Kissimmee resorts, make sure to bookmark our informative travel blog as your one-stop source for in-depth Kissimmee vacation information.

RELATED ARTICLE: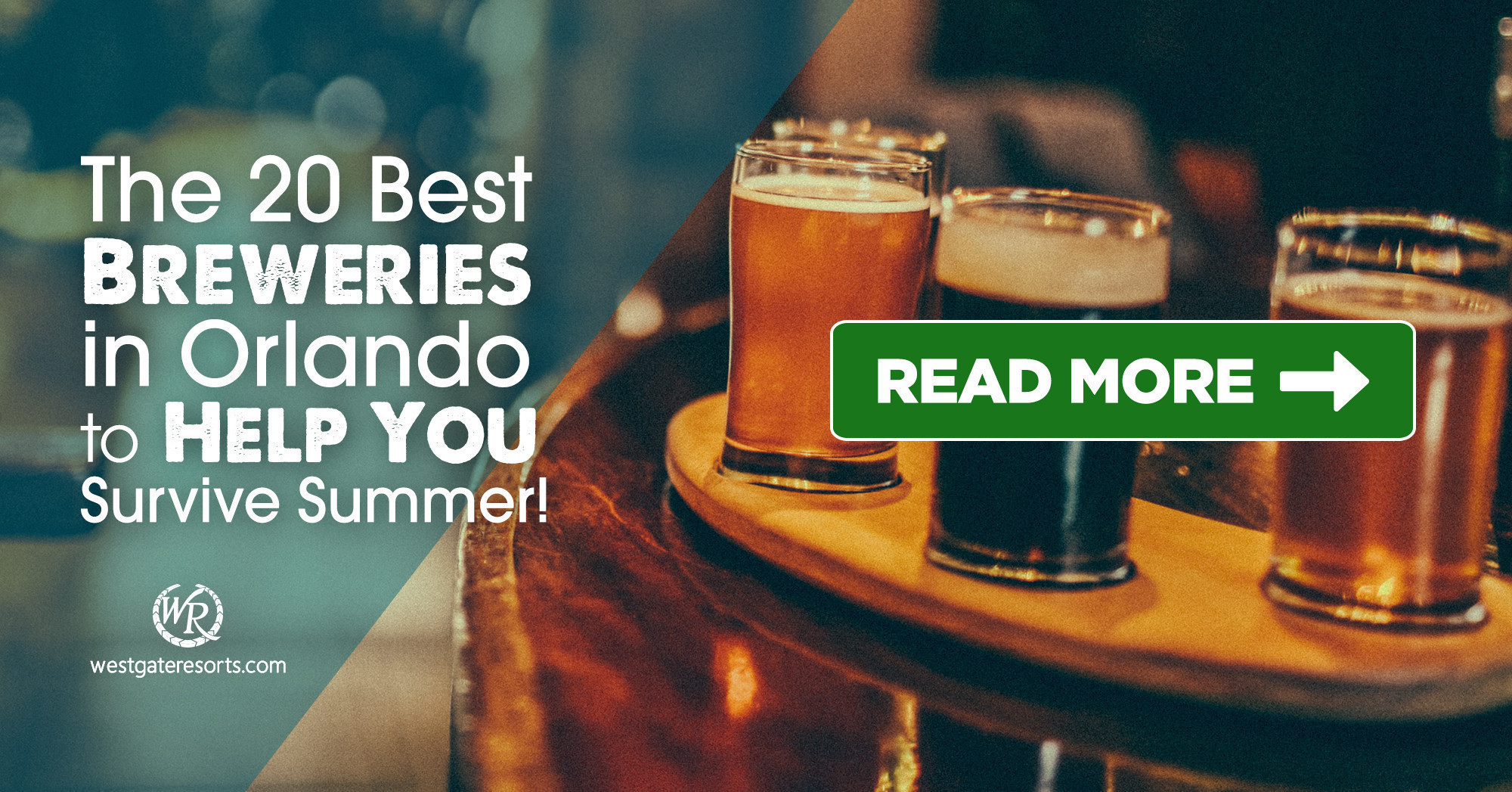 At Westgate Resorts, when you Check-In, there's a LOT to Check-Out! Your Kissimmee vacation rentals await! Explore our Orlando resorts today or talk with a vacation planner at 888-852-2959 or 407-355-2690.
* Westgate Resorts is in no way affiliated with the attractions featured in this article. Items or places listed are current as of the publishing date of this article. Please call or visit the respective website for the most up-to-date offerings and details.
Other tagged pages of interest: orlando hotels near disney, resorts near universal studios orlando, lake buena vista resort, kissimmee resorts, kissimmee hotels, hotels orlando, orlando resorts, resort hotels, staycations
When You Check-in, There's a Lot to Check Out
Sign up for our newsletter and check-in to great offers, secret stuff, and special events.