12 Free Things to do in Kissimmee During Your Stay
12 Free Things to do in Kissimmee During Your Stay
"Favorite people, favorite places, favorite memories of the past. These are the joys of a lifetime, these are the things that last." - Henry van Dyke
When most people think of Florida, images of Walt Disney World, white sand beaches, warm weather, and a plethora of things to do in Orlando are the first enticements that come to mind. But what about things to do in Kissimmee? True, all of these amazing perks make the Sunshine State one of the most traveled destinations in the world and the Orlando-Kissimmee area, America's most visited travel destination1. And, you may think that the price tag to join the party is hefty but enjoying your vacation in the Sunshine State doesn't have to break the bank or orbit around a really, really big castle (as evidenced by our recent guide on things to do in Kissimmee Florida other than Disney). Indeed, they say the best things in life are free – and if you consider alternatives to the theme parks, you will be amazed by the abundance of fun, free and lesser-known attractions in Kissimmee, Florida that offer something for everyone. Keep reading as we dive into these sometimes-under-mentioned free things to do in Kissimmee during your stay.

1 | Shingle Creek Regional Park | Lovers of nature and the great outdoors will love Shingle Creek Park! The minute you arrive, you will be awestruck by this urban oasis designated one of "America's Great Outdoors." The conservation enclave spans 1,000 acres across four locations and features the northernmost headwaters of the Florida Everglades that flows 23 miles into Lake Tohopekaliga, 350 miles into Kissimmee Chain of Lakes onwards into the Kissimmee River and Lake Okeechobee and out into the Everglades and Gulf of Mexico to its final destination at the Florida Bay – all amid an abundance of wildlife in a picturesque setting. Whether hiking the multiuse trails along this natural wonder by foot, bike or boat to catch a glimpse of armadillos, birds, raccoons, turtles and other wildlife in their natural habitat, or fishing, paddling or picnicking, be sure to carve out plenty of time so you can get the most out of this hidden gem.
Best for: Outdoor/nature lovers | Peace and quiet outside of the city | Alternative attraction to the crowds at the theme parks.
Did You Know? Shingle Creek Park can be accessed from five locations; Ruba (perfect for: hiking), Bass Road (perfect for: hiking, exercising, grilling and picnicking), Steffee Landing (perfect for: bank fishing, biking, canoeing, kayaking and paddle boarding), Steffee Homestead (perfect for: hiking trails and exploring historical structures), and Pioneer Village (perfect for: fishing, historical sites, multi-use trail, paddling, picnicking and wildlife.)
If you love hiking, be sure to also check out 10 Best Hiking Trails in Central Florida.
LOCAL TIP | It will take an entire day to absorb the full experience, so pack a picnic and turn your time into an educational getaway with or without the kids! If you are a birdwatcher or nature lover, bring your binoculars and be prepared for a treat. Expect to see cardinals, hawks, various bird types, and interesting insects. The trails are wide enough for walking and biking with fascinating nature sights to see along the way. You can also rent a kayak for 2-hour intervals and explore the lake. Best of all, parking is free with plenty of spots available.
WHERE: 925 S Bass Rd, Kissimmee, FL 34746 | WHO: 407-742-0200
2 | Old Town | Calling all history buffs, take a break from Disney, Universal Orlando and the theme parks, and stroll back in time and enjoy some classic American amusement park fun at this hidden gem in the heart of Kissimmee, Florida. Built in 1986, the 10-acre walking district is a connection to the past and a fun place to play, dine and shop. There is truly something for everyone year-round as the brick streets come alive and people line the sidewalks during the long list of American-themed events like the annual Classic Car Cruise and other events throughout the year. The family-friendly spot offers adequate parking while rides include the classic carousel, and an incredible Ferris Wheel that soars 85 feet in the air and illuminates the night sky with 6,000 LED lights. There's also the 5-story tall, 6-riders-per-train Hurricane roller coaster, Paratrooper with suspended cars that spin round and round in both directions, the Happy Days Family Fun Center, the Great Magic Hall and so much more to keep everyone entertained. When it's time to eat, families can dine in any of the full-service restaurants or enjoy fast and casual dining while grownups can enjoy a drink or two at the bars and saloons.
Best for: The entire family | Lovers of classic attractions
LOCAL TIP | Stop by the 1960s store at the edge of the Ferris Wheel for homemade ice cream! Some locals think the food is a little pricey, but if you're interested in classic cars and non-stop entertainment for the entire family, this hidden gem is well worth it. You can buy a wrist band which pays for itself within an hour and gives access to go karts, roller coasters and rides for the kids – best of all, the lines to the rides aren't typically long. For the best Insta-shots, head out at night when the entire Old Town lights up against the sky creating stunning postcard like views. Old Town is open daily, 10:00am – 11pm. For the full experience, plan on spending no less than 3 hours!
WHERE: 5770 West Irlo Bronson Memorial Highway, Kissimmee, FL 34746 | WHO: 407-396-4888
3 | Disney Wilderness Preserve | If you prefer the tranquility of nature, fresh breeze, fascinating wildlife in their own habitat and time away from the hustle and bustle of the city, the Disney Wilderness Preserve is another amazing escape – and a part of Disney where nobody rushes! This 12,000-acre preserve is a birdwatcher's paradise where you'll see turkeys, cranes, raptors, bobwhites, wrens, warblers, bluebirds, woodcocks, waders, bald eagles, red-cockaded woodpeckers, wood storks, crested caracaras and many other feathered dinosaur descendants. Wear comfortable shoes and hike to Lake Russell, one mile away or continue along the 2.5-mile loop to fully experience the scene. Plant lovers will appreciate the freshwater marsh, scrub, flatwoods, cypress swamp and oak hammocks, native grasses, saw palmetto plus, fall flowers like terrestrial orchids, ixia and Catesby's lily.
Best for: Nature lovers | Families | Guests looking for peace and quiet outside of the city | Alternatives to the crowds at the theme parks and other popular attractions.
LOCAL TIP | This is a great way to escape the hustle, bustle, crowds, and commercialism of daily life. The tranquil sounds from the wind blowing in the trees will be the loudest noises you hear at the Preserve. Bring along binoculars and cameras, and wear comfortable footwear sturdier than tennis shoes and appropriate for hiking and exploring the 3-mile nature trail that leads to the lake. Along the way, you'll see wildlife species like turkeys, turtle doves, butterflies, lizards, and other creatures protected by the Nature Conservancy. There are some shaded benches and picnic tables at the lake that are perfect for an outdoor meal, but most areas are not shaded, so bring a hat and water during the summer months!
Behind the scenes, The Disney Preserve is part of the larger Nature Conservancy with projects around the world. It works as a living laboratory committed to healing the land and working harmoniously with the natural environment. In 2012, it successfully restored 3,500 acres of wetlands, known as "natural sponges" due to their ability to replenish the groundwater by capturing rain, filtering nutrients and marking an unapparelled victory for conservation.
WHERE: 2700 Scrub Jay Trail, Kissimmee, FL 34759 | WHO: 407-935-0002
4 | Disney Springs | The minute you enter the complex, you will feel the same kind of excitement you get from visiting Universal Studios and the theme parks. There is shopping, dining and entertainment all rolled into one amid a spectacular setting that only Disney can engineer – and an unmistakable excitement from the plethora of visitors, mainly tourists converging to soak up its magic.
One of the best parts of visiting is the fact that there is so much to experience without spending a dime! Kids of all ages will love The Lego® Store, Rainforest Café, Star Wars™ Trading Post, T-Rex Cafe and so much more.
The Lego® Store is always a hit among families and Lego fans of all ages. Here you can build for hours and lose track of time while bringing your imagination to life for free, as long as the Legos remain in the store. Play stations are set up with community Legos that can be used. There is even a ramp outside for racing Lego vehicle creations!

Rainforest Café is an interactive restaurant that also provides free entertainment. The setting itself is a stunning sight to see! From the volcanic eruption that mimics red-hot fire ejected from the mountain that houses the café, to the lakes, fountains and free musical performances, there is always a perfect picture waiting around every corner. The inside is equally awe-inspiring as the rainforest setting complete with vegetation, life-like robotic animals including tropical birds, frogs, elephants, tanks of sea creatures and spectacular sound effects stimulates the imagination. At certain times of the day, cast members stand outside with a collection of live tropical birds and educate the crowd about their natural habitat, food and the rainforest.

The T-rex Café is another interactive dine-in restaurant that is always a hit among families with children. Here Disney does an excellent job in creating a stunning setting that features life-like dinosaurs in a prehistoric environment. The always popular dig site, an area filled with pebbles and sand with "dinosaur bones" buried underneath, offers hours of fun. Little ones are given paint brushes to "excavate" and keep them entertained for 20-30 minutes at a time.

Squirting Stich is another popular spot for the kids who like getting wet. If you are familiar with the 2002 Disney cartoon, Lilo and Stitch, you will readily recognize the striking figure of Stitch perched on top of the World of Disney sign. The statue spits out water, so anyone who stands in the right spot below will get splashed or get a thrill from jumping out of the way.

The Marketpace water area is perfect for guests who want to cool down on a hot summer day. This splash pad area near Goofy's Candy Company is always flocked by kids and offers shooting streams of water that jet in and out from the ground intermittently, creating an unpredictable pattern. Again, this area is free and loads of fun for little ones!
The soothing water taxis along the Disney Springs waterway are also complimentary and provide a calming experience with scenic views of the stunning sights throughout the complex. Not only is this a mode of transportation to and from different areas if you are trying to avoid the walk, but it is also a fun attraction if you are a fan of boat rides.
Free live entertainment is also a staple throughout the complex particularly as the sun goes down. DJ dance parties typically draw younger crowds as the most popular dance tunes lead by an energetic DJ teaches the latest dance moves.
Best for: Families | Guests who welcome excitement and crowds.
LOCAL TIP | There are plenty of cool places to shop, eat, and play. The restaurants are impeccable and designed to give a one-of-a-kind experience, but can be pricey depending on your budget. As with any attraction under the Disney brand, expect CROWDS and long lines at stores and places to eat. Parking is free in efficient hi-tech garages that tell the number of parking spots available in each lane. If you don't mind being part of the crowded action, this is a great hangout spot where you can be entertained by sightseeing and people watching without spending a dime. For a less crowded experience, skip the weekends and holidays and plan a weekday visit.
WHERE: 1486 Buena Vista Drive, Lake Buena Vista, FL 32830 | WHO: 407-939-6244
5 | The Town of Celebration | At just around 11 miles in size, the charming Town of Celebration makes you feel like you are a world away from the bustling Orlando. Despite popular misperception, it is not owned by the Walt Disney World Company, but was the brain-child of Walt Disney himself, who dreamed of building a model town. Almost 30 years after his death, his plans were executed and the Town of Celebration with its Disney-like touches, white picket fences, perfectly manicured lawns, bike paths, rocking chairs and more was created.
The beautiful downtown area lined with quaint brick streets features dozens of shops and restaurants that surround the lake, while walking and biking trails give way to scenic boardwalks and neighborhoods. Whether by bike or on foot, explore this one-of-a-kind town and enjoy the natural beauty, wildlife, waterways and spectacular sunsets. If you are visiting on a Sunday, stop by the Celebration Farmer's Market on Market Street and choose the freshest produce, baked goods, local honey, crafts, souvenirs and other novelties. There are also free concerts with a block party feel at different times of the year at Lake Rianhard. These come with free street parking, vendors, activities for the children and more. Visit during Halloween and you will be in for a treat with the spooky decorations as the town goes all out to create one of the best displays in Central Florida. The streets are typically packed with kids decked out in their costumes. Another notable date on the calendar is Oktoberfest, one weekend in October when you can join the celebration with live music, vendors, fall foliage – and the highlight, leaves of different colors shooting from boxes on the streets along Market Street as children continue the fun tradition of grabbing as many as they can and stuffing them into paper bags. Naturally, Christmas in Celebration the best time of the year inspired by the happiest place on Earth, is an amazing experience not to be missed if you are visiting during the holiday season. The scene is incredible as Main Street is transformed and excitement unfolds with snow a.k.a snoap a.k.a. soap falling nightly from the Saturday after Thanksgiving through to the end of the year. You'll find carolers singing, Santa himself, Christmas concerts and a giant tree to complete the festivities and get everyone into the holiday spirit. For just a few dollars, you can also enjoy hayrides, and train and carriage rides for a fuller experience.
Best for: Families | Guests looking for a laid-back experience | Crowded depending on special events.
Hot Tip: If you like this experience, you will also enjoy a stroll along Lake Eola in downtown Orlando.
WHERE: 610 Sycamore Street, Celebration, FL 34747 | WHO: 407-566-4007
6 | Kissimmee Lakefront Park | If you are looking for an outdoor experience, add Kissimmee Lakefront Park to your list of things to do. Just a short walk from Downtown Kissimmee, it borders Lake Tohopekaliga, one of Florida's largest lakes. You'll find playgrounds, a splash pad and vast open spaces to play soccer, frisbees, enjoy a picnic or relax on lawn chairs and enjoy the beautiful lake view. You'll love the wildlife, fishing, occasional festivals and local events hosted throughout the year. There are even tons of spots if you are into playing Pokémon Go or Wizards United. The picturesque setting is also famous for photo shoots in front of the lighthouse, so be sure to take your camera along to snap the perfect shots.
LOCAL TIP | This is an awesome experience for anyone who wants to getaway for peace and relaxation. The park houses a huge lake which is breathtaking. There is a playground, a nice splash pad for kids, a fascinating lighthouse, a huge statue and military memorial for the 50 states with stone from different states and countries, and a time capsule which will be opened in 2043 to explore. You can also walk, run, jog, bike, do yoga, fish, even kayak if you wish.
WHERE: 201 Lakeview Dr, Kissimmee, FL 34741 | WHO: 407-518-2501
7 | Wat Florida Dhammaram | Enjoy a unique experience at this Buddhist Temple located in Kissimmee. You'll be amazed by the immaculately clean majestic grounds with larger than life statues of different sizes and poses amid the temples. If you are looking for a serene area to meditate, the grounds of this seven-acre retreat offers a calming and humbling experience. To access the inside, you will be required to remove your shoes before entering. The temple's stunning decorations and Buddhas are definitely a sight to see.
Best for: Guests who like to learn and experience different cultures | If you are looking for a quiet place to meditate | Buddhists | Art museum lovers
Hot Tip: The Monks are friendly and readily available to explain and answer questions about their religion.
WHERE: 2421 Old Vineland Road, Kissimmee, FL 34746 | WHO: 407-397-1354
8 | Big Toho Marina | Calling all lovers of fishing, the Big Toho Marina at the northern end of Westgate Lake Tohopekaliga offers 22,000 acres of water and one of the country's premier Largemouth Bass fisheries. Fishing guides are available to offer an extra hand as needed.
Best for: Nature lovers | Fishing | Nature Watching | Hiking
Hot Tip: Breakfast is available. Store opens 5:30am – 5:00pm on weekdays and 5:30am – 4pm on weekends. A variety of live baits are available for purchase.
WHERE: 69 Lakeview Drive, Kissimmee, FL 34741 | WHO: 407-846-2124
9 | International Drive | No visit to the Kissimmee area can be complete without experiencing the world-famous International Drive vibe. Here you will find a diverse mix of restaurants, rides, shopping and entertainment, but you can still have a good time without spending a dime. Be sure to stop by Icon Park™ where entry is free and you can hang out on the central green, take selfies, people watch and enjoy the scene. Plan on being there at night when the jaw-dropping, 400-feet-high observation wheel lights up against the sky!
Best for: Lovers of excitement | Non-stop action & trendy nightlife | Shopping | Dining | Entertainment
Hot Tip: Since this is a tourist hot spot, be prepared for plenty of vehicular and pedestrian traffic. Check out this Guide to International Drive Orlando Attractions for the full I-Drive experience. To break it all down, our Travel Blog also features the 10 Best Breakfasts in Orlando on International Drive, along with 15 Restaurants on International Drive you Have to Try and the Best Bars on International Drive.
10 | Disney's Boardwalk | If you've never been to Disney's Boardwalk, just imagine a scaled down version of Disney Springs. The entertainment, dining and shopping complex has all the trappings of Disney – a spectacular lake surrounded by a perpetual boardwalk, Disney-themed architecture, a quaint Mid-Atlantic seaside feel and otherworldly charm. There's also something for everyone to do at this less-crowded gem and you don't have to dip into your pocket for a good time. Enjoy a peaceful stroll sans elbow-to-elbow crowds typically found at other Disney spots and savor the breathtaking scenery against the stunning lake setting. Exploring by water is also an option as you can take a scenic boat ride with several different stops throughout the area. If you're visiting with kids, watch a movie under the stars or let them frolic along the green area, which serves as a park at the complex. You'll also find live entertainment around every corner – whether music, magic tricks, televised sporting events at the ESPN Club, street performances or interactive shows, there is always plenty to keep you engaged. The Disney Skyliner, just a short walk from the Boardwalk is also a treat to enjoy at no charge. Glide across the sky on the state-of-the art gondola system on your way to Epcot, Hollywood Studios or just to enjoy a magical experience up high.
Best for: Families | Less crowds | Strolling along a picturesque setting
Hot Tip: Avoid the wait for a boat and take a peaceful stroll along the water to get to Disney's Hollywood Studios and Epcot.
WHERE: 2101 North Epcot Resorts Boulevard, Orlando FL 32830 | WHO: 407-939-6200
11 | Orlando Vineland Premium Outlets | Attention window shoppers, spending money is optional! If you like to browse through stores and try your favorite brands, people watch, hang out and be part of the retail action, Orlando Vineland Premium Outlets is one of Orlando's hottest shopping areas. Try upscale brands like Versace, Marc Jacobs, Prada and Jimmy Choo, laze by the fountains or explore the nearby lake and take pics along the way.
Best for: Window shopping and outlet pricing | Guests who don't mind crowds
Hot Tip: Parking is challenging, so if getting dropped off is an option, take advantage and save yourself the wait.
WHERE: 8200 Vineland Avenue, Orlando, FL 32821 | WHO: 407-238-7787
12 | Lake Rianhard | This natural landmark in the center of Celebration is a peaceful spot to sit and watch the world go by. Whether you enjoy a good run, take a stroll by the still waters, relax on the rocking chairs along the edge or take in the view, you will appreciate this wonderful escape from the hustle and bustle of the city.
Best for: Families | Escape from the crowds and excitement in the city | Tranquility
Hot Tip: You may be lucky to spot wildlife like birds, alligators, and turtles so keep your camera closeby!
WHERE: 701 Front St, Em frente a Market Street, Celebration, FL 34747-4915
BONUS! Chocolate Kingdom in Kissimmee | Take an interactive journey into the world of chocolate making and discover how chocolate evolves from a bean into a delicious creamy chocolate bar. Your visit will begin with a guided tour by a Chocolate Tour Guide, a handsome prince and his dragon sidekick. You will be led through a Cacao Tree Greenhouse, the Chocolate Museum, then pass through the Mystical River of Chocolate and into a bean-to-bar factory outfitted with old-world machinery to complete the scene. By the end of your walking tour, you too will have a chance to utilize your newfound skills to customize your own chocolate bar. If you are a chocoholic, you will love this experience.
Best for: Families | Chocolate lovers | Guests interested in learning and enrichment
Hot Tip: Open Monday – Sunday, 10:30am – 6:00pm | Tours start at 11:00am and every hour until 5:00pm. Each tour lasts 45 minutes | Cocoa bean products are available for sale | An inexpensive entry fee will be required.
WHERE: 9901 Hawaiian Court, Orlando, FL 32819 | WHO: 407-705-3475
Use our handy map to find your way around!
Last Tip on other things to do in Kissimmee and Orlando!
Outside of this list, there are also plenty of free things to do in Orlando, hidden gems in Orlando and alternatives to the theme parks that offer even more entertainment options. The Theme Park Capital of the World is also home to Orlando's best breweries, and close enough for day trips in Florida. So take your pick from the best family friendly hotels in Orlando and start planning your magical getaway today.
1 Source: Visit Florida

RELATED ARTICLE: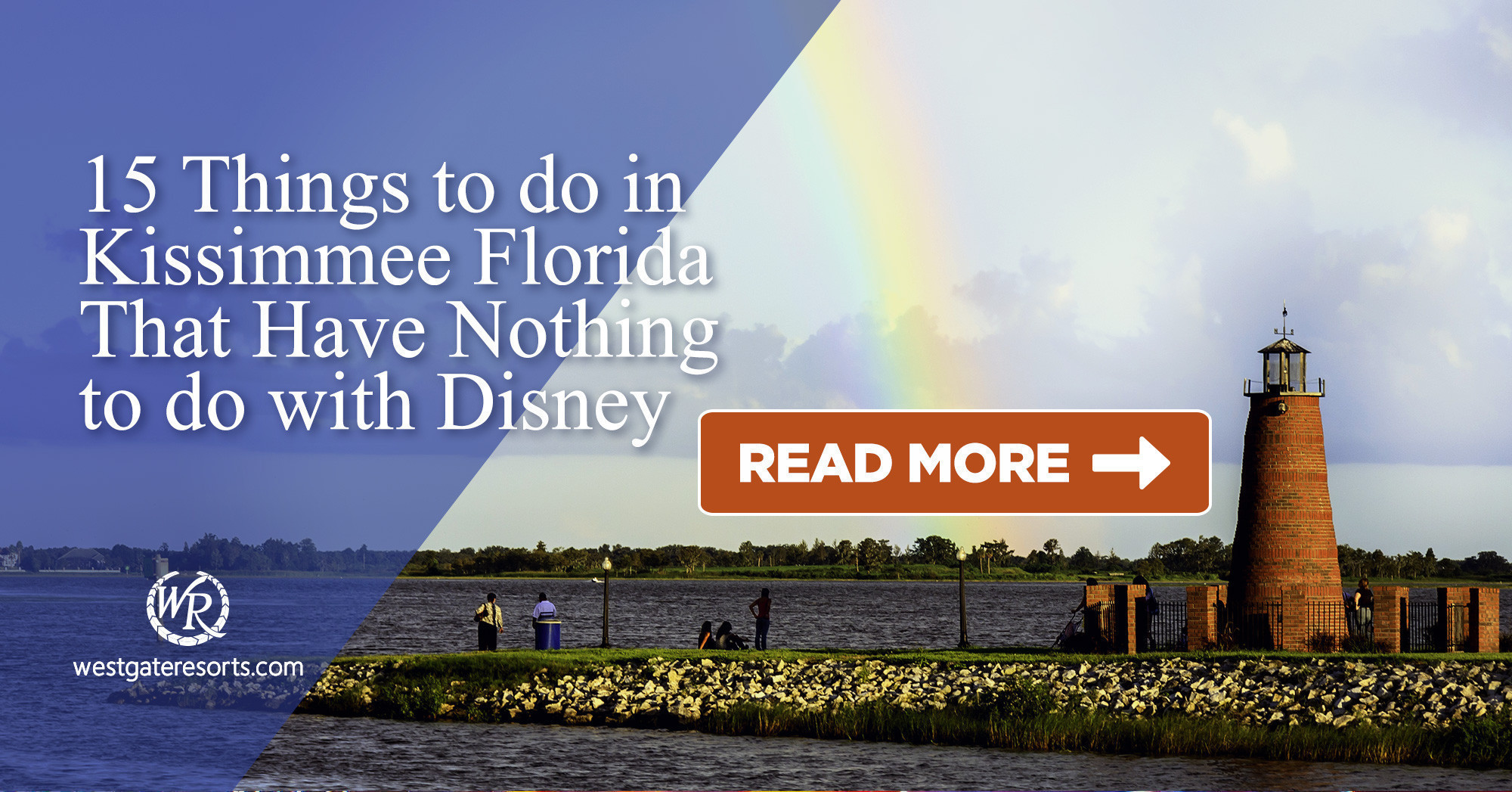 At Westgate Resorts, when you Check-In, there's a LOT to Check-Out! Your Kissimmee vacation rentals await! Explore our Orlando resorts today or talk with a vacation planner at 888-852-2959 or 407-355-2690.
* Westgate Resorts is in no way affiliated with the attractions featured in this article. Items or places listed are current as of the publishing date of this article. Please call or visit the respective website for the most up-to-date offerings and details.
Other tagged pages of interest: orlando hotels near disney, resorts near universal studios orlando, lake buena vista resort, kissimmee resorts, kissimmee hotels, hotels orlando, orlando resorts, resort hotels, staycations
When You Check-in, There's a Lot to Check Out
Sign up for our newsletter and check-in to great offers, secret stuff, and special events.