11 Top Vacation Spots For Your Military Family to Try
Vacation Spots For Your Military Family To Visit
Every family deserves a vacation now and then. Traveling with your spouse and kids is an incredible bonding experience, and it can be tons of fun to explore new places and see the sights together. This is especially true for military families who can sometimes be split up by busy schedules and work-related travel. Thankfully, holiday block leave makes family life easier, and a lot of great destinations are close to military bases. Many family vacation spots are ideal for military families, including those that offer excellent discounts and special deals for those serving in the armed forces.
The 11 Best Vacation Spots For Your Military Family To Visit
These are places where you can relax, have fun, learn about military fun facts and much more! Let's explore a few of these destinations.
1 | U.S. National Parks | If you and your family are the outdoorsy type, visiting one or more of the 63 National Parks is an absolute must. From the majestic peaks of Great Smoky Mountains National Park, near Gatlinburg and Pigeon Forge, to the watery tropics of Everglades National Park, near Miami, the range of choices across the country cover every type of terrain imaginable.
The best part about these parks is that a free annual pass is available to all current and former U.S. military members. With entrance fees covered, all you have to pay for is accommodations and food before you can wander our beautiful country's most epic spots. While seeing cities and museums can be truly enlightening and just plain fun, nothing compares to taking in the beauty of nature for a few days to gain perspective about the world.
2 | Orlando, FL | There's a reason people call Orlando "The Theme Park Capital of the World." It's best known as the home of the world-famous Walt Disney World, where four theme parks and two water parks can be found among countless luxurious resorts. Just a short drive away is Universal Studios, where two theme parks and a water park are also available as a fantastic alternative. Kids and adults alike are thrilled and enchanted by the two theme parks' joint Wizarding World of Harry Potter. SeaWorld Orlando and Busch Gardens are also exciting contenders in the mix – also just a short drive away. Another great thing about Orlando, it's only a couple hours from the beach, so if you want to try the sand, sea and sun, this is an awesome option.
Orlando trips can be expensive, but military families can enjoy some helpful discounts. For instance, Disney offers discounts on either 4-day or 5-day Park Hopper Passes, allowing you to see everything over the course of a week. Meanwhile, Universal Orlando offers a military discount for 1-5 days, all parks included. There are also plenty of military hotels in Orlando.
3 | New York, NY | The Big Apple is an incredible spectacle, and families could spend entire vacations just wandering the endless streets. There are tons of free things to do, including strolling through Central Park, Little Italy and Chinatown, but if you really want to maximize your vacation time in New York City, you'll want to visit some of the museums and other institutions. Luckily, tons of them offer military discounts. There are also military discount hotels in New York.
Museum lovers, rejoice! The Museum of Modern Art offers free admission to active-duty military families, so does the Intrepid Sea, Air and Space Museum and the 9/11 Memorial Museum. Other attractions like the Empire State Building Observatory, The Bronx Zoo, One World Observatory and The New York Aquarium all offer discounted tickets. If you want to explore by boat, Circle Line Sightseeing Cruises will show you New York City from the water for half-off too.
4 | Park City, UT | Just east of Salt Lake City lies one of the most beautiful and fun cities in the western United States. Park City was home to the 2002 Winter Olympics, so you can expect a variety of winter sports like skiing and snowboarding to be high on the wish list of the average visitor. However, Park City is also an excellent place to hike mountains and learn about the 19th century silver mining boom that sparked its prominence.
The many ski resorts of Park City offer significant discounts to military service members and their families, so this destination makes for the perfect excuse to expose your little ones to the slopes for the first time. If you aren't feeling adventurous, there are also plenty of places to sit back, relax and enjoy the scenery.
5 | Cocoa Beach, FL | Florida has long been a dream destination for those seeking warm weather, relaxing beaches and fun in the sun. Cocoa Beach offers all of this and more. Far from the crowds of Miami, it's a great spot to enjoy a more solitary beach experience without sacrificing a fun and exciting town. If you can, visit on a day when Kennedy Space Center in Cape Canaveral is launching a rocket. The spectacle is breathtaking and, dare we say, out of this world.
In addition to its proximity to various Florida bases, Cocoa Beach offers military discounts at many prime destinations around the city. It's the perfect place to kick back with a pina colada while the kids build sandcastles and play in the surf.
6 | Branson, MO | Branson is sometimes compared to Las Vegas but without the casinos, so if you aren't interested in gambling, it's probably a better pick. What you'll find in Branson are tons of family-fun activities, many of which offer discounts for military families. Theme park lovers will enjoy Silver Dollar City, a gold rush-themed park with a variety of roller coasters and other thrilling rides. There are also lots of live entertainment events, aquariums, museums and family-fun parks that offer discounts to service members and their families.
7 | Pigeon Forge, TN | As if the surrounding Great Smoky Mountains weren't reason enough to draw you to Pigeon Forge, there's also tons of family fun to be had in the city itself. Among the top attractions is Dollywood, a world class theme park owned by and dedicated to the life of country music star Dolly Parton. Not far from Pigeon Forge is Gatlinburg, another destination beloved by kids and adults alike. Most destinations, Dollywood included, offer military discounts if that applies to you.
Of course, no visit to eastern Tennessee is complete without a stop at Great Smoky Mountains National Park, where you can hike and explore to your heart's content for free! If you don't feel like hiking, at least take the time for a drive across the scenic Blue Ridge Parkway.
8 | Las Vegas, NV | Las Vegas may be known as "Sin City," but it's a fantastic destination for family-friendly activities too. Between walks along the scenic Las Vegas Strip and dazzling performances from magicians like Penn and Teller and Criss Angel, you'll never run out of things to do in Las Vegas. Many local restaurants, shows, museums and public transit options also offer military discounts.
9 | Williamsburg, VA | For a taste of early American history, Williamsburg is a prime family destination for military families. The city was once the capital of colonial Virginia from 1699 to 1780, and many historical sites have been preserved expertly. Not far from Williamsburg is Jamestown, America's first colonial settlement. If you get tired of history, nearby Busch Gardens offers theme park thrills.
Williamsburg is also a prime destination for dining and relaxation. Because of its history, it's a great place to learn about America's military roots. Many of the tours, restaurants and other destinations offer discounts to service members and their families.
10 | Myrtle Beach, SC | Myrtle Beach is among the most popular destinations on the East Coast, best known for its beautiful beaches, golf courses, fresh seafood and shopping. Kids love local amusement and water parks, while teenagers and adults can have fun jet skiing and parasailing. It's a golfer's paradise, with nearly 100 championship golf courses. There's something to do for everyone.
11 | Mesa, AZ | Just outside of Phoenix, Mesa is home to a lot of Native American history, but also natural desert beauty. Mesa is 496 miles round trip from the Grand Canyon. It's a great place for golf and outdoor activities, like visiting the Usery Mountain Regional Park. If you're staying for a longer period of time, you could also visit the famous Antelope Canyon in Page, Arizona. You might have seen them as a screensaver on your computer, but the slot canyons with light beams shining down are real! It's a bit of a trek, clocking in at about four and a half hours from Mesa via car, but it could be a once and a lifetime opportunity.
Family Military Leave Final Thoughts
Military families can enjoy a wide variety of discounts on popular attractions, including Ripley's Aquarium, Planet Hollywood, UFO Encounters, boat rides and more. For more information about discounts and special events for military families, visit our Westgate Resorts Travel Blog.
A military life under the U.S. Defense Department can be stressful, not just for active-duty soldiers but also for military spouses and children. Don't just settle for a night out at the theater watching military movies. Give your family the vacation you all deserve.

RELATED ARTICLE: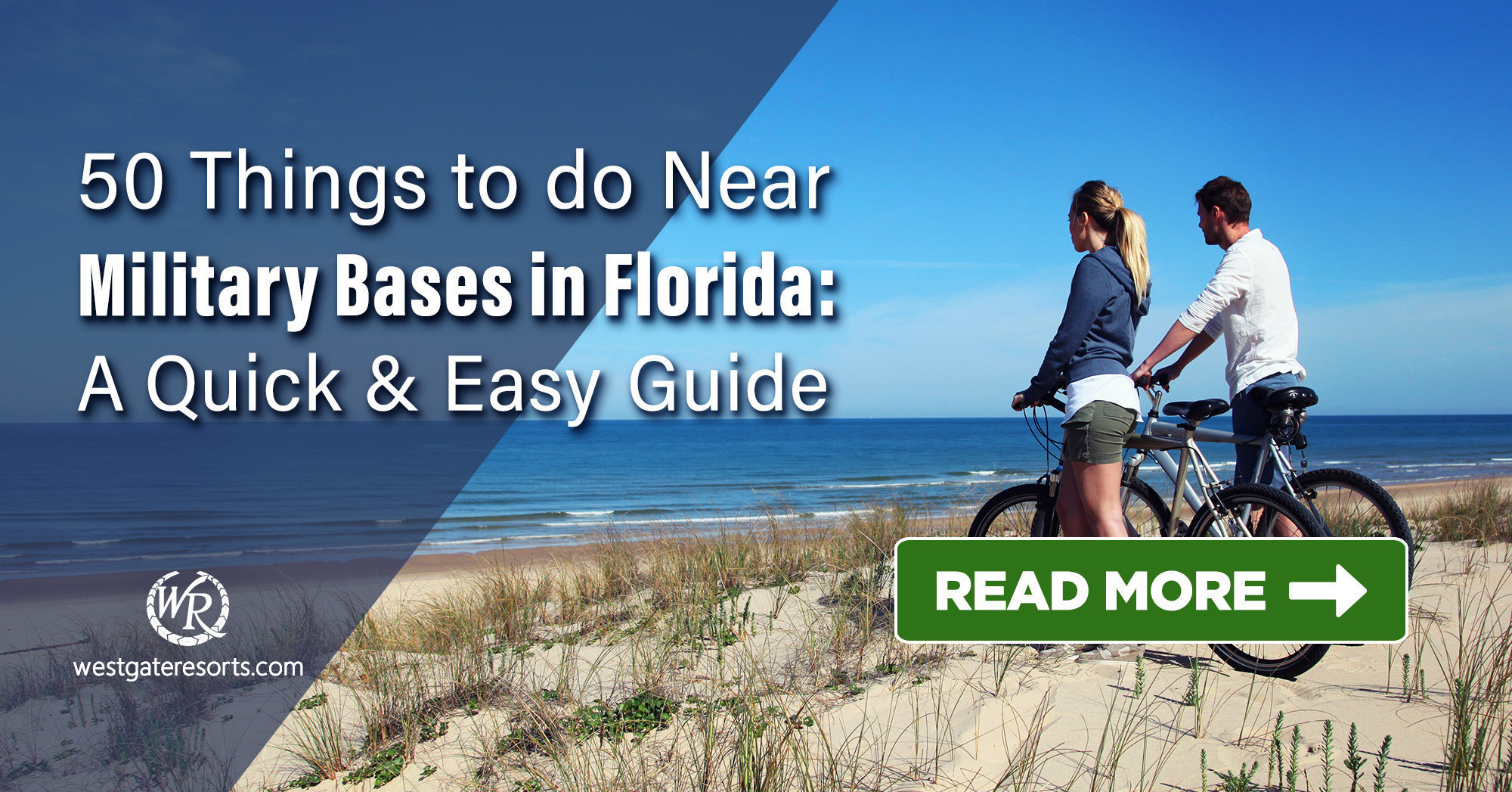 At Westgate Resorts, when you Check-In, there's a LOT to Check-Out! Your vacation awaits! Start planning your next vacation today or talk with a vacation planner at 888-852-2959 or 407-355-2690.
* Westgate Resorts is in no way affiliated with the attractions featured in this article. Items or places listed are current as of the publishing date of this article. Please call or visit the respective website for the most up-to-date offerings and details.
When You Check-in, There's a Lot to Check Out
Sign up for our newsletter and check-in to great offers, secret stuff, and special events.