15 Restaurants on International Drive Orlando You Have to Try
15 Restaurants on International Drive You Have to Try
Amid all the things to do in Orlando, no trip to Central Florida, can be considered complete without a visit to world-famous International Drive (aka I-Drive). Known for its entertainment, shopping, nightlife and local culture (think of the Gatlinburg Strip without the mountains or the Las Vegas Strip without the casinos), bustling International Drive is also home to a bevy of outstanding restaurants.
In fact, as a culinary destination, International Drive lives up to its name with a veritable melting pot of outstanding eateries representing different world cuisines such as Indian, Italian, Mediterranean, Mexican, Caribbean, Chinese, Japanese, Cuban, Brazilian and Thai, as well as authentic English and Irish pubs - not to mention the recent addition of all the Orlando Eye restaurants!
In addition, visitors to International Drive can choose from an array of American steakhouses, pizza joints, seafood eateries, chain restaurants and immensely popular entertainment complexes such as Dave & Buster's (restaurant + video arcade) and Kings Dining & Entertainment (restaurant + bowling alley).

To help you decide on where to dine on International Drive, keep reading for the highlights of these popular picks.
1 | Café Tu Tu Tango | A must-dine destination on International drive, Café Tu Tu Tango resembles a funky Spanish artist's loft and serves amazing tapas-style plates that are perfect for sharing. In addition, every inch of the festive eatery's adobe-style walls is covered with original paintings (all of which is for sale) from talented local artists, some of whom you may encounter working on their next creations nearby while you dine. The "globally inspired" menu at Café Tu Tu Tango boasts such delicacies as Guava Barbecue-Glazed Pork Ribs, Seared Tuna Sashimi, Tuscan Meatballs, Baja Fish Tacos, Sesame Steak Skewers and Spiced Alligator Bites. The perfect spot to treat family and friends to an unforgettable culinary tour around the globe, Café Tu Tu Tango also features live entertainment ranging from Bolivian dancers to African drummers, a full bar, extensive wine and craft beer list, and cozy patio seating.
WHERE: 8625 International Drive, Orlando, FL 32819 | WHO: (407) 248-2222 | VIEW ON GOOGLE MAPS
2 | Del Frisco's Double Eagle Steakhouse | If you're in the mood for succulent steak in a classy-chic-modern restaurant, you can't go wrong with Del Frisco's. One look at the menu will tempt your taste buds into gleeful submission. Del Frisco's offers a generous mix of steak, chops, seafood and chicken. Seared Rare Wagyu Beef Carpaccio, Filet Mignon and other delicious steak meals, and non-steak options like Chilled Alaskan King Crab Legs, Seared Chilean Sea Bass, Pan-Roasted Natural Chicken and other appetizing choices all top its menu.
LOCAL TIP | The plethora of options doesn't stop there as the dessert menu is equally robust. Popular options include Cheesecake in Pecan Crust covered in Strawberry or Butterscotch Sauce, Belgian White Chocolate & Cinnamon Crème Brulee and so much more. The wine list by itself is enough to make you want to go! The restaurant was awarded the 2018 Best of Award of Excellence by Wine Spectator for its prestigious wine list featuring over 1,200 bottles. Professional sommeliers who partner with some of the world's best wineries are on hand to recommend the perfect wine for every meal you pick.
The modern ambiance of the two-story eatery with two state-of-the-art bars and five private dining rooms, complete with a picturesque patio, adds a finishing touch to a delightful dining experience. With 18 years of tradition grounded in a bold vision to be the classic American steakhouse, Del Frisco's is one of International Drive's most popular restaurants.
WHERE: 9150 International Drive, Orlando, FL 32819 | WHO: (407) 351-5074 | VIEW ON GOOGLE MAPS
3 | Cuba Libre Restaurant & Rum Bar | With its colorful tropical ambiance, authentic Cuban cuisine, handcrafted Caribbean-inspired cocktails and upbeat Latin music, Cuba Libre Restaurant & Rum Bar transports you to old Havana. According to the Orlando Weekly, "Party people love Cuba libre not only for its variety of handcrafted mojitos, but also for its commitment to playing the best in bachata, merengue and salsa every weekend." The menu at Cuba Libre features authentic Cuban cuisine from critically acclaimed chef Guillermo Pernot such as Vaca Frita, Guava BBQ Ribs, Seafood Paella, Arroz Con Pollo and Churrasco A La Cubano. Cuba Libre is also known for its delicious appetizers such as Cuban Sandwich Spring Rolls, Pineapple Guacamole Cubano, Mama Amelia's Empanadas, Tuna Ceviche and Octopus A La Parrilla. Note: Cuba Libre does not accept reservations from diners under the age of 21 after 9 PM on Friday and Saturday nights and the dress code is "upscale casual" on those nights.
WHERE: Pointe Orlando, 9101 International Drive, Orlando, FL 32819 | WHO: (407) 226-1600 | VIEW ON GOOGLE MAPS
4 | Hash House A Go Go | Hash House A Go Go is known for its Midwest-inspired comfort food. For more than 20 years, its menu has put an authentic Midwestern spin on comfort food, to offer delightful creations like Andy's World-Famous Sage Fried Chicken & Waffles, HH Big O' Pancakes, Hash House Meatloaf and the Famous Stuffed Burgers with delicious options such as crab, blue cheese and other unexpected pairings.
LOCAL TIP | The portion sizes have a good volume of food and each meal starts with a complimentary appetizer of fluffy homemade biscuits with memorable sides of whipped butter and strawberry jam. The creations themselves are like artistic masterpieces that catch you off guard – for example, you may be served a meat laden burger with a dagger in the middle for the practical purpose of carving your burger into smaller consumable pieces, while making a striking picture!
The signature Tractor Bar serves a wide section of delicious drinks. If you're adventurous, try the Drunken Clam with vodka, clamato – and yes, clam juice! There's even Worcester sauce, mustard and chili pepper to spice up this drink. Johnny's Famous B.L.T Mary which the staff promises is the perfect cure for a hangover, is also like an entire meal by itself. Try picturing this glass of pick-me-up garnished with smoked bacon, lettuce and tomato on top.
WHERE: 5350 International Drive, Orlando, FL 32819 | WHO: (407) 370-4646 | VIEW ON GOOGLE MAPS
5 | Yard House | This one definitely falls into the category of newcomer (relatively speaking), as it holds its standing among the Orlando Eye restaurants that dot the landscape in and around the Orlando Eye! Nestled within the ICON Orlando 360 entertainment complex, which encompasses such wildly popular International Drive attractions as the ICON Orlando (aka "Orlando Eye") observation wheel, Sea Life Orlando Aquarium and Madame Tussauds Orlando wax museum, Yard House is a popular Orlando eatery that places you in the heart of all the action on I-Drive! Known for its diverse menu of innovative "American Fusion" cuisine, amazing selection of imported, craft and specialty beers, and massive flat-screen TVs tuned to the most popular sporting events, Yard House is open for lunch, dinner and late-night dining. Popular menu items include the Poke Nachos, Wisconsin Fried Cheese Curds, Grilled Korean BBQ Beef, Nashville Hot Chicken, Braised Short Rib Ravioli, Spicy Jambalaya, Skirt Steak Arrachera, Lobster Garlic Noodles and Vodka Shrimp Pasta, among others.
WHERE: 8367 International Drive, Orlando, FL 32819 | WHO: (407) 351-8220 | VIEW ON GOOGLE MAPS
6 | Nile Ethiopian Restaurant | Utensils are optional at this cozy Ethiopian eatery that caters to both the vegetarian and meat loving palate. If you want to try something different, expect a truly authentic experience of the Ethiopian culture here. Each meal on the menu, listed in both English and Ethiopian, authentically replicates the dishes served in the native culture. From the Nile Meat Combination with Dora Alicha, Beef Key Wat, Beef Alicha and Zilbo, to the Taste of the Nile Vegetarian dish with cabbage, red lentil, split peas, collard greens, Shiro, Azifa and Tomato Fitfit, you will be treated to a full culinary adventure. Instead of utensils to aid with eating, expect Injera, spongy, pancake-like sourdough spools of bread that are torn off and used to scoop up stewed and sautéed dishes.
LOCAL TIP | Communal dining is another part of the Ethiopian culture carefully infused into the experience. Here, sauces are spooned into a sector of one large platter where groups are free to share. Traditional straw tables with stools or mesobs are also provided as an alternative for patrons who prefer a more private setting for each group.
WHERE: 7048 International Drive, Orlando, FL 32819 | WHO: (407) 354-0026 | VIEW ON GOOGLE MAPS
7 | Maggiano's Little Italy | Savor the bold flavors of Little Italy at Maggiano's, the ideal spot for anything from an intimate dinner for two to a large family reunion. Conveniently located within the lively Pointe Orlando shopping, dining and entertainment complex toward the south end of International Drive near the Orange County Convention Center, Maggiano's Little Italy features authentic, made-from-scratch Italian-American cuisine in a relaxed atmosphere. Menu items include classic pastas, fresh seafood, chef's specials, bruschetta bar, signature salads and "indulgent" desserts.
WHERE: Pointe Orlando, 9101 International Drive, Suite 2400, Orlando, FL 32819 | WHO: (407) 241-8650 | VIEW ON GOOGLE MAPS
8 | The Oceanaire Seafood Room | Calling all seafood lovers! The Oceanaire Seafood Room offers an amazing culinary experience. Just imagine chicken fried lobster, Panama swordfish and the finest and freshest top-of-the-catch seafood flown from all over the world – daily! Your appetizer may be Escargots Bourguignonne, Chesapeake Bay Style Crab Cake, or Lobster Bisque. Your entrée may be Grilled Filet Mignon and Shrimp, Cashew Crusted Florida Mahi-Mahi or Grilled New Zealand King Salmon Oscar. Top it off with your favorite dessert. Whatever your pick, these sophisticated dishes are cooked to perfection.
LOCAL TIP | Oceanaire Seafood is also known for its stellar award-winning wine list. Seasoned wine stewards will help you navigate the selection in order to pair the most perfect wine with your meal. The restaurant has won countless accolades from TripAdvisor, Orlando Sentinel, Orlando Magazine, Florida Trend Magazine, Wine Spectator and other organizations for its wine, service and offerings.
WHERE: Pointe Orlando, 9101 International Drive, Orlando, FL 32819 | WHO: (407) 363-4801 | VIEW ON GOOGLE MAPS
9 | Chuy's Tex-Mex | The décor is colorful and kitschy (Elvis memorabilia and vintage hubcaps prevail!) and the portions are huge at lively Chuy's Tex-Mex, which has its origins in 1982 at "an old, abandoned Texas Barbeque joint" in Austin, Texas. Menu highlights include the "Big-as-Yo-Face" Burritos, Elvis Green Chile Fried Chicken, Chile Rellenos, Tacos, Steak Burritos, Chicken Flautas, Enchiladas, Fajitas and combo platters. Or you can even pay a tribute to the "King" by ordering the slightly indulgent "Elvis Presley Memorial Combo" (beef Tex-Mex enchilada, cheese Ranchero enchilada, chicken Tomatillo enchilada, seasoned ground sirloin crispy taco and homemade tostada chips dipped in chile con queso). Veggie options are also available. As you might also expect, Chuy's boasts an extensive drink menu with a wide selection of specialty margaritas and beer (and "Chuy's Brew" – a frozen lime margarita with a 7 oz. Coronita – for those you can't decide!). Happy Hour takes place at Chuy's on weekdays between 4 PM and 7 PM.
WHERE: 8123 International Drive, Orlando, FL 32819 | WHO: (407) 730-3602 | VIEW ON GOOGLE MAPS
10 | Pepe's Cantina Mexican Grill | If you're doing Mexican, go big or go home! Pepe's serves up traditional Mexican food with its own twist. Each meal starts with its signature table side guacamole and handmade tortillas. Choose from authentic Mexican dishes like fajitas, burritos, tacos, enchilada and more or explore the vegan menu with plant-based burgers, vegan cheese and other meatless options for vegetarian patrons. There is also an assortment of drinks to choose from – sip on delicious margaritas, tequila shots, wines, beers, and cocktails.
LOCAL TIP | This International Drive eatery is modestly priced and there's a special available every day of the week. From Margarita Monday, to Taco Bell Tuesday through to Sunday Funday, there is always a way to save on something. Be sure to add Pepe's Cantina Mexican Grill to your list of restaurants to try.
WHERE: 5415 International Drive, Orlando, FL 32819 | WHO: (407) 317-6649 | VIEW ON GOOGLE MAPS
11 | BJs Restaurant & Brewhouse | One of the best places on International Drive with a variety of menu options and great beer, BJs Restaurant & Brewhouse is known for their original line of craft beers such as the Berry Bust Cider, Nutty Brewnette Brown Ale, and the Tatonka Stout beer. Originally starting as a pizza shop in 1978, BJs has evolved into a brewhouse with an upscale tavern feel. Some of the more favored food items consist of their world-famous pizza, slow roasted baby back ribs, burgers and fresh salads. If you are looking for the perfect place to have a happy hour with your colleagues or to watch your favorite sports team crush their competition with some close friends, come to BJs for an awesome time!
WHERE: 8103 International Drive, Orlando, FL 32819 | WHO: (321) 732-8190 | VIEW ON GOOGLE MAPS
12 | Taverna Opa | Welcome to dinner, live entertainment – and your slice of the Mediterranean! Dine on authentic Greek food with ingredients imported directly from Greece, while being entertained by belly and Zorba line dancing as the in-house DJ spins lively Greek music. The menu which comes in Greek and English is both exotic and exciting. Cheeses, olives, fresh seafood and many of the spices and ingredients used are delivered daily from mainland Greece for each dish. Whet your appetite on your choice of traditional cold or hot meze, seafood, or vegetable appetizers. Feast on wood fried meats like Lamb Chops, Surf and Turf or Filet Mignon and traditional Greek dishes, such as Pastitsio, Kleftiko or Boureki. If you're looking to experience a taste of the Greek culture, Taverna Opa should be your stop.
WHERE: 9101 International Drive #2240, Orlando, FL 32819 | WHO: (407) 351-8660 | VIEW ON GOOGLE MAPS
13 | Coco Thai Cuisine | A critically acclaimed, family-owned eatery located in the northern section of International Drive, Coco Thai Cuisine offers truly authentic Thai cuisine such as Pad Thai (the national dish of Thailand), Three Flavored Fish, Basil Duck, Ginger Striped Bass & Shrimp and much more, as well as vegetarian and vegan offerings. Customer reviews of Coco Thai Cuisine range from "delicious food with nice atmosphere" to "ridiculously good" and "wonderful Thai!" Check it out for yourself the next time you're out cruising International Drive.
WHERE: 6304 International Drive, Unit D, Orlando, FL 32819 | WHO: (407) 668-4248 | VIEW ON GOOGLE MAPS
14 | Kavas Tacos + Tequila | Bienvenidos to Kavas Tacos + Tequila, a vibrant, new Mexican restaurant bringing good food and vibes to International Drive. You'll love their diverse menu with Tex-Mex flavors and playful takes on Mexican street fare, carefully curated by the same team behind Tapa Toro and Taverna Opa Orlando. You'll also find classic favorites such as Guacamole, Esquites, and Queso Fundido, as well as a wide array of Mexican-inspired cocktails.
WHERE: 1st level of Pointe Orlando 9101 International Drive, Suite 1198 Orlando, FL 32819 | WHO: (407) 776-2027 | VIEW ON GOOGLE MAPS
15 | Oreganatta Italian Buffet | Are you looking for a place to eat that serves authentic Italian food at an affordable price? Well, look no further because the Oreganatt Italian Buffet has everything you're looking for! We all know how hard it is to find a good Italian buffet. They're usually pricy, have limited menus, and food quality can be hit or miss. This buffet is loaded with variety and has all the food groups covered. Patrons can choose from pizza, salads, pasta, soup, desserts, wine, beer and more. When you visit Orlando, enjoy a selection of Italian dishes without having to trawl through a bunch of restaurants with an authentic Italian buffet!
WHERE: 6320 International Dr, Orlando, FL 32819 | WHO: (407) 985-4312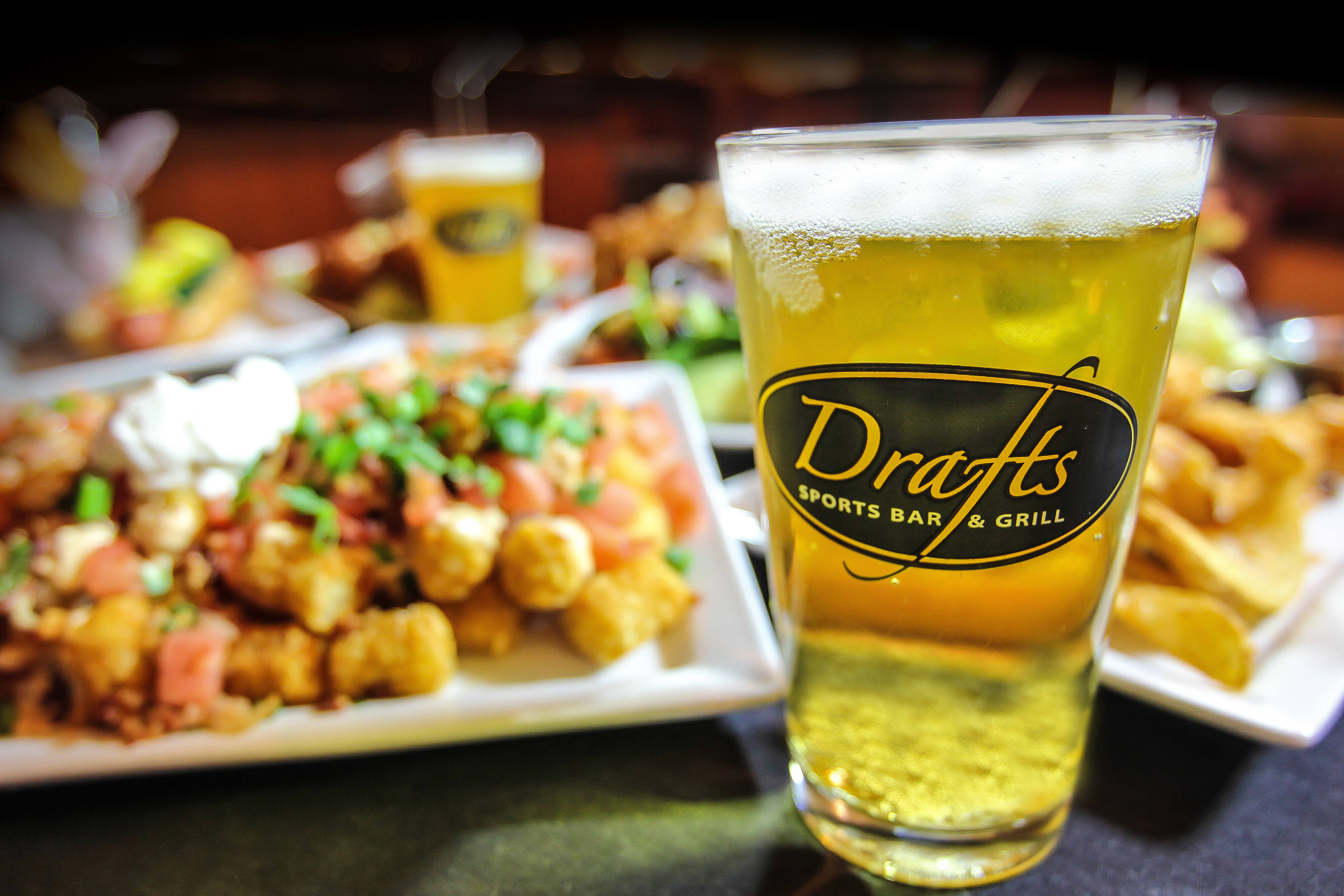 BONUS | Drafts Sports Bar & Grill Express | Ideally located just off International Drive at the Westgate Palace Resort, Drafts Sports Bar & Grill is a hidden gem worth seeking out! In addition to gourmet burgers and sandwiches, this sports bar on I drive serves up Chicago-style hot dogs, jumbo wings, Honey Stung Memphis Fried Chicken, BBBLT sandwich (Big Bad Bacon Lettuce & Tomato) and fresh salads, as well as their famous crispy tatchos (tater tots + nachos). Catch your favorite sporting event on one of the multiple flat-screen TVs or simply relax and lounge by the laid-back poolside bar while enjoying your favorite cocktail at Drafts!
WHERE: Westgate Palace Resort, 6145 Carrier Drive, Orlando, FL 32819 | WHO: (407) 996-6000
Use Our Handy Map to Find Your Way Around!
Liking The Real Scoop On I Drive Restaurants?

No matter what you're craving, rest assured that International Drive has the flavor and variety to cover all the culinary bases you could possibly go for! Whether you're looking for the best bars on I Drive, the best breakfast International Drive has to offer, a current guide to International Drive's best attractions, the best sports bar in Orlando, or something a little bit more posh, Westgate has you covered!

RELATED ARTICLE:
At Westgate Resorts, when you Check-In, there's a LOT to Check-Out! Your Orlando vacation awaits! Explore our Orlando resorts today or talk with a vacation planner at 888-852-2959 or 407-355-2690.
* Westgate Resorts is in no way affiliated with the restaurants featured in this article. Menu items listed are current as of the publishing date of this article. Please call or visit the respective website for each restaurant for the most up-to-date offerings.
Other tagged pages of interest: orlando hotels near disney, resorts near universal studios orlando, lake buena vista resort, kissimmee resorts, kissimmee hotels, hotels orlando, orlando resorts, resort hotels, staycations
When You Check-in, There's a Lot to Check Out
Sign up for our newsletter and check-in to great offers, secret stuff, and special events.