51 Things to do in Branson Missouri
51 Things to do in Branson, Missouri
Located in the heart of the Ozark Mountains, Branson, Missouri is the epicenter for thrill-seekers, nature explorers, and more! Known as the "Live Entertainment Capital of the World", the vacation paradise boasts over 100 live shows, including comedy, Broadway-esque, and magic productions to live music performances of all your favorite genres. Just seconds from the 800 miles of Table Rock Lake's shoreline, visitors have access to a multitude of recreational activities and outdoor adventures. If you're in search of incredible attractions and the best Branson restaurant to world-class resorts, like Westgate Branson Woods and Westgate Branson Lakes Resort, there's something for every vacationer in Branson, Missouri!
Fun Things for Couples to do in Branson MO
Lakeside, mountain views, family-friendly fun, delicious foodie finds, what's not to love? Whether you're looking for the best view from the Top of the Rock or the most exciting family attraction, Branson, Missouri is a must-see for anyone wanting to experience both the outdoors and entertainment without breaking the bank. Keep reading and explore the enchanting Ozark Mountains with our list of the top 51 Things to do in Branson, Missouri!
1 | Have a Meal at Drafts Sports Bar⁠ | Burgers anyone? Located at the beautiful Westgate Branson Woods Resort, Drafts Sports Bar & Grill is part of an award-winning franchise that serves up an innovative and unique menu, paired with an electrifying ambiance. From fresh ingredients to creatively crafted pancakes, burgers, flatbreads, steaks, chicken entrees, and appetizers, the modern sports bar and grill offers a culinary experience you won't find anywhere else in Branson. With specialty microbrews, mature wines, and craft cocktails, unwind and indulge as you have a decadent slice of triple-layer turtle chocolate cake and cheer on your favorite team.
WHERE: 2201 Roark Valley Rd, Branson, MO 65616 | WHO: 417-334-2324
2 | Twist and Turn at Silver Dollar City⁠ | Ready for a thrill? Experience record-breaking rollercoasters and exciting live performances at Silver Dollar City! Nestled in the Ozark Mountains, the 1880s-themed park has 40 heart-pounding rides and attractions, including aquatic adventures like the Mystic River Falls, live shows and performances, 100 local craftsmen showcasing American crafts, award-winning restaurants, and 60 shops perfect for anyone who's looking to discover their spirit of adventure. A few miles west of Branson just of Highway 76, Silver Dollar City is a great way to spend the day with the family outdoors and even has a campground for those who want to stay where they play.
WHERE: 399 Silver Dollar City Pkwy, Branson, MO 65616 | WHO: 417-336-7100
3 | Witness Wildlife on the Branson Scenic Railway⁠ | Get up close and personal to the Ozark Mountains! Other than hiking the many trails of the Ozarks, the Branson Scenic Railway is the best way to get front row views of the gorgeous scenery and wildlife Branson has to offer. For one hour and 45 minutes, passengers on the Branson Scenic Railway travel on a true vintage passenger train that takes them all throughout the winding foothills, tunnels, and trestles of the southwest Missouri wilderness. From April through October, passengers can experience traditional railcar-style dining at the dinner train ride at 5:00 pm, where a four-course candlelight dinner is served.
WHERE: 206 E Main St, Branson, MO 65616 | WHO: 417-334-6110
4 | Pose with the Stars at the Hollywood Wax Museum⁠ | Take a selfie with your favorite celebrity! Open 365 days a year, get up close and personal to stars like Sandra Bullock and Justin Timberlake. Famous for their lifelike wax figures, the Hollywood Wax Museum showcases pop-culture and famous stars using props and costumes, set in picture-perfect scenes like on the red carpet and at a celebrity cocktail party. With over 23 years in Branson, vacation with the stars!
WHERE: 3030 76 Country Blvd A, Branson, MO 65616 | WHO: 417-337-8700
5 | Slide into fun at Splash Country Indoor & Outdoor Waterpark⁠ | Have a splash during your next vacation in Branson! With nine aquatic attractions, a relaxing lazy river, and an exciting treehouse with a 1,000-gallon tipping buck, the Splash Country Indoor & Outdoor Waterpark is Branson's premier indoor and outdoor water park. Open only to Grand Country guests, water park-goers can enjoy thrilling slides like the Highwall Heights with two racing slides featuring over 400' combined and has a LED light show inside the tubes making it a mind-blowing experience that everyone will remember.
WHERE: 1945 76 Country Blvd, Branson, MO 65616 | WHO: 417-335-3535
6 | Gaze at Aquatic Life at the Aquarium at the Boardwalk⁠ | Dive into an enchanting aquatic adventure at the Branson Aquarium at the Boardwalk! From the dreamy Jelly Infinity Room and Mermaid Room to water tunnels showcasing various species of fish, sharks, coral reef, and more, the options for discovery are as infinite as the deep ocean itself! With interactive exhibits like the touch pools, learn more about your favorite underwater creatures and see them flourish in their natural habitats.
WHERE: 2700 76 Country Blvd unit a, Branson, MO 65616 | WHO: 417-335-3474
7 | Go to the Top of Table Rock State Park⁠ | Nestled on the outskirts of Branson, MO is one of the most scenic and breathtaking state parks in the country! Known as the hub for Branson's outdoor recreations and natural getaways, Table Rock State Park is the epitome of Missouri's glorious wilderness and beauty, and all it offers to its visitors. The State Park Marina offers water recreation activities like paddleboards and ski boats to a relaxing day fishing. Whether you're in the mood for a mountain hike with picturesque mountain views or a challenging mountain biking trail, there are many ways to enjoy Branson's outdoors at Table Rock State Park.
WHERE: 158 E Ellison Ln, Pickens, SC 29671 | WHO: 864-878-9813
8 | Have a Feast at Dolly Parton's Stampede Dinner Attraction⁠ | Hello, Dolly! Labeled as the World's Most Visited Dinner Attractions and Branson's Most Fun Place to Eat, celebrate a family tradition at Dolly Parton's Stampede Dinner Attraction! With 32 majestic horses and a cast of talented riders, experience the inspiring, world-class performances by Branson's top performers in the 35,000 square foot arena. Everyone loves a little friendly competition, and the show has that and so much more! Horseback stunts, special effects, musical acts, and a delightful four-course family meal, celebrate your vacation stampede style!
WHERE: 1525 76 Country Blvd, Branson, MO 65616 | WHO: 417-336-3000
9 | Sink or Swim at the TITANIC Museum Attraction⁠ | Your trip to Branson, Missouri is just the tip of the iceberg! The world's largest Titanic Museum Attraction, Titanic Branson is a one-of-a-kind interactive experience your family won't want to miss! The attraction greets "passengers" and gives them a first-hand experience of what it was like to walk through the hallways, parlors, cabins, and the Grand Staircase of the Titanic. Passengers, or visitors, have the chance to touch a real iceberg, submerge their hands into 28-degree water, and stand on sloping decks. The self-guided tour also includes receiving a boarding pass of an actual Titanic passenger or crew member, over $4.5 million of Titanic artifacts, the opportunity to sit in a life-size lifeboat and hear true passenger stories and honor your passenger's fate in the Titanic Memorial Room.
WHERE: 3235 76 Country Blvd, Branson, MO 65616 | WHO: 800-381-7670
10 | Discover Your Wild Side at Branson's Promised Land Zoo⁠ | Having a roaring good time at Branson's top-rated animal attraction and only zoo! Family-owned and dedicated to providing every visitor with a personalized experience, Branson's Promised Land Zoo has committed itself to providing the best environment and care to each of its animals and to educate and entertain visitors. With exclusive encounters like the VIP and VIP Plus Admissions, visitors can meet with animals like zebras and sloths behind the scenes and learn about their everyday lives and schedules. From several exhibits of species from around the world, the zoo has antelope, zebra, kangaroo, big cats, medium cats, baboons, spider monkeys, deer, capybara, porcupines, alpacas, and more! Ready for an animal adventure?
WHERE: 2751 Shepherd of the Hills Expy, Branson, MO 65616 | WHO: 417-337-9453
11 | Climb Together at Fritz's Adventure⁠ | Experience a unique and fun adventure with the entire family! At Fritz's Adventure, families can adventure together with over 80,000 square feet of explorable space. Located on Highway 76, the indoor adventure park offers climbable space for all ages, including the TreeTops course with 32 obstacles, including 11 flying zip lines, six suspension bridges, and two scream-worthy free falls. More activities in the adventure park include a multi-story ropes course, underground tunnel, a laser room, a 48' climbing wall, and more!
WHERE: 1425 76 Country Blvd, Branson, MO 65616 | WHO: 417-320-6138
12 | Connect with Nature at The Butterfly Palace & Rainforest⁠ | With thousands of 50 to 60 species of tropical butterflies from exotic rainforests around the world, The Butterfly Palace & Rainforest is a peaceful and unique learning experience for the entire family! Including the Emerald Forest Mirror Maze, Living Rainforest Science Center, Educational Videos, and the Great Banyan Tree Adventure, every visitor helps the Butterfly Palace in its effort to help save the rainforest. Visitors can even feed the exotic beauties with a complimentary nectar flower!
WHERE: 4106 76 Country Blvd, Branson, MO 65616 | WHO: 417-332-2231
13 | Get Weird at Ripley's Believe It or Not Branson Odditorium⁠ | Are you a lover of the strange and unusual? If so, we've got the place for you! With eight galleries of an ever-growing collection of over 450 odd artifacts, the Ripley's Believe It or Not Branson Odditorium is a wild and weird adventure that showcases shocking finds, mind-bending illusions, and silly interactive activities. Open daily from 10 am to 10 pm, come and explore the mind of the amazing Robert Ripley!
WHERE: 3326 76 Country Blvd, Branson, MO 65616 | WHO: 417-337-5300
14 | Rock On at the Talking Rocks Cavern⁠ | Once called "Missouri's Most Beautiful Cave", the Talking Rocks Cavern was first named "Fairy Cave" by its founder, Truman Powell, in the early 1920s because he states the cave looked like "a subterranean fairyland." Since the early 1920s, cave exploring has been one of the earliest forms of tourism in the Ozarks and it is still a loved experience by visitors! Made up of reflecting, beautiful crystals, the Talking Rocks Cavern is open year-round and is vertical with concrete handrails and steps throughout the cave so people of all ages can enjoy the 62-degree cave.
WHERE: 423 Fairy Cave Ln, Branson West, MO 65737 | WHO: 417-272-3366
15 | Go Beyond the Lens! In Branson⁠ | Creating a new form of entertainment for Branson visitors, Beyond the Lens! is a techno-tainment attraction that immerses its visitors in the best of pop culture with interactive exhibits, photo ops, and rides. From the Alien Egg Pit, the attraction's most popular activity filled with thousands of translucent white eggs in an "alien nest", to the Virtual Reality Games and Escape Room, Beyond the Lens! creates a new reality of fun for the entire family!
WHERE: 3115 76 Country Blvd, Branson, MO 65616 | WHO: 417-337-9333
16 | Reminisce at the World's Largest Toy Museum Complex⁠ | Take a trip down memory lane during your next trip to Branson! You're never too old to travel back and reminisce over your favorite childhood toys at the World's Largest Toy Museum Complex. Showcasing a collection of over one million toys covering over 30,000 square feet in two buildings, the complex includes the National BB Gun Museum, Stearnsy Bear Museum, World of Checkers Museum, 900 Barbies, GI Joe action figures, Hot Wheels, Matchbox cars, Pez dispensers, and so, so much more!
WHERE: 3609 76 Country Blvd, Branson, MO 65616 | WHO: 417-332-1499
17 | Tee Off at Top of the Rock Golf Course⁠ | Perched above Table Rock Lake, the Top of the Rock Golf Course is nature and golf at its finest. A Jack Nicklaus Signature Course, the golf course is the first-ever par-3 course to be included in a professional championship and features serene waterfalls, placid lakes of Top of the Rock, gentle ponds, and running creeks.
WHERE: 150 Top of the Rock Rd, Ridgedale, MO 65739 | WHO: 800-225-6343
18 | Feel the Wind in Your Hair at Adventure Ziplines of Branson⁠ | Ready to zip through the Ozarks? Be sure to check out the top-rated zipline tour for a high-flying adventure the entire family will enjoy! The Adventure Ziplines of Branson gives jaw-dropping views of the Ozark Mountain on top of soaring towers and offers seven ziplines that reach up to 50 mph. Hold on to your helmets kids, it's going to be a wild ride!
WHERE: 501 N Wildwood Dr, Branson, MO 65616 | WHO: 888-972-9967
19 | See A Live Pierce Arrow Show⁠ | Don't miss out on Branson's hottest show, Pierce Arrow! Winning over 124 awards, the Pierce Arrow Show puts on its two award-winning productions nightly for its guests, the Decades Show and Pierce Arrow Country Show. The Decades show is a musical and comedy adventure through the 50s, 60s, 70s, and 80s decades, and the Country Show presents classic to modern top hit performances and award-winning comedy from the four-time winning Comedian of the Year, James Sibley. You'll laugh, you'll sing, and most importantly, you'll have a great time!
WHERE: 3069 Shepherd of the Hills Expy, Branson, MO 65616 | WHO: 417-336-8742
20 | Sing Along to The Haygoods ⁠— Branson's Most Popular Show! | With over 6,000,000 tickets sold, it's easy to see why the Haygoods is Branson's Most Popular Show! Five brothers and one sister performing on over 20 instruments, what more do you need! Playing unique renditions of music from the 60s through today, the world-class production includes exciting special effects and is going on its 29th smash-hit season.
WHERE: 3216 76 Country Blvd, Branson, MO 65616 | WHO: 417-332-2529
21 | Experience Branson's First Show— Presley's Country Jubilee⁠ | A famous Branson landmark, the Presley Theater was first built in 1967 and was Branson's original show on the Strip! Still entertaining guests with a mix of gospel, knee-slapping comedy, country, and bluegrass! Presley's Country Jubilee was the first live music theater built in Branson and carries on the authenticity of its humble beginnings! The Presley family still performs the smash hit and always says it's a good show night as long as the audience is smiling, laughing, and enjoying the music.
WHERE: 2920 76 Country Blvd, Branson, MO 65616 | WHO: 417-334-4874
22 | Have a Blast at the Runaway Mountain Coaster at Branson Mountain Adventure⁠ | Ready for a truly thrilling adventure? If you haven't heard, mountain coasters are the new heart-pounding attraction sweeping across mountain towns and Branson is no exception! The Runaway Mountain Coaster and Flyaway Ziplines at Branson Mountain are an incredible way to experience Branson's outdoors and views and offers thrills for all ages! The first mountain coaster in the Ozarks, the Runaway Mountain Coaster runs through day and night, and we recommend trying out the night coaster ride which is illuminated by flashing, neon LED lights.
WHERE: 935 MO-165, Branson, MO 65616 | WHO: 417-334-7337
23 | Reach the Stars at Branson Ferris Wheel⁠ | Reach new adventure heights during your vacation in Branson! The Branson Ferris Wheel will peak your expectations with its 40 gondolas, 240 passengers with six passengers per gondola, with 16,000 LED lighting the sky. Always on a continuous rotation, The Branson Ferris Wheel is great for all ages, and children three and under ride free!
WHERE: 935 MO-165, Branson, MO 65616 | WHO: 417-334-7337
24 | Stroll Through the Ozarks at Bear Creek Trail Rides⁠ | Through the banks and foothills of the Ozarks, the Bear Creek Trail Rides offer a scenic look into the western track of the mountainside. Located on 330 acres and privately owned by the Caperton family since 1954, come reconnect with your nature and family under the shaded and breathtaking Missouri mountainside trails. No experience is needed as each horse is gentle and steady for every rider, and the trail rides are open to guests ages seven and up. Breath in the fresh, mountain air and revel in the beauty that is Branson!
WHERE: 3400 US-65, Walnut Shade, MO 65771 | WHO: 417-337-7708
25 | Shepherd of the Hills Fish Hatchery⁠ | Did you know the largest trout-rearing facility operated in Missouri is located just below the Table Rock Dam on Highway 165? The Shepherd of the Hills Fish Hatchery produces 350,000 to 400,000 pounds of trout every year, both rainbow and brown trout, and are raised at the hatchery with 80% of production going into Lake Taneycomo. The trout that are not released into Lake Taneycomo are put into other Missouri trout management areas. Great for families to come and learn about trout conservation, the hatchery has a free conservation center where visitors can come learn about fishing, trout culture, aquatic life, and the Missouri Department of Conservation's role in managing the state's aquatic resources.
WHERE: 483 Hatchery Rd, Branson, MO 65616 | WHO: 417-334-4865
26 | Enjoy Some Fun in the Sun at Moonshine Beach | Missouri may be a landlocked state but that doesn't mean you can't still enjoy some sand and sunshine! Swap out palm trees for oak trees and you've got a relaxing "beach" day right in the heart of the Show-Me State. Moonshine Beach is a very popular recreation area along the shores of Table Rock Lake. It is the only sand swim beach on the lake and in addition to swimming, visitors can enjoy their volleyball court, boat ramp and picnic area for a full day of family fun outdoors.
WHERE: 3778 MO-165, Branson, MO 65616 | WHO: 1-877-444-6777
27 | Get Hands on at WonderWorks | While in Branson, exercise your brain at WonderWorks – a hands on laboratory that contains 48,000 square feet of fun experiments, challenges, and exhibits that combine education and excitement in a whole new way! One of their most popular interactive exhibits is the Titanic exhibit, where you can dip your hand into freezing cold 28-degree water, simulating the water icy waters of the North Atlantic Ocean. Or step inside The Hurricane Shack to experience Category 1 hurricane force winds of up to 74 miles per hour! You're guaranteed to leave this mental amusement park with some new fun facts under your belt.
WHERE: 2835 76 Country Blvd, Branson, MO 65616 | WHO: 417-231-9999
28 | Play Some Games at Bigfoot Fun Park | In the mood for an adventure? This is not folklore – you'll have no problem spotting the heart-pounding thrill rides at Bigfoot Fun Park. Get an adrenaline rush by taking a ride on their Super Sling, Gravity Bomb, or Action Tower. Or slow down the action and keep up the fun with their Arcade or Adventure Golf. They even offer Bigfoot Discover Expedition Tours – what they call "Branson's Biggest Show on Wheels!" Hop aboard one of their 4x4 vehicles for a themed adventure featuring music and captivating stories…all while on a rugged quest for Bigfoot!
WHERE: 3608 76 Country Blvd, Branson, MO 65616 | WHO: 800-562-2416
29 | Pay Your Respects at the Veteran's Memorial Museum | Take a visit to Branson's Veteran's Memorial Museum to honor the men and women who've served. This national tribute museum is filled with a vast collection of wartime exhibits that include uniforms, sculptures, letters, memorabilia, and historical artifacts. The museum is designed to provoke thought and bring the stories of veterans to life. The names of soldiers killed in action in American wars dating back to World War II are displayed on the walls throughout the museum. The museum offers affordable rates of admission for adults, children, and groups.
WHERE: 1250 76 Country Blvd, Branson, MO 65616 | WHO: 417-336-2300
30 | Get Lost at the Lost Canyon Cave and Nature Trail | A totally unique experience, the Lost Canyon Cave and Nature Trail is a 2 and a half-mile journey on an electric cart. The cart, which holds up to four people, will navigate you through the trail, created to highlight the rock formations and waterfalls of the cave area. You even get close enough to feel some mist on your face! It even offers stunning views of Table Rock Lake and Ozarks in the distance. You'll definitely want to bring your camera and snap photos as the cart carries you along the trail, showcasing the natural beauty of Lost Canyon Cave.
WHERE: 150 Top of the Rock Road, Ridgedale, MO 65739 | WHO: 800-225-6343
31 | Go Wild at Branson's Wild World | Nowhere else in Branson can you find sharks, lemurs, and wolves all in one wild location! This diverse park features an incredible selection of aquatic animals and interactive experiences that include feeding sharks, alligators, and sting rays – you can even submerge your hands into a tank full of doctor fish as they lightly nibble on your hands and remove your dead skin! Or explore their diverse collection of mammals that includes foxes, mountain lions, and a pack of wolves. Whether you're into creepy crawlers or reptiles and frogs, Branson's Wild World has an exhibit for you.
WHERE: 2020 76 Country Blvd #2100, Branson, MO 65616 | WHO: 417-239-0854
32 | Immerse Yourself in Nature at the Lakeside Forest Wilderness Area | Spend a serene afternoon in nature or clear your head on a relaxing hike at this 140-acre park in the heart of Branson – complete with 5.3 miles of woodland trails and scenic views. The park features a stone-paved path down toward Lake Taneycomo, a covered porch swing, and a picnic area – so bring your lunch to enjoy a natural escape.
WHERE: 412 Owen Ln, Branson, MO 65616 | WHO: 417-335-2368
33 | Get Crazy at the Castle of Chaos | The Castle of Chaos has been described as "virtual insanity!" The supernatural-themed, 3D haunted house ride is non-stop action and friendly competition for the entire family. Feel yourself be transported to a new reality and test your skills with the laser blaster as you compete for top score while winding, turning and twisting through the virtual reality castle. The experience is located at the Hollywood Wax Museum Entertainment Center and you can purchase single attraction tickets or an all-access pass to everything they offer for one great price!
WHERE: 3030 West 76 Country Blvd, Branson, Missouri, 65616 | WHO: 417-337-8700
34 | Learn Something New at Ancient Ozarks Natural History Museum | Head to Big Cedar Lodge and find yourself immersed in history at the Ancient Ozarks Natural History, where you can peruse large collections of Native American artifacts and other historical memorabilia. This 35,000-square-foot mega museum gives you an idea of what life would have been like in the early days of the region, from extraordinary fossil displays to items detailing the history of the people and the wars that transformed the landscape and made the Ozarks what they are today.
WHERE: 150 Top of the Rock Rd, Ridgedale, MO 65739 | WHO: 800-225-6343
35 | Have a Laugh at the Funny Farm Dinner Feud⁠ | Taking place at the Playhouse Dinner Theatre, enjoy dinner and a laugh as you meet two families who've been clashing for generations – in the most hilarious ways possible! This highly interactive comedy show is good clean fun, recommended for families with school-aged children. Sit back and relax as you're served dinner in your seat – meals are catered from their Shepard's Mill Restaurant and tea, lemonade or water are served.
WHERE: 5555 76 Country Blvd, Branson, MO 65616 | WHO: 417-334-4191
36 | Get to Know Branson at the Branson Centennial Museum | Come spend a few hours wandering around this quaint museum showcasing Branson's history with a series of rotating exhibits featuring old photos and artifacts that help tell the story of Branson. Learn all about how Branson was incorporated as a city in 1912, in the museum that officially opened 100 years later – in 2012! There's even a small gift shop with a great selection of books by local authors.
WHERE: 120 S Commercial St, Branson, MO 65616 | WHO: 417-239-1912
37 | Hike the White River Valley Trail System | Looking for a pleasant yet challenging hike or mountain bike ride to enjoy in Branson? The White River Valley Trail System offers rugged terrain and scenic views of waterfalls and an abandoned farmstead within Table Rock State Park. Their marked loop trails range in difficulty, length and elevation but are all perfect for a day spent in nature!
WHERE: 5325 MO-165, Branson, MO 65616 | WHO: 417-334-4704
38 | Take in the Views at Branson Scenic Overlook⁠ | Get your camera ready! If you need a break from your drive, pull off the road to stretch your legs and walk around this scenic overlook for a quick hike. Located off Highway 165, this scenic spot provides spectacular river views. If you happen to drive by in the evening, it even offers excellent sunset views!
WHERE: 5329 MO-165, Hollister, MO 65672 | WHO: N/A
39 | Get Your Kicks at the Branson Celebrity Car Museum⁠ | You won't want to miss this collection of over 100 iconic cars, costumes and props from some of Hollywood's biggest blockbuster hits! You're bound to recognize something amongst their vast collection, which is always changing as they buy and sell for their displays. Keep your eyes peeled for the cars used in Jurassic Park, The Fast and the Furious, and the hit Netflix show Stranger Things! This museum has been family owned and operated since 2012 and is a must-do on your trip to Branson.
WHERE: 1600 State Hwy 76, Branson, MO 65616 | WHO: 417-239-1644
40 | Take Fun to New Heights at the Branson Landing Fountain Show⁠ | Branson Landing is one of the most popular destinations in Branson for shopping and sightseeing. And a visit to the Landing is not complete without taking in their spectacular light and water display at the fountains! Towers of water combined with fire, lights and music create an eye-catching and synchronized show for the entire family to enjoy. The fountain show takes place Monday through Sunday, on the hour from Noon to 10 pm. They even have a select few shows with a patriotic flair – incorporating the Star-Spangled Banner!
WHERE: 100 Branson Landing, Branson, MO 65616 | WHO: 417-239-3002
41 | Take a Campus Tour at the College of the Ozarks⁠ | Founded in 1906, this unique little liberal arts college is a great place to visit in Branson. You can schedule a campus tour, or out of town guests are welcome to stroll the campus at their leisure. Take your time walking around and using the campus map to make your way from sight to sight– including the Williams Memorial Chapel, Stained Glass and Candle Shop, Scripture Garden, and their 9/11 Memorial. Top off your afternoon with lunch at The Keeter Center, an award-winning restaurant serving up southern classics and decadent specialties. Be sure to save room for dessert and end your visit with some student-made ice cream at the College Creamery!
WHERE: 100 Opportunity Ave. Point Lookout, MO 65726 | WHO: 1-800-222-0525
42 | Adventure on at White Water Branson⁠ | There's only excitement and laughter at this water park! White Water Branson is a 13-acre island-themed water park which will make you feel like you've found paradise in the middle of Missouri. This park has over 10 different attractions including thrilling water slides, the Surf's Up Wave Pool, and Splashaway Cay for the little ones. There is something to do for all ages at White Water Branson. Branson may be famous for its lakes, but this water park is all the rage!
WHERE: 3505 State Hwy 76, Branson, MO 65616 | WHO: 417-336-7100
43 | Enjoy Dinner with a Live Show on the Branson Belle Showboat Cruise | Experience a showboat like never before, full of beautiful sights, lively performances, and delicious foods. Branson Belle Showboat Cruise was made to model the original paddle wheel boats that used to ride through the Ozarks in the 1800s. This cruise is available for both afternoon and evening bookings and caters to audiences of all ages. Experience comedy, magic, music, and dancing all while enjoying a meal with the family. Branson Belle Showboat Cruise also provides different themed events with unique menus and performances to entertain each of its guests. Don't forget to thank the captain after you have a fantastic evening on the ship!
WHERE: 4800 State Hwy 165, Branson, MO 65616 | WHO: 417-336-7171
44 | Fish, Swim, or Enjoy Water Sports at Lake Taneycomo⁠ | Lake Taneycomo, located in historic downtown Branson, is known for its trout fishing, scenic views, and water sports. Take the kids on a kayaking adventure or relax and stroll down the mile-long boardwalk. Lake Taneycomo provides serenity and fun in the great outdoors. If you are looking for more of a thrill on your lake day, check out the Branson Jet Boats, a ride that turns from a scenic adventure to twisting and turning excitement on the water. Lake Taneycomo is the perfect location to unwind and have fun in the sun on your Branson vacation!
WHERE: 4100 Gretna Road, Branson, MO 65616 | WHO: 417-334-4084
45 | Dive into History at the Shipwrecked Treasure Museum⁠ | With no oceans nearby it is interesting that you would find the Shipwrecked Treasure Museum in the middle of Branson! This exhibit displays hundreds of lost artifacts found in the sea from real life shipwrecks. Discover the mystery behind some of these rare and one-of-a-kind pieces. This museum has a ton of interactive features including several games and activities that demonstrate life at sea and as a pirate! A day spent in this museum will be full of fun and learning for the whole family!
WHERE: 505 Branson Landing Blvd, Branson, MO 65616 | WHO: 417-635-5041
46 | Take Some Time to Reflect in Hannah's Maze of Mirrors | Upon arrival at Hannah's Maze of Mirrors you will be told that you have a quest to free Princess Hannah (who has been cursed) by finding your way through this intense mirror maze. Located in the center of the Branson Entertainment District, this venue is designed to look like a real-life castle resembling parts of the maze's storyline. There are 288 potential turns in this grand mirror hall, but don't worry if you get too lost the story characters will appear and advise you on where to go. Hannah's Maze of Mirrors is a tricky activity that will keep you on your toes as you adventure through a world of mirrors!
WHERE: 3030 76 Country Blvd C, Branson, MO 65616 | WHO: 417-337-8700
47 | Go Back in Time at the Dinosaur Museum⁠ | Feel like you're a character from Jurassic Park when you visit this attraction! The Dinosaur Museum displays to scale creatures of all sizes, including everyone's favorite – the T-Rex! Each dinosaur has been worked on by skilled paleo-artists who even used real dinosaur bones to mold the bodies. Learn about the Age of the Dinosaurs and complete the interactive scavenger hunt throughout the museum. This Dinosaur Museum will make you glad that some of those carnivores aren't alive today!
WHERE: 3619 76 Country Blvd, Branson, MO 65616 | WHO: 417-239-0733
48 | Watch Stories Come to Life on Stage at JESUS at Sight & Sounds Theatre⁠ | This theatre show gives a live action version of the stories told in the bible. Watch how Jesus's journey began and the miracles he performed along his way. This unique theatre show has its own original music throughout the performance along with a massive set that changes for each of the scenes. After watching JESUS at Sight and Sounds Theatre you will be inspired by the stories that are told. Whether you are religious or not this attraction still displays an incredible set of actors and stories that will certainly entertain!
WHERE: 1001 Shepherd of the Hills Expy, Branson, MO 65616 | WHO: 800-377-1277
49 | Go Exotic at the National Tiger Sanctuary⁠ | Get up close to an African Lion, Bengal Tiger, and several other animals at this sanctuary. Discover the big hearts within these big cats at the National Tiger Sanctuary! With over 40 big cats that were rescued on their property, this site offers 4 different types of tours to learn about these beautiful animals. The cats in this sanctuary were saved from various situations while other domestic animals happened to wander onto the site and found their permanent home. The mission of the National Tiger Sanctuary is to educate people on the natural lives of these animals but also to give love and affection to these big cats who were found in poor circumstances.
WHERE: 518 State Hwy BB, Saddlebrooke, MO 65630 | WHO: 417-587-3633
50 | Get Competitive at The Track Family Fun Parks⁠ | Got a need for speed? The Track Family Fun Parks is probably more on the faster side of all of Branson's attractions. With go-kart tracks for all ages, laser tag, bumper boats, and more, there is endless fun at this park. There is no gate admission charge so your family can wander around and decide which activities would be most fun for you. If your family is looking for a thrill on your next vacation, this is surely a place you will want to visit.
WHERE: 3345 76 Country Blvd, Branson, MO 65616 | WHO: 417-334-1612
51 | Have Big Fun at Fun Mountain at Big Cedar Lodge⁠ | At Fun Mountain, the fun doesn't stop! With over 50,000 square feet of entertainment space that includes laser tag, a golf simulator, an underwater-themed bowling, bumper cars, and a full arcade. This place is sure to bring out the kid in you! If you choose to stay in the lodge, an extensive list of activities is also included in your stay.
WHERE: 190 Top of the Rock Road, Ridgedale, MO 65739 | WHO: 800-225-6343
BONUS | Catch a Game | Did you know that Branson is the official vacation destination of the Kansas City Chiefs? Whether you're a casual fan or a die-hard member of Chiefs Kingdom, show your team spirit and catch a game at GEHA Field at Arrowhead Stadium and see the 2023 NFL Super Bowl winners take on their challengers.
WHERE: 1 Arrowhead Dr, Kansas City, MO 64129 | WHO: 816-920-9300
Use Our Handy Map to Find Your Way Around!
Last Tips
Ready to tackle all that Branson has to offer? One of the most family-friendly travel destinations in the United States, Branson has something for everyone! In addition to being nicknamed the Live Entertainment Capital of the World, Branson boasts an abundance of natural beauty from the surrounding Ozark Mountain range and its three pristine lakes that makes it a premier vacation spot for families in search of outdoor adventures.

RELATED ARTICLE: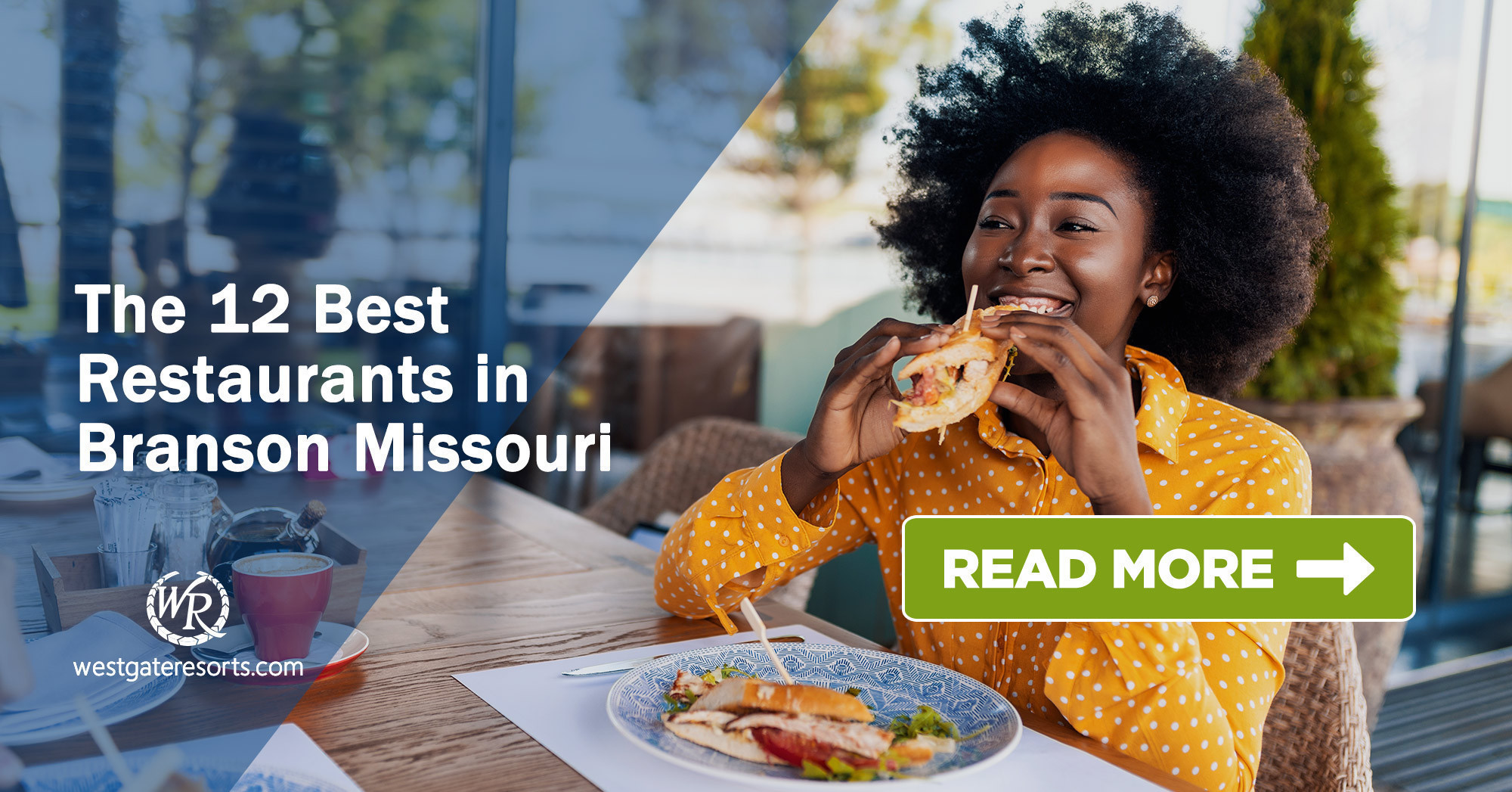 At Westgate Resorts, when you Check-In, there's a LOT to Check-Out! Your Branson vacation awaits! Explore our Branson resorts today or talk with a vacation planner at 888-852-2959 or 407-355-2690.
* Westgate Resorts is in no way affiliated with the attractions featured in this article. Items or places listed are current as of the publishing date of this article. Please call or visit the respective website for the most up-to-date offerings and details.
When You Check-in, There's a Lot to Check Out
Sign up for our newsletter and check-in to great offers, secret stuff, and special events.