6 Clever Ways For Sports Teams to Book Hotels Rooms Affordably!
"A trophy carries dust. Memories last forever." – Mary Lou Retton
Don't strike out during your next traveling tournament, and make sure that your team has all the hotel accommodations they need to win the big game! Planning any travel has its obstacles, let alone setting up travel plans for an entire sports team. Whether it's Little League or an Office League, athletes require a lot more on the road than your regular traveler. Between practice and fueling up, traveling sports teams also need a space where they can relax and enjoy their time away. But how do you book hotel rooms for an entire sports team, while handling the ins-and-outs of managing the team itself?
Tips On Sports Team Bookings For Hotels
Beat the competition and lead your team to victory before the game even starts. Since travel planning can be stressful, we put together a few tips for booking hotel rooms easily without breaking the team's budget! Whether it's you're first time planning or if you're a pro, your sports team travel will be a guaranteed a slam dunk with these much-needed tips.
1 | Designate A Booking Captain | Whether you're the coach, dutiful family member, or supportive team mascot, the role of booking hotel rooms for the entire team is a huge responsibility. Even though your first urge is to have multiple people help book, choosing one person to handle the booking will simplify plans, and communicating will be smoother. With one person in charge, the information given is less likely to be incorrect since it's coming from one source. However, planning team travel can still be a team effort! Additional team recruits can help with other specifics of the trip.
2 | Plan Before You Book | First things first—find the best day for the first day of the trip. Once the first day is cemented, you can spread the word on significant travel so the rest of the party can begin planning. The more notice you're able to give, the less chance of people getting dates wrong. And the best part about beginning as early as possible is this ensures low rates and priority booking!
3 | Book A Room Block With Breeze| Believe it or not, finding a hotel where you can room block will be the best thing you can do when booking hotel rooms for your traveling team! Even though your first instinct might be to split up the team to control noise and socializing, this will actually only spread the noise throughout the hotel. Reserving room blocks also ensures all team members receive the same accommodations and no teammate will feel left out.
4 | Don't Stray Far From The Sports Location | Whether it's an amphitheater or a local sports field, booking a hotel near the sports location will ensure a smoother stay and will surely reduce stress. Having all team members in close proximity to the sports venue will make pre and post-game meetings easier and will lessen the time spent on the road.
5 | Stay At A Hotel With A Restaurant | If there's one thing we know about athletes, it's that they're fuel-burning machines! Traveling teams need to fuel up at random times, which means they should always have food on hand. Having a restaurant, or a few, at the hotel is not only convenient, but it also ensures the team stays together and doesn't get split up pregame. The last thing you need is a teammate left astray at a McDonalds!
6 | Kid-Friendly Activities Are A Must | Before or after the big game is a time for play and relaxation. While the team is away, be sure to book a hotel where activities are readily available to ensure maximum fun! Whether your team is young, or the entire family needed to join the trip, booking with a hotel that has kid-friendly activities will keep everyone entertained.
BONUS POINT: REQUIRE A DEPOSIT
By choosing a hotel that requires a deposit, your team travels plans can ensure any damage or additional changes are secure. It prevents no-shows from other members of the traveling party and also helps you to follow the budget. Before booking, be sure to read the cancellation fees and policy.
Last Tips
After booking your hotel rooms for your traveling team, there's still a lot of planning to do to ensure your trip is a winner!:
Make a schedule—Communicating can be difficult when traveling with a large group. Create an itinerary for the entire trip and provide it to all teammates and members of the party so everyone has the same game plan.

Travel by bus—By traveling together, the entire team and family members will stay together and arrive at the same time. Plus, everyone gets to bond while singing beloved travel songs and playing "I Spy".

Go digital—Keep all important information digitally, as well as printed, so nothing is lost along the way of travel.

Plan for injuries—Sometimes, sports injuries can't be healed with just a little Ibuprofen and ice. Find the nearest healthcare facilities, and if possible, determine if any sports medicine will be present at the game.

Create a Packing List—With a big traveling party, creating a packing list for everyone is the best way to ensure all teammates and family members are bringing the required and necessary equipment and materials for the big game. Check out the packing list we created for traveling teams like you!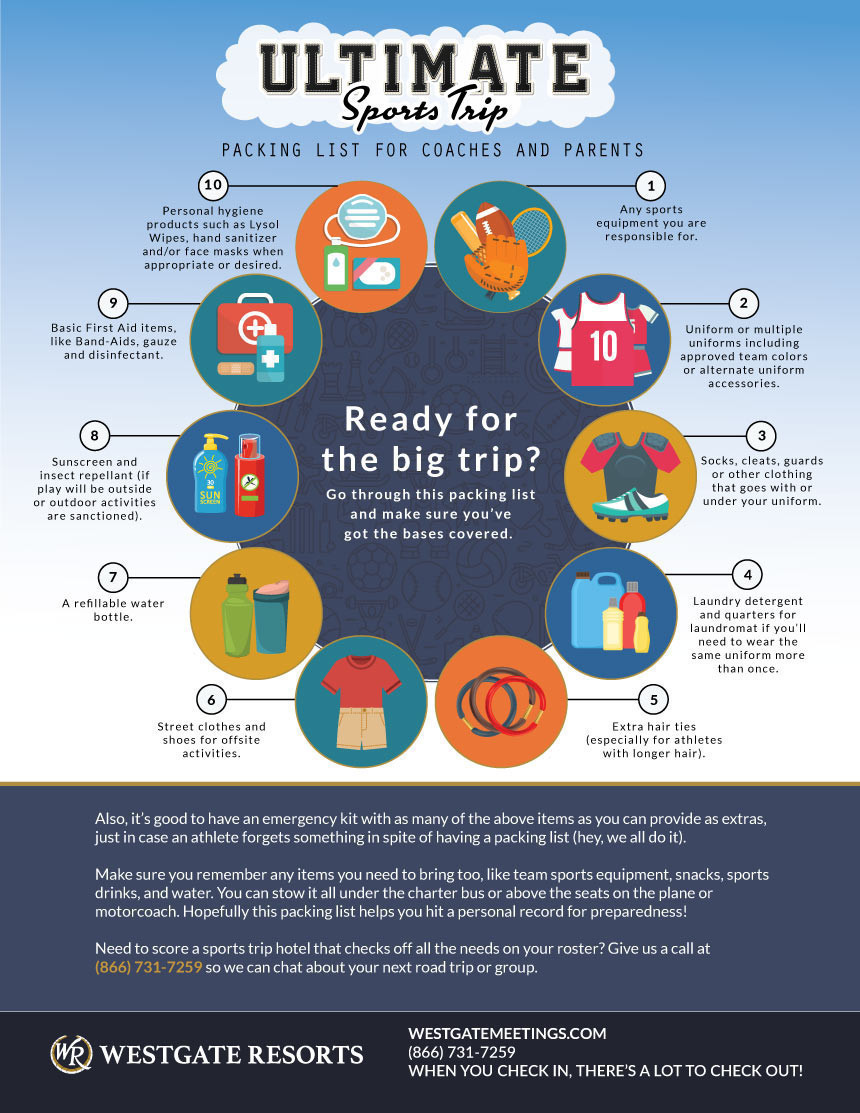 Planning a sports trip at Westgate Resorts is super easy! Call (866) 731-7259 or check out our hotels with meeting rooms for more information your next group event! Now that you're fully prepared to plan a sports team travel, who's ready to play ball?
At Westgate Resorts, when you Check-In, there's a LOT to Check-Out! Your vacation awaits! Start planning your next vacation today or talk with a vacation planner at 888-852-2959 or 407-355-2690.
RELATED ARTICLE
When You Check-in, There's a Lot to Check Out
Sign up for our newsletter and check-in to great offers, secret stuff, and special events.