8 Things to Do Mother's Day Weekend That Will Blow Her Mind [2023]
Things to Do for Mother's Day Weekend
Looking for original and thoughtful things to do mom will love? How about a Mother's Day getaway? Or, consider family campgrounds in Florida she'll love. Why not research the best Mother's Day brunch in Orlando? If not, there are plenty of Mother's Day activities you can do. Tired of rushing out to get a last-minute bouquet of wilting flowers and waiting in long lines at overpriced Mother's Day brunches with mediocre jazz playing in the background? This year, show your appreciation by treating mom to a special Mother's Day weekend that she will cherish forever.
8 Mother's Day Weekend Ideas
Here are some unique Mother's Day weekend activities, besides breakfast in bed and a spa day, that are sure to put a smile on her face:
1 | Sign Mom up for Cooking, Craft or Yoga Classes | If your mom enjoys culinary and/or crafting activities, consider signing her up for a cooking demonstration or painting/craft class where she can channel her inner Bob Ross during Mother's Day weekend. Yoga classes are also a good option for her to optimize her overall health emphasizing mind, body and spirit in a peaceful atmosphere.
RELATED ARTICLES:
20 Funny Tweets About Traveling with Kids
10 Vacations That Are Better Than The Metaverse
10 May Holidays and Events Happening Near Westgate Resorts
2 | Schedule a Family Photo Shoot | When is the last time your entire family sat down for a group portrait? A family photo shoot could be an affordable way for your siblings to pitch in and give your mom a great Mother's Day gift that will definitely stand the test of time. Seek out online specials for the best deals on Mother's Day weekend photo shoots. However, if a photo shoot is not practical this year, consider creating a personal photo album or family scrapbook full of special memories with a Mother's Day slant.
3 | Take Mom on a Special Shopping Outing | Outlet shopping centers have evolved into some of the most popular tourist attractions in well-known vacation destinations such as Orlando, Branson, Myrtle Beach and many other locales. Treat mom to an incredible Mother's Day weekend of outlet shopping where she can find great discounts on designer fashions, home accessories and much more. If you're not feeling like heading to the outlets or malls, why not try a farmer's market for locally-sourced and handcrafted goods? After shopping, you can always lookup Mother's Day restaurants, Mother's Day brunches or even Mother's Day BBQ ideas.
4 | Surprise Mom with a Visit to a World-Class Spa | Let's face it, mom has earned some well-deserved pampering, so why not treat her to a rejuvenating day at a luxurious spa? A Mother's Day weekend spa adventure will help her eliminate the daily stresses of everyday life and renew her mind, body and spirit. Many resort spas offer Mother's Day specials such as Westgate Resorts, which offers onsite spas at three locales: Westgate Lakes Resort & Spa in Orlando, Westgate Smoky Mountain Resort & Spa in Gatlinburg and Westgate Park City Resort & Spa.
5 | Accompany Mom to a Local Museum or Historic Site | Is your mom a history buff? Treat her to an amazing Mother's Day weekend adventure that revolves around exploring history such as touring an antebellum home, visiting a history museum or exploring a Civil War battlefield. Top history sites throughout the United States to consider include Colonial Williamsburg, Monticello, Ellis Island, Gettysburg National Military Park, Freedom Trail in Boston and, of course, the National Mall in Washington, D.C., which is home to such iconic monuments as the Lincoln Memorial, Washington Monument, Thomas Jefferson Memorial, Vietnam Veterans Memorial, Martin Luther King Jr. Memorial, U.S. Capitol, White House and all the various Smithsonian museums.
6 | Take a Hike | If your mom simply loves the great outdoors, what better way to spend an afternoon of quality time together this Mother's Day weekend than organizing a hike or nature walk? Some of the top national parks to consider exploring include Great Smoky Mountains National Park, Yosemite National Park, Zion National Park, Rocky Mountain National Park, Yellowstone National Park, Acadia National Park, Olympic National Park, Grand Teton National Park and Glacier National Park. Or you may want to just stay closer to home and organize a low-key hike at your nearest city, county or state park. Many public botanical gardens and vineyards feature extraordinary hiking trails as well. Don't forget to bring along a picnic basket full of gourmet sandwiches and other mouth-watering treats to take along on your hiking adventure.
7 | Treat Mom to a Concert or Stage Show | Nothing beats surprising mom on Mother's Day weekend with a pair of concert tickets to her favorite musical artist or off-Broadway musical. Legendary entertainer Barry Manilow continues his "Greatest Hits" Concert Series at Westgate Las Vegas Resort & Casino, along with other top acts.
8 | Surprise Mom with a Weekend Getaway | Seek out Mother's Day getaway specials and reserve accommodations at one of your mom's favorite vacation destinations where she can relax and unwind this Mother's Day weekend. Many popular destination resorts offer special dining events and onsite activities related to Mother's Day. For example, Westgate Resorts has immensely popular locales such as Orlando, Las Vegas, Miami Beach, Gatlinburg, Park City, Williamsburg, Cocoa Beach, Branson and Myrtle Beach. Whether mom enjoys lounging on white-sand beaches, exploring world-famous theme parks, catching a Broadway-caliber show, hiking through the beautiful Great Smoky Mountains or even horseback riding at an authentic dude ranch, you can find the ideal destination to match her interests on Mother's Day weekend.
* BONUS IDEA #1 *
Westgate River Ranch Resort & Rodeo, a real-life authentic dude ranch in Florida, could be the perfect place to take mom for Mother's Day. "Glamp" in a luxurious, fully-equipped teepee or tent and ride horses, take an airboat ride along the Kissimmee River, test your skills at archery and pet cute animals at the petting zoo. There's also the brand-new Cattle Company Chophouse & Bar upscale steakhouse, featuring a diverse menu of steak, wild boar, chicken and fish entrees, salads and all the fixings. There's so much to see and do there! Mom will surely have an incredible time making life-long memories.
* BONUS IDEA #2 *
Westgate Resorts offers several restaurants to take mom out for a good time. There's Villa Italiano Chophouse at the Westgate Vacation Villas Resort in Kissimmee. There's also Edge Steakhouse at Westgate Las Vegas Resort & Casino and Westgate Park City Resort & Spa. Westgate's Southern Comfort restaurant is Gatlinburg's newest comfort food restaurant located at Westgate Smoky Mountain Resort & Water Park. Be sure to check your nearest Westgate resort for a great restaurant for any occasion.
Commonly Asked Questions About Mother's Day
Here are some commonly asked questions about Mother's Day that you might not know.
Q: Is Mother's Day Saturday or Sunday?
A: Mother's Day in the U.S. is an annual holiday celebrated on the second Sunday in May.
Q: Is Mother's Day always on a Sunday?
A: Mother's Day in the United States is annually held on the second Sunday of May. It celebrates motherhood and it is a time to appreciate mothers and mother figures.
Q: Is Mother's Day always the same date?
A: Although the date changes every year, Mother's Day is always held on the second Sunday of May, similar to how Thanksgiving falls on the fourth Thursday of November.
Q: Why do we celebrate Mother's Day?
A: The official Mother's Day holiday arose in the 1900s as a result of the efforts of Anna Jarvis, daughter of Ann Reeves Jarvis. Following her mother's 1905 death, Anna Jarvis conceived of Mother's Day as a way of honoring the sacrifices mothers made for their children.
Q: How did Mother's Day start?
A: While some countries have a multi-century history of a day to celebrate mothers, the modern American version of the holiday began in the United States in the early 20th century at the initiative of Anna Jarvis, who organized the first Mother's Day service of worship and celebration at Andrews Methodist Episcopal Church in Grafton, West Virginia, which serves as the International Mother's Day Shrine today.
Q: Why do we celebrate Mother's Day UK?
A: The date changes every year because, in the UK, Mothering Sunday first began as a church tradition, and it takes place three weeks before Easter on the fourth Sunday of Lent. This was when Christians would visit their 'mother church' which is why we often refer to the day as Mothering Sunday.
Q: Which flower symbolizes Mother's Day?
A: Pink carnations are the most significant flowers for Mother's Day as it is believed that they first bloomed where the tears of the Virgin Mary fell, turning them into a symbol of a mother's undying love.
Final Thoughts on Things to Do for Mother's Day Weekend
Visit a Westgate resort near you for special Mother's Day activities and events, plus spa day specials and other activities that might be happening. The bottom line is that Mother's Day is all about spending time together. So, take a creative and thoughtful approach to Mother's Day weekend activity ideas. You won't regret it! For more information on more fun things to do for Mother's Day, visit the Westgate Resorts Travel Blog.

RELATED ARTICLE: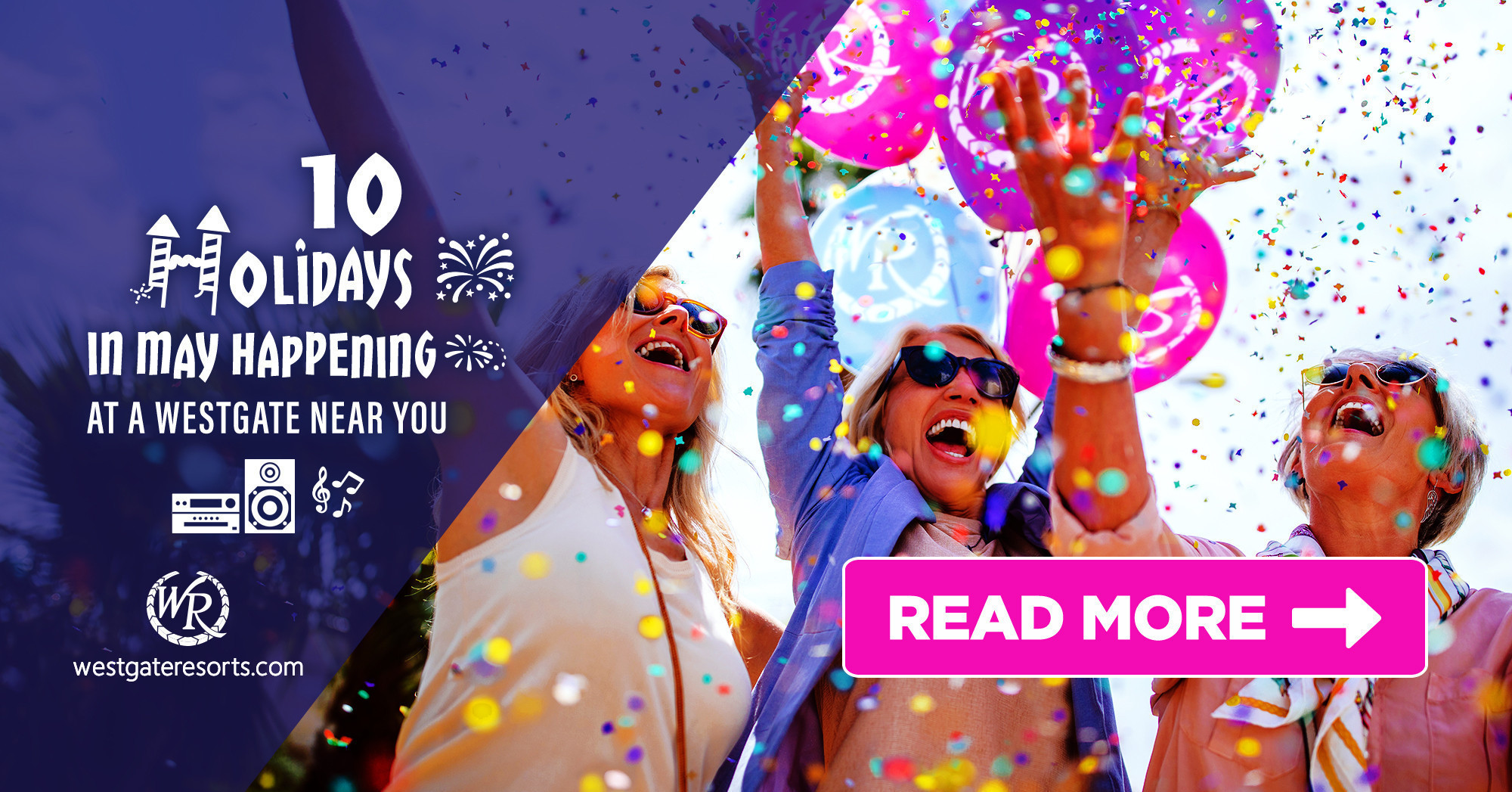 At Westgate Resorts, when you Check-In, there's a LOT to Check-Out! Your vacation awaits! Start planning your next vacation today or talk with a vacation planner at 888-852-2959 or 407-355-2690.
* Westgate Resorts is in no way affiliated with the attractions featured in this article. Items or places listed are current as of the publishing date of this article. Please call or visit the respective website for the most up-to-date offerings and details.
When You Check-in, There's a Lot to Check Out
Sign up for our newsletter and check-in to great offers, secret stuff, and special events.