10 Ways to Make the Best First Impression in an Interview
10 Ways to Nail Your Next Interview
Interviews can be tough stuff. They're incredibly nerve-wracking but also exciting since they hold the key to the next chapter in your career. Now that you've gotten past the stage of resume tips, it's time to make the best first impression in your interview.
Whether you're interviewing for your dream job or just taking the next step in your career. Here are 10 tips that will help you nail your next interview while working in Orlando or anywhere.
1 | Show up on time | We can't stress enough how important this one is. According to a survey conducted by Career Beacon, 58% of interviewers thought lateness was a dealbreaker in getting the job. Showing up late tells your interviewer that you don't value their time. They'll be left wondering if you'll be showing up late for work.
Traffic and other delays are bound to happen, so make sure to account for those when making your interview plans. Don't schedule other appointments or make plans too close to the start of your scheduled interview.
The best practice is to plan to arrive around 5-10 minutes early. Arriving late is an automatic no-no. But even if you show up too early, your interviewer will be scrambling to accommodate you. If you happen to misjudge traffic and arrive too early, feel free to take some time in the parking lot to review potential answers and any notes you may have prepared.

RELATED ARTICLES
4 Things to Keep in Mind When Dressing for Interview Success.
Resume Do's And Dont's: 3 Reasons Why Your Resume Stands out For the Wrong Reason
3 Reasons You Are Not Getting the Promotion You Want
2 | Dress for success (and the job you want!) | While interviews are typically about you and your skills, how you present yourself can make a huge difference in your first impression. That's why dressing for the job is one of our top interview tips.
How you dress is more than just what you wear to your interview. It can give your interviewer insight into your interest and qualifications for the role. Showing up in a t-shirt and shorts for an office job interview will give the impression that you are either unqualified or aren't taking the interview seriously. In fact, 24% of interviewers surveyed by Career Beacon consider dressing too casually a deal-breaker when it comes to a candidate.
When in doubt, it's better to overdress than to underdress. Plus, you'll feel more confident during your interview by dressing the part!
Wearing something memorable can also help you stand out. On the other hand, make sure that your interview attire is professional and not distracting. You want your interviewer to focus on your responses, not the bright floral pattern on your skirt.
3 | Do your research | Take the time before your interview to research more about the company and the interviewer. No one expects you to be an expert on a new organization. However, based on findings from Twin Employment Training 47% of interviewers said that they wouldn't offer a job to a candidate that wasn't knowledgeable about the role.
Showing that you've done your research will show your passion and excitement for the job. Being prepared will also help you feel more confident during your interview.
Some things you should be sure to research include:
● Company mission and values
● Your interviewer's role
● Skills that are valued by the company
● Products and services offered
The job posting can also give you hints at specific skills that the interviewer is searching for.
Doing the research can also give you additional insight into whether or not this is the right company and role for you!
4 | Use the S.T.A.R method | In many interviews, you'll likely be asked questions that start with "Tell me about a time you…" or "Tell me about a situation..." These are behavioral questions that help an interviewer learn more about how you approach different situations.
While they want to hear your story, they care more about what it says about you as an employee or person. The S.T.A.R method is a great way to make sure you cover all your bases. S.T.A.R stands for situation, task, action, and result.
● Situation: Paint a picture for your interviewer. Provide the context without going into unnecessary detail.
● Task: What was your role in the situation and what were you responsible for?
● Action: What did you do to address the situation at hand?
● Result: Here's what happened after your actions. What were the achievements and outcomes?
5 | Be honest | Interviews can be stressful and feel incredibly high-stakes at times. However, you still want to get the job on your own merits and based on who you are. When in doubt, honesty is always the way to go.
It goes without saying that you shouldn't lie in an interview. But that doesn't mean you can't deliver a suitable and professional answer that will help you land the job!
If you're being asked a tough question that you don't know the answer to, it's okay to say you don't know. Daniel Space, a human resources consultant with business partners in strategic staffing, also recommends drawing from a similar comparison. Just walk the interviewer through your thought process and how you would find the answer or approach the situation in the future.
Even if you don't have the right answers to every question, interviewers will always appreciate a genuine candidate.
6 | Ask questions | There is no such thing as a dumb question. This is true, even in an interview setting!
Asking questions about the role, the organization, or even the interviewer can help you express interest in the role. Interviewers will often leave time for your questions at the end. One of the worst things you can do is say you have no questions. It doesn't leave the interviewer with a strong final impression. So, make sure to come prepared with a few. Here are some of our favorites:
● What is your favorite thing about working at [company]?
● What does career growth look like for this role?
● What does a typical day look like for this role?
● What is the company culture like?
Interviews aren't a one-way affair. It's okay to ask questions to help decide if the role and company are right for you.
7 | Share something memorable | Most interviewers or hiring managers speak with dozens of candidates – if not more! In a sea of interviews, standing out gives you a better chance of landing the job.
You can stand out by giving answers using the S.T.A.R method and showing relevant experience.
But there are more ways to be memorable outside of your professional experiences. Maybe you've run the Dopey Challenge at Walt Disney World or you like to skydive as a hobby. Sharing these little fun nuggets about yourself can also help an interviewer remember you when making hiring decisions.
8 | Make a connection | Interviews are about more than just your skills. 92% of hiring managers said that soft skills matter as much or more than hard skills, according to a LinkedIn survey.
Interviewers are often looking for someone who will be a good fit within the organization. They're looking for someone passionate and willing to learn – while having the necessary skills. By making a connection, you're giving the interviewer the impression that you'll be a good team player if they choose to bring you on the team!
9 | Ask for feedback | Don't be afraid to ask for feedback during an interview – within reason. Interviewers are often happy to answer questions about your skills. During your interview, consider asking questions like:
● What parts of my resume stood out to you?
● What skills do you feel I might be lacking?
This can give you an opportunity to alleviate any concerns the interviewer might have. It also shows that you are willing to take feedback and improve.
Questions about your interview skills should be reserved for after your interview. If you don't get the job, asking for feedback is a good way for you to improve next time! It will also leave a great impression if you end up interviewing with them again in the future.
10 | Be yourself | Don't be afraid to let your personality shine. It's the best way to make sure you're finding the perfect next role for you.
There's no need to lie or rehearse answers that don't feel like you. If you're genuinely interested in a role or company, that excitement will naturally come through in your answers.
However, adding a personal flair doesn't mean being unprepared or unprofessional. As long as you're balancing your own style with the tips we've shared above, you'll be in good shape for your interview.
Other things you can do to level up your interview game
Interviews aren't copy and paste – every interview and interviewer is different. Depending on the role or the company, there are so many other things you can do to make a good first impression. From sending a post-interview thank you note to rehearsing potential answers, there's no reason you shouldn't be able to make a good impression!
And once you've nailed your interview, make sure to familiarize yourself with workplace etiquette.
If you're searching for a new opportunity or hoping for a job promotion, consider a career with Westgate Resorts.

RELATED ARTICLE: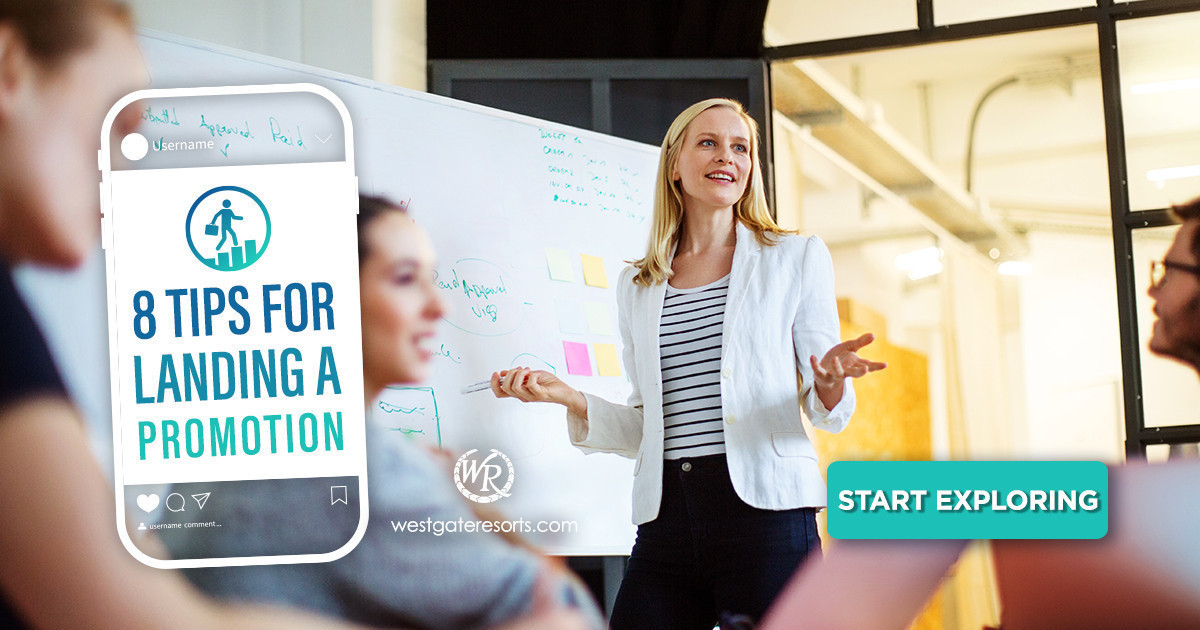 At Westgate Resorts, when you Check-In, there's a LOT to Check-Out! Your vacation awaits! Start planning your next vacation today or talk with a vacation planner at 888-852-2959 or 407-355-2690.
When You Check-in, There's a Lot to Check Out
Sign up for our newsletter and check-in to great offers, secret stuff, and special events.