The Ultimate Guide to the Best Pizza in NYC [UPDATED 2023]
Best Pizza Places in NYC
If there is any cuisine that is synonymous with New York City and a staple of the NYC restaurant scene, it will have to be pizza. Yes, there are many top NYC dessert restaurants and kid-friendly restaurants in NYC, but the presence of the best pizza is almost undoubtedly a necessity to round off what makes New York City, well, New York City!
Best Pizza Slice in NYC
Picking a good New York slice can be extremely difficult in a city most known for its street-style and casual-style pizzas. But this list, much like New York City itself, takes the stereotypical pizza slice you associate with the city and puts it on its head. From Neopolitan to square cuts, these pizzas are sure to get your mouth watering.
As such, we've put together a list of the best of the best pizza places in New York City.
1 | Zero Otto Nove | If you're looking for pizza, Little Italy is definitely going to be one of the main stops on your trip. Roberto Paciullo's trattoria in the Bronx, Zero Otto Nove, has the type of pizza that is worth making your trip over twice for. Decadent and crispy brown crusts with soft venters, the Zero Otto Nove is the type of pizza that pizza enthusiasts will go crazy over. If you're a fan of napoleon-style pizzas, this Bronx staple (with a second location in the Flatiron district) is a definite must-visit.
WHERE: 2357 Arthur Ave, Bronx, NY 10458 | WHO: (718) 220-1027
RELATED ARTICLES:
12 Top Foodie Destinations NYC Locals Keep Hidden
The 10 Best Restaurants in Chinatown NYC
2 | Lucali | Lucali's location in Brooklyn just exuberates a soft Italian casual atmosphere that's hard to resist even for the most ardent pizza critics. From wine-decorated pizza ovens to the sweet and tangy tomato sauce, pizza from Lucali's just off Henry St. embodies that soft aesthetic that you look for when finding a place for a late lunch/early dinner that hits the spot when you need it too. Just expect that classic pizza done well, with classic Neopolitan style pies with high-quality mozzarella and a handful of basil. Honestly, we would add even more topics if the original was so easy to beat. If classic pizzas are your beat, and waiting in line for maybe an hour or two doesn't bother you, Lucali will definitely not disappoint.
WHERE: 575 Henry St., Brooklyn, NY 11231 | WHO: (718) 858-4086
3 | Louie & Ernie's Pizza | History is baked into every pizza pie that comes out of Louie & Ernie's Pizzeria, found on Crosby Ave over in the Bronx. Established in 1959, the restaurant has quickly formed itself into a neighborhood staple, grasping favorites due to its incredibly crunchy and delectable thin-crust pizzas coupled with toppings such as white cheddar and sausage. Moreover, if you happen to be a calzone lover, Louie & Ernie has several classic offerings just for you.
WHERE: 1300 Crosby Ave, Bronx, NY 10461 | WHO: (718) 829-6230
4 | Di Fara Pizza | Neopolitan pizzas are a staple of the South Brooklyn area for several decades now. Di Fara, a neighborhood staple since 1965, is a key part of that ancestral tapestry. Starting with owner Dom DeMarco, this family-run pizzeria has -endeavored to make pizza in a classic, Neopolitan way. From different cheeses, olive oils, and French basil, Mr. Demarco and his sons are ready to serve you with their lightweight yet ultimately satisfying pizzas. Be warned, one slice is often not enough to satiate even the casual pizza lover.
WHERE: 1424 Avenue J, Brooklyn, NY 11230 | WHO: (718) 258-1367
5 | Koronet Pizza | If you've ever seen a movie about New York City, you may have seen some of the largest and most delicious pizzas to star on the silver screen. Not to worry though, unlike movies, these types of pizzas are definitely not a work of fiction. Koronet, a New York City establishment on Broadway since 1981, is famous for selling some of the biggest pizza slices for a piecemeal price. If you're a struggling college student, a down-on-your-luck budget-tight New Yorker, or just a tourist willing to try some NYC history, the pure value-to-slice you get out of Koronet Pizza just can't be beaten.
WHERE: 2848 Broadway, New York, NY 10025 | WHO: (212) 222-1566
6 | Ops | If you ever find yourself over at Himrod St. over in the Bushwick area in Brooklyn, make sure to stop by Ops. Like its name, the majority of its menu is short and focuses on only its key items (which even lends to the size of its minuscule menu paper). Sourdough crust, savory tomato sauce, and creamy mozzarella cheese all outline the quality of what makes Ops great. The restaurant sources its ingredients from some nearby farms as well, lending to the overall freshness of its pizza quality and taste.
WHERE: 346 Himrod Street, Brooklyn, NY 11237 | WHO: (718) 386-4009
7 | Mama's Too! | Some people like to stay away from the too-famous pizza joints and those that have been franchised out to oblivion, with good reason. Often many of the restaurants that find success early sacrifice the quality that made them great in the first place, opting instead for fast growth and profit. But there remain some holdouts here and there, with Mama's Too on Broadway being a pioneer name in small space pizzerias. If you're a fan of thick, greasy, and generously topped pizzas, then Mama's Too is a must-go for your next downtown trip.
WHERE: 2750 Broadway, New York, NY 10025 | WHO: (212) 510-7256
8 | L'Industrie Pizzeria |There are a lot of pizzas around New York, but some restaurants make their mark on the scene with a pizza slice, fully cementing them as a cornerstone of New York pizza history. L'Industrie is one of these restaurants, gaining its fame through its combination of the classic and the contemporary to make a pie that's truly one of its own. Traditional pizza ingredients paired up with modern cooking techniques have set L'Industrie pizza pies into a league of its own. You'll be thinking of your next trip for a long time after a visit here.
WHERE: 254 S 2nd St., Brooklyn, NY 11211 | WHO: (718) 599-0002
9 | Sal & Carmine's Pizza | If you're keen on trying some of the most classic eateries in New York City, you'll just have to try Sal and Carmine's pizzeria. Serving pizza since 1959, the restaurant has specialized in pizza that has the perfect balance between great crust, tomato sauce, and decadent pizza toppings that morph into some of the best and most classic pizzas you'll ever taste. There's a reason why Sal & Carmine's pizza remains one of NYC's greatest neighborhood slices, but you'll need to just taste it to find out why for yourself.
WHERE: 2671 Broadway, New York, NY 10025 | WHO: (212) 663-7651
10 | Patsy's Pizza | If you're looking for something a little more sit-down and dine in, then Patsy's pizza is a definite stop for your New York pizza tour. Located in East Harlem, dining in Patsy's includes a beautiful view of their laid out restaurant with classic pizza ovens that fill the room with a rich smell of cooking dough and crisping cheeses. What sets Patsy's apart is the quality of the dough they use, which is further improved by their classic pizza oven techniques. If you're a traditionalist who believes that pizzas are first and foremost made out of the quality of its bread, then you'll need to give Patsy's a try.
WHERE: 2287 1st Ave, New York, NY 10035 | WHO: (212) 534-9783
11 | Paulie Gee's Slice Shop | If you're looking for the most traditional street pizza experience, then you'll need to head towards Paulie Gee's pizza joint over on Franklin St. in Brooklyn. These pizzas aren't the fancy Neapolitan pizzas that have been on trend for a while now, these pizzas are classic New York slices, large and slathered with tangy tomato sauce and beautiful cheese. This is the pizza you think of when you crave that midnight pie all by yourself. Lucky for you, Paulie Gee's is over-the-counter and ready to take yours when you are.
WHERE: 110 Franklin St., Brooklyn, NY 11222 | WHO: (929) 337-6385
12 | Rose & Joe's Italian Bakery | Some of the best pizzerias didn't aim to be a pizzeria as a primary source of income in the first place. Rose & Joe's bakery is a key example of a restaurant that specialized in a general set of products which just so happens to also make some pretty good pizza pies. If you're out on your normal grocery run in Astoria, you'll want to head over to Rose & Joe's bakery to grab some of their famous square slices that are coming fresh out of the oven.
WHERE: 22-40 31st St., Astoria, NY 11105 | WHO: (718) 721-9422
Use Our Handy Map to Find Your Way Around!
Last tips for your Pizza Trip to NYC
Pizza in NYC is a dime a dozen, but within that dozen lies a few key pieces of New York history stamped into it. If you ever find yourself in the Big Apple, then you owe it to yourself to try a real NYC pizza slice to fulfill the full experience of being in the city. Remember, most pizza joints in New York City pride themselves on the simplicity of their pizzas, so go easy on the toppings until you begin to discover what you want.
Rest assured that wherever you go in NYC, the pizza will be a sure home run. From dine-in spots to grab-and-go counters, New York City has made a name for itself in the pizza industry, so you shouldn't worry so much if you happen to have a pizza slice that blows your mind that isn't on this list. Just sit back and enjoy the experience.
For more foodie guides, NYC food tours and travel tips, visit our Westgate Resorts Travel Blog.

RELATED ARTICLE: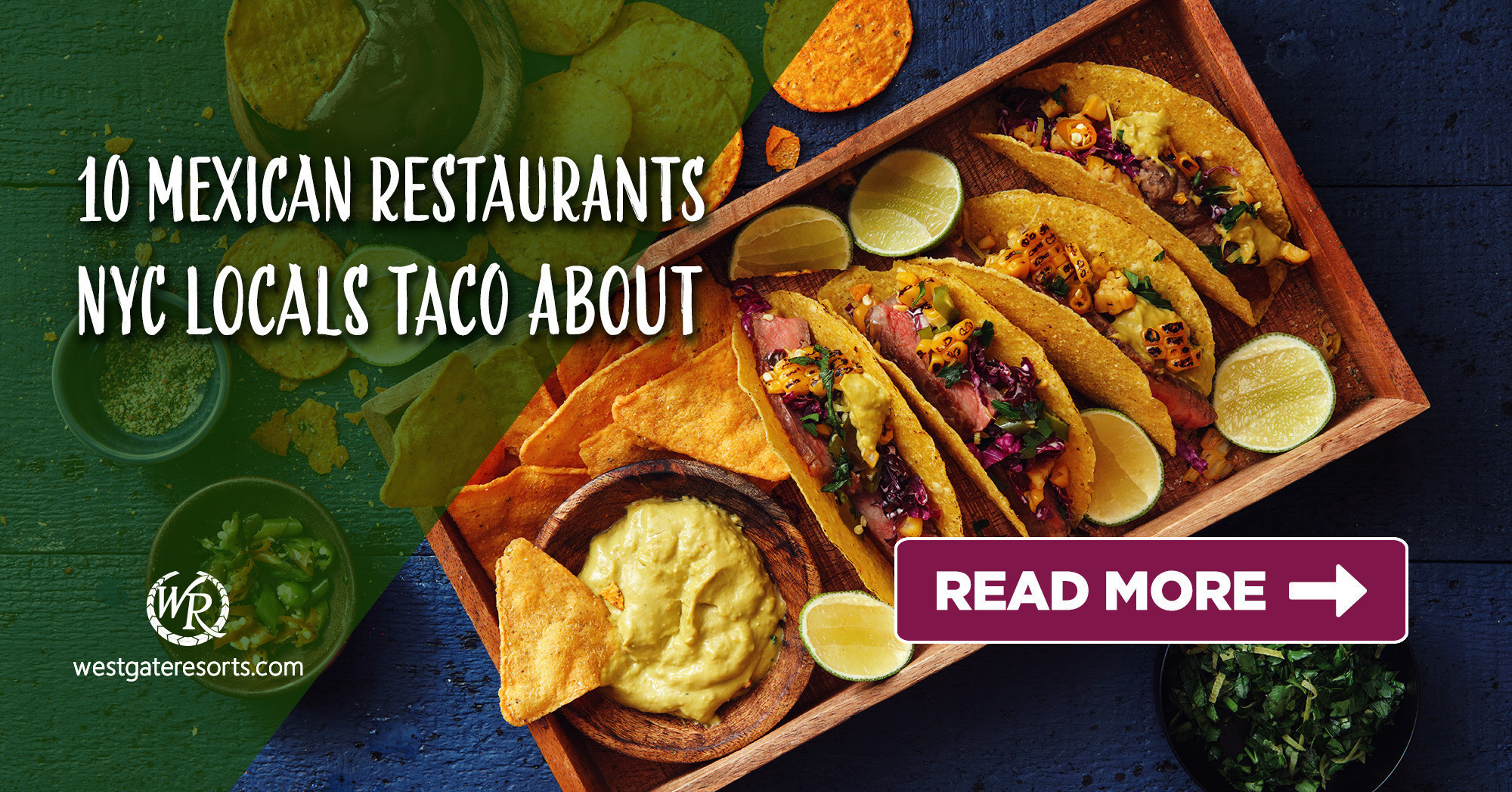 At Westgate Resorts, when you Check-In, there's a LOT to Check-Out! Your New York City vacation awaits! Explore our New York City hotel today or talk with a vacation planner at 888-852-2959 or 407-355-2690.
* Westgate Resorts is in no way affiliated with the attractions featured in this article. Items or places listed are current as of the publishing date of this article. Please call or visit the respective website for the most up-to-date offerings and details.
When You Check-in, There's a Lot to Check Out
Sign up for our newsletter and check-in to great offers, secret stuff, and special events.