The Ultimate Date Night Parents Guide for Military Spouses: A Step-by-Step Plan
The Ultimate Date Night Parents Guide for Military Spouses
The time has come. You finally have free time to spend together. Your spouse's holiday block leave was approved and now you're both wondering, "What do we do? Where do we go? What about the kids?" You can always look up military vacation spots, but you can also look up interesting date ideas. The best part about dates is that they can happen any time and be as long or short as you want, giving you and your partner options for spending time together.
Date Night Ideas for Military Spouses
Now, here are some ideas to consider for your next date. It's never too early to start planning or get a little inspiration.
1 | See a Show | Whether it's a murder mystery dinner show or a full-blown Broadway production, do something to get caught up in a story. From NYC to Las Vegas and all over the country, there's live acts and concerts to get you and your spouse in the groove.
2 | Couple's Massage | What better way to relax and spend time together than to get a couple's massage? For that matter, make it a spa day for yourself and your spouse. Put on your robes, drink your cucumber water and smell the aroma of relaxation. Consider our Serenity Spas at some Westgate properties across the U.S. You won't regret it.
RELATED ARTICLES:
20 Military Facts That May Surprise you
10 Top Military Movies We All Love
3 | Play Tourist in Your Hometown | You might be a local in your hometown, but it's always fun to pretend like you don't live there. New things are always happening, and it's a lot of fun to make new memories. In Orlando, Florida, there are lots to do, but instead of Disney World and Universal Orlando, you could head over to Icon Park on International Drive for restaurants and some thrilling attractions. It's usually a place for tourists, but no one needs to know that. Look up new things in your hometown or take some time to do something you always wanted to do but just never did.
4 | Eat at a New Restaurant | Food is always bringing people together. This might seem like a simple idea, but your date ideas don't always have to be out-of-the-box. Get dressed up – it's half the fun – and go to your favorite restaurant or check out a new one for some added excitement. Not knowing what's on the menu or if you're going to like the food could lead to some great memories and stories to tell later. If you're staying at Westgate's River Ranch Resort & Rodeo, you could check out River Ranch Cattle Company Chophouse & Bar. It's the resort's newest restaurant. Plus, there's plenty of other date night restaurants in Orlando.
5 | See Fireworks | What better way to get sparks flying between the two of you than to see sparks fly in the sky?! You can watch Disney fireworks from inside or outside of the parks. You can even catch the Enchantment at Walt Disney World's Magic Kingdom show from hotels surrounding the park. To see EPCOT's Harmonious fireworks, plan on visiting the boardwalk, which also has lots of places to eat, drink and walk around. Even better - if you time it just right, you can also catch fireworks from different parks while riding the Skyliner gondolas or using boat transportation.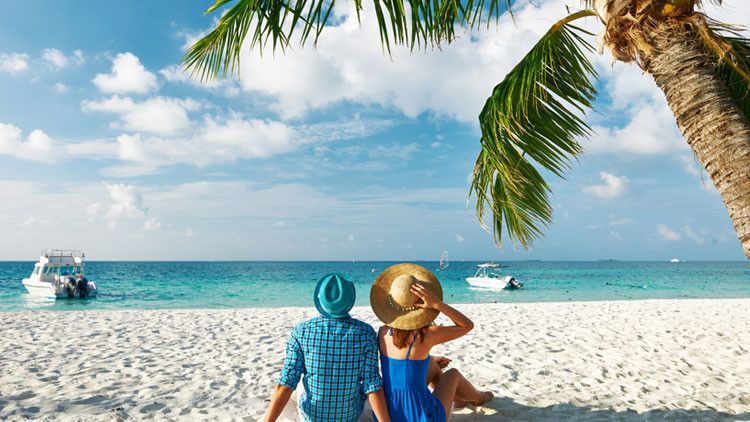 6 | Take a Day Trip | Take a day trip for your date day to a local beach or another town. If you live in Central Florida, St. Augustine, the oldest city in America is just a two-hour trip from the Orlando area, making it a convenient option! Feel like jet-setters and book a flight for just the day - leave in the morning and come back home the same day or spend a few hours somewhere new. This isn't always possible, so check out smaller regional airports in your hometown to see if same-day flights are happening. Whatever you do, turn your day trip into an adventure and make the most of your time together.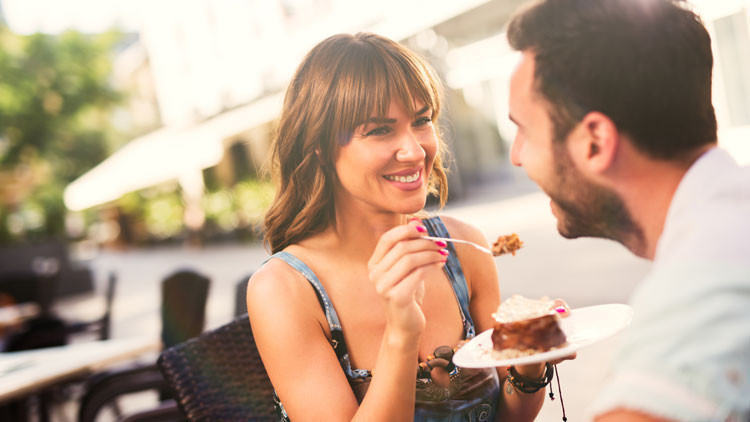 7 | Go Out for Dessert | What better way to reconnect than to quench your sweet tooth? Whether it's ice cream, cake or cookies, there's sure to be plenty of delectable desserts wherever you are. In the Orlando area, check out Better Than Sex – A Dessert Restaurant. It's intimate and sexy with a boudoir vibe. You can also visit The Glass Knife, a patisserie in Winter Park that sells some fancy pastries and cakes. There are plenty of ideas for romantic dates in Orlando so have an open mind and explore the City Beautiful!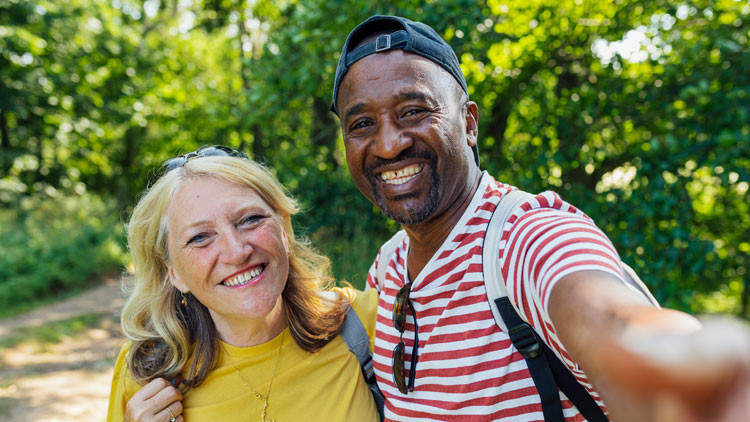 8 | Get Out in Nature | From hiking in the Valley of Fire or Red Rocks in Las Vegas to numerous trails in Gatlinburg, Tennessee, Park City, Utah, and across the U.S., get out, get some fresh air and get moving wherever you are. Taking a hike can give you and your spouse some time to talk and reconnect – plus disconnect and unplug – giving you time to make new memories. Snap a few photos or videos to remember each other and the beautiful scenery.
9 | Try a New Hobby | Whether it's facing your fears or finding a new common interest, try it together. Ask yourselves what you would like to do. Whether it's archery lessons, whitewater rafting, skiing, traveling, photography or cooking, there's so much to do – big or small. Then, if you like that new hobby, make time to do it together. It could serve as a date idea for next time.
10 | Take a Staycation | Keep date night going a little longer by taking a staycation wherever you live. Plan an overnight trip or an extended weekend in your hometown. Sleep in and have breakfast in bed, but don't do it at home. Taking a staycation might require a little extra planning, budgeting and time away from the kids, but it's important for you and your spouse to take that time away from all the distractions life has to offer.
How to Plan a Date Night for Military Couples
Now, it's time to get planning. Consider things like creating a budget, arranging childcare and making reservations to plan the perfect date for you and your spouse. As a married couple, you can't forget about what helped ignite the spark that eventually brought you two together. Let's get started!
Make a Plan
The first step is taking some time to plan how you want to spend your time together. Don't wait until the last minute and end up simply playing a board game on your date. What is it that you two have in common? Is there anything new you want to experience together? Finding out how you and your spouse reconnect the best will make the whole planning process run a lot smoother. You don't want your precious date night to be stuck just playing trivia and asking questions that involve military fun facts.
Create a Budget
Now, let's make a budget. Do you want to spend a lot on date night, or do you want to avoid breaking the bank? Looking at your financial situation with your spouse can help you both set expectations on what things and activities you can and want to do. Remember, if you can't take that big trip or go on that fancy date now, plan and budget for it to happen soon. That way, you'll have something to look forward to when the time comes.
Get a Babysitter
If you have kids, especially little ones, you'll have to get childcare. Hopefully, you've already gotten a good babysitter that you know and trust, but if you don't, we're here to help. Besides just asking the neighbor's teenager down the street to watch your children for a few hours, you can always look for professional babysitters online. You can specify what you're looking for in a caregiver and find one near you. If you happen to live close to family members and/or close friends, you can always call in a favor to watch your little ones.
Make Reservations
OK, you know what you want to do, and you have your budget and childcare situations covered, now it's time to book or reserve a spot for your activities. This may seem obvious for things such as flights, tours or excursions, but even if you're just heading to a new restaurant, you don't want to show up after all the planning you did and be told, "I'm sorry, we're fully booked this evening." Another tip to consider, make reservations and choose your dates during the week or at slower times of the day. It'll be less crowded, thus more enjoyable.
Don't Forget to Disconnect
Whatever you decide to do, make sure you're able to smile, laugh and make memories with your significant other. Don't get caught up in what it is you're doing, just make sure the date or trip is about the two of you. Yes, you should take photos to remember the experience, but also, make sure to put the phones away, too. They're a distraction from actually spending quality time together. So, take that selfie, then put the phone away. You can always post your pictures to social media later.
Plan for Next Time
After the big date or trip, and your service member spouse is back on duty – and possibly away from you for a long period of time – it's time to hold on to the memories you made and look forward to the next time you see each other.
Final Thoughts About Date Night for Military Spouses
At the end of the day, your dates should be about you and your spouse. It doesn't matter how much money you spend or where you go, it's important to remember that it's all about making memories, reconnecting and taking time for just the two of you. It will make you better people as individuals, a better couple and better parents for your children. So, get creative, go on a cute date, have fun and cherish the time you have together. For more date night ideas, be sure to check out the Westgate Resorts Blog!

RELATED ARTICLE:
At Westgate Resorts, when you Check-In, there's a LOT to Check-Out! Your vacation awaits! Start planning your next vacation today or talk with a vacation planner at 888-852-2959 or 407-355-2690.
* Westgate Resorts is in no way affiliated with the attractions featured in this article. Items or places listed are current as of the publishing date of this article. Please call or visit the respective website for the most up-to-date offerings and details.
When You Check-in, There's a Lot to Check Out
Sign up for our newsletter and check-in to great offers, secret stuff, and special events.