Top 10 Romantic Places in Orlando!
Romantic Spots And Date Ideas In Orlando!
"You be the sun, I'll be the moon, let's share the stars and dance in the sky." – Karen Quan
Is your heart burning for romantic things to do in Orlando? You're not alone! The City Beautiful is full of romantic places and enchanting escapades for starry-eyed couples to make amazing memories. From mesmerizing sights onboard romantic boat tours and beautiful gardens to live entertainment, exquisite dining, romantic stays and so much more, there are endless experiences to help you bond with your honey and bolster your love. Keep reading our list of 10 romantic places in Orlando and other amazing ideas to help you plan an unforgettable rendezvous. And when you're done soaking up these great ideas, download our handy-dandy "to-go" sheet and get your romance planning on!

1 | Sunset Kayaking in Winter Park | What's more romantic than cozying up with your special someone to watch the dramatic colors of sunset burst across the sky as the sun dips and creates the perfect silhouette below? Try pairing this amorous setting with gentle paddling on a tranquil lake. If you and your sweetheart like sunsets and the outdoors, chances are you will enjoy a romantic kayak tour complete with a tour guide. The Get Up and Go Kayaking company offers a fleet of clear tandem kayaks and a guide who will take you on a 2-hour daytime, sunset or Glow-in-the-Dark tour through scenic Venetian-style canals that link Winter Park Chain of Lakes, Lake Virginia, Lake Maitland, and Lake Osceola. Along the way, you will see birds, fishes, and wildlife as well as extravagant homes of the rich and famous that line the lake. Buckle up for an enchanting experience that will be sure to bring you closer together.
Tip: The company also offers a Glow-in-the-Dark tour that comes with clear kayaks fully equipped with LED lights that change colors in the water below. These lights attract fishes and give a clear view through the water to reveal an incredible sight.
WHERE: 410 Ollie Avenue, Winter Park, FL 32789 | WHO: 407-212-7306
You'll also LOVE:
Scenic Winter Park Boat Tour: The 18-passenger pontoon boat offers hour-long tours of the Winter Park chain that crosses seven lakes and three canals, and gives a glimpse of wildlife like cranes, fishes, and the occasional alligators on the nearby bank. You'll also see foliage like palm trees, cypress, ferns, tropical flowers, and other amazing plants which should prove to be a dreamy delight. (Location: Winter Park, FL)
Swan Boat Adventure on Lake Eola: The couple that paddles together, stays together! Enjoy laughs and a good workout as you paddle the still waters of Lake Eola in Downtown Orlando on a swan boat. This experience is fun, inexpensive, and unmistakably romantic. When your excursion ends, grab a bite to eat from the long list of restaurants on International Drive or enjoy your favorite drink at any of the 20 best breweries in Orlando. (Location: Orlando, FL)
Moonlit Cruise on the St. Johns River: If paddling is not your forte, you may prefer a romantic moonlit cruise along the St. Johns River in Sanford. The St. Johns Rivership Company offers dinner cruises that serve hors d'oeuvres, cocktails, and dinner with live entertainment so you can dance the night away under the moonlight. (Location: Sanford, FL)
See also Black Hammock Adventures among our list of hidden gems near Orlando, also featured on our Travel Blog.
2 | Harry P. Leu Gardens | Spend quality time together and stroll the romantic garden surrounded by the beauty and music of nature. This botanical oasis spans 50 acres that house more than 15,000 plants, including azaleas, vines, bromeliads, elms, Florida's largest formal rose garden, the third largest camellias collection in the United States, and 200-year old oak trees. You'll also find many exotic and tropical plants with a thousand shades of green and seasonal bursts of colors expertly arranged in a perfectly landscaped lake setting. As you walk through the meandering trails with majestic trees overhanging the path to create perfectly shaded forests, you'll spot birds, butterflies, and other native insects. If you are a nature lover, you'll truly appreciate this date! Be sure to bring a picnic basket and a bottle of wine, and have a good time.
WHERE: 1920 North Forest Avenue, Orlando, FL 32803 | WHO: 407-246-2620
You'll also LOVE:
Bok Tower Gardens: Another plant lover's dream date is this 250-acre garden and bird sanctuary. The garden has a rich history, beauty, and serenity that makes it one of Central Florida's most stunning landmarks. Be sure to visit the 205-foot Singing Tower with 60 carillon bells that play 30-minute concerts twice daily and enjoy the reflection pool surrounded by incredible views of nature with your loved one. (Location: Lake Wales, FL)
Mead Botanical Garden: Trade the hustle and bustle of the city for a tranquil romantic adventure through this vast 47.6-acre botanical paradise that showcases the beauty of nature. Take a stroll on the boardwalk, enjoy the lakes and streams along the trails, visit the butterfly garden, watch the birds, and native wildlife, and enjoy a picnic in the designated picnic area. Whatever you choose to do, this slice of paradise is one of the best in Orlando. (Location: Winter Park, FL)
Tip: Check out the 10 Best Nature Trails in Central Florida in our Travel Blog for more options.
3 | Pirates Dinner Adventure | There are times when nothing will bring a couple closer together than having a good laugh. Pirates Dinner Adventure is the perfect blend of excitement, music, humor, acrobatics, dance, and dinner rolled into one for the perfect date night. Watch the romantic drama unfold before your eyes as the villain, Captain Sebastian leads a crusade against our heroes, Benjamin Blue and the lovely Princess Anita, along the "high seas" on the 18th-century galleon. Enjoy daring stunts, spectacular lighting, and special effects that add the perfect touches of drama to the performance. Each show comes with a three-course menu that can be ordered ahead and is served during the show so you can eat without skipping a beat.
WHERE: 6400 Carrier Drive, Orlando, FL 32819 | WHO: 407-206-5100
You'll also LOVE:
Cinepolis Luxury Cinemas: Take your sweetie out for a good old-fashioned movie night date! The Cinepolis Luxury Cinemas takes this date night classic up a notch by adding luxury to create an elegant high-end, dine-in movie experience. From fully reclining leather seating, a gourmet menu, full bar, and cutting-edge technology, this dine-in cinema even offers at-your-seat waiter service by the push of a button. Here you are served meals, wines, and spirits at your seat. (Location: Winter Garden, FL)
Dr. Phillips Center for the Performing Arts: Discover the one-of-a-kind world of musical entertainment when Broadway comes to Orlando. You and your date will be treated to the same acclaimed NYC Broadway shows as they tour and stop in Orlando. Choose a good seat and enjoy the beauty, magic, and breathtaking spectacle that make Broadway one of the most famous live performances of all time.
4 | Dinner at Victoria & Albert's | If you're willing to spend some cash, dine in style at this award-winning high-end Disney restaurant. Here fine dining is taken to the next level with modern American cuisine made from authentic ingredients sourced from all over the world. Each dish is expertly created by culinary geniuses who apply imagination and creativity to inspire vivid colors, textures, exciting flavors, and delicious aromas that tantalize the senses. Your meal may also be paired with exquisite wines recommended by professional wine connoisseurs. You know you're about to experience something special when the menu is created from scratch each day to ensure that only the freshest ingredients are served with each bite. (Orlando, FL)
WHERE: 4401 Floridian Way, Orlando, FL 32830 | WHO: 407-939-3862
You'll also LOVE:
Melting Pot: There are plenty of fantastic places to eat throughout Orlando, but the quality that sets the Melting Pot apart from many is the ambiance that creates a romantic vibe. From its dimly lit romantic setting to the collaborative fondue cooking, you will enjoy a unique dining experience from beginning to end. If you are celebrating a special occasion, call ahead and the staff will pre-set your table with rose petals, candles, and a bottle of wine for the ultimate romantic date.
Yellow Dog Eats: Looking for a fun, laid-back eatery that serves affordably priced food? Head to the dog-friendly Yellow Dog Eats restaurant! As its name suggests, this restaurant is canine inspired – there are even menu options like Downward Dog, Retriever's Roast, Hot Diggidy Dog, and Black Lab's Lunch to choose from for a satisfying eat. And if you want to bring Fido with you, dogs are welcomed too!
5 | The Wheel at ICON Park ™ | Take your romance to the sky and enjoy spectacular views from this 400-foot observation wheel. Each climate-controlled capsule soars the Orlando skyline for about 22 minutes, so you have enough time to take in the breathtaking sights. Whether you enjoy Orlando's landmarks and beauty in the daytime or stunning views of the Orlando night scene when the sun goes down, either provides a unique and memorable experience. To make the most of your romantic rendezvous, choose the Fly and Dine Package which includes a flight followed by a meal at select restaurants, or the Champagne Package that comes with sparkling bubbly that you can sip during the ride.
Tip: To add even more excitement to your date, choose your flavor of fun from the things to do on International Drive, including the best Escape Rooms on International Drive.
WHERE: 8375 International Dr, Orlando, FL 32819 | WHO: 407-601-7907
You'll also LOVE:
Hot Air Balloon Ride: Take your love to new heights on a romantic hot air balloon ride. Few things can compare to the experience of peacefully drifting over treetops and waterways as the sun rises, spotting wildlife below, enjoying panoramic views of lakes, skyline, landmarks and so much more. Bob's Hot Air Balloon Rides come with experienced FAA licensed pilots with more than 20 years of incident-free ballooning. Depending on your romantic plans, you can choose your launch location from any of the 100 takeoff and landing sites in Central Florida to make the most out of the experience. (Location: Orlando, FL)
Orlando Sunrise Hot-Air Balloon Ride: Champagne is available during flight with a snack served at the end. You'll also receive a certificate with your names printed to memorialize the experience. (Location: Clermont, FL)
Orlando Helicopter Tour from International Drive: What's more romantic and impressive than treating your main squeeze to a helicopter ride over the city? Soar over your favorite theme park, Butler Chain of Lakes, or the homes of the rich and famous from International Drive based on your budget and schedule. Whatever your flight plan, you are in for a treat.
6 | Disney's Boardwalk | Take a picture-perfect stroll with your one and only along the water's edge at Disney's Boardwalk. The romantic lake setting is less crowded than other Disney establishments and offers a refreshing charm with delightful dining, unique shops, live music, entertainment, and a myriad of options for you and your soul mate. Enjoy a peaceful boat ride along the lake as a romantic thing to do or means of getting from the Coney Island-style promenade to other Disney locations. Enjoy a drink at Boardwalk Joe's Marvelous Margaritas, sit down for a nice meal at Flying Fish, or a quick bite at ESPN Club. Feed each other dessert from Funnel Cake Cart or Ample Hills Creamery – there are plenty of options to satisfy your palate.
Tip: If you don't mind the crowd, hop over to Disney Springs or any of the Walt Disney World parks for even more dining and entertainment options.
WHERE: 2101 North Epcot Resorts Boulevard Orlando, FL | WHO: 407-939-5277
7 | Serenity Spa by Westgate | Just imagine a side-by-side couple's massage or something more interactive where you play a role in pampering your partner. The full-service spa offers an excellent menu of spa treatments, body wraps, salon services, fitness facility and so much more with packages also dedicated to couples. The Couples' Day Away package allows couples to participate in each partner's treatment. For instance, while one partner is enjoying a facial, the other may provide a foot massage then the roles may switch with the other receiving the Mud Cocoon painted on by the reciprocating partner. The date may end with a couple's massage with a light lunch provided.
For a more memorable romantic experience, spend a romantic getaway at any of Westgate's Orlando hotels - and to make your time together even more special, call ahead and the staff will decorate your room with rose petals and balloons.
Other Romantic Things to Do:
Westgate Lakes Resort & Spa. Watch the sunset over the lake at Sunset Key Island | Heated outdoor pool | Spa Tubs | Fitness Center | Boat Rentals
Westgate Vacation Villas. Swan Boat Rides | 14 Heated Pools | Hot Tubs | Mini Golf | Boat Rentals | Movie Theater | Shipwreck Island Water Park | Dining at Drafts Sports Bar & Grill | Room Service
Westgate Palace Resort. Oasis Pool | Hot Tub | Drafts Pool Bar | Movie Theater | Romantic Lake Setting
If you decide on bringing the family along, check out the 8 best hotels in Orlando to accommodate the entire gang.
WHERE: 9500 Turkey Lake Road, Orlando, FL 32819 | WHERE: 407-345-0000
8 | Mount Dora | This is one of the most romantic towns in Central Florida. Its quaint shops, boutiques, antique stores, and cozy-town-feel create intimacy and unmistakable charm. No matter when you visit, whether during one of its many events like the annual Arts and Crafts Festival or Seafood Festival or you go on a regular day, there is an unmistakable impression you get from this unique town. The streets are lined with a plethora of restaurants offering French, Italian, American, and Mexican, you name it, there's cuisine that matches it! If you don't want a meal and prefer something more causal, stop by the Village Coffee Pot, Mount Dora Confectionary, or Monster Dough for savory delights.
Besides the food, there are also amazing sights to enjoy. Be sure to stop by Palm Island Boardwalk. Whether strolling or riding by Segway, the Palm Island Boardwalk over the water's edge is top among the list of romantic things to do. Here you get to experience the tranquility of nature and enjoy wildlife and plants up close. Watching the sunset on Lake Dora is another romantic thing to do. And the vantage points are amazing! Take in the scene from a sunset flightseeing tour with Jones Bros. Seaplane Adventures where every takeoff and landing provide a dramatic aerial view of Mount Dora's perfect sunsets. Premier Boat Tours is another option that offers 45-minute expeditions complete with a narrated tour of Lake Dora, Lake Beauclair, and the small canals that join them. Here you will see bald eagles, herons, alligators, and other wildlife while enjoying the sunset over the lake. If dinner and a train ride are more in line with your idea of a romantic time, the Royal Palm Railway Experience also provides a one-of-a-kind adventure aboard a vintage steam locomotive. For a fuller experience, take The Royal Palm Supper Excursion which comes with a menu of home-cooked meals.
You'll also LOVE:
The Town of Celebration is another charming locale: Take a romantic stroll along the promenade that circles Lake Rianhard or enjoy a meal at the Imperium Food Wine, a sweet treat at Kilwins Chocolate & Ice Cream or Le Macaron French Pastries, or a drink at the Celebration Tavern. Whatever your desire, there are plenty of choices to satisfy your taste buds. Find even more great ideas in Free Things to Do in Kissimmee featured on our Travel Blog.
9 | Toothsome Chocolate Emporium | Nothing says "I Love You" more than a box of chocolates, so it's no surprise that this creamy deliciousness is synonymous with Valentine's Day. The full-service restaurant, bar, and sweet shop serves one-of-a-kind desserts that make your taste buds want more. If you're yearning for gourmet chocolates, delicious milkshakes, and amazing sundaes, Toothsome Chocolate Emporium is a dessert lover's paradise and a wonderful venue for the perfect date.
WHERE: 6000 Universal Boulevard, Orlando, FL 32819 | WHO: 407-224-3663
You'll also LOVE:
Farris & Foster's Chocolate Factory: Another slice of bliss comes in the form of delicious handmade chocolate crafted from the freshest ingredients and made with creativity and attention to detail. Best of all, you and your date can make your own batch of chocolaty handmade goodness at Farris & Foster and take it home to reminisce after the experience. Don't be surprised if you see chocolate molded in the form of stiletto heels and other fascinating shapes. There are also sugar-free chocolates, truffles, caramel apples and so much more to explore.
Barnie's Coffee Kitchen: Move over Starbucks, there's a romantic coffee shop in town! Just a short walk from Park Avenue in Winter Park, Barnie's Coffee Kitchen serves a sweetheart blend of decadent coffee with sumptuous flavors like buttery caramel, chocolate, cinnamon, and a scratch menu filled with other mouthwatering flavors. Beers, wines, bubblies, and specialty drinks are also served.
10 | Truffles & Trifles Cooking School | They say the way to a man's heart is through his stomach, so lovingly preparing a meal together under the expert tutelage of founder, Marci Arthur, should score points on both sides. Classes are held on weekdays and weekends with distinctive dishes offered during special holidays. There are Indian, Chinese, Mediterranean, French, Sushi, traditional and plenty of other recipes to try. So, whether you want to give your spouse a break from the kitchen, or bond with collaborative cookery, this hands-on culinary experience will provide a fun and flavorful experience.
WHERE: 711 West Smith Street, Orlando, FL 32804 | WHO: 407-648-0838
You'll also LOVE:
The Publix Aprons Cooking School: You'll love classes like Couples Cooking: Great Seafood at Home featuring pan seared scallops, shrimp taco salad, pan-roasted fish, and grilled lobster tail, entirely cooked by your duo. There's also Couples Cooking: Valentine at Home with Oysters in Mignonette sauce, steak with rosemary, mashed potatoes, grilled beans and chocolate covered strawberries with Orange Chantilly also cooked by you. Couples Cooking: Couple Date Night offers Fig and Goat Cheese Croustades with Prosciutto, Crab and Fennel Bisque, Lamb and potatoes and salted Caramel Pots De Crème, another meal cooked by you and your partner to perfection.
Need A Handy Map? Check Out These Great Hot Spots For Romance
Check out this Super-Sweet Downloadable Cheat Sheet to Romantic Places in Orlando!
Last Minute Wrap!
Beyond this list, there are other amazing romantic expeditions. Check out our guide to, day trips in Florida, things to do on International Drive, romantic getaways in Florida, and other exciting articles featured on our Travel Blog. Whatever you choose, keep the love alive. Amusez-vous bien (Have a good time!)
At Westgate Resorts, when you Check-In, there's a LOT to Check-Out! Your Orlando vacation awaits! Explore our Orlando resorts today or talk with a vacation planner at 888-852-2959 or 407-355-2690.
* Westgate Resorts is in no way affiliated with the attractions featured in this article. Items or places listed are current as of the publishing date of this article. Please call or visit the respective website for the most up-to-date offerings and details.
If you're looking for a place to stay that's close to the action, Westgate's Orlando resorts are just minutes away.

RELATED ARTICLES: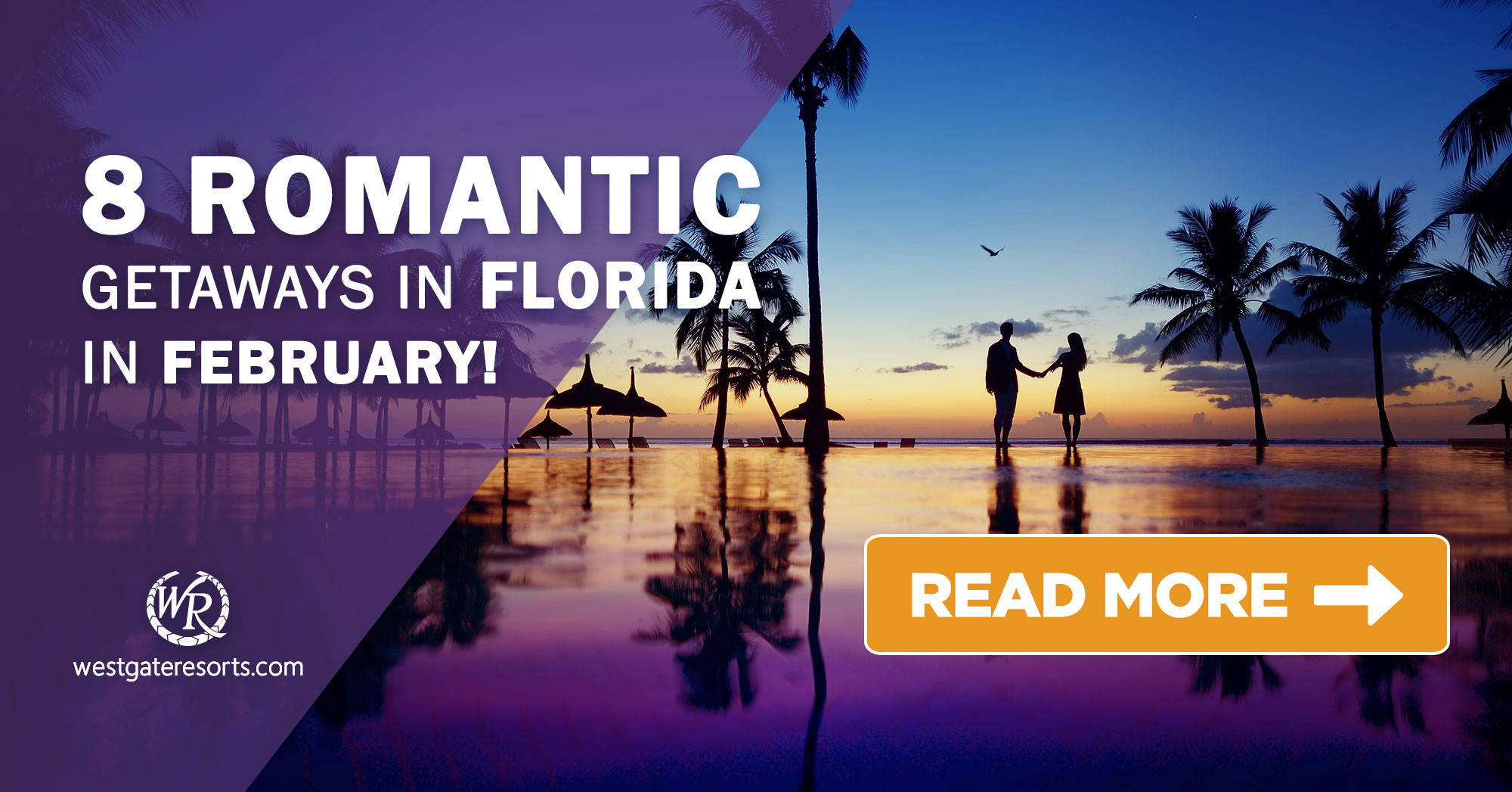 Other tagged pages of interest: orlando hotels near disney, resorts near universal studios orlando, lake buena vista resort, kissimmee resorts, kissimmee hotels, hotels orlando, orlando resorts, resort hotels, staycations
When You Check-in, There's a Lot to Check Out
Sign up for our newsletter and check-in to great offers, secret stuff, and special events.