10 Disney Springs Bars To Crawl After A Day At The Parks!
The Top Disney Springs Bars to Crawl After a Day at the Parks!
"The problem with the world is that everyone is a few drinks behind." – Humphrey Bogart
So, you've done all the things to do in Orlando (or so you think), you've conquered the "Duval Crawl" in Key West, partied all night in South Beach, survived the Haunted Pub Tour in St. Augustine, hit Panama City Beach for Spring Break, sampled all of the best bars along world-famous International Drive, knocked out "Drinking Around the World" at all 11 countries of the World Showcase at Epcot and you think you're a bona fide expert on Florida nightlife? Not so fast! If you haven't done an epic bar crawl at Disney Springs, you don't know what you've been missing! First opened in 1975 as Lake Buena Vista Shopping Village and later known as Downtown Disney, the 120-acre lakefront Disney Springs, which encompasses West Side, Town Center, The Landing and Marketplace, is home to some truly eclectic bars that you must explore the next time you're planning a visit to Walt Disney World Resort area, or you're just tired of bouncing from lounge to lounge at any number of Orlando hotels that dot the liquid-lunch landscape.

Disney Springs Bars You Won't Want To Miss
As you embark on your Disney Springs bar crawl, always remember to drink responsibly (you'll want to definitely split up your bar crawl over a series of several nights or take up where you left off on return visits, for example) and arrange a designated driver or use a ride service. Also, be prepared to pay top dollar for some of the delicious handcrafted cocktails on the various drink menus you encounter (there are no dive bars to be found here, folks!). From "adventurer" and "steampunk" themed bars to hidden speakeasies and lively Irish pubs, and literally everything in between, here are the 10 Disney Springs bars to crawl at night after an amazing day spent exploring Disney World theme parks:
1 | House of Blues | Start your Disney Springs bar crawl with a tried and true favorite – the legendary House of Blues located at West Side across from the NBA Experience. There's something for everyone at this bustling eatery decorated everywhere with colorful folk art. It's the perfect locale to imbibe in a refreshing cocktail! Highlights include a Main Dining Area that serves American cuisine "with a New Orleans twist"; a Full Bar that offers a nice selection of beer, wine and handcrafted specialty cocktails; a Music Hall that hosts everything from up-and-coming musicians to some of the hottest musical acts in the country; the Front Porch Bar, which offers drinks and live entertainment nightly; and the House of Blues Gear Shop, where you can take home an eclectic souvenir that documents your visit.

Essential House of Blues Drinks: Beast of Bourbon, Frisky Whiskey, South of Manhattan, Rock Me Hurricane, Strawberry Fields

WHERE: West Side, Disney Springs, Walt Disney World Resort | WHO: (407) 934-2583



2 | Stargazers Bar at Planet Hollywood | As you exit House of Blues, head East through West Side and past Splitsville Luxury Lanes and AMC Dine-In Disney Springs 24. Make your way toward the iconic dome at Planet Hollywood in Town Center for your next stop on the Disney Springs bar crawl – Stargazers Bar! Relax on the outdoor patio at Stargazers, which is located on the ground floor of Planet Hollywood, and enjoy "cosmic-inspired cocktails" or local craft beers while you listen to live music nightly or even partake in a little karaoke action every Friday between 8 PM and midnight! Happy Hour takes place at Stargazers daily from 4 PM to 7 PM and 10 PM to midnight. After your visit to Stargazers Bar, you may opt to take a side trip and hit the top of the nearby Coca-Cola Store, where the Rooftop Beverage Bar offers spectacular views of Disney Springs, as well as handcrafted cocktails such as the Rum Runner, Cuba Libre, Shamrock Sour, Fanta Wave and Cherry Coke Ripper.
Essential Stargazers Drinks: Space Monkey, The Moonwalk, Planetary Punch, Proxima B Mojito, Sparkling Sputnik
WHERE: Town Center, Disney Springs, Walt Disney World Resort | WHO: (407) 827-7827
3 | Enzo's Hideaway Tunnel Bar | Exit Stargazers Bar, take the first bridge to your right and you will reach The Landing (once upon a time known as Pleasure Island). Turn left after crossing the bridge and look closely for the entrance to the Prohibition-themed Enzo's Hideaway Tunnel Bar (a small sign points to the entryway under a staircase and bridge). Tucked underneath Maria & Enzo's Ristorante in a "rum-runner tunnel," Enzo's Hideaway evinces a cozy, laid-back and intimate speakeasy vibe along with a delightful selection of rums, scotches, bourbons, whiskeys, rye and cognac billed as "Enzo's Smuggled and Stashed Collection." Note that the walls are lined with colorful graffiti for your reading pleasure such as "It all started with a man named Walter Disney. He drew a mouse."
Essential Enzo's Drinks: Kraken Stormy, Strawberry Fields, Limoncello Gimlet, El Passion, The Lion's Tail
WHERE: The Landing, Disney Springs, Walt Disney World Resort | WHO: (407) 560-3696
4 | The Edison | Your next stop on the Disney Springs bar crawl is The Edison, a massive steampunk-themed restaurant, nightclub, bar and lounge that lies next to Maria & Enzo's. Billed as a "lavish, industrial gothic-style hotspot," The Edison was designed to appear like an abandoned 1920's power plant. Don't miss the opportunity to sample the handcrafted cocktails at The Edison, which are true works of art just as much as the industrial-gothic décor. Nightly entertainment at The Edison runs the gamut from live bands and cabaret dancers to aerialists and contortionists, as well as a DJ and dance floor. The Edison also features an extensive late-night menu (you simply can't go wrong with the delicious Edison Burger!). By the way, reservations are strongly recommended and admission is restricted to guests 21 and up starting at 10 PM each night (a dress code is enforced during those times).
Essential Edison Drinks: Electric Mule, The Tesla, Bad Miscalculation, Electro Shocker, Corpse Reviver
WHERE: The Landing, Disney Springs, Walt Disney World Resort | WHO: (407) 560-9288
5 | Paradiso 37, Taste of the Americas | Ideally located adjacent to The Edison lies Paradiso 37 (AKA "P37"), which serves as the next stop on your Disney Springs bar crawl. Celebrate the best dishes and drinks of Northern and Latin America at Paradiso 37! Along with great food, live music and dancers, the lively Paradiso 37 also boasts the largest selection of tequila at Disney Springs and huge margaritas designed for sharing! Both indoor and outdoor seating is available at Paradiso 37, which also offers beer on tap and wine by the glass.
Essential Paradiso 37 Drinks: Ultimate Fiesta, El Diablo, Kentucky Bramble, Welcome to Paradise, Category 5
WHERE: The Landing, Disney Springs, Walt Disney World Resort | WHO: (407) 934-3700
6 | Jock Lindsey's Hangar Bar | Just a short stroll beyond Paradiso 37 on your left lies simply one of the coolest water holes on Disney World property – Jock Lindsey's Hangar Bar! Named after Indiana Jones' personal pilot from Raiders of the Lost Ark (1981), a member of the fabled "Society of Explorers and Adventurers," this lively waterfront adventurer-themed bar that resembles a 1940's airplane hangar is full of references to the Indiana Jones franchise that will thrill and amuse both casual and hardcore Indy fans. Jock Lindsey's features great cocktails (AKA "Jocktails"), along with a mouthwatering lineup of appetizers such as Snakebite Sliders, Club Obi Wan Chicken Wings and the legendary Air Pirate's Cargo Loaded Pretzel. First-time visitors to Jock Lindsey's must sample Reggie's Revenge (orange vodka and melon liqueur with cranberry and lime juice), which is named after the pilot's pet snake (Snakes! Why did it have to be snakes?"). The menu also features premium scotch and beer flights. By the way, Jock Lindsey was portrayed by professional aviator Fred Sorenson, who celebrated his 70th birthday at the Hangar Bar in 2019.
Essential Hangar Bar Drinks: Reggie's Revenge, Cool-Headed Monkey, Shorty's Singapore Sling, Bam's Barnstormer, Air Pirate's Mule
WHERE: The Landing, Disney Springs, Walt Disney World Resort | WHO: (407) 939-6244
7 | Dockside Bar at The Boathouse | Exit Jock Lindsey's and make your way over to the Dockside Bar at The Boathouse. Best known for its maritime theme (including an amazing collection of vintage boats), great food, live music and "Amphicar" guided boat tours, The Boathouse also features this laid-back outdoor bar that offers great waterfront views, along with a nice reprieve from the hustle and bustle of The Landing. In addition to the Dockside Bar, The Boathouse also offers The Captain's Raw Bar and Admiral's Club Bar.
Essential Dockside Bar Drinks: Coconut Mojito, Lemon Drop Martini, Cucumber Cooler, Moscow Mule, Strawberry Gin Fizz
WHERE: The Landing, Disney Springs, Walt Disney World Resort | WHO: (407) 939-2628
8 | Wine Bar George | Retrace your steps back toward Jock Lindsey's and directly across from the Hangar Bar lies your next stop, Wine Bar George! A wine enthusiast's paradise, the 210-seat Wine Bar George, the brainchild of Master Sommelier George Miliotes (it's the only Master Sommelier-led wine bar in the Sunshine State), offers an outstanding selection of more than 140 wines, as well as a menu consisting of small plates, family-style plates, and artisanal cheese and charcuterie boards. Believe it or not, some of the most premium wine at Wine Bar George is available by the ounce! Not a wine drinker? No problem! The drink menu at Wine Bar George also includes handcrafted cocktails, beers and ciders.
Essential Wine Bar George Drinks: Frog's Leap Cabernet Sauvignon, Zuccardi Concreto Malbec, Honig Reserve Sauvignon Blanc, Trimbach Reserver Pinot Gris, Chalk Hill Chardonnay
WHERE: The Landing, Disney Springs, Walt Disney World Resort | WHO: (407) 490-1800
9 | Forbidden Lounge at Morimoto Asia | Step outside of Wine Bar George, turn left, stroll down a little bit and you will quickly see Morimoto Asia on your right. On the second floor of the celebrity-chef restaurant near the sushi bar lies a special, somewhat hidden VIP entrance into the Forbidden Lounge, where you can enjoy some great late-night signature cocktails, wine, appetizers and live music in a casually elegant atmosphere.
Essential Forbidden Lounge Drinks: Smoked Manhattan, Forbidden Lounge Highball, Bee's Knees, Kinjyo Cocktail, Amalaya Malbec
WHERE: The Landing, Disney Springs, Walt Disney World Resort | WHO: (407) 939-6686
10 | Hole in the Wall Bar at Raglan Road Irish Pub | Just across from the Forbidden Lounge at Morimoto Asia lies the lively Raglan Road Irish Pub & Restaurant – home to the aptly named Hole in the Wall Bar! Relax and unwind on the outdoor patio at the Hole in the Wall and enjoy an ice-cold pint of Guinness or other "Emerald Isle" delicacy. The Hole in the Wall is just one of four bars that can be found at the huge Raglan Road complex, which also features rollicking entertainment, including live music and Irish dancing, daily.
Essential Hole in the Wall Drinks: Guinness Irish Stout, Harp Irish Lager, Smithwick's Irish Ale, Magners Irish Cider, Kilkenny Irish Cream Ale
WHERE: The Landing, Disney Springs, Walt Disney World Resort | WHO: (407) 938-0300
BONUS | Dockside Margaritas | Still thirsty? Stroll over the bridge into the Disney Springs Marketplace and head over to this casual walk-up bar located just past the World of Disney Store and the Marketplace Stage, Dockside Margaritas evokes a laid-back tropical vibe that would make Jimmy Buffett and his Parrothead fanbase feel right at home. If wasting away on signature handcrafted margaritas isn't your thing, you can opt for seasonal beer selections, wine by glass or mixed drinks such as Dockside Ice Tea, Dockside Daiquiri, Dockside Colada and Orange Grove Rum Runner. Snacks and sodas are available at this bustling waterfront margarita bar as well. Dockside Margaritas hosts live music daily, and also features snacks and nonalcoholic drinks.
Essential Dockside Margaritas Drinks: Patrón Añejo Margarita, Strawberry Margarita, Habanero Lime Margarita, Sunset Margarita, Watermelon Margarita
WHERE: Marketplace, Disney Springs, Walt Disney World Resort | WHO: (407) 939-5277
Need a curate crawl map? Follow this handy map below wind your way from one end of the springs to the other!
Need a map to go? We've got you covered with this handy DOWNLOADABLE guide to your next Disney Springs Bar Crawl!
Discover a Dizzying Display of Dionysian Delights at Disney Springs!
The truly adventurous bar connoisseur will have a field day exploring the various unique watering holes sprinkled throughout the massive Disney Springs dining, entertainment and shopping complex! In addition, don't forget to explore the best Orlando breweries during your Central Florida vacation getaway, as well as fun things to do in Orlando for free and the best International Drive attractions. Last but not least, search for the best family-friendly hotels in Orlando so you can enjoy incredible savings on Orlando vacation stays in the heart of all the action!

RELATED ARTICLE: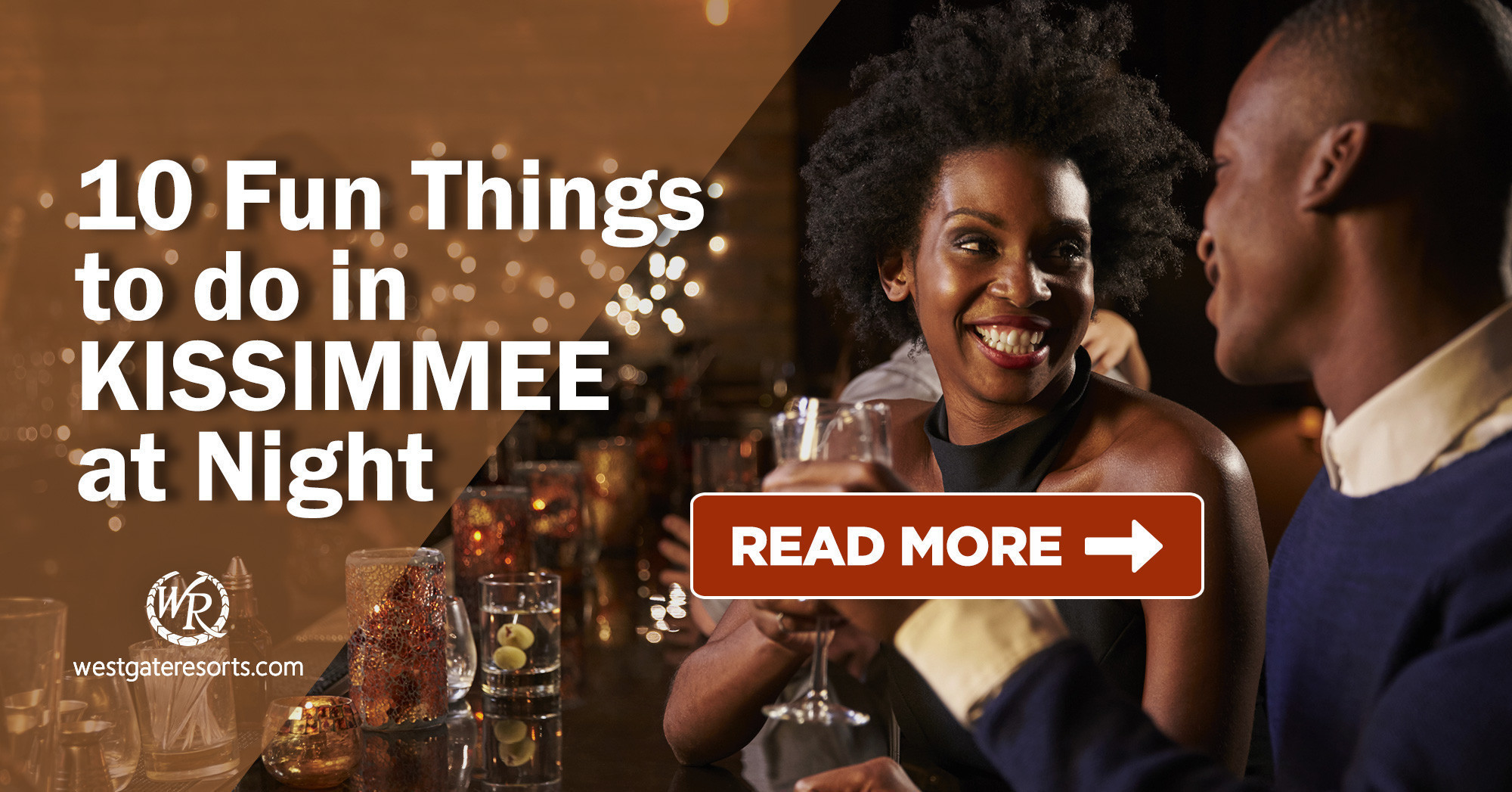 At Westgate Resorts, when you Check-In, there's a LOT to Check-Out! Your Kissimmee vacation rentals await! Explore our Orlando resorts today or talk with a vacation planner at 888-852-2959 or 407-355-2690.
* Westgate Resorts is in no way affiliated with the attractions, products, services, or offerings featured in this article. Items or places listed are current as of the publishing date of this article. Please call or visit the respective website for the most up-to-date offerings and details.
Other tagged pages of interest: orlando hotels near disney, resorts near universal studios orlando, lake buena vista resort, kissimmee resorts, kissimmee hotel, hotels orlando, orlando resorts, resort hotels, staycations
When You Check-in, There's a Lot to Check Out
Sign up for our newsletter and check-in to great offers, secret stuff, and special events.