The 20 Best Italian Restaurants in NYC
The 20 Best Italian Restaurants in NYC
It's hard to imagine a trip to New York City without trying out the cheap eats Time Square offers and the historic bars - but dining in an Italian restaurant is an absolute MUST! In fact, NYC and Italian food are synonymous - like spaghetti and meatballs. Whether you love Italian food or want to experience the smells and tastes from dishes from the Motherland, NYC offers a bevy of options for you to choose from and try.
Italian Restaurants NYC Locals Love
If you're in the mood for a mouthwatering Italian meal cooked with the freshest and tastiest ingredients, keep reading our list of delicious eats – but be sure to reserve your table early, these are the top Italian restaurants NYC locals love!
1 | Carmine's Italian Restaurant - Times Square | Carmine's is iconic! For many visitors to New York City, a meal at Carmine's is an absolute must. It is always busy, so reservations are highly recommended. Be prepared for rich, savory classic Italian American specialties, served in large family-style portions. Highlights of the menu include Meatballs, Penne a la Vodka, and Shrimp Scampi. Save room for Tiramisu!
WHERE: 200 W 44th St New York, NY 10036 | WHO: 212-221-3800
2 | Dominick's | A casual food hall-style experience awaits at Dominick's. Located in The Bronx, on Arthur Avenue, known as Little Italy in this area, diners will feel right at home. The menu is long and can be overwhelming, but you cannot go wrong with any of the pasta dishes, Stuffed Artichoke, and Baked Clams. Not sure what to order? Simply ask your server and they are sure to help you find something you will love.
WHERE: 2335 Arthur Ave The Bronx, NY 10458 | WHO: 718-733-2807
3 | Roberto's | It is easy for many people to place New York City's Italian restaurants into two broad categories: Italian-American and Authentic Italian. Roberto's resides in the latter. Forget the predictable red sauce and cheese pasta dishes that dominate the Italian restaurant scene, and instead indulge in fresh specials that change daily. Escape to a villa-style interior tucked along a side street in The Bronx. While there are a few staples on the menu, like, Parmigiana Di Melanzane E Zucchine and Cavatelli Con Salsiccia E Broccoli Di Rapa, be sure to consider any daily specials that might be available.
WHERE: 603 Crescent Ave The Bronx, NY 10458 | WHO: 718-733-9503
4 | Mercato | Dark woods and warm copper metallic accents fill the cozy dining area as houseware decorations on the walls and shelves making the rustic ambiance pair well with the warm, rich flavors. Here pasta is served in a variety of Italian American ways. Standouts include Fettuccine Ai Funghi and Linguine Ai Frutti Di Mare. The best thing about Mercato is that it makes Italian food approachable, cozy, and comforting.
WHERE: 352 W 39th St New York, NY 10018 | WHO: 212-643-2000
5 | Celeste | Pizza and pasta are the focus at Celeste. Here you'll devour fresh flavors far beyond the same old standards you can find pretty much anywhere. The menu is full of flavorful fare like Tagliatelle with Shrimp, Cabbage, and Sheep's Milk Cheese, Gorgonzola con Bel Paese E Salame Piccante Pizza, and Ravioli di Ricotta e Spinaci in Burro e Salvia.
WHERE: 502 Amsterdam Ave New York, NY 10024 | WHO: 212-874-4559
6 | Toscana 49 | Even though you'll find lots of rich and rustic items on the menu, Toscana 49 is a popular lunch spot. Business deals are made over delicious meals, just as visitors and couples sit in celebration of their time in NYC. Fresh salads and bright pasta dishes are great choices for lunch, while Grilled Salmon or Paglia E Fieno Con Panna make for a satisfying dinner. Save room for their raved-about desserts.
WHERE: 143 East 49 St New York, NY 10017 | WHO: 212-256-0190
7 | I Sodi | It is a rare treat for a New York City restaurant to offer an outdoor patio. At Sodi, you can relax in their outdoor patio when weather permits or enjoy the natural light that fills the dining room. Tuscan-style fare is the main staple of the menu. A rich wine paired with the Bresaola, a dish composed of dried Wagyu Beef, Arugula, Parmigiano and aged balsamic vinegar is a great indulgence during your visit to NYC.
WHERE: 105 Christopher St, New York, NY 10014 | WHO: 212-414-5774
8 | Via Carota | Once a hidden local hotspot, the secret is out! Via Carota is the place to head for fresh fare that changes with the seasons. This 2019 James Beard Foundation winner offers a casual, yet sophisticated dining experience. Be sure to ask about or browse through the daily specials for fresh creations that are sure to make your meal memorable.
WHERE: 51 Grove St New York, NY 10014 | WHO: 212-255-1962
9 | Manetta's | A wood-oven reigns proudly over the brick laden dining room. Large windows and an outdoor patio allow for warm sunlight to fill the seating area. Diners savor Italian classics as well as Greek-inspired entrees like Ribeye Steak in Barolo sauce, Grilled Lamb chops with Almond Mint Pesto, and Baked Branzino.
WHERE: 10-76 Jackson Ave Long Island City, NY 11101 | WHO: 718-786-6171
10 | Barolo East | Northern Italian cuisine satisfies diners who come from all over to enjoy Barolo East. A warm, inviting dining room with brick walls and a few contemporary details await. Any of Barolo East's dishes that feature their Fresh Buffalo Mozzarella is a guaranteed hit. While seafood and house-made pasta are popular, the beef and veal entrees stand out from the rest of the menu.
WHERE: 214 E 49th St New York, NY 10017 | WHO: 212-754-5710
11 | Maialino | Looking for a unique approach to Italian cooking? Look to Maialino for Roman-inspired dishes that are hard to find anywhere else. Carbonara Pasta with egg is always a winner as are Bucatini All'amatriciana, Devil's Chicken, and Braised Suckling Pig which are sure to make memorable meals. To top it all off, you will love the bright, sunny, and inviting dining room setting where meals are served to sit back, relax and dig in!
WHERE: 2 Lexington Ave New York, NY 10010 | WHO: 212-777-2410
12 | Don Angie | A light, airy, and fresh approach to Italian food is offered at Don Angie. A bright dining room and small outdoor patio welcome in natural light. The menu is full of simple classic dishes that are approached with a modern twist. Highlights include Sopressini and Smoked Mussels, Veal "Da Pepi", and Buffalo Milk Caramelle. Be sure to start your dining experience with a round of spectacular hand-crafted cocktails like Nonna's Little Nip or Pinky Ring.
WHERE: 103 Greenwich Ave New York, NY 10014 | WHO: 212-889-8884
13 | Casa Nonna | As you might imagine, with a name like Casa Nonna (Grandmother's House), you'll find a warm and inviting atmosphere here. Comforting staples of Italian home cooking are the hallmark of this cozy restaurant near the Theater District. Favorites of the menu include Frutti Di Mare, Pici Alla Toscana, and Torta Di Cioccolato that will leave you wanting more.
WHERE: 310 W 38th St New York, NY 10018 | WHO: 212-736-3000
14 | Bistango | Popular for its gluten-free options, Bistango offers something for everyone. A dark-hued dining room with brick walls creates a refined atmosphere. Savory pasta dishes like Butternut Squash Ravioli and Rigatoni with Meat Sauce are just as popular as light options such as Grilled Octopus and Arugula Salad.
WHERE: 415 Third Avenue at the corner of East 29th Street in Manhattan | WHO: 212-888-4121
15 | Briciola Wine Bar | Briciola is a rustic Italian wine bar specializing in Italian tapas or "Cicchetti." Savor some of the finest Italian wines available anywhere in NYC. Pair with rustic cuisine like Grilled Lamb Chops or Piadina Skirt Steak & Egg and toast to a wonderful evening in the Big Apple.
WHERE: 370 W 51st St New York, NY 10019 | WHO: 646-678-5763
16 | John's of Bleecker St. | It is not easy to pick an Italian restaurant that reigns supreme in the realm of pizza but John's is an absolute stand out. Founded in 1929 by John Sasso - who worked under the baker who founded New York City's style of pizza, there is an alluring history here. Pizza is the absolute must, the perfect balance of tomato sauce, fresh mozzarella, your choice of toppings, and a pillowy crust with a touch of char. Doesn't that sound blissful?
WHERE: 278 Bleecker St New York, NY 10014 | WHO: 212-243-1680
17 | Uva | Beige brick walls and decor that feels like a cozy home's dining room sets the backdrop at Uva. Comforting classics like Mezzelune Alla Boscaiola, Pappardelle Al Ragu Di Vitello, and Antipasto Misto are also sure to please in the picturesque backyard-style patio setting. Don't forget to treat yourself to a glass of Italian wine to end the meal!
WHERE: 1486 2nd Ave New York, NY 10075 | WHO: 212-472-4552
18 | Café Altro Paradiso | Like in many Italian dining rooms, expect to see a brick-laden dining room with bright and sunny interior colors that create an authentic Italian dining experience. And the menu - you'll enjoy contemporary takes on classic dishes like the Crudo, Carpaccio, and rich pasta dishes. There are tons of dessert places in NYC but the sweet treats here are a must and brunch is definitely worthy of serious consideration!
WHERE: 234 Spring St New York, NY 10013 | WHO: 646-952-0828
19 | D.O.C. Wine Bar | Savor wines and Sardinian fare at this rustic wine bar. The menu is full of authentic delights like Pane Carasau, a traditional bread from the Sardinian region, topped with olive oil, sea salt, and rosemary. And of course, no wine bar can be complete without a selection of cheeses and meats in D.O.C. Wine Bar's case from Sardinia. Fresh salads and hearty pasta are also must-trys on the menu!
WHERE: 83 N 7th St Brooklyn, NY 11249 | WHO: 718-963-1925
20 | Lilia | Some of the dreamiest pasta dishes you can find in all of NYC are here at Lilia. The bright, crisp white interior is a great complement to the vibrant, colorful food that takes center stage. If you want to delight in rich, creamy pastas like Mafaldine Pasta with Pink Peppercorns or Sheep's Milk Ricotta Agnolotti, you'll need to plan ahead and get a reservation well in advance.
WHERE: 567 Union Ave Brooklyn, NY 11222 | WHO: 718-576-3095
Use Our Handy Map to Find Your Way Around!
Last Tips for Dining at Italian Restaurants in NYC
You'll find some of the country's best Italian restaurants in New York City so it's no surprise that Italian food reigns supreme as one of the favorite cuisines to enjoy in the City That Never Sleeps. Locals and visitors alike love to experience the joy of Italian cooking so be sure to plan ahead and secure reservations so you don't miss out on a delightful meal.

RELATED ARTICLE: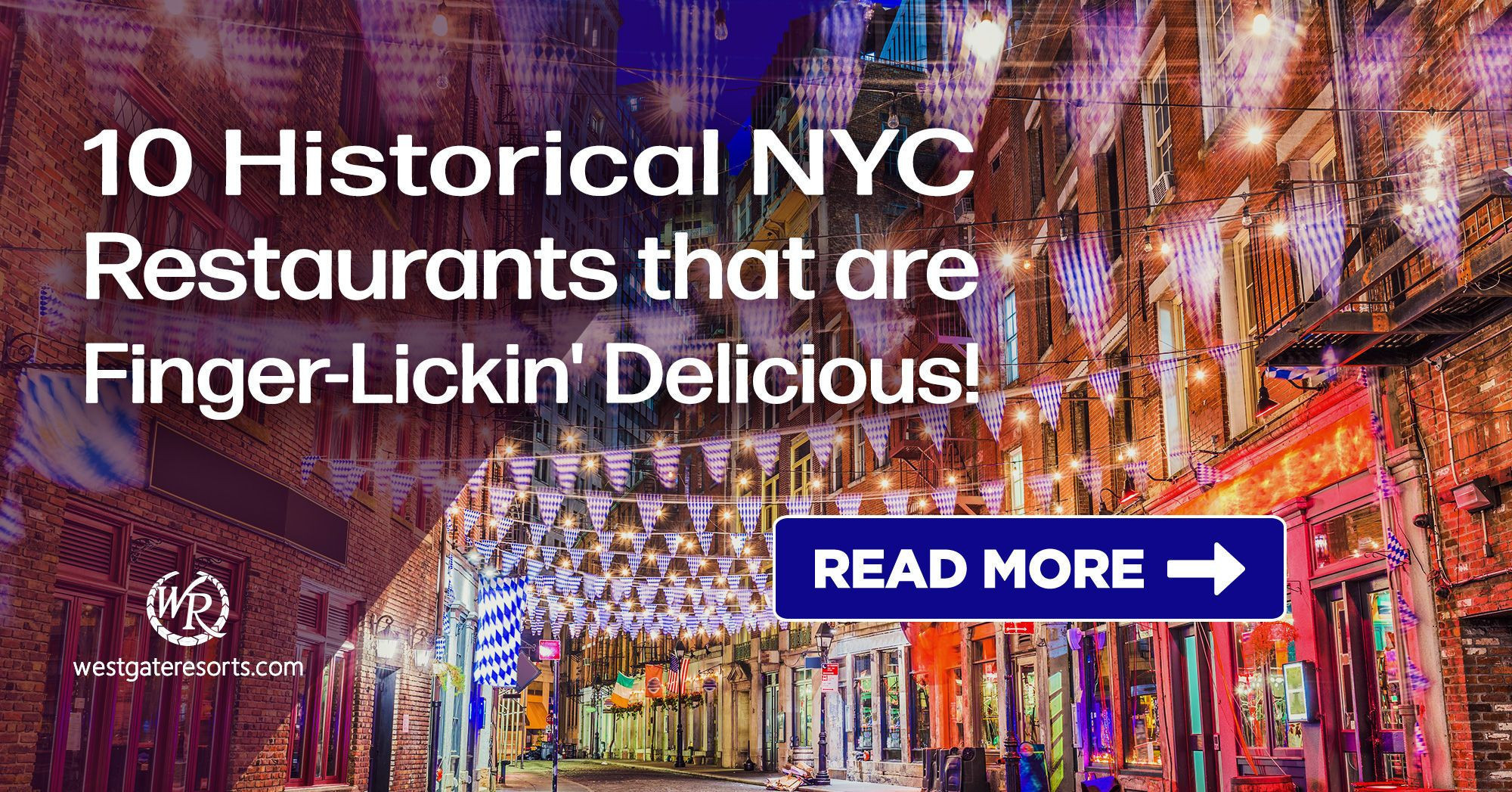 At Westgate Resorts, when you Check-In, there's a LOT to Check-Out! Your New York City vacation awaits! Explore our New York City hotel today or talk with a vacation planner at 888-852-2959 or 407-355-2690.
* Westgate Resorts is in no way affiliated with the attractions featured in this article. Items or places listed are current as of the publishing date of this article. Please call or visit the respective website for the most up-to-date offerings and details.
When You Check-in, There's a Lot to Check Out
Sign up for our newsletter and check-in to great offers, secret stuff, and special events.