10 Historical New York City Restaurants that are Finger-Lickin' Delicious!
10 Historical New York City Restaurants that are Finger-Lickin' Delicious!
New York City: iconic, unmistakable and brimming with history. Instantly recognizable from our movie screens, the Big Apple is home to the Statue of Liberty, the Empire State Building and Central Park. Not only that, but New York is also a foodie's paradise with cheap eats times square locals and tourists flock for pizza, pretzels and New York cheesecake – what's not to love? A fascinating city that sprawls across 300 square miles there are so many things to do in NYC and even more amazing places to eat!
The Best New York City NY Restaurants to visit for a Slice of History
If you only have a few days to spend in the city that never sleeps, kill two birds with one stone and make it your mission to go to as many restaurants as possible which are also historically interesting. Some restaurants in New York City are hundreds of years old, meaning you can learn – and fill your belly at the same time. Enjoy your meals!
1 | Tudor City Marketplace & Tavern | The Westgate New York Grand Central Hotel has been a feature of Midtown Manhattan for more than a hundred years. Tudor City was home to plenty of gangs in the past (check out Scorsese's Gangs of New York for research) and is home to some incredible 16th century architecture. The Tudor City Marketplace & Tavern located in the hotel's lobby, is one of the best the best historic bars NYC has to offer and the ideal place to stop for a drink before a night out on the town especially if you love bourbon!
WHERE: 304 East 42nd Street, New York, NY 10017 | WHO: 877-878-9873
2 | Fraunces Tavern | Celebrating its 300th birthday in 2019, Fraunces Tavern is the oldest restaurant in New York City. There is a museum attached to the restaurant which is well worth a visit, as it relates the stories of the restaurant's role during the American Civil War, how it has changed over time, and how it has survived three fires as well as a bombing. The food is good too; we recommend the weekend brunch!
WHERE: 54 Pearl Street, New York, NY 10004 | WHO: 212-968-1776
3 | Delmonico's Restaurant | If you are in the mood to splash out, look no further than Delmonico's, New York City's first fine dining restaurant, opened by the Delmonico brothers in 1837. On the menu is the famous Delmonico steak, along with dishes like eggs benedict and Baked Alaska, which were actually invented in this upmarket spot! Join history's elites at the first restaurant in America to have table cloths. Now that's fancy.
WHERE: 56 Beaver Street, New York, NY 10004 | WHO: 212-509-1144
4 | P. J. Clarke's | Purveyors of burgers and beers since 1884, P.J. Clarke's is a place with real star power. Nat King Cole called their delicious offerings "the Cadillac of burgers" and Buddy Holly apparently proposed to his wife at a P.J.'s – only five hours after meeting her! This is a restaurant with a good sense of humor, a place where maybe, just maybe, everybody knows your name.
WHERE: 915 Third Avenue, at 55th Street New York, NY 10022 | WHO: 212-317-1616
5 | Katz's Delicatessen | If it's a sandwich you're after, specifically a pastrami sandwich, you won't find better than Katz's Delicatessen. Opened in 1888 and family-run for one hundred years, Katz's was a hub for the many immigrant families who arrived in the Lower East Side in the early 1900s. There's lots more history to be had, as well as top quality sandwich meats.
WHERE: 205 East Houston Street (corner of Ludlow Street), New York, NY 10002 | WHO: 212-254-2246
6 | Mario's Restaurant | Going to New York City and not eating New York-style pizza would be like going to France and not eating crepes – just not an option! Mario's Restaurant, now more than a century old, offers an authentic Neapolitan dining experience and some of the best pizza around, along with plenty of other delicious offerings. Located in the Bronx, a visit here is a chance to explore a new neighborhood too.
WHERE: 2342 Arthur Avenue, Bronx, NY 10458 | WHO: 718-584-1188
7 | Tavern on the Green | Not many restaurants can say that they began life as a sheepfold (actually, not many restaurants can talk), but that's exactly what Tavern on the Green used to be in 1870. Sixty years later, it was converted into a restaurant with outdoor seating and beautiful views of Central Park and still going strong today. We are big fans of the seasonal menu too.
WHERE: 67th Street & Central Park West, New York, NY 10023 | WHO: 212-877-8684
8 | Nom Wah Tea Parlor | In 1920, Nom Wah Tea Parlor, New York City's oldest Chinese restaurant was a bakery and its specialty was mooncakes. Nowadays, it's all about Dim Sum. If you're looking for a place which feels frozen in time, this is the restaurant to visit. You can't miss a trip to Chinatown and after all that discovery, a plate of Dim Sum will revitalize you for the rest of the day's delights.
WHERE: 13 Doyers Street, New York, NY 10013 | WHO: 212-962-6047
9 | La Grenouille | One of the younger restaurants on this list, at only 60 years old, La Grenouille is the place to go for old-school glamour and French cuisine. Frog legs are, of course, on the menu, along with champagne. Ask the waiting staff how the place got started – it's a story worth hearing. Definitely a place to wear sparkles!
WHERE: 3 East 52nd Street, New York, NY 10022 | WHO: 212-752-1495
10 | McSorley's Old Ale House | Technically not a restaurant, McSorley's is a bar which lasted through the twentieth century, even surviving the era of Prohibition and retaining its loyal customer base. You can feel the history staring down at you from the artifacts on the wall and the sawdust on the floor. Oh, and if you're a woman, savor that beer, because you wouldn't have been allowed in to drink it until 1970.
WHERE: 15 East 7th Street, New York, NY 10003 | WHO: 212-473-9148
Use Our Handy Map to Find Your Way Around!
Last tips for the perfect trip to New York City!
It's not just the restaurants in New York City that are historical. Everywhere you look, you will see clues of the city's rich and diverse past. Why not book a stay in a historical hotel and learn even more? New York City is one of the world's more exciting cities – so do your research, and have a great trip!

RELATED ARTICLE: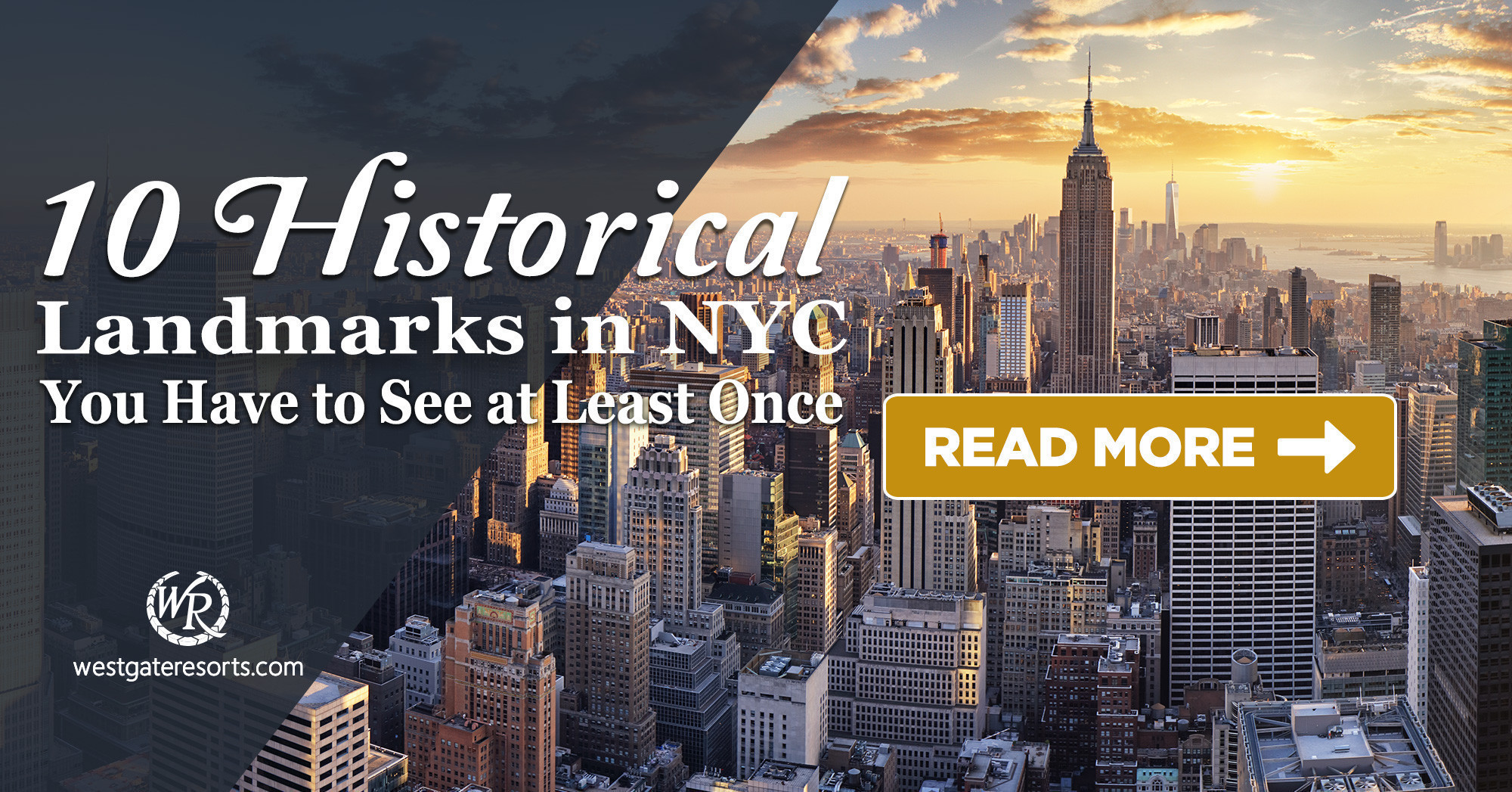 At Westgate Resorts, when you Check-In, there's a LOT to Check-Out! Your New York City vacation awaits! Explore our New York City hotel today or talk with a vacation planner at 888-852-2959 or 407-355-2690.
* Westgate Resorts is in no way affiliated with the attractions featured in this article. Items or places listed are current as of the publishing date of this article. Please call or visit the respective website for the most up-to-date offerings and details.
When You Check-in, There's a Lot to Check Out
Sign up for our newsletter and check-in to great offers, secret stuff, and special events.