The 10 Best Restaurants Near Disney World Off Property
The 10 Best Restaurants Near Disney World Off Property
When visiting sunny Central Florida and checking out all the fun things to do in Orlando near "The Most Magical Place on Earth", it can be easy to fall into a rut when it comes to meals. The easiest and quite possibly the costliest rut is, "Let's just eat at the Parks everyday", sounds good right, until your wallet and bank account are dried up quicker than a spilled glass of water on a hot day at Animal Kingdom. It's no secret, food is expensive at Disney World, and let's be honest, just because it's "The Most Magical Place On Earth" doesn't mean it's the tastiest place on Earth, or Orlando for that matter…

Restaurants Near Disney World Off Property
And there are some pretty tasty restaurants that call Orlando home. From famous "Restaurant Row" in the upscale Dr. Phillips neighborhood to International Drive restaurants as well as Main Gate favorites in Kissimmee, if you're looking for great places to eat that don't have Disney's trademark everywhere then you've come to the right place. So, without further ado, here are the 10 Best Restaurants near Disney World Off Property.
1 | Villa Italiano Chophouse | First on our list is Villa Italiano Chophouse. Located just outside of Disney World's Main Gate at Westgate Town Center & Villas, this molto delizioso restaurant offers some of the finest Italian comfort food around. I recommend giving their Bone-in rib-eye Florentine a try, it is mouth watering beyond belief or you absolutely can't go wrong with their Chicken Parmesan. After dinner, make sure to enjoy a cannoli or tiramisu or why not both for dessert!
Where: 7700 Westgate Blvd, Kissimmee, FL 34747 | Who: 407-396-8523
2 | Eddy V's | If you're looking for a place to impress your significant other or just looking for some fantastic fine dining, you don't need to look much further than Eddy V's. Located in the Dr. Phillips neighborhood on the famous "Restaurant Row", Eddy V's offers such a wonderful dining experience, you'll never want to leave. From the moment you step foot in Eddy V's you are treated like royalty, and that treatment coincides with their cuisine, as it is fit for Kings and Queens alike. I recommend splurging and going with their "Surf & Turf" an 8 oz Prime Filet Mignon with a South African Lobster Tail, yum! Plus, don't forget the Bananas Foster for dessert!
Where: 7488 West Sand Lake Rd Orlando, FL 32819 | Who: 407-355-3011
3 | Drafts Sports Bar & Grill | On to a place where you can sit back, relax, and be yourself, is Drafts Sports Bar & Grill. Located at Westgate Lakes Resort & Spa, Drafts Sports Bar & Grill serves up some the best American classics around along with the finest brews to go with them. From Killer Wings, Tatchos, to mouthwatering burgers, barbeque, as well as fish & chips and delicious sweet treats, one thing is for sure, you will not leave Drafts hungry.
Where: 9500 Turkey Lake Road Orlando, FL 32819 | Who: 407-352-9293
4 | 4 Rivers Smokehouse | Here we have an Orlando dining treasure in 4 Rivers Smokehouse. This fast service Smokehouse offers up some of the best barbeque around, and with a "Hot Brisket Now" neon sign letting you know when it's fresh and best, you can bet your bottom dollar you are in for a treat! Speaking of brisket, chopped or sliced, wet or dry, however you want it they got it, and if you want something truly special give 4 Rivers' burnt ends a try… nom nom!
Where: 874 W Osceola Pkwy, Kissimmee, FL 34741 | Who: 844-474-8377
5 | Charley's Steak House & Seafood Grille | If steak is your thing, then Charley's Steak House & Seafood Grille is the perfect place for you. A Central Florida favorite, Charley's offers the best in prime steak and seafood and with their amazing wood burning fire pit, the flavors Charley's can serve up will have you coming back for more. From amazing starters, like their bacon wrapped diver scallops, their epic main course 21 day dry aged prime porterhouse, to their amazing Surf & Turf for two, you'll be lucky if you still have room for their famous Plant City strawberry cake.
Where: 2901 Parkway Boulevard, Suite 1A Kissimmee, FL 34747 | Who: 407-396-6055
6 | Pio Pio Restaurant | Not only does Pio Pio offer some of the best Colombian cuisine in Orlando, it is also some of the best food overall around. Located near International Drive, the fresh food and fast service you'll receive at Pio Pio is a wonderful oasis from the amusement parks, and you can't go wrong with anything on the menu. I recommend starting with their Chicharrón con Arepa and the Quarter Rotisserie Chicken is sheer perfection!
Where: 5803 Precision Dr, Orlando, FL 32819 | Who: 407-248-6424
7 | Kobe Japanese Steakhouse | Next, we have Kobe Japanese Steakhouse offering the best hibachi grilled cuisine and entertainment in all Central Florida. Whether you're looking for a great place to dine with a significant other or to celebrate a special occasion with the entire family, you can rest assured that unforgettable memories will be made at Kobe Japanese Steakhouse. Plus, don't be afraid to go HAM on the YUM YUM sauce… so good on everything!
Where: 2901 Parkway Blvd Kissimmee, FL 34747 | Who: 407-396-8088
8 | The H Orlando | One of the newest restaurants on "Restaurant Row" is The H Orlando and it hasn't taken much time for it to establish itself as not only one of the premier restaurants in Orlando to dine, but also to be seen. Serving up some of the finest Mediterranean inspired cuisine, from amazing salads, perfectly grilled kababs, and seafood to name a few, H provides something for everybody. On top of that, the H Orlando also offers some of the best steak around, serving a selection of dry-aged, 1855 Black Angus USDA Prime beef, and if you know about 1855 Black Angus, then you know it's special.
Where: 7512 Dr Phillips Blvd #80, Orlando, FL 32819 | Who: 407-930-3020
9 | Fishbones | Just down the way on Sand Lake Road just past I-Drive is Fishbones, and if the name doesn't give it away then I'll share with you what this fine restaurant does best… fish! With fresh seafood flown in daily from around the world, there isn't a single restaurant in all of Orlando with better. And, if fish isn't your thing, Fishbones also provides some of the best prime steaks around as well. If you're looking for something truly off the hook (pun intended) I recommend their whole gulf snapper, it is to die for!
Where: 6707 Sand Lake Rd, Orlando, FL 32819 | Who: 407-352-0135
10| Christini's Ristorante Italiano | An Orlando favorite for years, Christini's Ristorante Italiano serves the finest Italian cuisine outside of Italy. It's obvious the moment you step foot into Christini's, they know what they are doing, and they do it right. From their Fettuccini Alfredo, their Gnocchi Bolognese, the jumbo shrimp scampi, to my personal favorite, the Vitello con Funghi Morel e Aragosta (which is veal, morel mushrooms, sherry, & lobster), it is impossible to find something that you won't like on their menu, in fact, you could just blindly point at the menu and you would be happy with what you ordered, that's how deliciously special Christini's is.
Where: 7600 Doctor Phillips Boulevard Orlando, FL 32819 | Who: 407-545-6867
Bonus | Opening Soon: Portillo's | For those of you from sweet home Chicago, you are well aware how wonderful Portillo's is. The fast service and simply amazing cuisine that Portillo's offers will have you hooked from the very first bite! When you step into Portillo's it's as if you've walked into a time machine back to the roaring 20s with their famous Chicago style hotdogs, crinkle fries, Italian Beef sandwiches, the list goes on and on, perfectly add to the timeless ambiance and absolutely provides something for everyone. I couldn't recommend more Portillo's Italian Beef with hot giardiniera, sweet peppers, and a side of cheese sauce. Plus, if you have any room left after that, their famous chocolate cake shake will surely finish you off.
Where: 7715 Palm Pkwy, Orlando, FL 32836 | Who: 689-800-0102
Bonus | Just A Little Further But Well Worth It: Guru Restaurant | During your visit to Orlando, if you get a craving for authentic Indian cuisine, Guru Restaurant is the gem you are looking for. Just a couple of miles north of the Magic Kingdom on US 27 in Clermont, Florida, is Guru, and I would be lying if I told you that it isn't one of the best restaurants in all of Central Florida, in fact, if authentic Indian Cuisine is your jam, it quite possibly could be the best restaurant. Everything at Guru is top-notch, but if you get just one dish during your visit, their award winning Tikka Masala is amazing!
Where: 2400 South US 27, Suite 101, Clermont, FL 34711 | Who: 352-241-9884
Use Our Handy Map to Find Your Way Around!
The Royal Treatment
It's plain to see that you will be treated like royalty when it comes to dining outside of the Magic Kingdom. On top of that, there is an unlimited amount of cuisine choices to choose from, so no matter what you and your party are craving to sink your teeth into, chances are you'll be able to find it near Disney World off property. Bon appetit!

RELATED ARTICLE: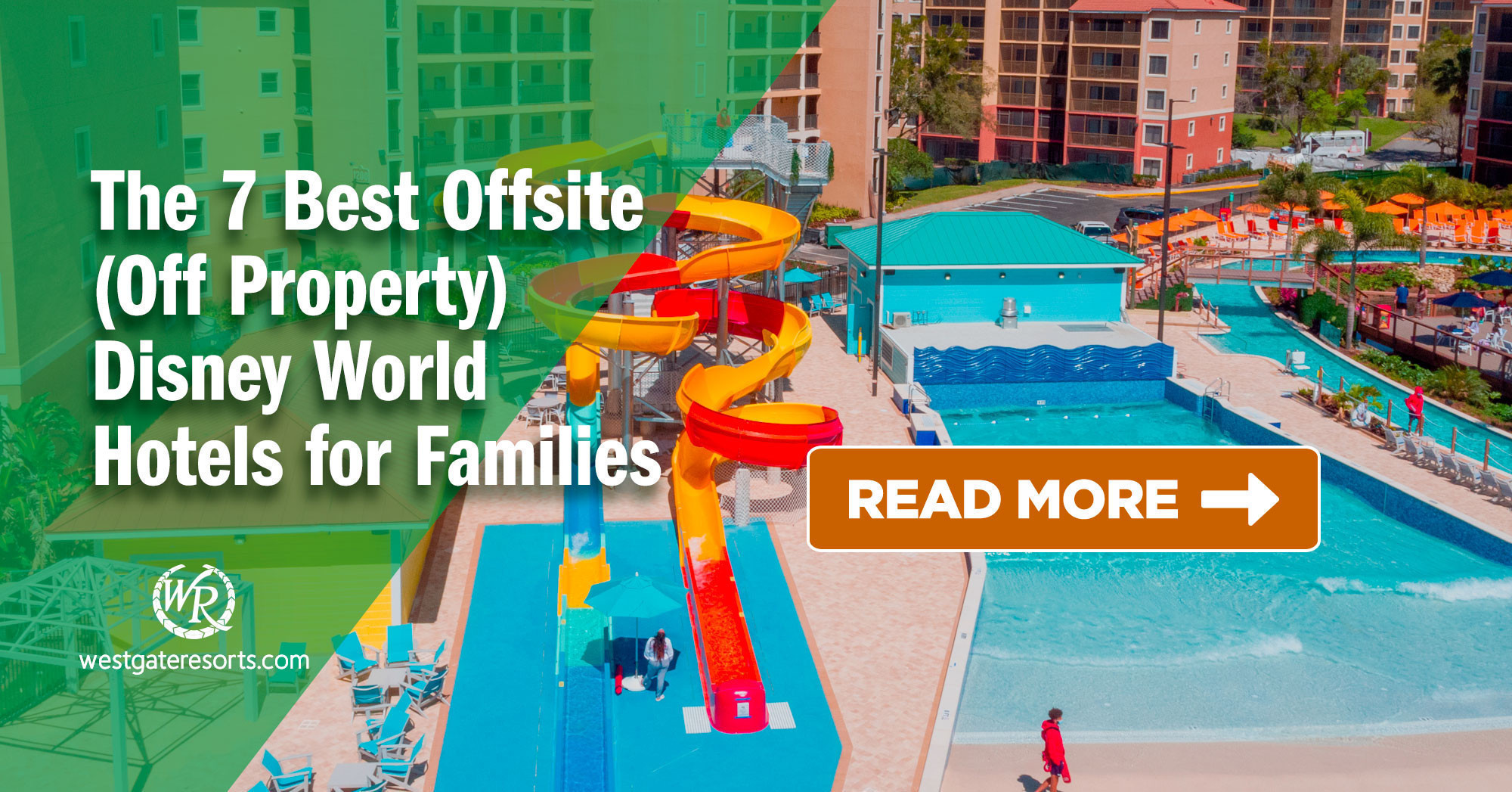 At Westgate Resorts, when you Check-In, there's a LOT to Check-Out! Your Orlando vacation awaits! Explore our Orlando resorts today or talk with a vacation planner at 888-852-2959 or 407-355-2690.
* Westgate Resorts is in no way affiliated with the attractions featured in this article. Items or places listed are current as of the publishing date of this article. Please call or visit the respective website for the most up-to-date offerings and details.
When You Check-in, There's a Lot to Check Out
Sign up for our newsletter and check-in to great offers, secret stuff, and special events.