The 7 Best Offsite (Off Property) Disney World Hotels for Families
The 7 Best Offsite (Off Property) Disney World Hotels for Families
It's that time again! The time for magical greeting, lines of smiles, explosions of joy and fireworks, and of course, life-sized versions of you and your family's favorite animated characters. That's right, we're talking about your long-looked-forward-to trip to Orlando, FL to visit the Most Magical Place on Earth— Disney World! If you've never been, you may be asking yourself, "How much does it cost to go to Disney World?" Well let's just say, it's not always low-budget!

Best Offsite Disney World Hotels for Families
But just because you're traveling to visit the world-famous theme parks doesn't mean your vacation needs to be expensive and revolve around the Mouse! There are several ways to enjoy Orlando outside of Disney, from the incredible International Drive restaurants to the countless Orlando hotels that are perfect for you and your family, they are arguably just as magical ( or more) than any Disney hotel. When you are searching for the closest offsite hotel to Disney, there are a few things you want to consider: Is it family-friendly? Is it affordable? Do they offer amenities for all ages? Here's a list of the best offsite Disney World hotels that check "Heck yes!" to those questions and more!
1 | Westgate Lakes Resort & Spa | Located just off one of Orlando's busiest destinations, International Drive, Westgate Lakes Resort & Spa offers high-class amenities, like the brand-new Treasure Cove Water Park and Serenity Spa, without the high price that sometimes comes with luxury vacations.
GREAT FOR FAMILIES | The bowling alley located in the resort's on-site restaurant, Drafts Sports Bar & Grill, is the perfect way for your family to spend quality time together!
WHERE: 9500 Turkey Lake Rd, Orlando, FL 32819 | WHO: 407-345-0000
2 | Westgate Palace Resort | Utilizing the property's more intimate feel, the Westgate Palace Resort's newly renovated accommodations are the perfect balance of livable luxury and a cozy, at-home environment. So, unlike many other hotels that will remain nameless, you can expect luxury fit for a royal without the feeling of staying in a glass castle. Here you can relax and enjoy the vacation vibes.
GREAT FOR FAMILIES | The resort is just seconds away from exciting attractions and theme parks, like International Drive and Universal Studios!
WHERE: 6145 Carrier Dr, Orlando, FL 32819 | WHO: 407-996-6000
3 | Westgate Leisure Resort | When you stay at Westgate Leisure Resort, relaxation from the hustle and bustle of the theme parks is at your leisure 24/7. Close enough to all the action of Disney World, as well as SeaWorld and Discovery Cove, the resort is the perfect respite for anyone who craves a moment (or few) of serenity.
GREAT FOR FAMILIES | Are you a fan of outdoor recreational activities? The resort boasts numerous outdoor amenities that the entire family can enjoy, like a shuffleboard court, outdoor chess and checkers, corn hole, and a fire pit for relaxing after sunset!
WHERE: 6950 Villa De Costa Dr, Orlando, FL 32821 | WHO: 407-239-8855
4 | Westgate Town Center Resort | Instead of booking multiple rooms or making several reservations to fit the entire family, visit Westgate Town Center Resort and explore spacious, multiple-room villas big enough to fit the entire extended family (including the furry, four-legged ones)!
GREAT FOR FAMILIES | Thanks to Baby Otter Swim Club, your otter cubs can learn how to swim and enjoy the 14 pools the resort has to offer!
WHERE: 7700 Westgate Blvd, Kissimmee, FL 34747 | WHO: 407-396-2500
5 | Westgate Blue Tree Resort | Are you looking for a quaint yet luxurious Orlando hotel that won't drain your vacation budget? If so, Westgate Blue Tree Resort is exactly what you're looking for! Only 1.9 miles from Disney Springs and chock-full of activities perfect for the entire family, all guests can enjoy the budget-friendly resort without missing the ambiance of a luxury resort!
GREAT FOR FAMILIES | Do you love playing team sports with your family? The tetherball and frisbee golf set ups at the resort are an excellent chance to show off your family's teamwork!
WHERE: 12007 Cypress Run Road, Lake Buena Vista, FL 32836 | WHO: 407-597-2200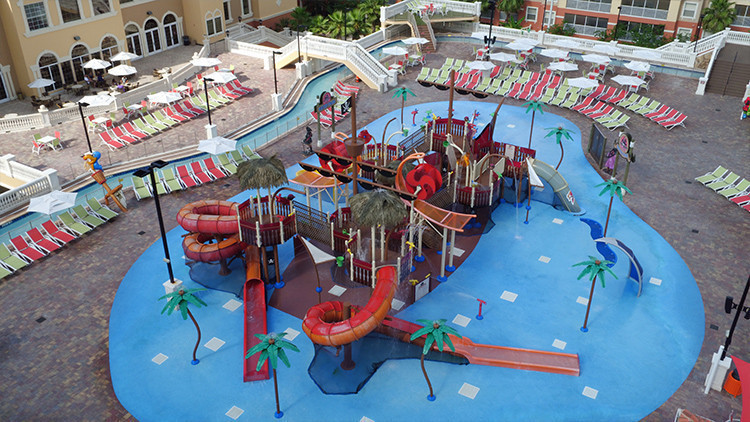 6 | Westgate Vacation Villas Resort | Want to stay at a hotel outside of Disney, but don't want to miss out on the excitement of the theme parks? At Westgate Vacation Villas Resort, the Shipwreck Island Water Park will bring adventure to your family's hotel doorstep every day of your vacation!
GREAT FOR FAMILIES | If the four-legged and furry member of your family goes wherever you go, the resort has several dog parks for your dog(s) to run, play, and make some of their own vacation memories!
WHERE: 7700 Westgate Blvd, Kissimmee, FL 34747 | WHO: 407-239-0510
7 | Westgate Towers Resort | Sometimes when you're traveling with children or a large group (or someone who is known for their clumsiness), accidents are to be expected. Feel at home with accommodations that can handle a spill when you stay at Westgate Towers Resort!
GREAT FOR FAMILIES | From the arcade to resort playground, there are multiple options for the young ones to run and release some energy! There's also a book nook for the little ones with schoolwork or who need a moment of quiet time.
WHERE: 7600 W Irlo Bronson Memorial Hwy, Kissimmee, FL 34747 | WHO: 407-396-2500
Use Our Handy Map to Find Your Way Around!
Ready to book your Disney vacation?
Whether you want to stick close to all of the theme park action or have access to all of the exciting things to do in Orlando, there are so many off-property Orlando Disney hotels to choose from and we just had to share our top seven favorites with you! If you're looking for the next step after booking, head on over to our Westgate Travel Blog for itinerary inspiration and local tips!

RELATED ARTICLE:
At Westgate Resorts, when you Check-In, there's a LOT to Check-Out! Your Orlando vacation awaits! Explore our Orlando resorts today or talk with a vacation planner at 888-852-2959 or 407-355-2690.
* Westgate Resorts is in no way affiliated with the attractions featured in this article. Items or places listed are current as of the publishing date of this article. Please call or visit the respective website for the most up-to-date offerings and details.
When You Check-in, There's a Lot to Check Out
Sign up for our newsletter and check-in to great offers, secret stuff, and special events.