The 10 Best Tribute Bands of All Time
10 Best Tribute Bands of All Time!
Tribute bands are formed to pay homage to the greatest musicians beloved by fans around the world. The most passionate and dedicated of these bands can really put on a show and take you on a musical journey like no other. If you're a fan of the best cover bands in Las Vegas or interested in catching country music concerts near Orlando, chances are, you'll love tribute bands too. Keep reading as we cover the tribute bands to rock your world!
Top Tribute Bands You Need to See Live
Some things are just better live, and that includes performances of music from the best musicians of all time. Be it Elvis, Michael Jackson or Prince, it's always amazing to watch tribute bands put on a show that feels authentic as they mimic the real thing. Check out these tribute bands and see what you think!
1 | The Bronx Wanderers | This fantastic, award-winning tribute act does true justice to the artists and music it plays. The Bronx Wanderers deliver electric performances of the most iconic rock 'n roll music from the 50s, 60s, and 70s — an experience that's hard to find anywhere else these days.
One of the coolest things about The Bronx Wanderers is that they were founded by a gold record producer who just truly loves the music they play. It's no wonder, then, that their sets sound like some of the most legendary rockers have returned to the stage for one last show.
WHERE: Westgate Las Vegas Resort & Casino, 3000 Paradise Road, Las Vegas, NV 89109 | WHO: 702-732-5111
RELATED ARTICLES
The 8 Best Places to Eat in Las Vegas on a Budget
45 Things to Do in Las Vegas This Weekend
8 Things to Do Before Your Solo Trip to Las Vegas
2 | Michael Jackson One | One of the most internationally beloved pop stars of all time gets a tribute show big enough for his legacy in Michael Jackson One. Put on by Cirque du Soleil, you get more than just a live performance of all of Jackson's hit records — you get all the glitz and glam that go with them too. The man who takes the stage as Jackson has received critical acclaim for his convincing and entertaining tribute role.
WHERE: 3950 Las Vegas Blvd. South, Las Vegas, NV 89119 | WHO: 702-632-7777
3 | Soul of Motown | Given how important the Motown era was for music, everyone should see a tribute celebrating its music. The Soul of Motown tribute is your best option as a highly-acclaimed staple of Vegas entertainment. Immerse yourself in classic hits from The Temptations, Sam Cooke, The Jackson 5, Marvin Gaye, Stevie Wonder, Aretha Franklin, and many more. Not only will you be transported through musical history, but you'll be also dancing and singing the entire trip.
WHERE: 3000 Paradise Road, Las Vegas, NV 89109 | WHO: 702-732-5111
4 | All Shook Up | As the most impersonated musician of all time, most Elvis Presley acts don't live up to expectations. All Shook Up, on the other hand, is a top-notch tribute band that will make you feel like you're a screaming, giddy fan at one of the King's shows. Anyone who catches this show can't help falling in love.
WHERE: 3663 S Las Vegas Blvd #360A Las Vegas, NV 89109 US | WHO: 866-932-1818
5 | Purple Reign: The Prince Tribute Show | Prince was such a unique artist you would think it is impossible to recreate the sound, playing style, and showmanship of his live shows. Purple Reign: The Prince Tribute Show proves that theory wrong by delivering a fun, interactive performance that will have fans reveling in all the magic that is Prince.
WHERE: 3000 Paradise Rd, Las Vegas, NV 89109 | WHO: 702-732-5111
6 | Beatleshow | Wonder what it would be like to see the Beatles live? Wonder no more by experiencing a Beatleshow, a top tribute band for its amazing ability to recreate the atmosphere and energy of a 60s Beatles concert. Praised for its authentic feel, this tribute band will not hold back but play all of the fantastic, memorable Beatles' hits that turned them into one of the most significant rock groups in history.
WHERE: 3663 S Las Vegas Blvd #454b, Las Vegas, NV 89109 | WHO: 866-932-1818
7 | Legends In Concert | Why settle for one tribute? Legends In Concert pays tribute to the biggest names in music, both from the past and today. This tribute show has something for everyone — from Frank Sinatra to Britney Spears, Whitney Houston to Celine Dion, and many more. You're sure to enjoy a legendary performance.
WHERE: 3801 S Las Vegas Blvd, Las Vegas, NV 89109 | WHO: 702-739-2222
8 | MJ Live | Michael Jackson certainly has the catalogue to have more than one tribute show, and it just so happens that this is another one that ranks as one of the best. The energy, dancing, and music all come together in this wonderful tribute to the King of Pop. A thriller!
WHERE: 2000 Las Vegas Blvd S, Las Vegas, NV 89104 | WHO: 800-998-6937
9 | The Australian Bee Gees Show | The disco era is alive and well thanks to this very entertaining and longstanding tribute to the Bee Gees. The band does a fantastic job taking on the role of the Gibb brothers, so much so that you might forget you're not actually at a Bee Gees concert.
WHERE: 3850 S Las Vegas Blvd, Las Vegas, NV 89109 | WHO: 702-597-7600
10 | Vegas! The Show | There are lots of crazy things to do in Las Vegas like its unique history and impact on music and performance that make it deserve its own tribute show. That's exactly what Vegas! The Show is, bringing audiences on a musical journey through the best acts associated with Vegas. Expect energetic performances paying tribute to Tom Jones, The Rat Pack, Gladys Knight, and many more.
WHERE: 3663 S Las Vegas Blvd #454, Las Vegas, NV 89109 | WHO: 866-932-1818
Use Our Handy Map to Find Your Way Around!
Enjoy the Best Tributes to the Greatest Artists
Tribute bands have gotten so good that you can really feel like you're transported to a concert of your favorite artist. No matter who you want to see, treat yourself to an unforgettable and fun experience. Between the great music, fabulous showmanship, and carefree atmosphere, there's nothing quite like the feeling of experiencing some of the greatest music of all time at a live concert.
Looking to things to do in your favorite vacation destinations, check out our Travel Blog for tips, tricks, and ideas to make your time away one for the books!

RELATED ARTICLE: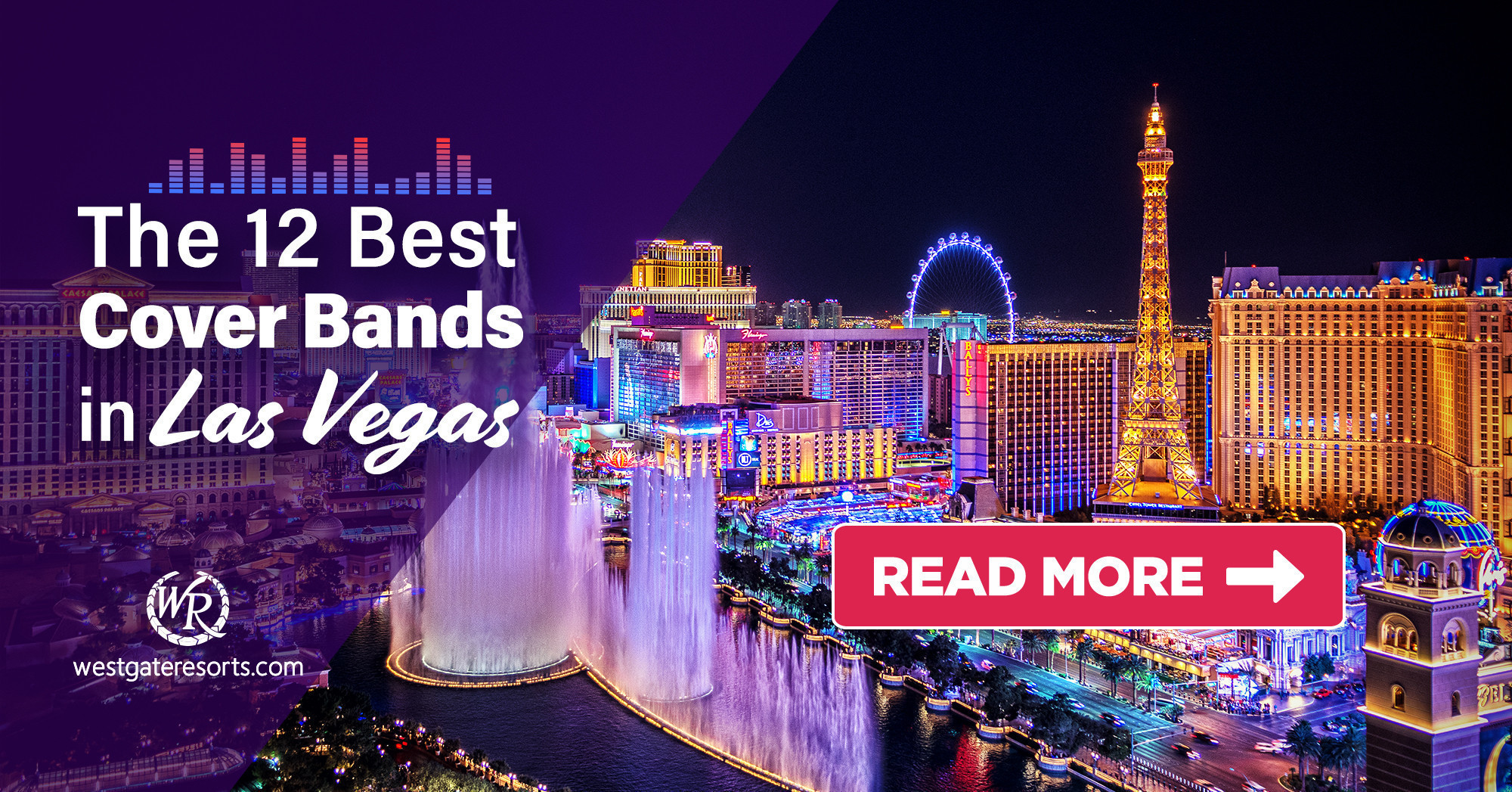 For more information, please contact a Vacation Specialist at 888-852-2959. Westgate Owners: To book your week online please visit: my.westgateresorts.com.
* Westgate Resorts is in no way affiliated with the attractions featured in this article. Items or places listed are current as of the publishing date of this article. Please call or visit the respective website for the most up-to-date offerings and details.
When You Check-in, There's a Lot to Check Out
Sign up for our newsletter and check-in to great offers, secret stuff, and special events.