The 8 Best Places to Eat in Las Vegas on a Budget
The 8 Best Places to Eat in Las Vegas on a Budget
It's chow time! Exploring the eclectic city of Las Vegas offers visitors numerous options for delicious dining and foodie finds, but a lot of the time these come with a high price. Just because you enjoy good food doesn't mean it needs to wipe out your wallet! But sometimes indulging in prime rib at a restaurant in downtown Vegas can really put a dent in your budget! Whether you're on the hunt for the best breakfast Las Vegas has to offer or a quick meal that isn't fast food after visiting one of the free attractions in Las Vegas, there are so many places ready to feed your cravings and also keep you on your vacation budget!
How to Eat on a Budget in Las Vegas
If Las Vegas knows anything, it's where to find the best cheap eats! After hitting some of Las Vegas' best happy hours or the morning after a long day of adventures, there is nothing more satisfying than a meal that fits your budget. From greasy to spicy, sweet to savory, this list of the 8 Best Places to Eat in Las Vegas on Budget will satisfy every need your hungry heart desires! Ready to eat?
1 | Rikki Tiki Sushi | Who would've thought sushi would be on this list? We did! At Rikki Tiki Sushi, located in the Westgate Las Vegas Resort & Casino, the authentic Japanese restaurant offers elegant sushi creations and a sweet sushi deal you just have to roll with! Now, this isn't a cheap sushi deal you'd find at a scary gas station. This is fresh, prime quality, all you can eat sushi and specialties for just under $30! If you are looking for a way to enjoy quality sushi without having to overspend, Rikki Tiki Sushi is the place for you! The deal is perfect for a date night or a large family gathering, and starts with a choice of Japanese sake or hot green tea, miso soup or house salad, and offers all you can eat edamame, vegetable tempura, gyoza potstickers, and spring rolls. The sushi menu has something for the adventurous sushi lovers, like the Royal Flush roll, which includes BBQ eel, cucumber, and avocado, as well as rolls that are more traditional, like the Spicy Tuna roll, which has fresh chopped tuna and spicy aioli. Everybody who loves sushi knows that one or two rolls are never enough, but it'll cost a fortune for more than a few rolls! That's why this deal is a high value cheap eat and one of the best you will find in Sin City!
WHO: (702) 732-5755 | WHERE: 3000 Paradise Rd, Las Vegas, NV 89109
2 | Tacos El Gordo| Are you on the search for the best street tacos in Vegas? Look no further than Tacos El Gordo! Opening their first location in 1972, the family-owned and operated restaurant has expanded to six locations in Nevada and California and has been serving up authentic Mexican street food for over 40 years. They specialize in authentic Tijuana Tacos, a carefully crafted meal made from handmade corn tortillas, high-grade meats, and fresh guacamole and salsas made from scratch daily. From the Adobada Taco, which is made with spiced pork, to the Lengua, which has beef tongue as the meat of choice, these tacos are packed with flavor, and will leave your stomachs stuffed and your wallets still full! And if you're not in the mood for tacos (as if that's possible!), their menu offers, mulas, tostadas, sopes, and other authentic Tijuana street food.
WHO: (702) 331-1160 | WHERE: 3041 S Las Vegas Blvd, Las Vegas NV 89104
3 | Mr. Mamas | Once you've had your fun spending your night (and money) on the Las Vegas Strip, recharge the next morning at Mr. Mamas! Known for its friendly atmosphere and even friendlier prices, this breakfast joint is one of the tastiest ways to wake up in Las Vegas! Serving up traditional breakfast dishes, like pancakes for $3.50 and combo meals like the Mamas Stack, which include three pancakes, three eggs, and your choice of bacon, ham or sausage, all for only $12, the restaurant also offers a multitude of omelet options, French toast, and classic dishes, like biscuits and gravy. Inspired by his Greek lineage and restaurant owning parents, Mr. Mamas owner, Nick, has created a menu his Mama would be proud of.
WHO: (702) 220-9224 | WHERE: 5693 S Jones Blvd #106, Las Vegas, NV 89118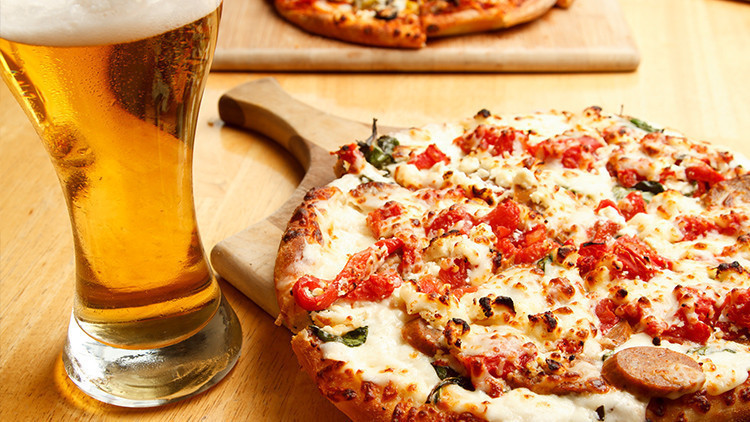 4 | Evel Pie | This pizza is so good—It's evel! The next time you're scouring Las Vegas for the best and cheapest slice of pizza pie, be sure to check out Evel Pie! Famous for its rock n' roll heavy décor and daring specialty pizzas, the pizza joint offers slices of cheese for $4, pepperoni slices for $4.50, and a $6 deal for a slice of cheese and a beer that is perfect for any late-night snacking on a budget! They also offer slices for only $5.50 of any of their specialty pizzas, including their World Famous Snake River Special, which has Evel's tomato sauce, mozzarella, rattlesnake sausage, caramelized onions, and roasted red peppers. From their bold flavors to their cheap slices, this place is a real headbanger!
WHO: (702) 840-6460 | WHERE: 508 Fremont St, Las Vegas, NV 89101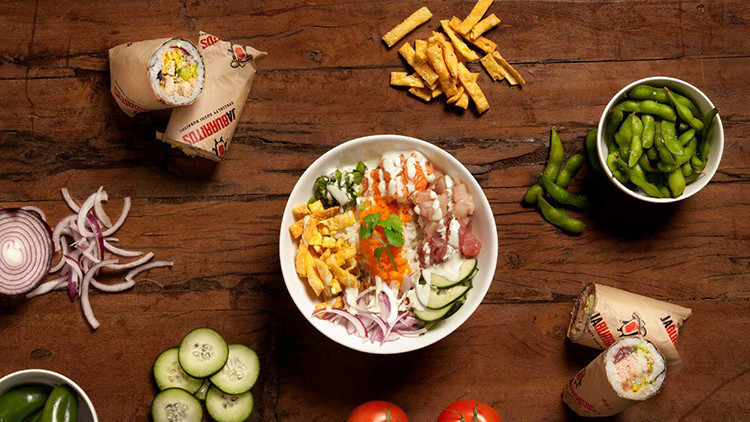 5 | Jaburritos | Have you ever heard of a sushi burrito? Just picture this: a sushi roll…the size of your head! Jaburritos, named from the combination of the words 'Japanese' and burrito', offers a unique flavor experience wrapped in every bite! With a price range of $9-$15, these Instagram-worthy, fanciful creations are not only perfect for your vacation budget, but are portable, and ideal for eating while touring the Strip! The fast-casual concept's menu is set up as a 'Build Your Own Creation' and gives customers the choice between a Sushi Burrito or Bowl. So, whether you're looking for a quick bite before your Escape Room reservation or a cheap bite after hitting the best Vegas karaoke bars, Jaburritos has perfected the art of snacking.
WHO: (702) 901-7375 | WHERE: 3545 S Las Vegas Blvd l12, Las Vegas, NV 89109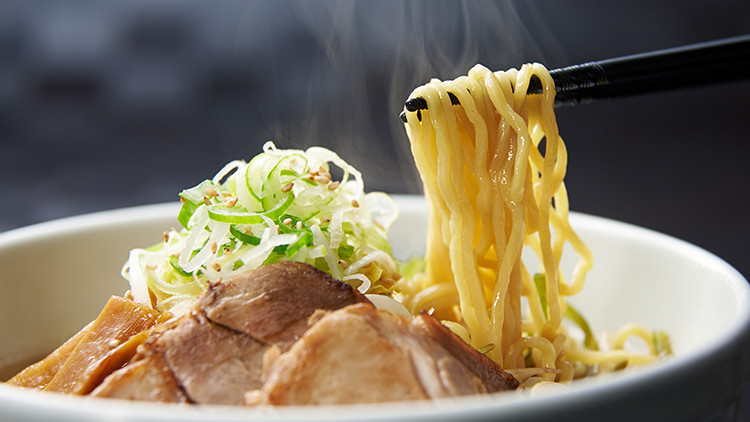 6 | Monta Noodle House | Sometimes after a long day exploring the Las Vegas Strip, there is nothing better than a steaming, umami-infused bowl of ramen. The only way it gets better is when the ramen is $7! At Monta Noodle House, they serve piping hot bowls of tonkotsu ramen of massive proportions for small prices. The casual noodle house specializes in Japanese "Kurume" style tonkotsu ramen, which is a rich pork-based broth with thin noodles. Considered the original tonkatsu ramen, the meal is a staple to Japanese cuisine and is a great way to indulge in authentic flavors. Don't miss out and slurp up the deliciousness the next time you are in Las Vegas!
WHO: (702) 367-4600 | WHERE: 5030 Spring Mountain Rd #6, Las Vegas, NV 89146
7 | Istanbul Mediterranean | If you're looking for a flavorful and budget-friendly late-night eat, Halal is the meal for you! It's messy, salty, savory, and tangy, and even refreshing if you choose to add vegetables for a little nourishment (your body thanks you). Istanbul Mediterranean serves up all of this and more for a price so cheap, you won't believe it! Known as the best halal kart in Las Vegas, the halal meat marinates for days in spices and herbs straight from Turkey and will transport you straight to the Mediterranean with just one bite. If you're a lover of gyros, the Beef N Lamb Gyro Sandwich is only $10.95 and is stacked with seasoned beef and lamb, white thathziki sauce, red chili garlic sauce of tahini sauce, all on a soft, warm pita. And if you're looking for a vegetarian/vegan option, the Falafel Sandwich will give you every bang for your buck. Take a chance on Las Vegas street food, you won't regret it!
WHO: (702) 954-4000 | WHERE: 3615 S Las Vegas Blvd #101, Las Vegas, NV 89109
8 | Donut Bar | Wanting to visit the most a-dough-rable donut shop in Vegas? After you check out one of the best coffee shops in Las Vegas, be sure to stop by the Donut Bar for the best donut deal in town! Right off Fremont Street, the little donut shop is famous for serving their super soft and delectable fried goodies. In fact, their donuts are so popular because of their rave reviews on Youtube, they normally sell out before 11am! Thankfully, if you arrive near 11am, they offer a $10 box of the remaining donut flavors for about $30 worth of donuts. Fans praise their Birthday Cake and Nutella donuts, and you can also get their donuts sliced and topped with whipped cream and fresh strawberries. These delicious fried treats are worth the wait in line, especially since they offer such a sweet deal!
WHO: (702) 550-4646 | WHERE: 124 S 6th St #140, Las Vegas, NV 89101
Use Our Handy Map to Find Your Way Around!
Last Tips
Since there are so many things to do in Las Vegas that will take a bite out of your wallet, finding places to eat that won't break your budget is important to staying savvy! Save your money and still treat yourself to some of the best Las Vegas eats when you check out this list of the best places to eat in Las Vegas on a budget. Whether they're close to your favorite Las Vegas resort or need a fast snack after checking out one of the haunted places in Las Vegas, these tasty eats are guaranteed to give you something to be egg-cited about!

RELATED ARTICLE:
At Westgate Resorts, when you Check-In, there's a LOT to Check-Out! Your Las Vegas vacation awaits! Explore our Las Vegas resorts today or talk with a vacation planner at 888-852-2959 or 407-355-2690.
* Westgate Resorts is in no way affiliated with the attractions featured in this article. Items or places listed are current as of the publishing date of this article. Please call or visit the respective website for the most up-to-date offerings and details.
When You Check-in, There's a Lot to Check Out
Sign up for our newsletter and check-in to great offers, secret stuff, and special events.