12 Haunted Places in Las Vegas That Might Be Risky!
12 Haunted Places in Las Vegas That Might Be Risky!
"Now I know what a ghost is. Unfinished business, that's what." – Salman Rushdie
Beneath all the glitz and glamor of the world-famous Las Vegas Strip lies something a little more sinister and frightening just waiting for the truly adventurous visitor to explore. No, I'm not referring to Sin City's colorful mob history that was forged by the likes of such legendary gangsters as Benjamin "Bugsy" Siegel, Meyer Lansky, Moe "Mr. Las Vegas" Dalitz, Tony "Joe Batters" Accardo and Tony "The Ant" Spilotro (who was famously portrayed by Joe Pesci in the 1995 Martin Scorsese gangster epic, Casino). The truth is that beyond the neon and glam of Vegas hotel marquis looming over the strip, over the years, Las Vegas has also earned a reputation for its assortment of reputedly haunted places – ranging from creepy casinos and eerie mansions to spooky tunnels, ghostly parks and dilapidated ghost towns in the middle of the desert just outside the city limits. And these are not your run-of-the-mill spirits, mind you – we're talking about the ghosts of none other than Elvis, Liberace, Red Foxx and other famous Las Vegas denizens who now spend their free time stirring things up in the hereafter!
In fact, Yelp recently named Las Vegas as No. 5 on its list of the "Most Haunted Cities in America" just behind Savannah, Georgia; New Orleans, Louisiana; Fort Collins, Colorado; and Santa Cruz, California (for the record, Austin, San Francisco, Memphis, Orlando and Los Angeles round out the top 10).
Haunted Places in Las Vegas
Ready to explore some legendary Las Vegas "haunts"? Here are the 12 haunted places in Las Vegas that might be risky:
1 | Westgate Las Vegas Resort & Casino | Apparently, Elvis HAS NOT left the building! In fact, the "King" reportedly haunts the super-luxurious Westgate Las Vegas Resort & Casino, where he performed an astounding 837 shows between 1969 and 1976 when the Resort was known first as the International Hotel and then the Las Vegas Hilton. For the record, the ghost of Elvis has allegedly been spotted on the upper-floor hallways of the Resort (the so-called "Elvis Suite" was 5,000 square feet in size and located on the 30th floor), as well as backstage at the International Theater (where legendary entertainer Barry Manilow currently entertains sold-out crowds, by the way). After you get your fill of ghost hunting through the Resort's endless corridors, you'll definitely want to just simply relax and sample all of the great offerings at Westgate Las Vegas such as the large outdoor pool deck surrounded by inviting pool cabanas and daybeds, award-winning Edge Steakhouse, Serenity Spa by Westgate and the world's largest Race & Sports Book. Westgate Las Vegas is ideally located adjacent to the Las Vegas Convention Center and just one block from the Las Vegas Strip.
WHERE: 3000 Paradise Road, Las Vegas, NV 89109 | WHO: (702) 732-5111
2 | The Tunnels of Sandhill Road | Don't say we didn't warn you – the eerie flood tunnels underneath Sandhill Road can be utterly terrifying – especially during a nighttime visit! According to rumors, visitors to the Sandhill Road tunnels have heard mysterious voices, and some late-night explorers to the site have even reported their cars getting chased down along the adjacent dirt road by the spirit of a crazy old woman who disappears suddenly as they depart the area in total fear. Is it possible that the restless spirits of a couple that died in a car crash long ago at this very site remain to haunt the tunnels of Sandhill Road for eternity?
WHERE: Between Charleston Boulevard & Sahara Avenue, Las Vegas, NV 89104 | WHO: N/A
3 | Bugsy Siegel Memorial | A key driving force in the development of the Las Vegas Strip, legendary gangster Benjamin "Bugsy" Siegel (1906-1947) opened the first luxury hotel here, The Flamingo Hotel & Casino, in 1946. However, just a year later, Siegel was murdered in cold blood while sitting on the couch reading the Los Angeles Times at the Beverly Hills home of his girlfriend, Virginia Hill (the crime remains officially unsolved to this day). Today, a bronze memorial dedicated to Siegel can be found just outside the wedding chapel at the Flamingo Las Vegas and the ghost of the gangster has allegedly been spotted wandering aimlessly around the area in his smoking jacket. By the way, the character "Moe Greene" (portrayed by Alex Rocco) in The Godfather (1972) was based on Siegel, who was also given the full Hollywood treatment in Bugsy (1991), which starred Warren Beatty as the title character.
WHERE: 3555 S. Las Vegas Boulevard, Las Vegas, NV 89109 | WHO: N/A
4 | Redd Foxx House | Best known for his portrayal of "Fred G. Sanford" on the long-running hit 1970s sitcom Sanford & Son, incredibly talented comedian Redd Foxx (1922-1991) was a longtime Las Vegas resident. In fact, Foxx allegedly loved his home so much that he still refuses to leave in the afterlife and haunts the residence to this day. Another theory states that the ghost of Foxx is still angry that he lost the dwelling to the IRS due to owing a whopping $755,166 in back taxes. Either way, past visitors to the Foxx house have allegedly witnessed doors opening and closing on their own, as well as lights switching on and off by themselves, as well as other ghostly phenomena. Note: Foxx's former residence is now home to a realty firm and not open to the general public. However, you can still drive by and hope to glimpse Redd Foxx's ghost hanging around outside the premises railing against the IRS. By the way, Foxx's real name was John Elroy Sanford and he became known as "King of the Party Records" in his early career for the slew of ultra-bawdy albums he recorded during the 1950s and 1960s.
WHERE: 5480 S. Eastern Avenue, Las Vegas, NV 89119
5 | The Mob Museum | If you have any interest in the colorful mob history of Las Vegas (and who doesn't?), then you are going to have to include The Mob Museum (officially known as the National Museum of Organized Crime and Law Enforcement) as part of your travel itinerary. To top it off, The Mob Museum, which is located in a former courthouse in downtown Las Vegas where many local mobsters were prosecuted, has the reputation of being haunted by some of these same gangsters! In other words, it's a great place to pair your ghost-hunting skills while seeking out great trivia on Sin City's most famous (and infamous!) mobsters. For instance, if you want to speculate about who exactly bombed the car of Frank "Lefty" Rosenthal (portrayed by Robert De Niro in Casino), then you've definitely come to the right place! By the way, the basement of The Mob Museum contains "an immersive Prohibition history exhibit space" that features a speakeasy and distillery.
WHERE: 300 Stewart Avenue, Las Vegas, NV 89101 | WHO: (702) 229-2734
6 | La Palazza Mansion | Featured on the Travel Channel's popular reality series Ghost Adventures (see No. 10), La Palazza Mansion is absolutely ripe with paranormal activity and one former resident even allegedly claimed to have been nearly strangled by an evil spirit here. Reputedly the former home of a gangster, the spooky dwelling has been referred to as "Satan's Mansion." The now-abandoned structure, which was built in 1959, reportedly was the site of many gruesome mob murders over the years and contains a number of secret rooms. Unfortunately, it is off-limits to the public, but feel free to drive by and absorb the ghostly vibe of La Palazza Mansion.
WHERE: 1700 Bannie Avenue, Las Vegas, NV 89102 | WHO: N/A
7 | Liberace Museum Collection | Known for his "flamboyant excess" both on and off the stage, celebrated pianist Liberace (1919-1987) was a mainstay of the Las Vegas entertainment scene for more than four decades. Over the years, the Liberace Museum Collection has moved several places and now resides at Thriller Villa, the former home of Michael Jackson (which means you just might get a chance to view the restless spirits of both "Mr. Showmanship" and the "King of Pop" in one spot!). Apparently, the ghost of Liberace (often described as a "shadowy figure" lurking among the exhibits) accompanies the colorful stage costumes, pianos, and other artifacts from his storied career from place to place wherever the Liberace Museum Collection ends up. Private tours of the Liberace Museum Collection at Thriller Villa can be arranged by appointment.
WHERE: 2710 Palomino Lane, Las Vegas, NV 89107 | WHO: (702) 330-4225
8 | Corner of Flamingo & Koval | An otherwise nondescript Las Vegas intersection, the corner of Flamingo and Koval marks the spot where highly influential rapper and actor Tupac Shakur (1971-1996) was tragically gunned down at the age of 25 in a shocking crime that remains mysterious to this day (according to some conspiracy theories, the hip-hop artist is still alive and living in New Mexico). Of course, some morbidly curious visitors to the intersection have allegedly witnessed Shakur's spirit looming over the scene and then simply disappearing into thin air.
WHERE: Corner of Flamingo Boulevard & Koval Lane, Paradise, NV 89109 | WHO: N/A
9 | Hoover Dam | An engineering marvel, the 70-story-tall Hoover Dam (named for President Herbert Hoover), which lies along the border of Nevada and Arizona, was dedicated on September 30, 1935, by President Franklin D. Roosevelt. The Hoover Dam has also been the site of various hauntings over the years such as the restless ghost of a former worker (more than 100 workers reportedly died during the dam's construction), as well as mysterious voices and footsteps heard by visitors throughout its empty corridors. The Hoover Dam is available for public tours and a visitor center is on the premises. By the way, the nearby town of Boulder City was created to house the 5,000-man workforce that created the Hoover Dam.
WHERE: Clark County, NV 89005 | WHO: (702) 494-2517
10 | Zak Bagans' Haunted Museum | Zak Bagans has forged a name for himself as a leading American paranormal investigator and the host of the Travel Channel's reality series, Ghost Adventures, as well as the proprietor of this not-to-be-missed Haunted Museum in downtown Las Vegas. Full of fascinating macabre curiosities, the award-winning Zak Bagans' Haunted Museum contains everything from a mirror "with evil powers" once owned by actor Bela "Dracula" Legosi and a room devoted entirely to the memorabilia of famous serial killers to the legendary Dybbuk Box (a "possessed wine cabinet"), the original staircase from the Indiana "Demon House" and Dr. Jack Kevorkian's notorious "Death Van." Best of all, the Haunted Museum itself is located in one of the oldest residences in Las Vegas – a 1938 house that is reputed to be haunted and the site of satanic rituals in the past!
WHERE: 600 E. Charleston Boulevard, Las Vegas, NV 89104 | WHO: (702) 444-0744
11 | Fox Ridge Park, Henderson | Sometimes a serious ghost hunter has to venture away from the Las Vegas Strip in search of apparitions and the Fox Ridge Park in nearby Henderson is a popular locale to break out those EMF detectors and digital voice recorders. A charming local gathering place by day, the park is purportedly haunted by the spirit of a little boy who materializes on the swings regularly at midnight. According to legend, the boy in question was killed by a drunk driver in the vicinity many years ago. Some reports add that the boy can become angry when confronted and even turns into a demon on occasion. Don't say we didn't warn ya!
WHERE: 420 N. Valle Verde Drive, Henderson, NV 89014 | WHO: (702) 267-5710
12 | Rhyolite Ghost Town | No guide to the most haunted places in Las Vegas would be considered complete without the inclusion of one of the many fascinating (and creepy!) ghost towns that can be found throughout Nevada. According to Travel Nevada, "Rhyolite is arguably one of the best ghost towns in Nevada, making for an incredible day trip out of Las Vegas." In fact, Rhyolite was a thriving gold mining town in the 1800s until the arrival of the financial panic of 1907 that devastated the area's fortunes and turned it into a ghost town. Today, visitors to this haunted ghost town can view "empty hulks of the three-story bank, the general store and smaller buildings … a great looking train station, as well as some other well-preserved ghost town ruins," according to Atlas Obscura. Of course, a visit to Rhyolite Ghost Town involves a significant road trip on the order of about 120 miles, so you will want to make an entire day of it and visit nearby Death Valley National Park just over the California border if possible.
WHERE: Beatty, NV 89003 | WHO: N/A
BONUS | Book a Stay at Westgate Resort Las Vegas' Halloween Suite | Unveil the epitome of Halloween luxury at our Las Vegas Halloween Theme Suite. Immerse yourself in an enchanting world of premium amenities and lavish decor, designed to ignite your Halloween spirit. From intricately themed furnishings to exclusive spooky perks, your stay promises unparalleled comfort and delight. The Halloween Suite is available year-round for spooky fun!
WHERE: 3000 Paradise Rd, Las Vegas, NV 89109 | WHO: (702) 732-5111
Use Our Handy Map to Find Your Way Around Haunted Vegas!
Thrills and Chills Await at Haunted Places in Las Vegas!
A tour of haunted places in Las Vegas provides both an adrenaline-filled adventure and a great opportunity to explore the rich history of the "Entertainment Capital of the World!" And while you're taking in all the best of Las Vegas, don't miss the chance to experience things to do off the beaten path in Las Vegas, the best outdoor attractions in Las Vegas, and the most extreme Las Vegas attractions to get your heart pounding!
FREQUENTLY ASKED QUESTIONS ABOUT CASINOS
The following list shows the USA states with casinos and the total number of casinos in the state: Alabama (4), Arizona (26), Arkansas (2), California (97), Colorado (44), Connecticut (2), Delaware (3), Florida (90), Georgia (2), Idaho (9), Illinois (10), Indiana (15), Iowa (23), Kansas (9), Kentucky (2), Louisiana (136), Maine (2), Maryland (7), Massachusetts (3), Michigan (26), Minnesota (24), Mississippi (31), Missouri (13), Montana (171), Nebraska (5), Nevada (345), New Jersey (10), New Mexico (26), New York (26), North Carolina (2), North Dakota (6), Ohio (10), Oklahoma (109), Oregon (10), Pennsylvania (15), Rhode Island (2), South Carolina (4), South Dakota (40), Texas (2), Virgin Islands (1), Washington (57), West Virginia (5), Wisconsin (22) and Wyoming (4).
According to Statista, there are 462 casinos in the United States
The most popular and largest casino in the US is the Bellagio in Las Vegas, NV.
According to gambling.com, the WinStar World Casino & Resort in Thackerville, OK, is the number 1 casino in the US.
The WinStar World Casino & Resort in Thackerville, OK, is not only the biggest casino in the US, but also in the world
Gambling is completely banned in only two states out of 50 – Utah and Hawaii!
The two states with the most casinos are Nevada, with 345 casinos, and Louisiana, with 136 casinos.
Texas casinos are banned by the state constitution. The only land-based gambling facilities in Texas operate on tribal land.
There are 90 casinos in Florida, including the famous Hard Rock Hotel & Casino in Hollywood, FL.
WinStar World Casino & Resort in Thackerville, OK, is the largest casino in the world!
The MGM Grand in Las Vegas, NV, has the biggest casino win with $20-$40 million.
The MGM Resort in Las Vegas, NV, is the most successful casino in the US, with the Bellagio as the second-most profitable casino in Las Vegas.
The safest online casino is Las Atlantis because it's regularly audited, with Wild Casino as the close second.
The casino with the best payout is Caesars Palace in Las Vegas, with payout received within 48 hours, 100+ 88 fortunes, $100 match and $10 free.
After the casino took over the Foxwoods Resort Casino, WinStar World Casino is the richest casino in the US.

RELATED ARTICLE: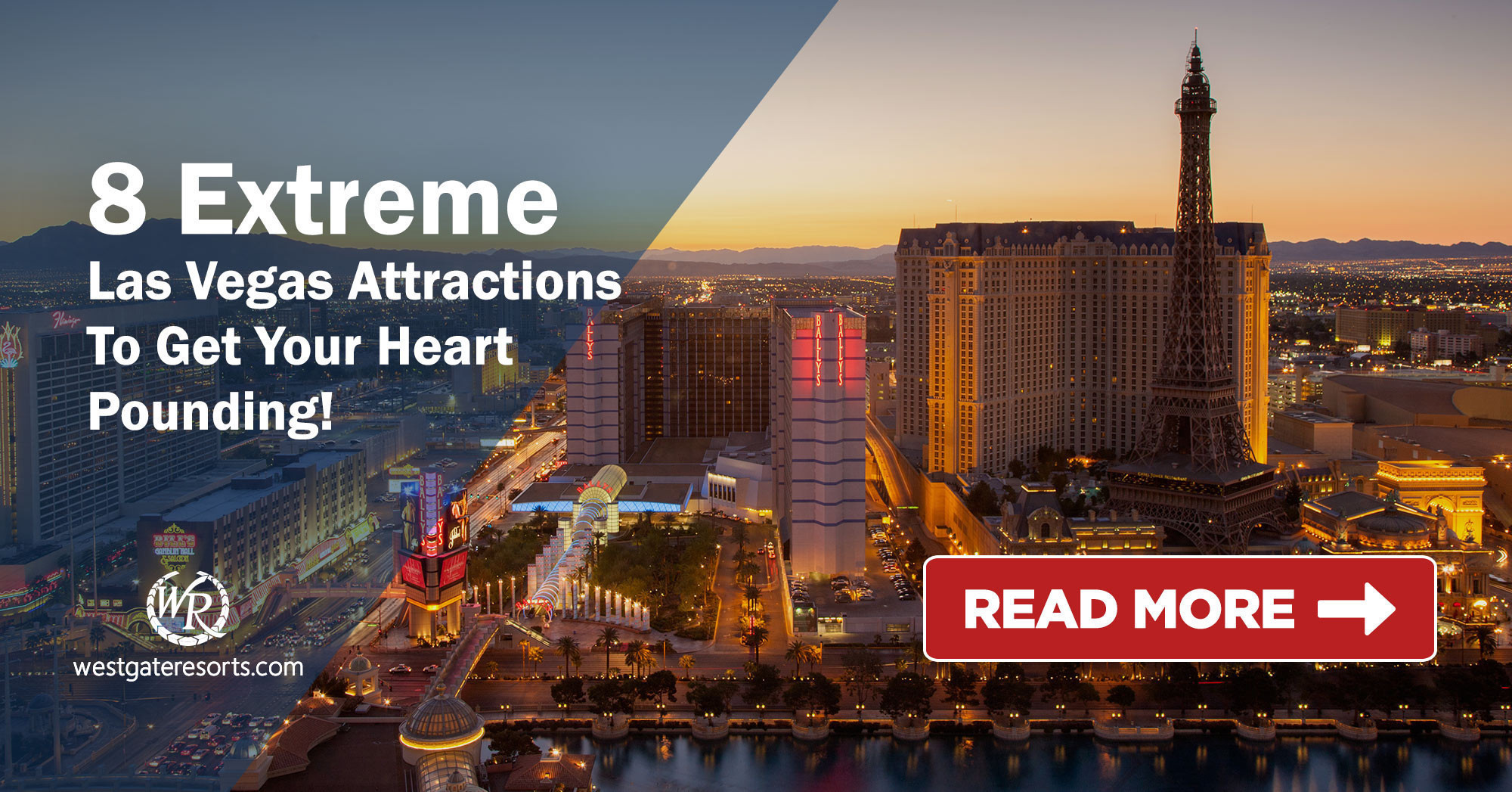 At Westgate Resorts, when you Check-In, there's a LOT to Check-Out! Your Las Vegas vacation awaits! Explore our Las Vegas resorts today or talk with a vacation planner at 888-852-2959 or 407-355-2690.
* Westgate Resorts is in no way affiliated with the attractions featured in this article. Items or places listed are current as of the publishing date of this article. Please call or visit the respective website for the most up-to-date offerings and details.
Other tagged pages of interest: Las Vegas hotels, Las Vegas timeshare promotions, sushi Las Vegas, Las Vegas suites, Jen Kramer, Barry Manilow tickets, Vegas getaway, resort hotels, staycations
When You Check-in, There's a Lot to Check Out
Sign up for our newsletter and check-in to great offers, secret stuff, and special events.