The 10 Best Winter Activities For Toddlers NYC Has To Offer
The 10 Best Winter Activities For Toddlers NYC Has To Offer
"Winter, a lingering season, is a time to gather golden moments, embark upon a sentimental journey, and enjoy every idle hour." – John Boswell
So you're planning a visit to New York City this winter and terrified that the kids won't have anything to do? Relax! Aside from this handy guide on the best playgrounds in NYC, we've also got you covered with these super-sweet 10 great ideas for winter activities with toddlers in NYC that are truly top of the heap (to steal a line from Frank Sinatra)! The not-so-hidden truth is that the Big Apple,... with it's assortment of holiday markets NYC has to offer - is an extremely friendly winter vacation destination for all ages. Whether you're looking for cozy indoor activities such as exploring one of NYC's world-class museums or more adventurous outdoor outings like a jaunt through beautiful, snow-covered Central Park, this handy travel guide to the endless number of things to do in winter in NYC for your young ones will surely melt the winter blues away! So, start spreadin' the news and discover the 10 best winter activities for toddlers NYC has to offer this wonderful season:
by limaoscarjuliet / Licensed under CC BY 2.0
1 | Get Creative at Children's Museum of the Arts | Winter activities in New York City do not get much better than at the Children's Museum of Arts, which caters to kids as young as 10 months old and up to 15 years old. There's no shortage of things to experience at the 10,000-square-foot, state-of-the-art Children's Museum of Arts (CMA), which features plenty of kid-centered creative activities and hands-on art workshops, as well as more than 2,000 colorful paintings and drawings by kids of all ages from around the world. Ideally located in the heart of SoHo in Lower Manhattan, CMA was founded by art educator Kathleen Schneider in 1988. Time Out New York has named Children's Museum of the Arts as one of the "Best Kids' Museums in NYC," noting that here "kids can explore the art world at a museum designed just for them."
WHERE: 103 Charlton Street, New York, NY 10014 | WHO: (212) 274-0986

by Erik Cleves Kristensen / Licensed under CC BY 2.0



2 | Enjoy an Ice Skating Extravaganza at Rockefeller Center | No winter visit to New York City can be considered complete without a stop at Rockefeller Center for a classic 90-minute ice skating session at the Rink – one of Manhattan's most celebrated attractions and a NYC tradition since the 1930s. Note that general admission is available on a first-come, first-serve basis whenever the Rink is open to the public (tickets can be purchased at the Skate House) and there are no age restrictions for skating (the smallest skates available for rent are baby size 6!). However, skaters under six years of age must be accompanied on the ice by an adult. The Rink itself is open from early October to late April. According to TripSavvy, the Rockefeller Center Rink "affords the most glam skating experience in the city (but also the priciest)." Rockefeller Center also features the Top of the Rock Observation Deck where visitors can "ascend 70 floors into the sky" for "sweeping 360-degree city views" from the Rock's three viewing decks. Other prime ice skating rinks in NYC include The Rink at Winter Village at Bryant Park, Wollman Rink in Central Park, The Rink at Brookfield Place and The Standard Ice Rink, among others.

WHERE: 5th Avenue between 49th and 50th Streets, New York, NY 10020 | WHO: (212) 332-7654



by Prayitno / Licensed under CC BY 2.0
3 | Take a Breathtaking Trip Aboard the Roosevelt Island Tramway | Kids and adults alike will totally enjoy taking the scenic Roosevelt Island Tramway high above the East River from Manhattan to two-mile-long Roosevelt Island during their winter excursion in NYC. First opened in 1976, the Roosevelt Island Tramway is the first commuter aerial tramway in North America and provides "the most exciting view in New York City," according to The New York Times. The 250-foot-high Roosevelt Island Tramway runs alongside the Queensboro Bridge and spans at total of 3,100 feet. Roosevelt Island itself is home to several fascinating parks and landmarks, including the Franklin D. Roosevelt Four Freedoms Park (designed by acclaimed architect Louis Kahn), "Renwick Ruins" (remains of a former smallpox hospital), Octagon tower (formerly the entrance to the New York City Lunatic Asylum; now part of an apartment complex), historic 1796 Blackwell House and the 19th-century Roosevelt Island Lighthouse. By the way, the Roosevelt Island Tramway was featured prominently on a 2015 episode of the popular prank show Impractical Jokers that starred Joe Gatto (AKA "Captain Fatbelly").
WHERE: E. 59th Street & 2nd Avenue, New York, NY 10022 | WHO: (212) 832-4555
4 | Immerse Yourself in Sea Life at the New York Aquarium | Toddlers will discover an aquatic wonderland during the winter at the New York Aquarium, which is located directly on the Coney Island Boardwalk in Brooklyn. The New York Aquarium is home to more than 350 species of aquatic wildlife, including sea lions, sea otters, penguins, harbor seals, sharks, rays, sea turtles, moray eels and other colorful marine life. Highlights of NYC's only aquarium include Aquarium Quests, A Wild Encounter, Take the Plunge, Sea Otter Feedings, Touch Pool, Aquatheater featuring sea lions, Glover's Reef display, 4-D Theater and more. Don't miss the spectacular "Symphony of the Sea" sculpture designed by critically acclaimed artist Toshio Sasaki. First opened in Castle Garden in Battery Park, Manhattan in 1896, the New York Aquarium is the oldest continually operating aquarium in the country. It is operated by the Wildlife Conservation Society (WCS) (which also runs the Bronx Zoo, Central Park Zoo, Prospect Park Zoo and Queens Zoo) and is accredited by the Association of Zoos and Aquariums (AZA).
WHERE: 602 Surf Avenue, Brooklyn, NY 11224 | WHO: (718) 265-FISH
5 | Make Time for Playtime at FAO Schwarz | Although the legendary FAO Schwarz location on Fifth Avenue where Tom Hanks famously danced on a large floor piano in the 1988 comedy Big closed its door for good in 2015, the new 20,000-square-foot FAO Schwarz location at Rockefeller Plaza contains much of the same magic as the original (including the giant piano!). And winter is the ideal time to visit FAO Schwarz for some free playtime at this amazing mega toy store! Interactive experiences that kids will love at FAO Schwarz include FAO Raceway, Build-a-Bear workshop, Melissa & Doug grocery store and Transformers shop, among others.
WHERE: 30 Rockefeller Plaza, New York, NY 10111 | WHO: (800) 326-8638
by East-West Center / Licensed under CC BY 2.0
6 | Experience Puppeteering Fun at Swedish Cottage Marionette Theatre | Winter in New York City is the perfect time to catch a lively puppet show such as the incomparable Yeti, Set, Snow! at the Swedish Cottage Marionette Theater located in the heart of Central Park. Imported to Philadelphia in 1876 for the Centennial Exposition (the first official World's Fair in the United States), the Swedish Cottage Marionette Theatre was relocated to Central Park the following year at the suggestion of legendary landscape architect Frederick Law Olmsted. The Theatre became home to a traveling marionette company in 1947 and has thrived ever since. Note that reservations are required for shows at the Swedish Cottage Marionette Theatre, which is located near the Belvedere Castle.
WHERE: W. 79th Street, Central Park, New York, NY 10023 | WHO: (212) 988-9093
by milst1 / Licensed under CC BY 2.0
7 | View the World in Miniature at Gulliver's Gate | For a truly unique adventure that toddlers will absolutely love during your winter visit in New York City, consider Gulliver's Gate! Billed as "A Giant Experience in a Miniature World," Gulliver's Gate (named after Jonathan Swift's 1726 satire Gulliver's Travels) is an immersive display of miniatures encompassing 50,000 square feet and exploring more than 25 cities from five continents using advance technology and featuring the work of approximately 200 master craftspeople and artists. View major NYC landmarks in intricate detail such as Grand Central Station, Central Park, Empire State Building, Rockefeller Square, New York Public Library (with its lion statues "Patience" and "Fortitude"), Chrysler Building, One World Trade Center, Brooklyn Bridge and the Statue of Liberty at Gulliver's Gate, which lies in the heart of Times Square.
WHERE: 216 W. 44th Street, New York, NY 10036 | WHO: (212) 235-2016
by stevendepolo / Licensed under CC BY 2.0
8 | Get Cooking at Taste Buds Kitchen NYC | Winter fun with toddlers in New York City doesn't get much more exhilarating than a visit to Taste Buds Kitchen, which serves as a "Kids Kitchen" by day and a BYOB "Adult Kitchen" by night. There's truly something for all ages at Taste Buds Kitchen, which features parent and child cooking classes, as well as school-holiday cooking camps. Sample kids cooking classes at Taste Buds Kitchen include Cupcake Kids! Unicorn Workshop (ages 5-8 with caregiver), Pizza Perfection Workshop (ages 2-5 with caregiver) and Favorite Snowman Cupcake Workshop (ages 5-8 with caregiver). Taste Buds Kitchen also offers private classes for groups of six or more guests. Roll up your sleeves, grab an apron and get cooking at Taste Buds Kitchen!
WHERE: 109 W. 27th Street, New York, NY 10001 | WHO: (212) 242-2248
9 | Plan an Outing to Chelsea Piers Sports & Entertainment Complex | Known as "New York's Ultimate Playground," The 28-acre Chelsea Piers Sports & Entertainment Complex is ideally located at Hudson River Park, the largest riverfront park in the United States. The 80,000-square-foot facility not only offers instructional programs and sports leagues for all ages, but also several entertainment venues such as a state-of-the-art, indoor Toddler Gym for ages 6 months to 4 years, as well as an onsite laser tag arena and aerial ropes course. It's the perfect spot for toddlers to expend some energy indoors during the coldest months of winter in New York City.
WHERE: 62 Chelsea Piers, New York, NY 10011 | WHO: (212) 336-6666
by Science Planet / Licensed under CC BY 2.0
10 | Spend an Afternoon Exploring the New York Hall of Science | A holdover from the 1964-65 New York World's Fair, the New York Hall of Science (NYSCI) boasts more than 450 interactive exhibits and workshops, including Preschool Place, which was specifically designed for ages six and under. A great place to take toddlers on cold, wintry days in NYC, Preschool Place allows them "to explore, discover and build!" There's plenty of room to explore during the winter at the New York Hall of Science with more than 100,000 square feet of indoor exhibition space and an additional 60,000 square feet outdoors!
WHERE: 47-01 111th Street, Corona, NY 11368 | WHO: (718) 699-0005
BONUS | Gazillion Bubble Show | For an "unBUBBLElievable" winter afternoon of fun in New York City, nothing beats the Gazillion Bubble Show, which has been described as "one of the most beloved toddler activities in NYC." The Gazillion Bubble Show features amazing bubble magic, as well as laser lighting effects, music and "jaw-dropping masterpieces of bubble artistry" as featured on the Late Show with David Letterman. It's a one-of-a-kind (albeit rather pricey!) experience that will delight toddlers and adults alike!
WHERE: 340 W. 50th Street, New York, NY 10019 | WHO: (212) 239-6200
Ready To Winter It Up With Your Kids?
So channel your inner two-year-old and make like a threenager hopped up on Skittles, because the Big Apple truly has something for everyone this winter season! Don't let those FOMO moments keep you from joining in on the fun, because New York City is the world's biggest playground, for the kids in all of us, with plenty of things to do in Midtown Manhattan and beyond! Making a trip to NYC with toddlers in tow that love trains? Don't forget to check out our hotel near Grand Central Station at Westgate New York Grand Central where you young ones can see everything at Grand Central Terminal has to offer during the holidays! And for the BIG kids looking for more adult activities, make sure to check out these weird things to do in NYC at night when you get a moment! What you discover might suprise you!
Love our travel blog? Find out about booking a hotel for UNGA, book a United Nations Tour, explore rooftop bars in midtown, get into the Manhattanhenge Experience and discover our Grand Central Station hotel all over again,.... PLUS... learn more about our NYC hotel, all at these links!
RELATED ARTICLE: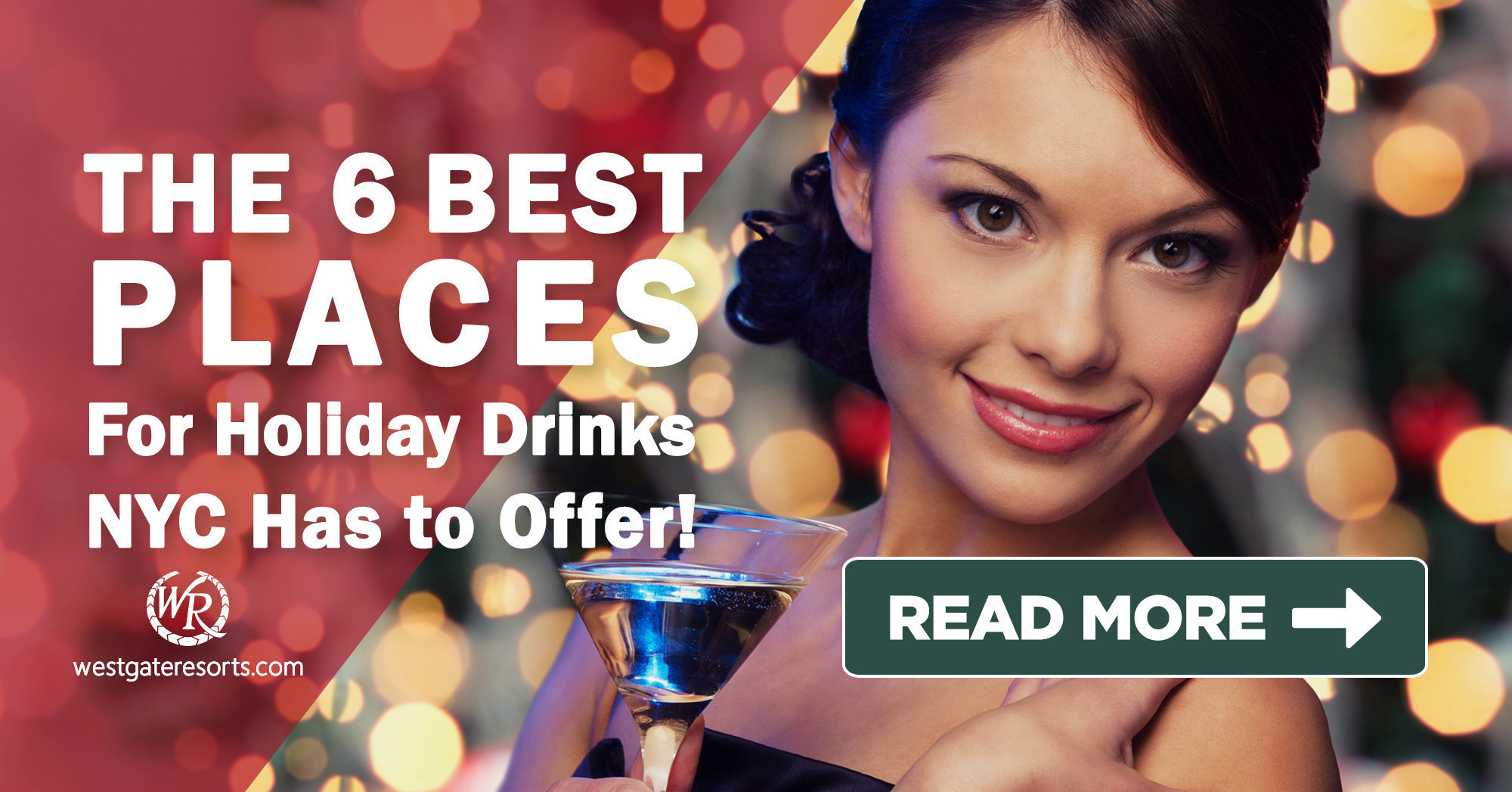 At Westgate Resorts, when you Check-In, there's a LOT to Check-Out! Your New York City vacation awaits! Explore our New York City hotel today or talk with a vacation planner at 888-852-2959 or 407-355-2690.
When You Check-in, There's a Lot to Check Out
Sign up for our newsletter and check-in to great offers, secret stuff, and special events.