The 6 Best Rooftop Bars Midtown East New York City Has To Offer
The 6 Best Rooftop Bars Midtown East New York City Has To Offer
If you're hot off summer's Manhattanhenge viewing trail, and on the hunt for a rooftop bar in NYC, then a great place to start is midtown Manhattan. Truth be told, the Big Apple has more rooftop cocktail lounges per square mile than any other city in the world, making it the most prolific, almost-non-stop happy hour of specialty cocktails and dry Martinis ever mixed, all done to the backdrop of retractable glass roofs under the Manhattan skyline. And whether you're looking for things to do in NYC that involve a cold brew, craving a classic hotel bar, eyeing an event space with a great view, or scoping for an speakeasy lounge above the racket and hubbub of the streets below, one thing is for sure… nothing beats a setting sunset backed by the best bar offers from Gallow Green to the Empire State Building tucked away on the rooftop bars of Murray Hill and the surrounding area! Whether you're on the NYC tavern trail for your Summer getaway, or craving a cocktail after braving the best holiday markets NYC has to offer during the Winter, we've compiled a handy guide of the the best rooftop bars midtown East New York City has to offer, guaranteed to whet your whistle quicker than a dip in the East River!
Midtown Manhattan East Rooftop Bars With Altitude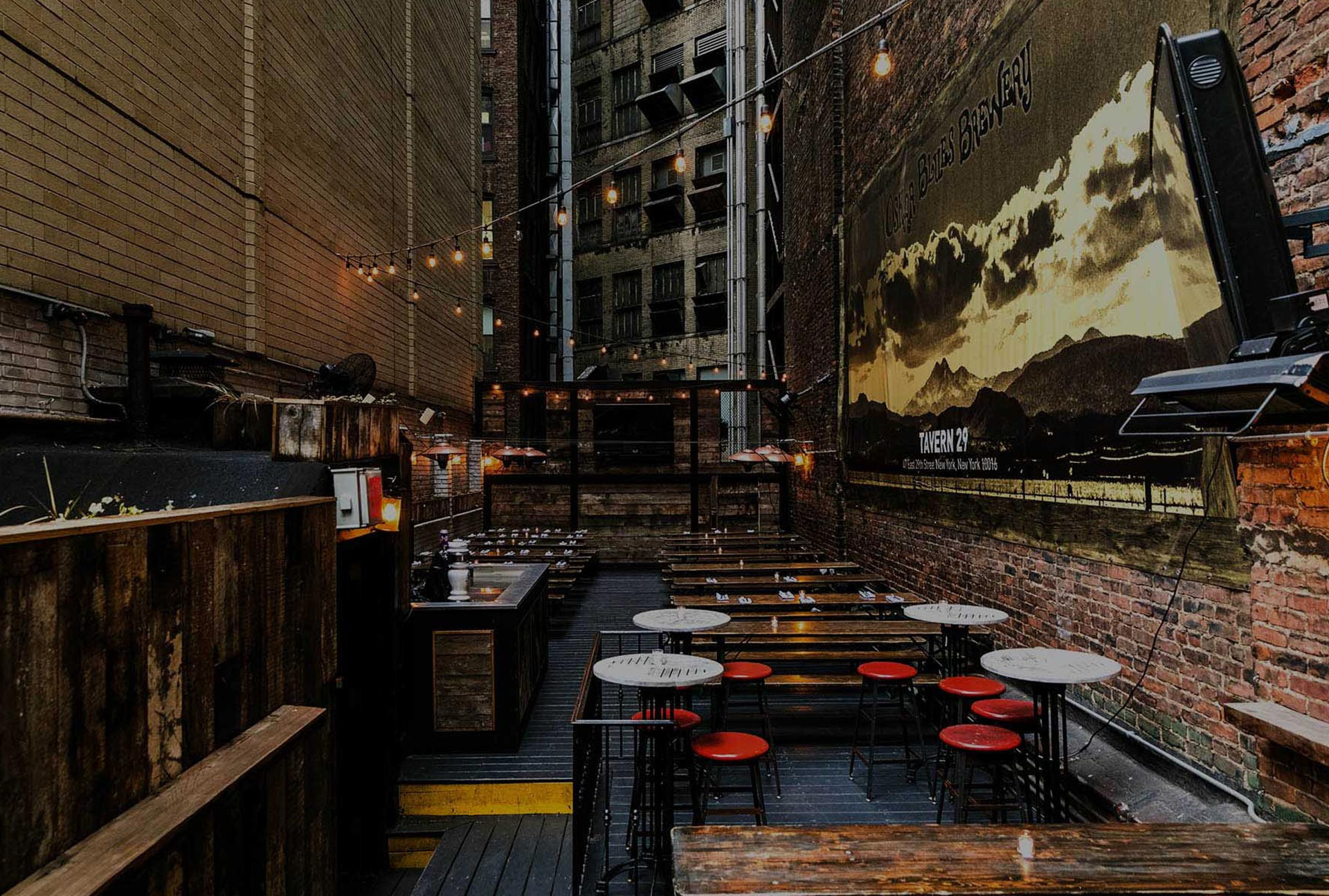 1 | Tavern29 | As a two-level tavern with a super-sweet rooftop beer garden (Image:tavern29.com) that tempts you with a comfort food-dominated menu of American fare, Tavern29 features three unique levels of cocktail experience including an authentic German Biergarten gracing the top of this beautifully converted 19th century townhouse. Levels can be sectioned off for more intimate gatherings and even though taller buildings engulf this hidden gem on all sides, the roof of Tavern 29 has become a 'hidden urban valley' of local flavor and hideaway nightlife. The beer garden has picnic tables, televisions, and equivalent drinks and bar food, mirroring the same offerings inside on lower levels. Sometimes described by locals as the 'fun bar on the east side with a couple of levels' cocktail prices hover in the reasonable range with palatable deals on tap for happy hour. Also, there's a second bar in the back as the more prominent lounge areas fill up, so you can 'stake your claim' well into the night no matter what time you go.
WHERE: 47 E 29th St, New York, NY 10016 | WHO: (212) 685-4422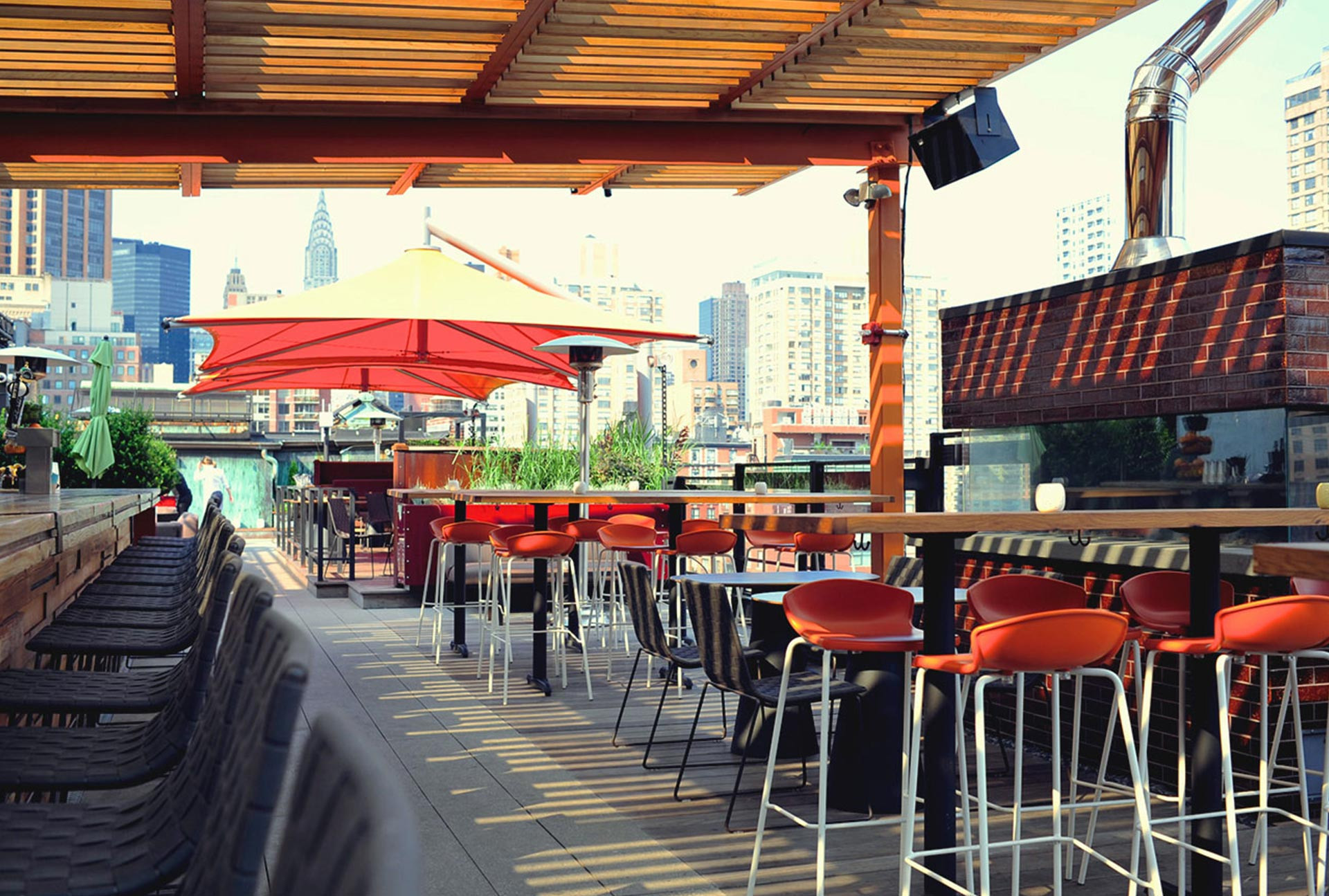 2 | Roof at Park South | A rooftop hotel bar with dazzling skyline views, Mediterranean culinary tastes, and cocktails o'plenty, this somewhat seasonal bar (Image:roofatparksouth.com) serves up fun and flavors against a 360-degree skyline view. And while the drinks are certainly on par with any decent watering hole that Manhattan has to offer, the food really does elevate this hangover-haunt, with such succulent dishes as lamb meatballs, and a pronounced penchant for seafood peppered throughout its interesting menu. Sometimes described as the unique rooftop experience with tastes that serve as the perfect complement to an 'unobstructed view of the New York City skyline', Roof at Park South lacks none of the style you've come to expect in the ubiquitous image of NYC cocktail caves that soar above the cityscape. If you're meadering your way through our list of weird things to do in NYC at night, you'll definitely want to take a drinkie break at this watering hole before moving on with the evening's festivities.
WHERE: 125 E 27th St, New York, NY 10016 | WHO: (212) 204-5222

3 | Aretsky's Patroon | If classic decor fused with an American vibe floats your boat, than this lounge (which features its own photo collection and a highly lauded rooftop terrace area), won't disappoint. Subtly mentioned by tycoons and tourists alike (in hordes of favorable reviews), this hangout threads a category of its own somewhere between polished urbanite oasis and the upscale rooftop bar (Image:Aretsky's Patroon Townhouse) you bring your date to impress. No doubt, Aretsky's is one of midtown's best elevated bar spaces, with warm, teak-clad panels underscoring the wine and desserts, all hand picked by a top sommelier and wait staff, in an environment that is notably 'easy on the ears' (meaning you can actually have a conversation at sane decibel levels), and is truly beautiful for both pop ins and special occasions.
WHERE: 160 EAST 46TH STREET NEW YORK, NY 10017 | WHO: (212) 883-7373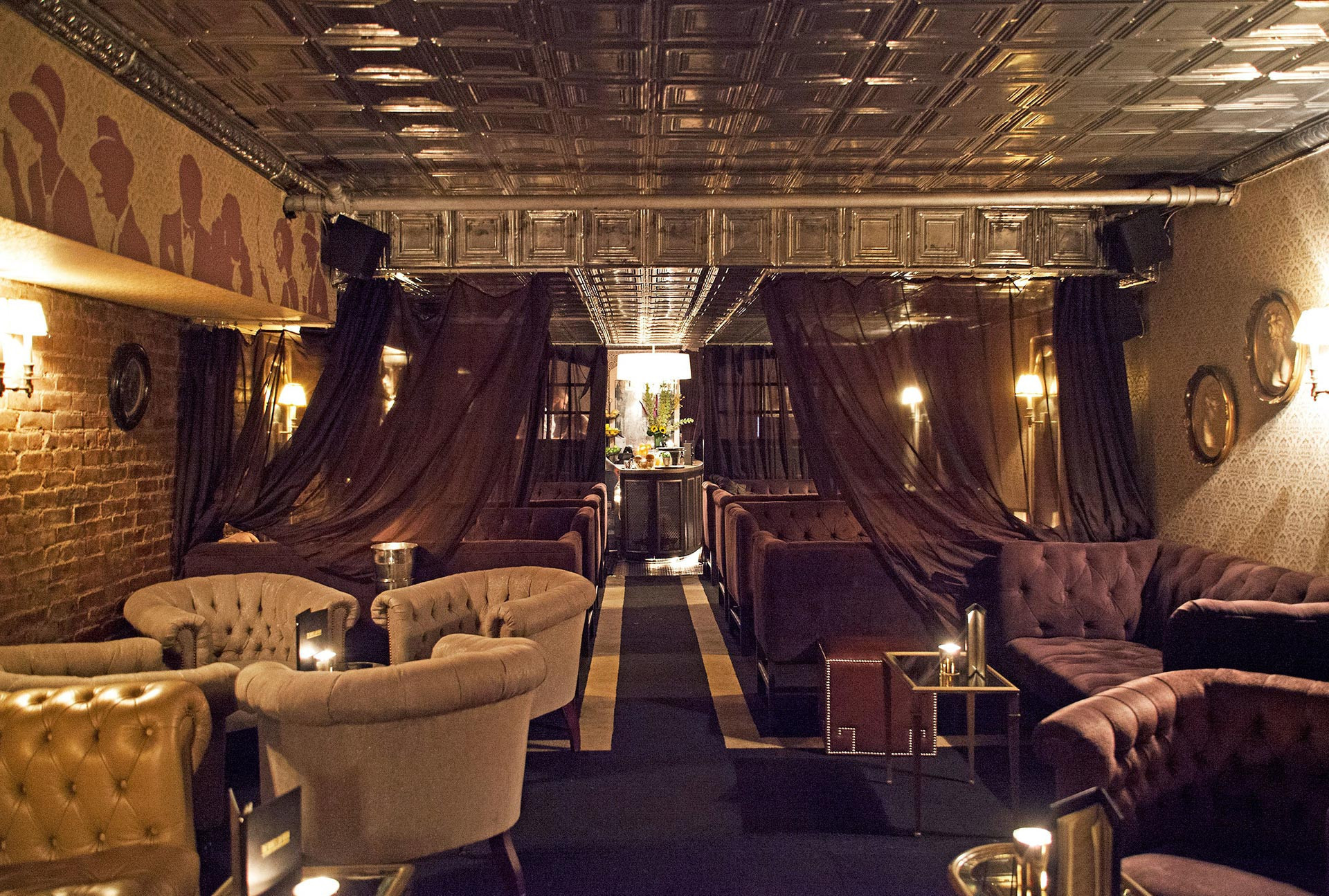 4 | The Raines Law Room at The William | Into rooftop lounges near midtown with a hidden (or in this case somewhat disguised) entrance? The Raines Law Room at the William (Image:myfavoritecocktailbars.com) is just a ring away (yes, there's a doorbell you'll need to ring to gain entry) from this cool and classy Prohibition-era, plush, proving ground for those wishing to 'clash' with cocktails and client. Recently distinguished as the NYC speakeasy rooftop where 'Mad Men meet Gatsby', patrons and inebriants of all walks seem to materialize here, dressed to match the part in many cases, as they cruise this enclave classy, sassy bespoke cocktails with an eye to see and be seen. That fact that their door has a callback system (where you'll probably have to leave your number at the door for call that lets you get in), leaves no room for disappointment and heightens the evening experience with a good, healthy dose of mystery and anticipation, keeping an air of exclusivity that other lounges simply don't emanate. Always consistent in cocktail quality, and interesting to the last call, this is the rooftop lounge to get dressed up for and get out of the hotel room. All that is to say, The Raines Law Room never fails to pull in an impressive crowd, with high recommendations and handcrafted cocktails in tow.
WHERE: 24 E 39th St, New York, NY 10016 | WHO: NOPE. YOU HAVE TO RING THE BELL.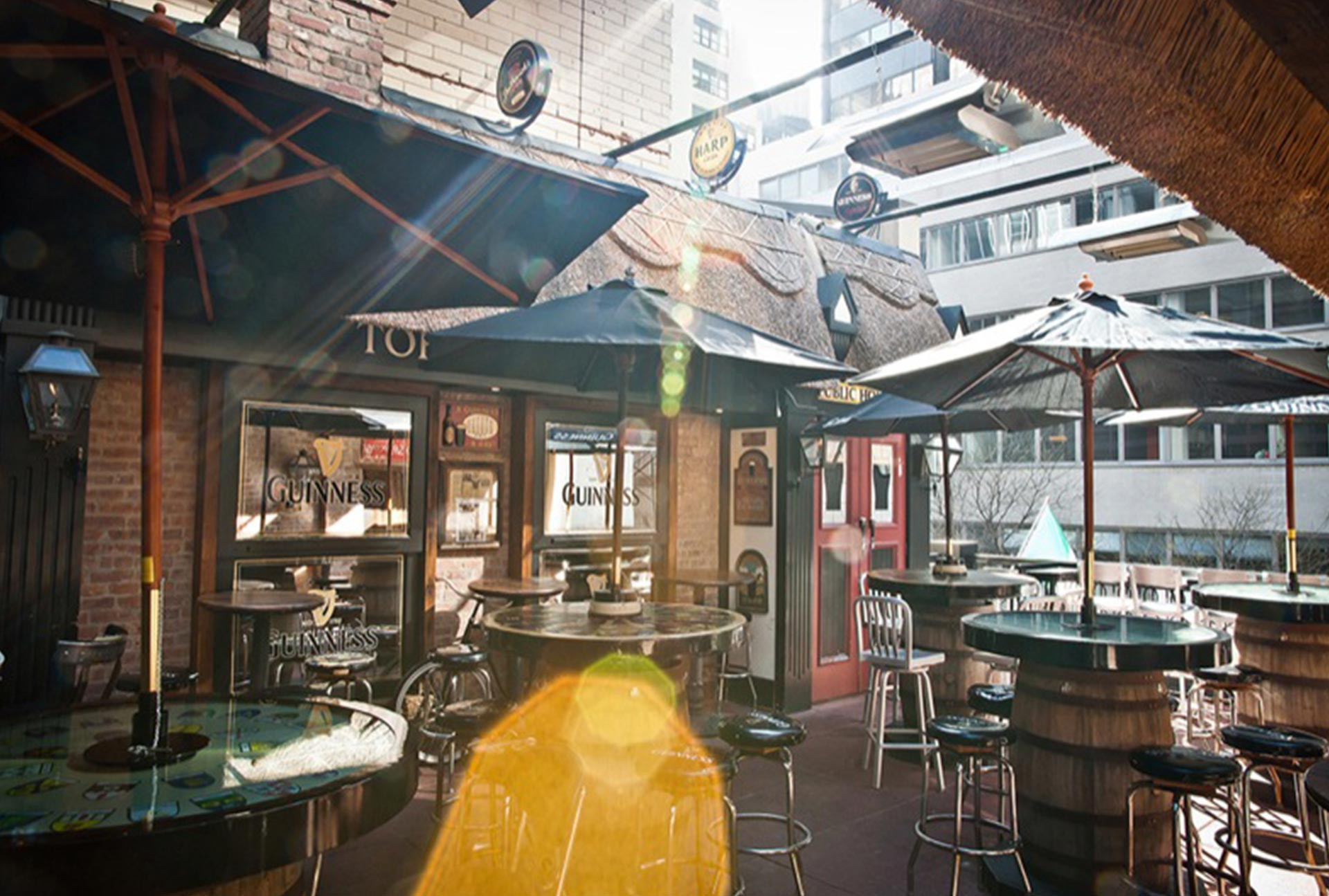 5 | The Perfect Pint | Though typically, chain bars and restaurants are a dime a dozen, and tend to fall off the mediocre side of notability radar on the list of libations to track and try in and around midtown East, The Perfect Pint East is a real exception to this rule. More relaxed than its midtown West location, The Perfect Pint East (Image: theperfectpintnyc.com) tucks you away in a brilliantly located outdoor smoking loft that overlooks 45th Street, and lets you take in the evening the old fashioned Irish way. While it boats three distinct levels and oversized televisions for catching up on your favorite game or season, this Irish rooftop haunt is a pleasant departure from the more mundane Irish pubs that seem to bespangle the concrete corridor of midtown East Manhattan. And with thirty beers on tap (including craft brews), this 'good-time' gastropub has quickly etched its mark in midtown for fun food wrapped up in a traditional Irish experience near Grand Central Terminal. One more thing,... The Perfect Pint East has a tendency to remain open until 4AM on most nights, making it a quick favorite for those who believe that the evening begins at midnight!
WHERE: 203 E 45th St, New York, NY 10017 | WHO: (212) 867-8159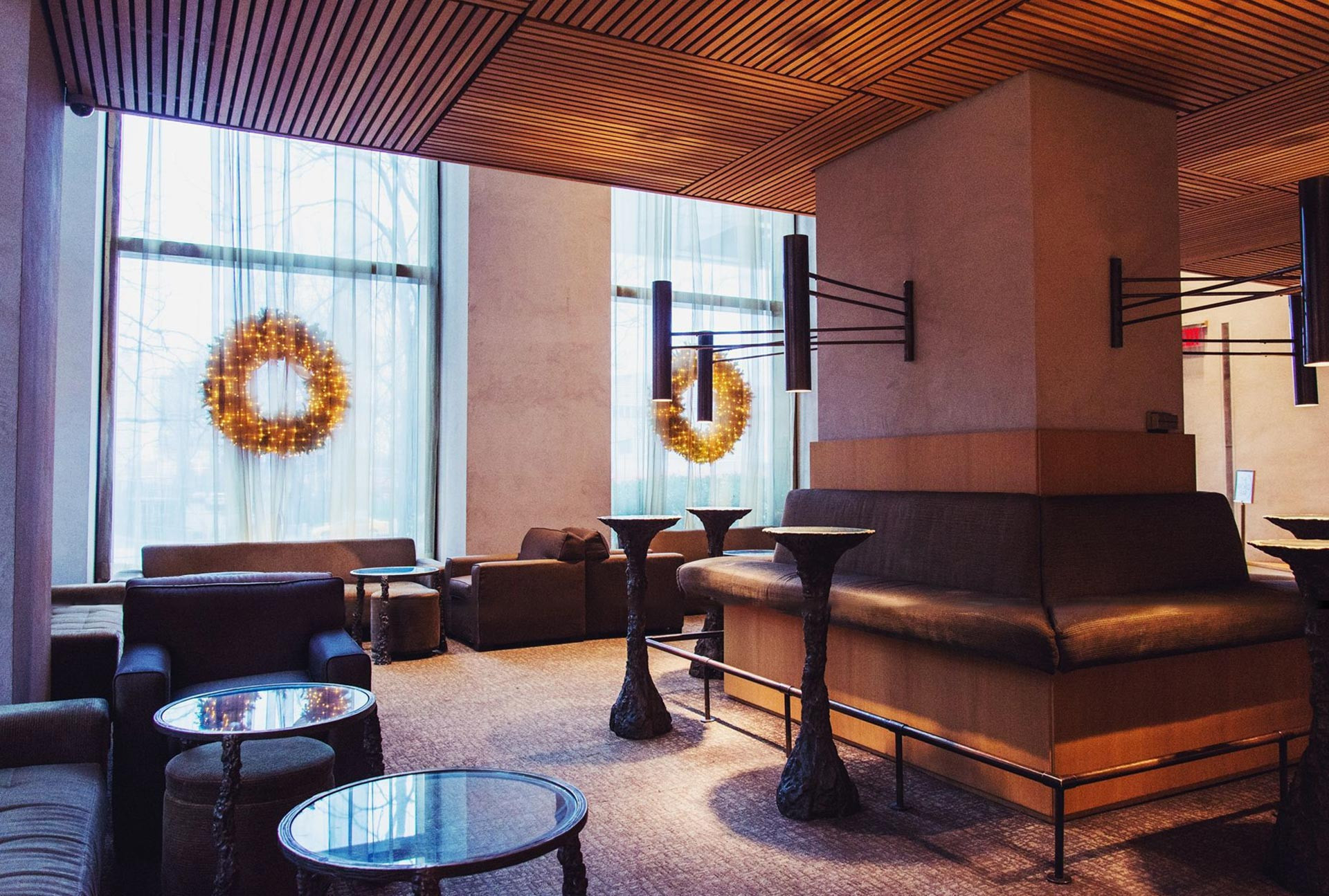 6 | World Bar | Located in Trump World Tower Sales Office, World Bar is where cocktails and culture converge, mixing upscale crowds with sophisticated cocktails against the swanky scenery of a lounge as classically contemporary as it is international in nature. While this elegant lounge across the street from the United Nations (Image: hospitalityholdings.com) may seem tucked away on the map, World Bar's 30-foot ceilings, and floating glass mezzanine underpin a truly high-end mesmerism that features libations from every corner of the globe. Major media outlets have described it as a place that "...evokes an air of internationalism [...] aloof and detached from the gritty goings-on at the compound just across the street." ...while others have declared this lounge as an "...awe-inspiring, mature, hot spot neighboring the United Nations with its massive black-lit marble bar and brassy figures, drawing a sophisticated crowd." And yet despite its obvious varnish and luxe, beneath the prestige and polish lives an excellent restaurant, with great food offerings and wines that surpass expectations, and as many who frequent this large room of politics and power have come to admit,... it's a great evening for great gatherings to talk about great things.
WHERE: 845 United Nations Plaza, New York, NY 10017 | WHO: (212) 935-9361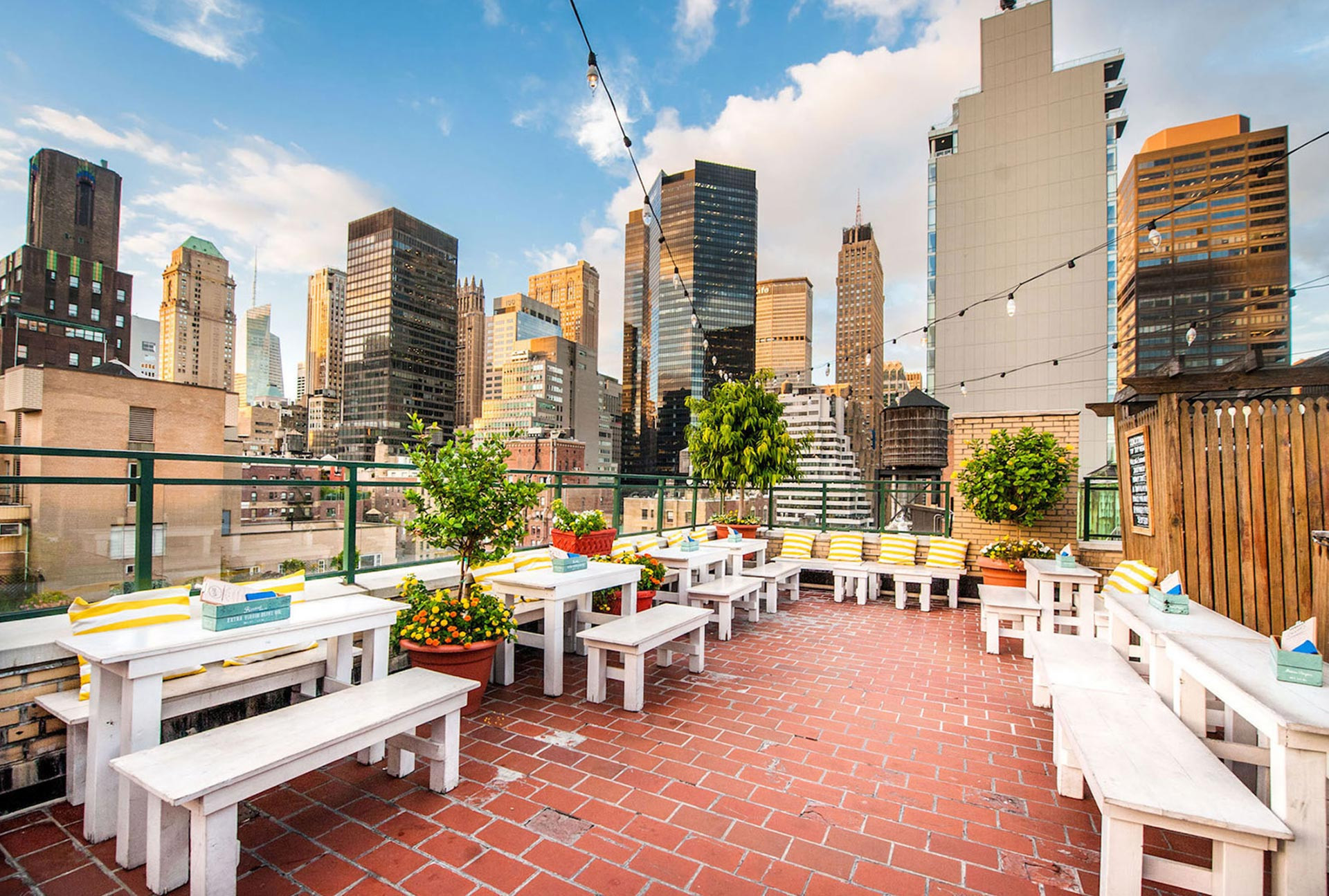 7 | Rare View Rooftop | HONORABLE MENTION! Summer obsessed and perennially partying, this Murray Hill Rooftop Bar (Image:bestrooftopsnyc.com), has a great, open air vibe when it's not crowded,... and even when it is, this 5,000 square foot rooftop garden bar comprises an unusual, mindfully-optimized outdoor space that divides the drinking and winking for singles to find each other across the lazy labyrinth of five outside rooms, currently dubbed the following names, categorized in accordance with the finest summer-mythos moniker inspirations ever devised on a summer night's eve:
"V.I.P" (Very Important Patio)
Winding through wood slats, plush pillows and lush libation landscapes, drinking devotees can lounge anywhere across the inescapably-generous seating while bathing in the bright colors of the ambiance, and taking in the incredible 360 degree views of New York City. Indeed, Rare View lives up to its moniker as patrons and perchers can gulp aghast at perfectly-situated scenes, featuring the Empire State Building, Met Life Building, Chrysler Building, and Freedom Tower, while custom cocktails are muddled with care by midtown Manhattan's top mixologists and specialty drinks change in color like the seasons. Whatever your take is on the Manhattan rooftop scene, this locale certainly mashes up memorable moments with stars above the skyline as it offers up a much-needed, mellow, unpretentious aura for locals and out-of-towners alike. Truly a hidden gem among midtown's rooftop roundup,... your date might wind up wishing you looked at him/her the same way you look at these amazing cocktails in the sky as you soak in the summer at Rare View Rooftop.
WHERE: 303 Lexington Avenue, 16th Floor, New York, NY 10016 | WHO: (212) 481-1999
8 | The Immigrant NYC | DOUBLE BONUS MUST SEE! - Occupying a former tenement space in East Village (and not necessarilly rooftop), The Immigrant NYC is a cozy, laidback bar that can accommodate groups of 10 to as many as a party of 30. This unassuming establishment presents an excellent selection of wines and delectable snacks like cheeses, cured meats, savory olives, and house specialties. On the other side of the bar is a tap room. The minimalist yet cheerful ambiance of The Immigrant makes it a great location for a night out with friends or family or a first date.
WHERE: 341 East 9th Street NYC | WHO: 646-308-1724
The Rooftop Bar Roundup For NYC!
It's no doubt that these amazing rooftop bars are some of the classiest, most sought-after, hangover-hangouts in all of midtown East Manhattan, and with so much to take in (both during the day and at night), it's also no wonder that most people visiting NYC like to pick their hotel based on individual focal points and must-see places in their itinerary. If you're visiting midtown Manhattan for the first time, or even if your a longtime business traveler in for the week, take a ramble through midtown East's best rooftop stomping grounds. And if you're looking for the best midtown East Manhattan hotels to serve as homebase during your NYC stay, look no further than Westgate New York Grand Central! This magnificent, newly revitalized property (formerly Hilton New York Grand Central) crowns the corner of 42nd and 2nd, serving as friendly quarters for both negotiation and nightlife (and prime Manhattanhenge view for photos), just one block from the United Nations and centrally located amongst the best collection of rooftop oasis' in New York City. At our Grand Central Station hotel, when you check in, there's a lot to check out!
At Westgate Resorts, when you Check-In, there's a LOT to Check-Out! Your New York City vacation awaits! Explore our New York City hotel today or talk with a vacation planner at 888-852-2959 or 407-355-2690.

Other tagged pages of interest: hotels near grand central station, things to do in midtown nyc, fun things to do in manhattan at night, nyc taverns, holiday cocktail lounge nyc, karaoke bar nyc, wine bar near grand central
When You Check-in, There's a Lot to Check Out
Sign up for our newsletter and check-in to great offers, secret stuff, and special events.