The 10 Best Christmas Decorated Restaurants NYC Has To Offer
The 10 Best Christmas Decorated Restaurants NYC Has To Offer
"Christmas isn't a season. It's a feeling." – Edna Ferber
With summer's memorable Manhattanhenge moments behind us and Fall's best NYC Festivals now fading away, it's time to hail the holiday spirit as we explore NYC from the festive point of view. Christmas in New York City brings to mind ice skating in Rockefeller Center, horse-drawn carriage rides in Central Park, colorful holiday window displays along Fifth Avenue and, of course, paying an obligatory visit to Santa Claus at Macy's on 34th Street. Top it all off with an amazing dining experience at one of the 10 best Christmas decorated restaurants NYC has to offer! Make sure to ring in the holiday season and soak up some Christmas spirit Big Apple style at these amazing New York City eateries that go totally overboard with blizzards of sparkling holiday lights and decorations. So, join us as we go undercover in Manhattan to highlight these happy holiday hangouts where all the locals dine during the Christmas season!
By AramZS / Licensed under CC BY 2.0
1 | Rolf's German Restaurant | If you had to pick a single NYC eatery that goes all out for Christmas with an obsessive fervor, it would invariably have to be Rolf's, a traditional German restaurant located in Gramercy Park that draws visitors from around the world during the holiday season. Enter a winter wonderland of thousands of sparkling lights, ornaments, icicles and even creepy Victorian-era dolls. The entire holiday affair carries an estimated price tag of $65,000 annually, according to Business Insider, which has named Rolf's "New York's most festive restaurant." Typically, the Christmas decorations start going up at Rolf's toward the end of September and are completed gradually over a six-week period. Don't worry if you can't make it to Rolf's during the holidays – the Christmas decorations usually stay up here throughout the spring, making this local haunt a double-whammy if you just happen to be looking for some weird things to in NYC at night sometime! Rolf's also features special holiday-themed cocktails such as spiced eggnog and mulled wine for festive imbibers.
WHERE: 281 3rd Avenue, New York, NY 10010 | WHO: 212-477-4750

The Breslin, New York by Edsel L / Licensed under CC BY-SA 2.0
2 | The Breslin Bar & Dining Room | Even the most stubborn curmudgeon can exorcise his or her inner Grinch at the Breslin, which offers a myriad of Christmas-themed lights and decorations to celebrate the holiday season. In addition, this immensely popular British gastropub features the culinary talents of James Beard award-winning chef, April Bloomfield, a menu that changes seasonally (the lamb burger here is sensational!) and a lively bar crowd. The New York Times has described the Breslin as "a bedlam of gastrotourists and scenemakers. It's Hogwarts for hipsters." In addition to its amazing holiday decorations, the Breslin serves wintry mince pies throughout December and Christmas Eve drink specials such as eggnog and mulled wine. By the way, the Breslin Bar & Dining Room was named after the original hotel and not for legendary New York City newspaper columnist Jimmy Breslin (1928-2017) as commonly assumed.
WHERE: 16 W. 29th Street, New York, NY 10001 | WHO: 212-679-1939
3 | Lafayette Grand Café & Bakery | Billed as "an everyday grand café and bakery in ceremony of French cooking," this bustling NoHo eatery – the brainchild of esteemed chef, Andrew Carmellini – exudes an inviting holiday vibe with large Christmas wreathes and garlands strewn all about the place. In addition, Lafayette is known for its delicious holiday desserts such as lemon meringue tart, and its proximity to scores of nearby holiday markets in NYC. The New York Observer has dubbed Lafayette "The Great Gatsby of Restaurants" for its "shimmering elusiveness that assures immortality."
WHERE: 380 Lafayette Street, New York, NY 10012 | WHO: 212-533-3000
4 | Pete's Tavern | With its entire ceiling covered with bright lights, along with wreaths, garlands and ornaments hanging everywhere (and an amazing holiday window display to boot!), this landmark NYC bar offers a warm, cheerful holiday atmosphere each Christmas season. Established in 1864, Pete's Tavern is New York City's oldest continuously operating bar and restaurant. In fact, during Prohibition, Pete's stayed open as a bar disguised as a flower shop! Trivia buffs need to know that writer O. Henry (William Sydney Porter) is alleged to have penned his famous short story "The Gift of the Magi" (one of the greatest Christmas stories of all time) at this Gramercy Park eatery. Don't miss the opportunity to sample the delicious homemade eggnog while you relax and unwind at Pete's Tavern.
WHERE: 129 E. 18th Street, New York, NY 10003 | WHO: (212) 473-7676
5 | Lucky Strike | A neighborhood hangout located in SoHo, this classic French Bistro was opened in 1989 by New York City entrepreneur Keith McNally, who the New York Times has dubbed "The Restaurateur Who Invented Downtown." Festively decorated for the holidays with abundant garlands and white lights, Lucky Strike features a large copper bar, vintage French film posters on the wall and a menu full of comfort food such as hamburger and steak frites. Lucky Strike is "an especially jolly place to visit during happy hour," according to Eater NY.
WHERE: 59 Grand Street, New York, NY 10013 | WHO: 212-941-0772
6 | Gotham Bar & Grill | An award-winning eatery in the West Village, Gotham Bar & Grill offers just the right mix of seasonal decorations – including Christmas trees, wreaths and sparkling lights – to brighten your holiday cheer. Gotham Bar & Grill specializes in New American cuisine under the tutelage of critically acclaimed chef, Alfred Portales. New York Magazine calls Gotham Bar & Grill "a trusted American classic" with "informal but informed service."
WHERE: 12 E. 12th Street, New York, NY 10003 | WHO: 212-620-4020
Red Rooster Harlem by Per Olof Forsberg / Licensed under CC BY 2.0
7 | Red Rooster Harlem | Get into the spirit of the Christmas season at this stylish comfort food eatery nestled in the heart of Harlem that celebrates "the roots of American cuisine." Named in honor of a legendary Harlem speakeasy, Red Rooster Harlem is the brainchild of celebrated chef Marcus Samuelsson. The lively atmosphere at Red Rooster Harlem includes a fully decorated Christmas tree out front, along with sparkling lights and decorations throughout the eatery. In addition, Red Rooster Harlem features live music and an eclectic menu that features popular entrees such as Poppa Eddie's Shrimp & Grits, Hot Honey Yardbird, The Representin' Ribeye and Jukebox Fish Fry.
WHERE: 310 Lenox Avenue, New York, NY 10027 | WHO: 212-792-9001
8 | '21' Club | Celebrate the holiday season "in classic New York style" at the upscale '21' Club (a former speakeasy during the Prohibition Era) with its multitude of Christmas trees and colorful lights. Diners may even catch a performance of the Salvation Army Band performing Christmas carols on select dates in December (believe it or not, a tradition that dates to 1936). By the way, many U.S. presidents have dined at '21' over the years – including Franklin D. Roosevelt, Dwight Eisenhower, Richard Nixon, Ronald Reagan and Bill Clinton, among others. You can't miss '21' Club – 35 multicolored jockeys line the steps to welcome you to this iconic Midtown West eatery!
WHERE: 21 W. 52nd St., New York, NY 10019 | WHO: 212-582-7200
9 | The Late Late Bar & Spirit Grocer | An "Irish-influenced" pub with retro 1960's décor and a laid-back vibe in the Lower East Side, The Late Late Bar & Spirit Grocer celebrates a "Tacky Winter Takeover" each December with plenty of outrageous Christmas decorations, along with an amazing selection of specialty holiday cocktails. In addition, patrons can choose from more than 50 Irish whiskeys, as well as appetizers, salads, wings and pub fare such as the Cheese Toasty and Bally Maloe Burger. By the way, The Late Late was named after The Late Late Show, Ireland's longest-running TV talk show.
WHERE: 159 E. Houston Street, New York, NY 10002 | WHO: (212) 633-2000
10 | Rosemary's | Not only is this Greenwich Village eatery decorated with colorful wreaths, garlands and strings of festive lights, but it offers the holiday novelty of a massive Christmas tree on the roof! Guaranteed to boost your holiday spirits, Rosemary's features a cozy, rustic dining room and serves seasonal, farm-to-table cuisine. By the way, Eater NY has named Rosemary's as "one of the best date night restaurants in Manhattan."
WHERE: 18 Greenwich Ave., New York, NY 10011 | WHO: 212-647-1818
Bottom line, there's no shortage of culinary curiousities in Manhattan to satisfy your yuletide yearnings during the holidays, so whether you're just crawling your way through best bars in midtown, or have a hankering for a unique Manhattan wine bar experience under the mistletoe, you're sure to find Christmas lurking around every corner. Looking for a home base for the holidays that puts you right in the middle of midtown's best dives and diners? Check out our New York City hotel, with limitless options and incredible NYC balcony rooms with views of the city (and also Manhattanhenge 2019) you simply can't beat for the holidays!
Love our destination travel blog guides? Find out more about free museums in NYC, discover Volcano Bay, explore the natural wonder of Table Rock Lake, and learn about where to go do karaoke in NYC,.... PLUS... try the best Florida beaches for families, all at these links!
RELATED ARTICLE: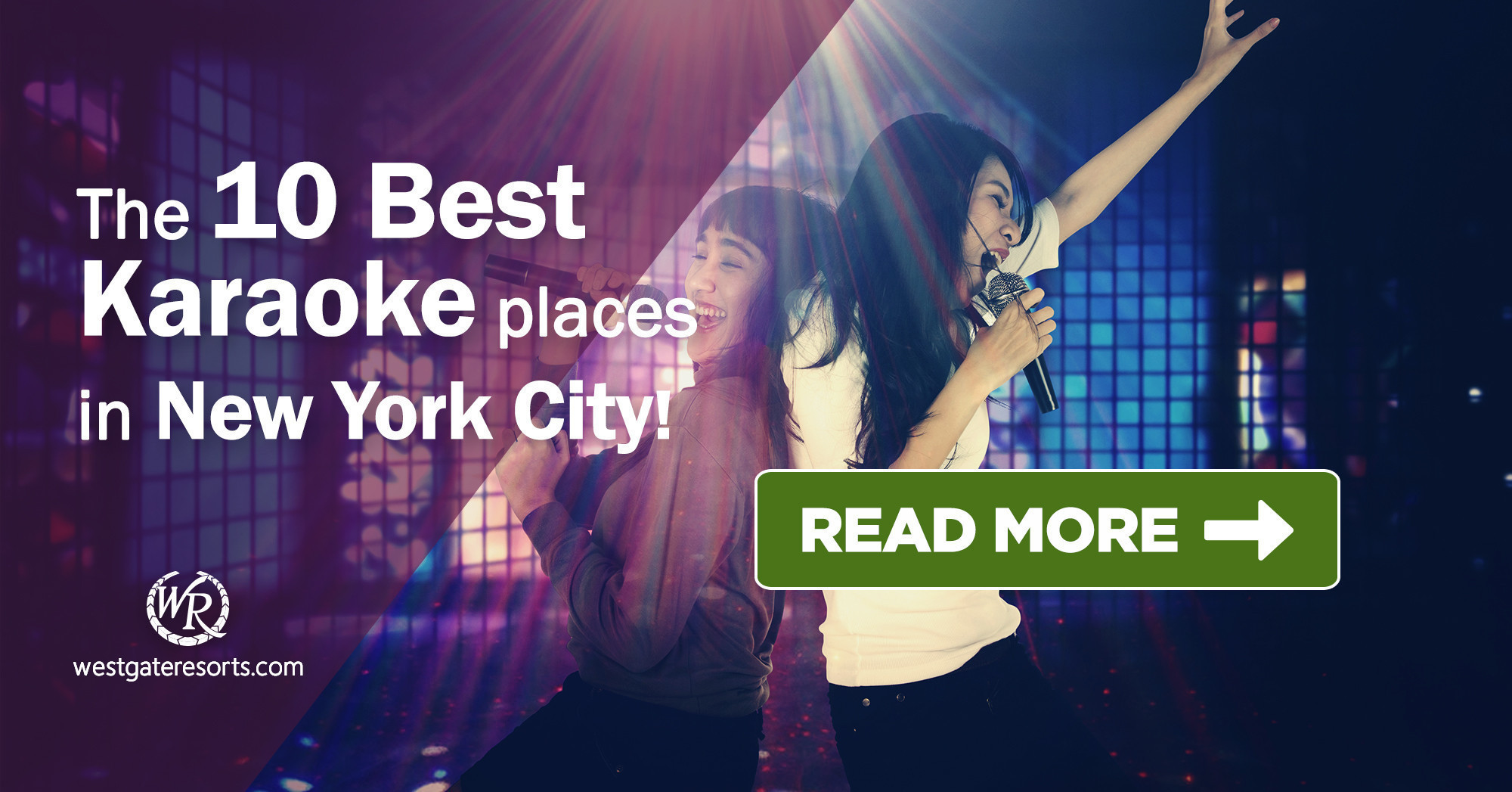 At Westgate Resorts, when you Check-In, there's a LOT to Check-Out! Your New York City vacation awaits! Explore our New York City hotel today or talk with a vacation planner at 888-852-2959 or 407-355-2690.
When You Check-in, There's a Lot to Check Out
Sign up for our newsletter and check-in to great offers, secret stuff, and special events.