10 Tips When Traveling Alone With Your Dog This Summer!
Plan Your Route Carefully

Research Pet Policies & Fees

Schedule a Pre-Trip Checkup

Make Sure Your Dog is Well Hydrated

Stick to a Regular Schedule

Strategize Your Restroom Breaks

Seek Out Flexible Eating Arrangements
10 Tips When Traveling Alone With Your Dog This Summer!
"Dogs love to go for rides. A dog will happily get into any vehicle going anywhere." – Dave Barry
Looking for some sweet tips when traveling alone with your dog this summer! If you're on the hunt for dog friendly accommodations and your best four-legged friend is tagging along with you on this summer's vacation getaway, just know that you're not the first! Nobel Prize-winning author John Steinbeck (The Grapes of Wrath) set the standard for successfully traveling alone with a dog when he set out on a famous road trip across the country with his poodle Charley aboard a camper van dubbed "Rocinante" (after Don Quixote's horse) as documented in the 1962 book Travels with Charley: In Search of America. The trend of traveling solo with pets seems to have skyrocketed ever since and is today more popular than ever. In fact, in a recent American Automobile Association (AAA) survey, 84 percent of respondents claimed to have taken their pets "on a variety of car trips." According to American writer and editor Jon Winokur, "To a dog, motoring isn't just a way of getting from here to there, it's also a thrill and an adventure. The mere jingle of car keys is enough to send most any dog into a whimpering, tail-wagging frenzy." Traveling alone with your canine companion can be a somewhat challenging but ultimately rewarding experience if you plan ahead and adapt your itinerary accordingly. Here are 10 tips to help you make the most of traveling alone with your dog this summer: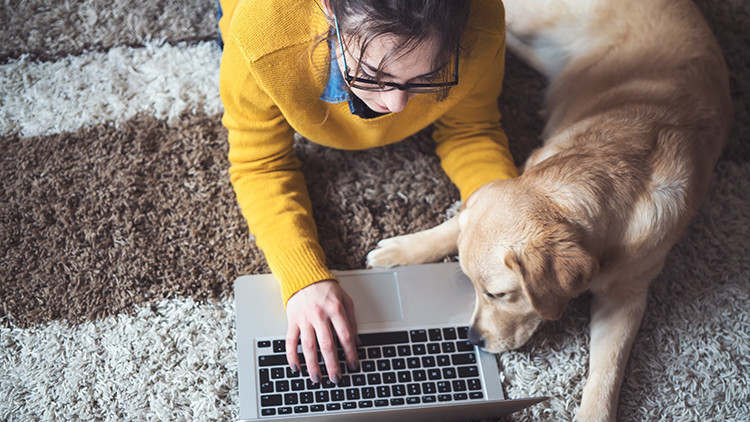 1 | Plan Your Route Carefully | Do plenty of online research before you hit the road and identify pet-friendly accommodations (be sure to always make reservations in advance!), restaurants and attractions (including dog parks and dog-friendly beaches you can hit along the way). For example, some popular pet-friendly destinations that allow leashed dogs include:
Grand Canyon National Park in Arizona

French Quarter in New Orleans, Louisiana

National Mall in Washington, D.C.

Biltmore Estate (grounds only) in Asheville, North Carolina

Acadia National Park in Maine

Fort Fisher State Recreation Area in Kure Beach, North Carolina

George Washington's Mount Vernon (grounds only) in Virginia

Gateway Arch Park in St. Louis, Missouri

Sunset Beach near Cape May Point in New Jersey

Smyrna Dunes Park in New Smyrna Beach, Florida
As always, check ahead for specific restrictions related to bringing your dog to any of these pet-friendly parks and attractions. You may even want to research some respected dog sitters and/or doggy daycare facilities along your travel route. Some theme parks even offer their very own onsite kennels such as Doggywood at Dollywood theme park in Pigeon Forge, Tennessee. In addition, try to determine the number of miles you can realistically cover daily with your dog. Based on recommendations by the Humane Society of the United States, you should stop every two to three hours so you dog can relieve himself, drink some water, eat a treat and get a little exercise. Make sure to break up a long trip into several shorter days in order to give both you and your dog some much needed time to rest during your travels.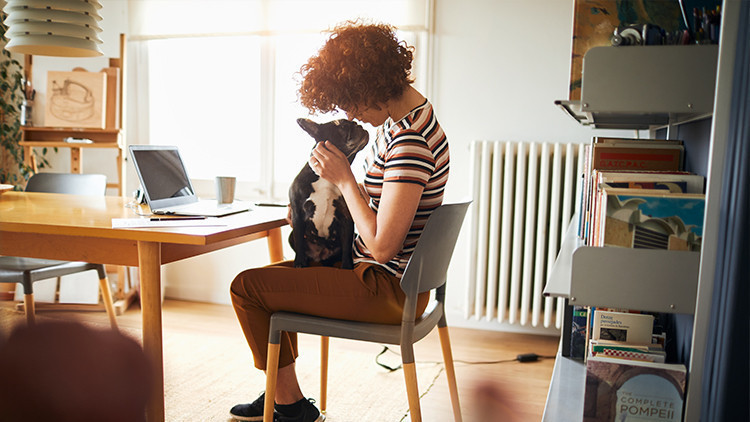 2 | Research Pet Policies & Fees | Even after you find the perfect dog-friendly hotel or resort, be sure to read up on any pet-related restrictions or fees associated with the booking so you can avoid any unwanted surprises upon arrival (since online pet policies change frequently, you may wish to also call the resort and verify everything in advance to be sure). Note that many pet-friendly resorts have restrictions related to the number of dogs allowed per unit, as well as the dog's weight and breed. In addition, ask about any refundable or nonrefundable pet deposits and cleaning fees. Be aware that most resorts require that pets be supervised at all times and your dog may also be restricted from certain areas of the resort such as restaurants and pool areas. Also, if you intend to rent a car during your travels, make sure to read all the fine print regarding any pet policies or charges (especially cleaning fees).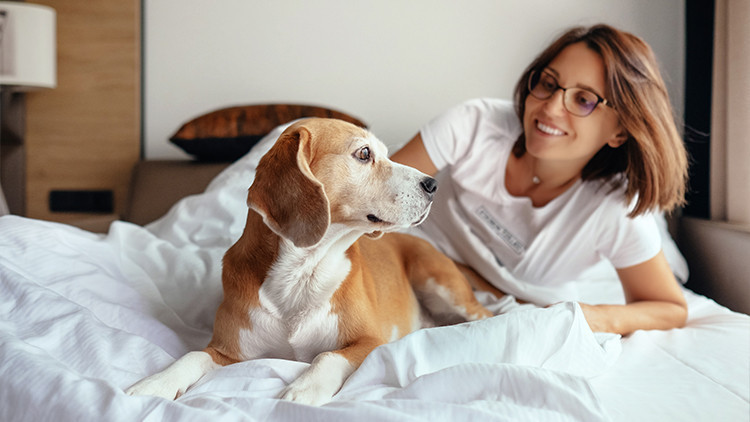 3 | Choose the Appropriate Pet-Friendly Hotel | Just because a hotel or resort is listed as pet friendly does not mean that they offer the appropriate facilities to accommodate your dog (refrain from choosing accommodations that lies too close to busy roads, for instance). Make sure to book a pet-friendly resort or hotel with enough green space so you can give your dog some much-needed exercise after being cooped up in the car for several hours. Also, ask for a ground-floor room, which will make exercise and potty breaks so much easier. Inquire about any extra pet services offered by the hotel such as dog-sitting and dog-walking. For additional space and comfort, consider booking an all-suites resort, which will give you and your dog much more room to spread out than a traditional hotel room.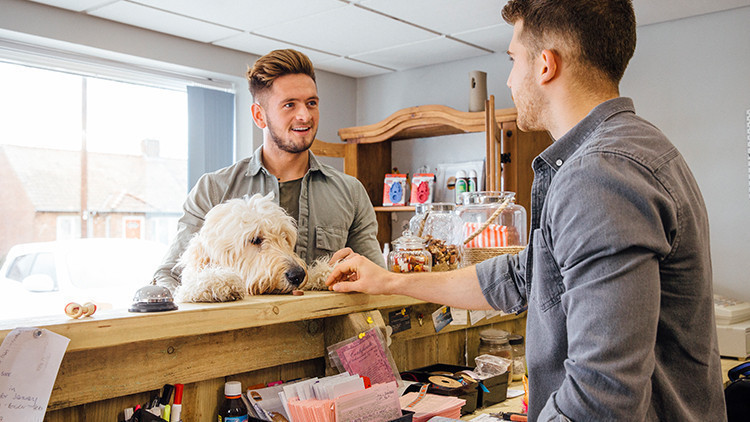 4 | Schedule a Pre-Trip Checkup | Once you have reserved your stay at a pet-friendly resort, schedule an appointment with a veterinarian to do a pre-trip checkup on your dog (and make sure your pet is up to date on all necessary vaccinations) before you hit the road. If your dog is prone to carsickness, ask the vet about any possible medications that will help relieve the condition. Don't forget to pack any medications (as well as flea prevention products) your dog takes regularly, as well as medical records, including a proof of rabies vaccination certificate.
5 | Pack the Essentials | Create a list of necessary items to stock up on to help your dog feel comfortable on the road. Here is a sample checklist of essentials to pack for your dog in order to enjoy a successful road trip:
Dog Food/Treats & Chew Toys

Leash/Dog Collar with ID Tag

Current Vaccinations Record

Contact Information for Your Vet
And don't forget the Karaoke in NYC style music to jam to along the way! If you plan carefully, these essentials will go along way to supporting your pooch long before you even check in to your pet-friendly hotel!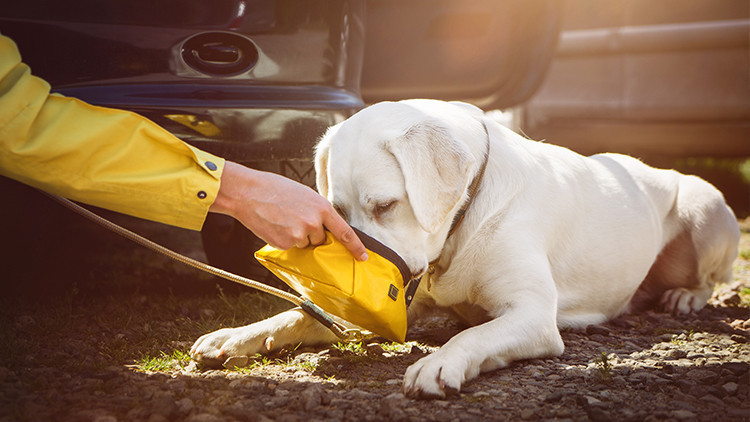 7 | Make Sure Your Dog is Well Hydrated | Always give your dog access to water throughout the entire road trip by using an easily accessible, spill-proof bowl in your vehicle. Don't make your pooch wait until you visit a rest stop every few hours to get a drink of water. In addition, never leave your dog alone in the car, even during quick stops. According to the American Veterinary Medical Association (AVMA), when the outside temperature is 85 degrees Fahrenheit, the temperature inside your car can jump to 104 degrees Fahrenheit in just 10 minutes.
8 | Stick to a Regular Schedule | Maintaining a regular schedule on the road can help minimize any anxiety your dog may be feeling in the unfamiliar locales encountered during your travels. Simply set an alarm on your cell phone as a reminder of your dog's exercise, feeding and bathroom routine during your travels. Remember to keep you dog on a leash at all times at rest stops, parks and other stopping points along the way. Make sure to build in plenty of downtime into your travel schedule as well.
9 | Strategize Your Restroom Breaks | Since it is never a good idea to leave a dog alone in the car (even for a few minutes at a rest stop), you can take advantage of pet-friendly big-box retailers that have public restrooms and allow leashed dogs in their stores such as PetSmart, Petco, Home Depot, Lowes, Bass Pro Shops and others (simply Google "dog-friendly stores" for the most updated list). Note that specific branches may have pet-related restrictions, so it's always a good idea to ask before bringing your dog inside the establishment.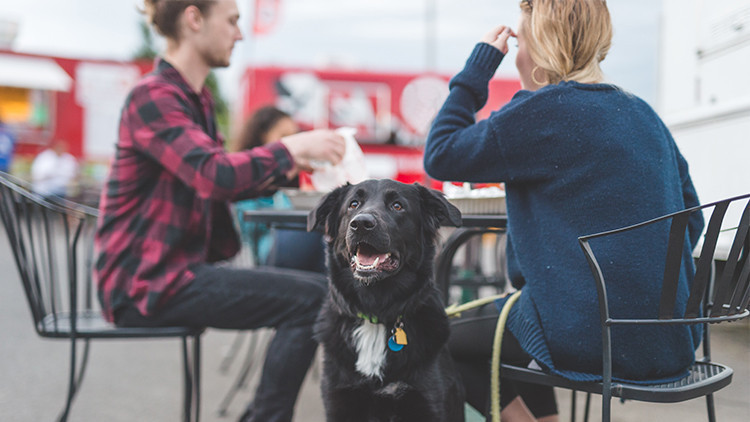 10 | Seek Out Flexible Eating Arrangements | Eating out with a dog while on the road can be difficult, so you will definitely have to plan ahead. Some chain restaurants will let your dog sit tableside on their outside patios such as Dairy Queen, In-N-Out Burger, Sonic Drive-In, Panera Bread, Applebee's, Olive Garden, Johnny Rockets, Outback Steakhouse, Starbucks, Lazy Dog Restaurant & Bar, Culver's, Bruster's Real Ice Cream, Shake Shack and Joe's Crab Shack. Always be sure to ask the manager of a specific restaurant if it's okay to eat there with your pup, since each franchise may have its own restrictions. Other dining options on the road include simply bringing your own food, ordering fast food at a drive-thru window, calling in a take-out order and ordering room service at your hotel.
Final Thoughts On Pet-Friendly Hotels & Vacations
Our doggos (or puppers, depending on your chosen meme-ology) are members of the family - bottom line. They bring us joy, break our hearts sometimes, make us laugh even on the worst days, keep our instagram feeds full of snackable (chowable) content, and (in general) we all agree... we don't deserve them. With all of the laughter and endless entertainment they cook up for us, it's no surprise that kenneling our best furry friends simply isn't an option when vacation time rolls around! And if you're looking for great, affordable pet friendly hotels and resorts, there's no better place to look than Westgate!
Looking for pet friendly hotels in New York City? How about a pet friendly hotel in Orlando? At Westgate Resorts we've got you covered!
Happy Travels!
At Westgate Resorts, when you Check-In, there's a LOT to Check-Out! Your vacation awaits. Start planning your next vacation today or talk with a vacation planner at 888-852-2959 or 407-355-2690.
RELATED ARTICLE:
Other tagged pages of interest: pet friendly hotels gatlinburg tn, pet friendly cabins in branson mo, pet friendly vacation rentals in florida, pet friendly hotels myrtle beach sc, pet friendly hotels las vegas, pet friendly hotels in florida, pet friendly hotels orlando, pet friendly campgrounds, pet friendly hotels cocoa beach, pet friendly hotels in pigeon forge tennessee, resort hotels, staycations
When You Check-in, There's a Lot to Check Out
Sign up for our newsletter and check-in to great offers, secret stuff, and special events.