The 12 Best Restaurants in Orlando Florida
The 12 Best Restaurants in Orlando Florida
Orlando attracts more than 75 million visitors each year. While the city is commonly known for being the home of Walt Disney World, it's so much more than that. Did you know that Orlando is one of the culinary capitals of the world? With an incredibly diverse restaurant scene like the amazing restaurants on International Drive and famous food trucks that serve up the best street food you can imagine, more and more foodies have been flocking to the city to get a taste of its international cuisine.
While it wasn't always this way, renowned chefs have made it their mission to revive the Orlando culinary scene during the last decade. Thanks to them, you don't have to travel the globe to enjoy a world of flavors—you can do it while you explore the IDrive bars, beautiful white sand beaches, shopping centers, and of course, a wide selection of theme parks.

Orlando Restaurants
As if the fun things to do in Orlando aren't enough, there are tons of delicious restaurants around every corner of Orlando to suit your taste! From pork belly and short ribs to vegan and organic, you'll find plenty of choices served in the chophouses and American cuisine restaurants down to Orlando's most notable sandwich shops. If your mouth is watering just thinking about it, then read on as we dive deep into the 12 best restaurants in Orlando and throughout Central Florida.
1 | Villa Italiano Chophouse | Feeling for Italian? Head to Villa Italiano Chophouse which made it to the top of our list. What sets this charming Italian eatery apart, are the impeccable service and tasty food made from fresh locally sourced ingredients, authentic seasonings, flavors reminiscent of the motherland and a cozy atmosphere that makes you feel like family. Reputed to be one of the best Italian restaurants in Orlando, the menu offers classic Italian dishes with a creative flair, plus drinks, desserts and favorites we all love. Whether you're in the mood for bruschetta, pizza, spaghetti, chicken parmesan, or calamari, an Italian feast is waiting for you here at Villa Italiano Chophouse.
WHERE: 7700 Westgate Boulevard, Kissimmee, FL 34747 | WHO: 407-396-2500
2 | Los Amigos Mexican Grill & Tequila Bar | Elevate your meal at Los Amigos Mexican Grill & Tequila Bar with tableside guacamole made with the freshest ingredients and served with house-made tostadas. Keep the flavors flowing with sizzling fajitas that features your choice of chicken, carne asada or shrimp, a trio of sauteed bell peppers, onions and served with delicious charro beans and house-made tortillas. The staff at Los Amigos encourages guests to dive into the vibrant culture of Mexico by trying something new. At Los Amigos, friends become family, so why not gather around la mesa and enjoy some authentic and delicious Mexican cuisine and handcrafted cocktails?!
WHERE: 7700 Westgate Blvd, Kissimmee, FL 34747 | WHO: 407-239-0510
3 | Pigzza | Piggza is a modern Italian-styled restaurant located in Orlando's Mills 50 District that offers a contemporary twist on classic Italian dishes and cocktails. The eatery describes itself as "an Italian-ish joint." Choose from 12" pizzas with toppings of your choice or try some of Pigzza's original recipes, like The Casper, Big Mo, Happy as a Clam and Meat Me at Floyd's. If you're headed to Pigzza, you should also try some of the delicious pastas. Stand out pasta favorites on the menu are the fusilli with braised brisket sauce, the pulled pork pappardelle and, of course, the classic spaghetti and meatballs. The restaurant also does your choice of chicken parmesean. It's called "Pick Your Parm." You can substitute the chicken with eggplant or smoked brisket. And don't miss out on the desserts!
WHERE: 1050 N Mills Ave, Orlando, FL 32803 | WHO: 407-704-8223
4 | Kres Chophouse | Calling all steak and seafood lovers! Head down to the dining room at Kres Chophouse for date night while you're in Orlando. Enjoy a modern twist on a traditional steakhouse experience and exceptional customer service that is anything but pushy. Located in a historic building in downtown Orlando, the award-winning restaurant was voted best steakhouse for good reason. With succulent prime beef aged and cut in-house and fresh seafood caught daily, the menu is simply phenomenal. Foodies rave about the filet wellington, cold water lobster tail, and delicious appetizers like the wild mushroom arancini. Not just for carne-lovers, Kres Steakhouse is also a local favorite among vegans. Unsurprisingly, the chefs put their heart and soul into a diverse plant-based menu as well. Pair your gourmet dish with one of their craft cocktails or a glass of wine and you'll be in total bliss!
WHERE: 17 W Church St, Orlando, FL 32801 | WHO: 407-447-7950
Read Also: 8 Top Steakhouses in Orlando for Your Best Night Out! 1) Shula's Steakhouse, 2) Charley's Steak House, 3) Fleming's Prime Steakhouse & Wine Bar . See More.
5 | Kadence | Have you ever dined in a big black box? If not, well that's exactly what it feels like you're stepping into when you arrive at Kadence. What started as a humble east-end market sushi stand, quickly expanded to put down roots in the Audubon Park District a couple of years later. These days, locals and tourists alike pre-pay to reserve a spot to enjoy the multi-course menu, freshest sashimi, and finely selected sake expertly prepared by talented chefs. The owners come from diverse backgrounds with training in French, Italian, Japanese, and the pastry arts—and the menu reflects that. If you have no luck securing a reservation, why not take a chirashi bowl and a bottle of sake to go back to the hotel room?
WHERE: 1809 Winter Park Rd, Orlando, FL 32803 | WHO: 352-397-0009
6 | DOMU | If you're a die-hard ramen fan then DOMU is an essential food stop anytime you're in Orlando. And if you've never tried ramen, well, this restaurant is a must-try anyway! Their kimchi butter wings and lobster buns are also to die for if you're looking for other options. The name DOMU stands for "a dream come true"—and it really is—with its amazing house-made noodles, unparalleled customer service, and incredible ambiance. Be forewarned though: there's often a waiting list because people travel from all over for Chef Sean "Sonny" Nguyen's famous noodles.
WHERE: 3201 Corrine Dr., Suite 100, Orlando, FL 32803 | WHO: 407-960-1228
7 | Eddie V's | If it's a special occasion or you're just feeling fancy, head over to the award-winning fine dining experience that is Eddie V's. They get super busy so be sure to make a reservation online to enjoy their fresh hand-carved steaks or seasonal seafood in-house. From the Chilean sea bass to the signature steak tartare, each of their finely crafted dishes is truly an art. The dining room is open for business but if you can't get a reservation then curbside pickup is the next best thing!
WHERE: 7488 W Sand Lake Rd, Orlando, FL 32819 | WHO: 407-355-3011
8 | Christner's Prime Steak & Lobster | One of the top steakhouses in Orlando, this is not just your average steakhouse—Christner's Prime Steak & Lobster is an award-winning restaurant known for its live piano music and tableside magic shows. It's not only their fresh local ingredients that have earned them so many stellar reviews but their high entertainment value as well. We highly suggest ordering the New York strip and the mandarin orange cake a la mode for dessert. Be sure to wash it all down with a handcrafted cocktail, whisky on the rocks, or a glass of your choice from their selection of over 4,500 bottles of wine.
WHERE: 729 Lee Rd, Orlando, FL 32810 | WHO: 407-645-4443
Read Also: 15 Orlando Restaurants with Outdoor Seating 1.) Drafts Sports Bar & Grill 2.) Santiago's Bodega 3.) À La Cart. See More.
9 | Se7en Bites | Nothing says Orlando like some good old-fashioned southern comfort food. Visited by Guy Fieri on "Diners, Drive-Ins, and Dives," Se7en Bites is the hot spot for all things breakfast and brunch. Think—baked goods and grandma's home-cooked meals with a modern twist. Mouthwatering favorites include the chicken pot pie, Se7en benedict with a buttermilk garlic biscuit. And don't forget about the baked pimento cheese with bacon sandwich! Your tastebuds will be in Se7enth heaven!
WHERE: 617 Primrose Dr, Orlando, FL 32803 | WHO: 407-203-0727
10 | Bites & Bubbles | Freshly relocated to the Mills 50 District, Bites & Bubbles is a trendy and quaint little hotspot just north of downtown Orlando. Boasting delicious American cuisine with a French twist, it's exactly what you'd expect from the name—an impeccable wine selection, and lots of bubbly. They claim to grant your "champagne wishes and caviar dreams" and we certainly won't argue with that. Prepare for only the freshest shucked oysters, heavenly charcuterie boards, fried goat cheeseburgers, and duck leg confit. If that doesn't sound amazing then we don't know what is!
WHERE: 1618 N Mills Ave, Orlando, FL 32803 | WHO: 407-270-5085
11 | Hamburger Mary's Bar & Grille | Not to be mistaken with your average fast food joint, Hamburger Mary's Bar & Grille serves up some of the most delicious gourmet burgers in Orlando. This restaurant lives by the motto "open-air bar and grille for open-minded people." Aside from their drool-worthy menu, the flamboyant service is what local folks have come to know and love. Trust us when we say, you never knew burgers and beer could taste this good!
WHERE: 110 W Church St, Orlando, FL 32801 | WHO: 321-319-0600
12 | The Ravenous Pig | This modern American gastropub (also located in Disney Springs) has been a major driving force behind Orlando's food scene revival. The Winter Park location is home to an outdoor beer garden which is a favorite among locals and tourists alike. Not sure what to order for food? Start by sampling house-cured meats and artisan cheeses on their charcuterie & cheese platter. After that, move on to the braised chicken ravioli, filet mignon or the lobster tacos. And we hope you came hungry because a trip to the Ravenous Pig simply isn't complete without treating yourself to some dessert. We recommend indulging in a slice of coffee cake or a valrhona chocolate chip cookie—you can't go wrong.
WHERE: 565 W Fairbanks Ave, Winter Park, FL 32789 | WHO: 407-628-2333
BONUS #1 | The Stubborn Mule | While their (you guessed it) Moscow mules are enough to stop in, be sure to stay for the delicious farm-to-table American cuisine. Enjoy happy hour on the patio or bask in the playful ambiance indoors that is the Stubborn Mule. We only have three words for you: cheesy gouda grits. We suggest getting them as a side with the Who Woke Up First (featuring funnel-cake fried chicken, bacon, egg, and cheese held together with a delicious cinnamon-sugar pastry bun). And if you're a brunch lover, stop by on the weekend for Stubborn Brunch and bottomless mimosas—just promise you won't drink from the pitcher!
WHERE: 100 S Eola Dr. Suite 103, Orlando, FL 32801 | WHO: 407-730-3400
BONUS #2 | Pom Pom's Teahouse & Sandwicheria | Exploring Orlando without a trip to Pom Pom's Teahouse & Sandwicheria would be a mistake. It may be a funky dining scene serves up BIG gourmet pressed sandwiches. Try out the Big Daddy's Triple Decker, Colossal PBJ, Mama Ling Ling's Thanksgiving—or build your own! Pair it with one of Pom Pom's unique sides like the yellow curry chicken or Tuscan salad. If you still have room left over then indulge in some sweets and a pot of loose leaf tea to socialize and unwind. This just may become one of your favorite restaurants!
WHERE: 67 N Bumby Ave, Orlando, FL 32803 | WHO: 407-894-0865
BONUS #3 | Pizza Bruno | Longing for Bronx pizza, planet pizza or any slice of pizza? A list of the best restaurants in Orlando wouldn't be complete without pizza, now would it? This Italian eatery is a hidden gem and a hub for locals—now it can be your spot too! Savor the taste of delicious wood-fired Neapolitan pizza and pints of craft beer during happy hour. It's much more than just pizza though! The garlic knots are simply life-changing and the octopus is to die for. Yes, your eyes aren't deceiving you—octopus braised in red wine and wood-roasted with seasonal veg. Don't believe us? Go see for yourself!
WHERE: 3990 Curry Ford Rd, Orlando, FL 32806 | WHO: 407-270-6833
Use Our Handy Map to Find Your Way Around!
Last Tips on Finding the Best Restaurants in Orlando!
Make sure to take note of the restaurants that stand out most to you on this list and give them a try! We've included the top 12 hotspots in the area but you're not limited to what you see here. For more dining options, remember that Yelp reviews are your best friend! Keep all of that in mind and start planning out your itinerary so you get to experience all of the best restaurants during your stay!

RELATED ARTICLE: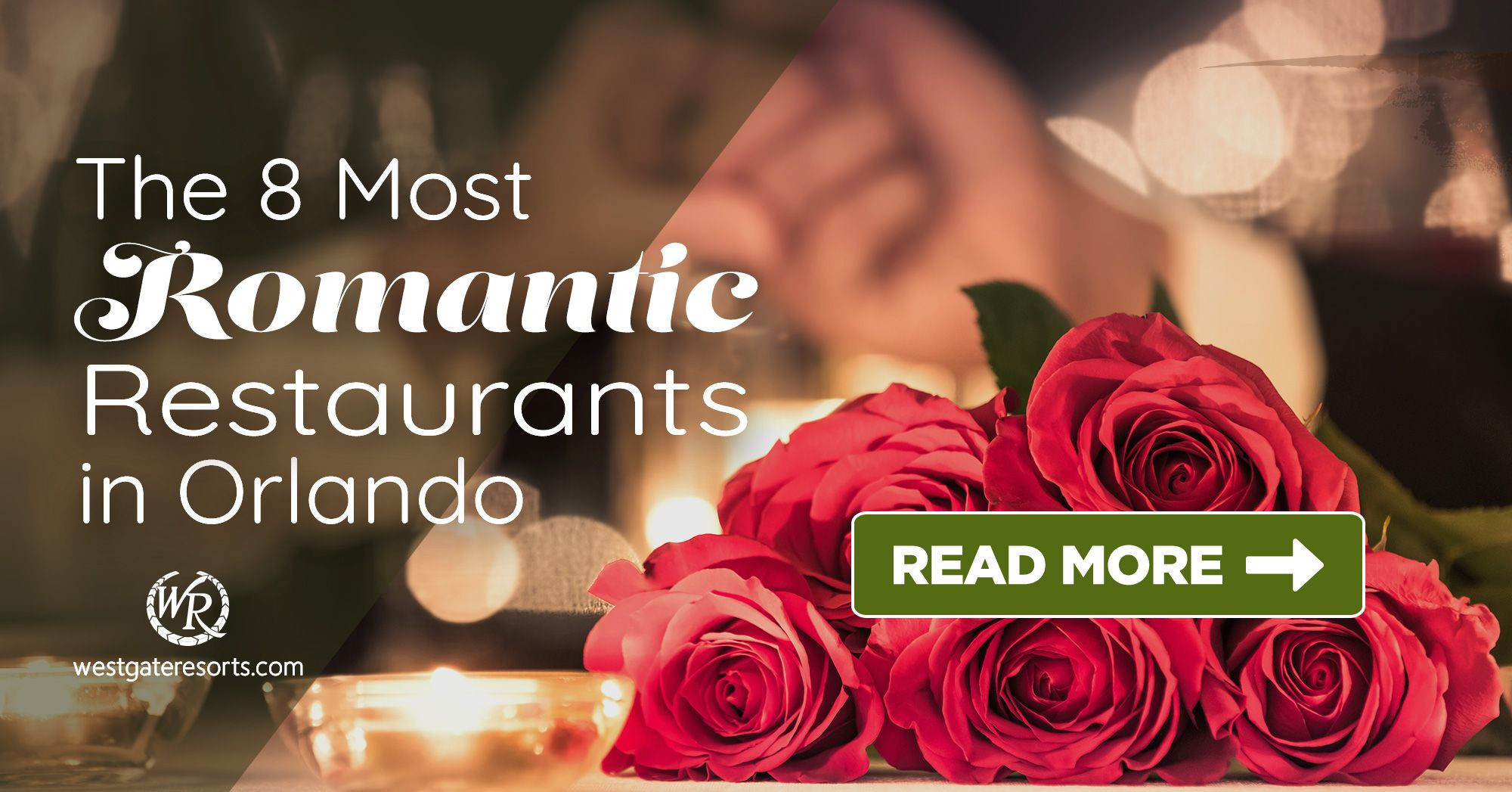 At Westgate Resorts, when you Check-In, there's a LOT to Check-Out! Your Orlando vacation awaits! Explore our Orlando resorts today or talk with a vacation planner at 888-852-2959 or 407-355-2690.
* Westgate Resorts is in no way affiliated with the attractions featured in this article. Items or places listed are current as of the publishing date of this article. Please call or visit the respective website for the most up-to-date offerings and details.
When You Check-in, There's a Lot to Check Out
Sign up for our newsletter and check-in to great offers, secret stuff, and special events.