12 Romantic Things to Do in Orlando on a Budget
12 Romantic Things to Do in Orlando on a Budget
Ah, romance! It can happen at any time of the year, but in February, with spring just around the corner, hearts lightly turn to romance.
If you are planning an outing with your most special friend, here are ten romantic and fun things to do in Orlando on a budget. We've even included the dreamy airboat rides Orlando offers, picturesque gardens and everything in between. It is always good to know that you don't have to destroy your finances to show your sweetheart a good time.

Best Romantic Things to Do in Orlando
Some of the items on this list are free, while others charge a moderate fee. The most expensive is the spa visit, but it is so worth it to be pampered before you head back into the "real world."
1 | Leu Gardens | One of the most romantic sites in Orlando, beyond doubt! There are fifty acres of walking areas that include a broad array of flowers and ornamental shrubs and trees. The Rose Garden is a popular place for large weddings, while The Landing is a favorite for smaller events. Wedding rates include free admission for guests to wander the grounds until the time of the ceremony. You can reserve space for your reception too.
The gardens are also a lovely place for families to visit and plenty for youngsters to see and do, including art classes, so mom and dad can have a little romantic time to themselves. Admission is extremely reasonable and season passes are also available if you want to be a frequent guest.
You could also plan to spend some time volunteering at the park - who knows, as long as you're with your special person.
WHERE: 1920 North Forest Avenue, Orlando, FL | WHO: 407-246-2620
2 | Rent a Swan Boat to View Lake Eola | Put away the cell phones and spend thirty minutes of quality time pedaling around Lake Eola. You'll have a lovely view of the Eola Park from the tranquil waters. Each boat will seat up to 5 people or support 1400 pounds, whichever comes first. Pets and service animals are welcomed, and there is even a boat that is wheelchair accessible. Swan boats are perfect for double-dating and provide more space if kids or pets are in tow. You can also enjoy an intimate stroll with only your significant other enjoying the lake and each other's company.
WHERE: 512 E Washington St, Orlando, FL 32801 | WHO: 407-246-4484
3 | 1st Thursdays at Orlando Museum of Art | The perfect opportunity to meet, greet and mingle while viewing new art submitted by local artists. Held the first Thursday of every month, the event also features local musicians. Various beer and wine merchants provide cash bars to add to the festivities. If you are feeling peckish after looking at the art, the location is surrounded by various restaurants and other eateries that serve delicious meals. While you are there, check out additional events planned throughout the month.
WHERE: 2416 N Mills Ave, Orlando, FL 32803 | WHO: 407-896-4231
4 | Music at the Casa Feliz | Spend a lovely Sunday afternoon listening to music and enjoying the architecture of James Gamble Rogers II. Select music groups set up in the parlor on Sunday afternoons from noon until 3 PM. Trained docents are available for guided house tours during those times, and also on Tuesdays and Thursdays from 10 AM until noon. Admission on Sunday afternoons is free, but donations help defray the costs of maintaining this beautiful historic house. Rentals are available for weddings, corporate or social events.
WHERE: 656 N Park Ave, Winter Park, FL 32789 | WHO: 407-628-8200
5 | Sanford Welcome Center | Sanford, the county seat of Seminole County, melds with the northern edge of Orlando, on the way to Daytona Beach. The Sanford Art Center provides information about the local community, and hosts two wonderful events: Alive After Five, a big Street Party with music, art, craft beers, and good food each month, from 5 to 8 PM, and Sanford Art Walk, a walking tour of the many art shops located in the area. Both events are golden opportunities to enjoy art, experience cuisine and share an unhurried time together.
WHERE: 230 E 1st St, Sanford, FL 32771 | WHO: 407-565-2215
6 | Visit Mount Dora | Mount Dora is a lovely little community with a lot going for it. Each year, an Arts Festival and Poetry in the Garden, featuring a poetry contest judged by poet laureate, Laura Sobbott Ross, are held. Aside from the events, Mount Dora also has shops, good places to eat and lovely parks that visitors can enjoy. If you love walking around, looking for treasures in shops and just enjoying good company, Mount Dora is the perfect spot.
WHERE: 510 N Baker St, Mt Dora, FL 32757 | WHO: 352-735-1191
7 | SAK Comedy Lab | If you need some laughs to liven up your day, SAKS Comedy Lab is the perfect place. It provides a home for a team of professional improv actors who take suggestions for situations and make up their script on the spot. The Comedy Lab, the starting point of actors in well-known productions such as Saturday Night Live and Mad TV, typically hosts a special Valentine's Day production. For those who plan a longer stay in the area, they also give classes in improv, so you can practice the loving things you want to say.
WHERE: 29 S Orange Ave, Orlando, FL 32801 | WHO: 407-648-0001
8 | Enzian Theater | What could be more romantic than a dinner and a movie? A single screen, non-profit, theater featuring an eclectic mix of classic, independent and foreign films, Enzian is home to the Florida Film Festival. Each month brings special movie features. The Eden Bar, attached to the Theater, serves popcorn, drinks and an array of healthy snacks and meals. Programs include National Theater Live, Popcorn Flicks in the Park, Saturday Matinee classics and Cult Classics. If the two of you love it so much that you want to return often, you can become supporting members or even volunteer.
WHERE: 1300 Orlando Ave, Maitland, FL 32751 | WHO: 407-629-0054
9 | Westgate River Ranch Resort & Rodeo | Romance isn't always about wining and dining or visiting formal events. As one of the best Dude Ranches in Florida, there is an endless list of things to do with your honey. From horseback riding, romantic boat rides, Rodeo shows, and swamp buggy rides - there's even a chapel onsite for those who want to take the plunge and get married! If it's more than a day trip and you're spending some nights, there are cabins, cottages, lodges, glamping tents, Conestoga Wagons, teepees, that bring a one-of-a-kind "hotel" experience to life. And if you must share your time with the kiddos, there is more than enough to keep them entertained while you get lost on each other's stares.
WHERE: 3200 River Ranch Boulevard, River Ranch, FL 33867 | WHO: 863-692-1321
10 | Kennedy Space Center | If you or your sweety are science fiction or space travel fans, you certainly don't want to miss the Kennedy Space Center. Imagine the two of you traveling to worlds beyond Earth, perhaps even becoming pioneers in the greatest frontier of all. The tour lasts 4.5 hours. Meals are not provided, although there are snacks and water. It is suggested that you eat before you go, so you can begin your excursion into the past of space exploration with a meal at the Orbit or Moon Rock Café. Time your visit just right, and you might get a chance to see a launch. The tour takes visitors through working areas, so be prepared for possible interruptions.
WHERE: Space Commerce Way, Merritt Island, FL 32953 | WHO: 855-433-4210
11 | Boggy Creek Airboat Tour | Visit the untamed wilderness via an airboat tour into the Kissimmee Swamp. The airboats are driven by a giant fan at the back of the boat which really add to the expereince. You will feel as if you are flying through primordial regions, even though you are only minutes from Orlando. The airboats are noisy, but when the guide cuts off the motor and lets the boat float along on its own, you can almost feel the stillness. Even though it is close to developed areas, there is something about the swamp that reminds us of the days when the wildernesses were vast and uncharted.
WHERE: 2001 E Southport Rd, Kissimmee, FL 34746 | WHO: 407-344-9550
12 | Serenity Spa by Westgate | Top off your visit to Orlando with a couple's massage for two. Enjoy being pampered, instructed and cared for in a luxury surroundings where you will feel like a queen – or king. Enjoy a head to toe massage to enliven the senses, take a dip in a roman bath with soothing treatments to help you relax and recharge. Though this may not be the least expensive enjoyment on the list, a visit here with your honey is well worth the money! By saving it for last, you can return home feeling relaxed and comfortable with a new lease on life.
WHERE: 9500 Turkey Lake Rd, Orlando, FL 32819 | WHO: 407-992-2938
Use Our Handy Map to Find Your Way Around!
Last Tips on Other Romantic Things to Do in Orlando
Of course, you don't have to sample all of these suggested activities. Chances are, you will have a more enjoyable visit if you pick two or three things that suit your tastes as a couple.
Whether you love beautiful outdoor surroundings, fine dining, art, music, or more physical activities, you are certain to find enjoyable things to do in Orlando with your very dearest.
Didn't find anything you liked? You don't even have to stick to this list. There are so many other wonderful ideas in our Travel Blog!

RELATED ARTICLE: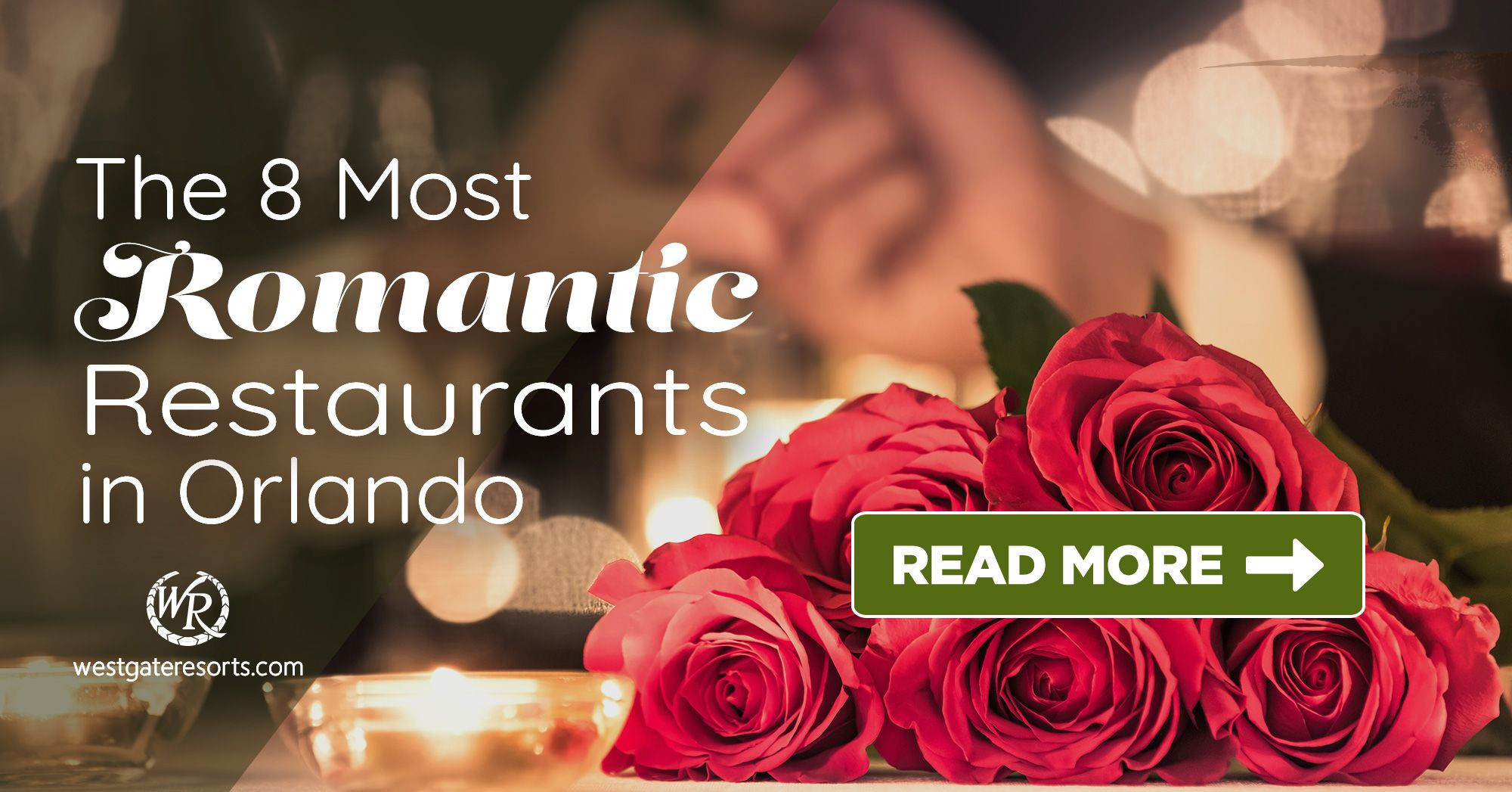 At Westgate Resorts, when you Check-In, there's a LOT to Check-Out! Your Orlando vacation awaits! Explore our Orlando resorts today or talk with a vacation planner at 888-852-2959 or 407-355-2690.
* Westgate Resorts is in no way affiliated with the attractions featured in this article. Items or places listed are current as of the publishing date of this article. Please call or visit the respective website for the most up-to-date offerings and details.
When You Check-in, There's a Lot to Check Out
Sign up for our newsletter and check-in to great offers, secret stuff, and special events.