20 Spring Events Happening in your Favorite Westgate Destinations
20 Spring Events Happening in your Favorite Westgate Destinations
Put down the broom and mop—we're celebrating spring a little differently this year! The spring season is all about getting away, exploring new hobbies, and rediscovering old favorites. If you've been dreaming of escaping your mundane day-to-day duties this spring, we've got a surprise for you! From things to do in Las Vegas during the day to adventurous things to do in Florida, multiple Westgate Resorts destinations are hosting their own unique spring events that will leave you feeling refreshed and inspired.
Spring Event Ideas
For some, the first day of spring equates to two things—flowers and all things pastel! While tulips bloom and the weather warms, celebrate the good life with activities like things to do in Orlando for adults or free things to do in Myrtle Beach. With all the upcoming colorful festivals to relaxed concerts, it's the perfect time to start planning your next getaway. Whether you're an avid traveler or you simply want to explore new places, this list of top 20 spring events happening in your favorite Westgate Destinations offers something for everyone!
RIVER RANCH, FL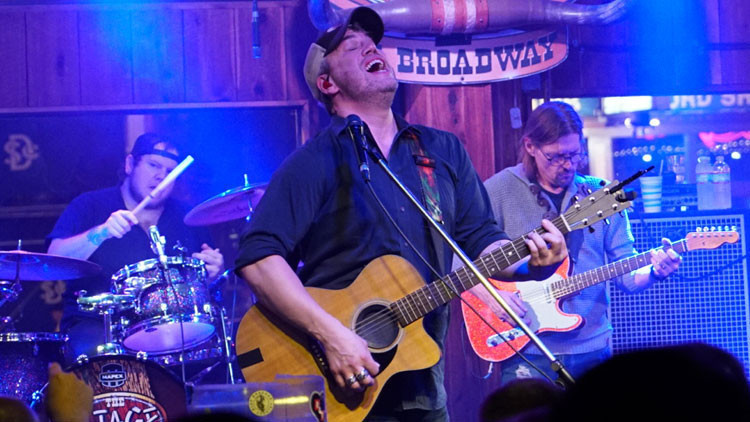 1 | Nashville Singer Songwriter Series at Westgate River Ranch | The Nashville Singer Songwriter Series at Westgate River Ranch Resort & Rodeo is almost too good to be true. An intimate performance series showcasing some of Nashville's most talented unsigned songwriters and emerging artists at the cream of the crop of Central Florida's vacation destinations? Yes, please. The exclusive series of intimate, feel-good concerts rotates Nashville talent and the upcoming event on April 21, 2022, showcasing Texas Hill at the River Ranch Saloon will give you something to spring about!
WHERE: 3200 River Ranch Blvd, River Ranch, FL 33867 | WHO: 863-692-1321
ORLANDO, FL
2 | EPCOT International Flower & Garden Festival | From March 2 to July 4, 2022, the 2022 Epcot Flower and Garden Festival blooms with magic for all to explore! By creating captivating floral presentations and delicious special event snacks, the spring event pairs the things we love most about spring—food and flowers! Some of this year's delicious offerings include Crispy Mojo Marinated Pork Belly, Boneless Impossible Korean Short Ribs, Coconut Tres Leches, Blackberry Mint Mead, Honey-Peach Freeze with Blueberry Vodka, and so much more. And if you love eating around the world but only eat plant-based dishes, EPCOT has created the Garden Graze Food Crawl for foodies like you! As you munch on tasty treats, enjoy the beauty of animated topiaries of your favorite characters, like Goofy, Anna and Else, and Buzz Lightyear, as well as Global Gardens, including Bambi's Butterfly House. As if that's not enough, the Garden Rocks Concert Series is returning with performances by Rick Springfield, Kool & The Gang, and more!
WHERE: 200 Epcot Center Dr, Lake Buena Vista, FL 32830 | WHO: 407-939-5277
3 | 31st Florida Film Festival | If you're looking to catch a flick during your stay in Orlando but are tired of the same old movies, the Florida Film Festival is an Oscar-recognized event and is back for its 31st year showcasing independent and international films in current cinema. Festivalgoers have the pleasure of attending special viewings of 160+ films throughout ten days at the Enzian Theater. Hosted from April 8 to April 17, 2022, the public is invited to attend film screenings, panel discussions, workshops, and other special events and the chance to mingle with other film buffs, filmmakers, and celebrities.
WHERE: 1300 South Orlando Ave, Maitland FL 32751 | WHO: 407-629-1088
4 | 2022 Spring Fiesta at Lake Eola Park | Spring is the perfect time to celebrate love, friendship, and fun! The 2022 Spring Fiesta at Lake Eola Park is the place to be this spring, and the much-anticipated annual event returns from April 2 to 3, 2022. Located at Lake Eola, the true heart of downtown Orlando, the event showcases all of the beauty that comes with springtime, featuring art and crafts, food vendors, live music, a beer garden, and more!
WHERE: 512 E Washington St, Orlando, FL 32801 | WHO: 407-855-0606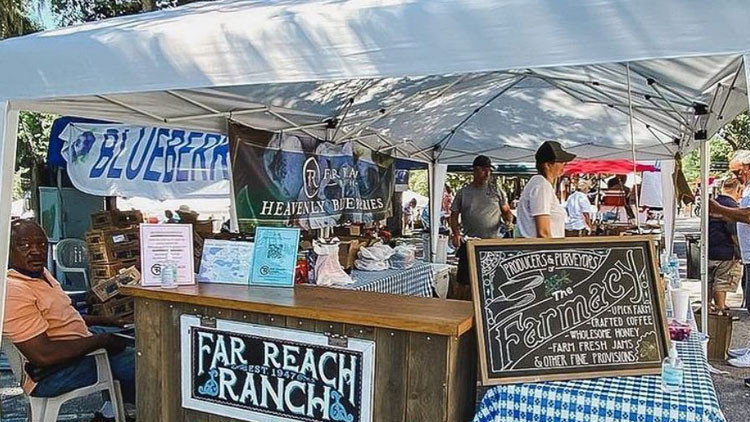 5 | Mount Dora Blueberry Festival | Do you love fresh blueberries? Indulge in the freshest blueberries you'll ever taste until you feel like Violet from Willy Wonka's Charlie and the Chocolate Factory at the 8th Mount Dora Blueberry Festival on April 23 and 24, 2022, from 9 AM to 5 PM. This free spring event features live music, crafters, a pancake breakfast, wine, beer, and your favorite blueberry pie all day long! And if you love a little competition, you won't want to miss the blueberry pie-eating contest!
WHERE: 539 N. Donnelly St, Mount Dora, FL 32757 | WHO: 352-217-8390
6 | Megacon Orlando | Do you consider yourself a little nerdy? Okay, how about a lot? No matter your level of geek, we can guarantee you'll find your fandom home at Megacon Orlando from May 19 to May 22, 2022! Join fans just like you at the largest comic, sci-fi, horror, anime, and gaming event in North America and discover the best-hidden treasures in comic books, science fiction/fantasy films and television shows, horror films and television shows, anime films, TV series, video games, collectibles (trading cards, toys), costumes (Star Wars costumes) and more!
WHERE: 9899 International Dr, Orlando, FL 32819 | WHO: 407-685-9800
7 | SeaWorld's Cinco de Mayo Celebration | Cinco de Mayo is an important celebration that commemorates Mexican heritage and culture, and SeaWorld invites you to celebrate the holiday with a "fiesta in the street" on Fridays, Saturdays, and Sundays from April 30 to May 9, 2022. With dishes like drunken shrimp tostadas, barbacoa beef tacos, and elotes, enjoy authentic Mexican flavors and live music while enjoying the excitement a day at SeaWorld brings!
WHERE: 7007 Sea World Dr, Orlando, FL 32821 | WHO: 407-545-5550
GATLINBURG, TN
8 | Great Smoky Easter Arts & Crafts Show | Do you love scouring local thrift and antique shops for unique finds? If so, you'll love the Great Smoky Easter Arts & Crafts Show at the Gatlinburg Convention Center! Occurring from April 13 through April 16, 2022, this free-to-the-public event contains a display of locally made crafts and features guests from all around America who demonstrate their own art for everyone to watch! Find your new favorite craft project, art piece, or just come to meet some of the coolest members of the Gatlinburg community.
WHERE: 234 Historic Nature Trail, Gatlinburg, TN 37738 | WHO: 865-436-4178
9 | Smoky Mountains Spring Wildflower Pilgrimage | This spring, experience the great outdoors like never before at the Smoky Mountains Spring Wildflower Pilgrimage! The 70-year annual event will take place from April 26 to 30, 2022, in the Great Smoky Mountains National Park and is perfect for those who are interested in exploring nature and culture. This year's schedule includes wildflowers, trees, fungi, ferns, medicinal plants, birds, bats, bears, insects, salamanders, as well as topic sessions like journaling, park history, art, and photography.
WHERE: 107 Park Headquarters Rd, Gatlinburg, TN 37738 | WHO: 865-436-1200
10 | Smoky Mountain Trout Tournament | Whether you're a first-timer or an old hand, there's no better place to go than the Great Smoky Mountains to hook some world-class trout. And while you're there, be sure to stop by the 22nd Annual Smoky Mountain Trout Tournament! With over 10,000 trout stocked in over 20 miles of streams and plenty more prizes up for grabs, this 2-day event will be one that you do not want to miss. Taking place on April 2 and 3, 2022, don't miss out on $10,000 in cash prizes and a chance to catch something great!
WHERE: 469 Brookside Village Way, Gatlinburg, TN 37738 | WHO: 865-661-3474
11 | Hands-on Gatlinburg | The Smoky Mountains are brimming with family-friendly activities, and one of the best spring events is Hands-on Gatlinburg! Hosted by the Great Smoky Arts & Crafts Community, discover a new hobby you've never heard of or create unique treasures with your family! From April 29 to May 1, 2022, explore a wide range of classes offered, with professionals teaching guests how to make their favorite crafts, from do-it-yourself style projects like knitting or woodworking to other options such as painting and jewelry making.
WHERE: 234 Historic Nature Trail, Gatlinburg, TN 37738 | WHO: 865-436-4178
NEW YORK CITY, NY
12 | The Orchid Show: Jeff Leatham's Kaleidoscope | Let new adventures bloom during your trip to New York City with a vibrant floral showcase designed by Jeff Leatham! Take in the fragrance and beauty of thousands of delicate blossoming orchids now through May 1, 2022, at the 19th Orchid Show at the New York Botanical Garden! From orchid towers showered in oranges, yellows, and greens to fields of purple and white orchids, visitors will view NYC through orchid-colored lenses. The event also includes live entertainment, drinks, snacks, a "kaleidoscopic tunnel of lights," and more! And while you're at the botanic gardens, don't miss out on seeing the gorgeous cherry blossoms while they're in bloom!
WHERE: 2900 Southern Blvd., Bronx, New York 10458 | WHO: 718-817-8700
13 | Macy's Flower Show | Want to know what 14 full days of flowers look like? Since 1975, the Macy's Flower Show has vividly displayed spring in full bloom in the world's most famous concrete jungle. This year, the Herald Square location will feature jaw-dropping arrangements of flowers and fragrances that represent an idea of bold modernism, color gradients, impact, and of course, alluring scents. The event will take place from March 27 through April 10, 2022, and showcase fragrances and floral designs, including Miss Dior by Christian Dior, Daisy by Marc Jacobs, Good Girl by Carolina Herrera, and more! No spring event has ever been as scent-sational as the Macy's Flower Show.
WHERE: 151 W 34th St, New York, NY 10001 | WHO: 212-695-4400
14 | Free Shows at the Lincoln Center | Are you wanting to see live entertainment in NYC but not pay an absurd amount on tickets? Have no fear, free shows at the Lincoln Center are here! Putting all jokes aside, the Lincoln Center is making arts and culture accessible to all city residents and visitors this spring with free performances, civic events, and discussions inside the David Rubenstein Atrium for the entire season! Enjoy an evening out on the town and catch performances like the Dance Floor: Orquesta Broadway and Sofia Rei for free!
WHERE: Lincoln Center Plaza, New York, NY 10023 | WHO: 212-875-5456
BRANSON, MO
15 | Street Fest at Silver Dollar City | Looking for an exciting way to spring into your vacation? Discover the colorful entertainment taking over Branson's favorite amusement park at the Street Feast at Silver Dollar City! From April 14 to May 1, 2022, watch as live entertainment takes the street, including the Passing Zone, Living Garden, Paint Jam featuring Harvey Dunn, and more! While you're checking out all of the new acts or in-between the 40 rides and attractions the park offers, don't miss out on the Street Fest Food favorites like Artisan Dipped Cones, Poutine Chips, Ravioli Nachos, and more.
WHERE: 399 Silver Dollar City Pkwy, Branson, MO 65616 | WHO: 800-888-7277
LAS VEGAS, NV
16 | Merrill Osmond Live | Ready to jam out to your favorite Osmond hits during your spring getaway in Las Vegas? Enjoy Merrill Osmond Live on April 1 and 2, 2022, at the International Theater at Westgate Las Vegas Resort & Casino! Merrill Osmond will be singing all of the classic Osmond favorites, like 'Crazy Horses,' 'The Proud One,' and 'Love Me for a Reason,' as well as songs from his new show, like 'Don't Want to Miss a Thing.' Since this show is beloved in England, this is the first time he'll be performing it in the U.S, and you won't want to miss this once-in-a-lifetime premiere!
WHERE: 3000 Paradise Rd, Las Vegas, NV 89109 | WHO: 702-732-5111
17 | Alfie Boe Showstoppers | Do you appreciate how Broadway brings music and storytelling to life? If so, you'll love Alfie Boe Showstoppers at Westgate Las Vegas Resort & Casino! Performing for the first time in Las Vegas, the Tony Award-winning English tenor is bringing Broadway favorites and today's latest hits to the stage of the International Theater on June 3 and 4, 2022! Spring the night away with Alfie Boe and enjoy a variety of music genres, including opera, pop, rock n' roll, big band swing, and more!
WHERE: 3000 Paradise Rd, Las Vegas, NV 89109 | WHO: 702-732-5111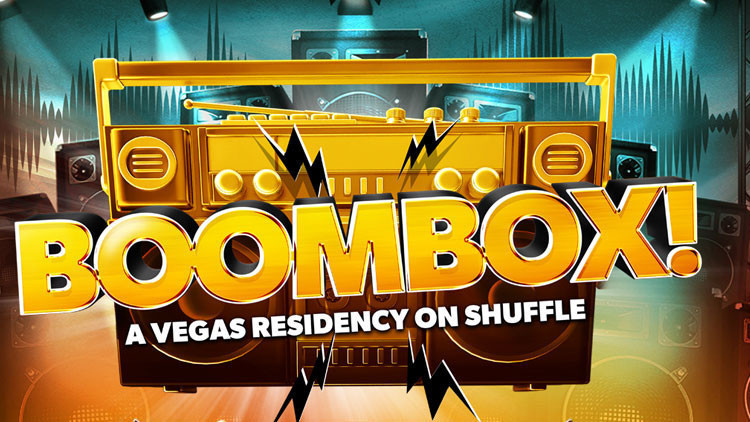 18 | Boombox - 80s, 90s Hip-Hop Concert | Ready to time travel for your next spring vacation? Get ready to groove to the hottest hits of the past decades with Boombox - 80s, 90s Hip-Hop Concert at Westgate Las Vegas Resort & Casino. Jam to the best beats of the past as legendary artists, including CeeLo Green, J.J. Fad, Treach from Naughty By Nature, and Snap, perform your favorite songs from the 80's and 90's from May 11 through May 22, 2022!
WHERE: 3000 Paradise Rd, Las Vegas, NV 89109 | WHO: 702-732-5111
PARK CITY, UT
19 | Canyons Village Spring Saturday Concert Series | After catching the last snow of the season at Westgate Park City Resort & Spa, be sure to stop by the Spring Saturday Concert Series at Canyons Village! Described as the perfect "après ski activity,' the concert series features local musicians, including Leah Woods, the Pranksters, the Pickpockets, and Silver King, every Saturday up to April 17, 2022, from 3 AM to 5 PM.
WHERE: 4000 Canyons Resort Dr, Park City, UT 84098 | WHO: 435-615-8040
MYRTLE BEACH, SC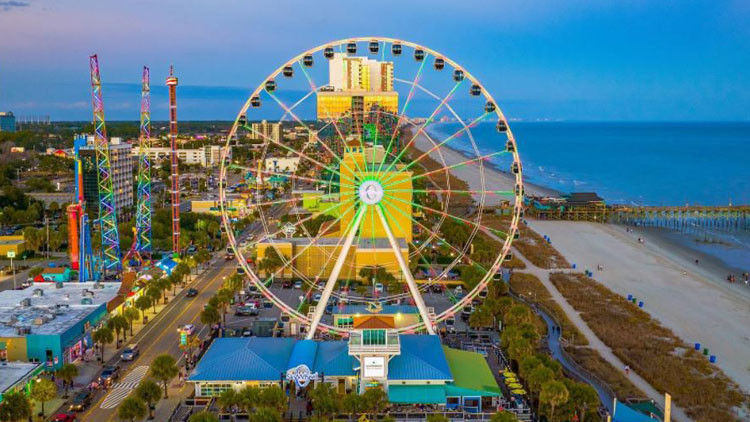 20 | Sun Fun Festival 2022 | Have some fun in the sun this spring season at the 66th annual Sun Fun Festival in Myrtle Beach! Starting at 10 AM on May 7, 2022, the Sun Fun Parade will run from 8th Avenue to 16th Avenue North in downtown Myrtle Beach. The event is the last event for spring and greets the oncoming summer with family-friendly activities and live entertainment!
WHERE: Second Ave N and 15th Ave N, Myrtle Beach, SC 29577 | WHO: 843-918-1014
Use Our Handy Map to Find Your Way Around!
Last Spring Events Ideas
Spring has officially sprung, which means it's time for festivals, concerts, and fun in the sun! From craft fairs to flower-powered festivals, these 20 Spring Events Happening in your Favorite Westgate Destinations offer something for every spring enthusiast. Ready to plan your spring vacation? Check out the Westgate Resorts Blog to learn about the many exciting activities happening near your favorite Westgate destination!

RELATED ARTICLE: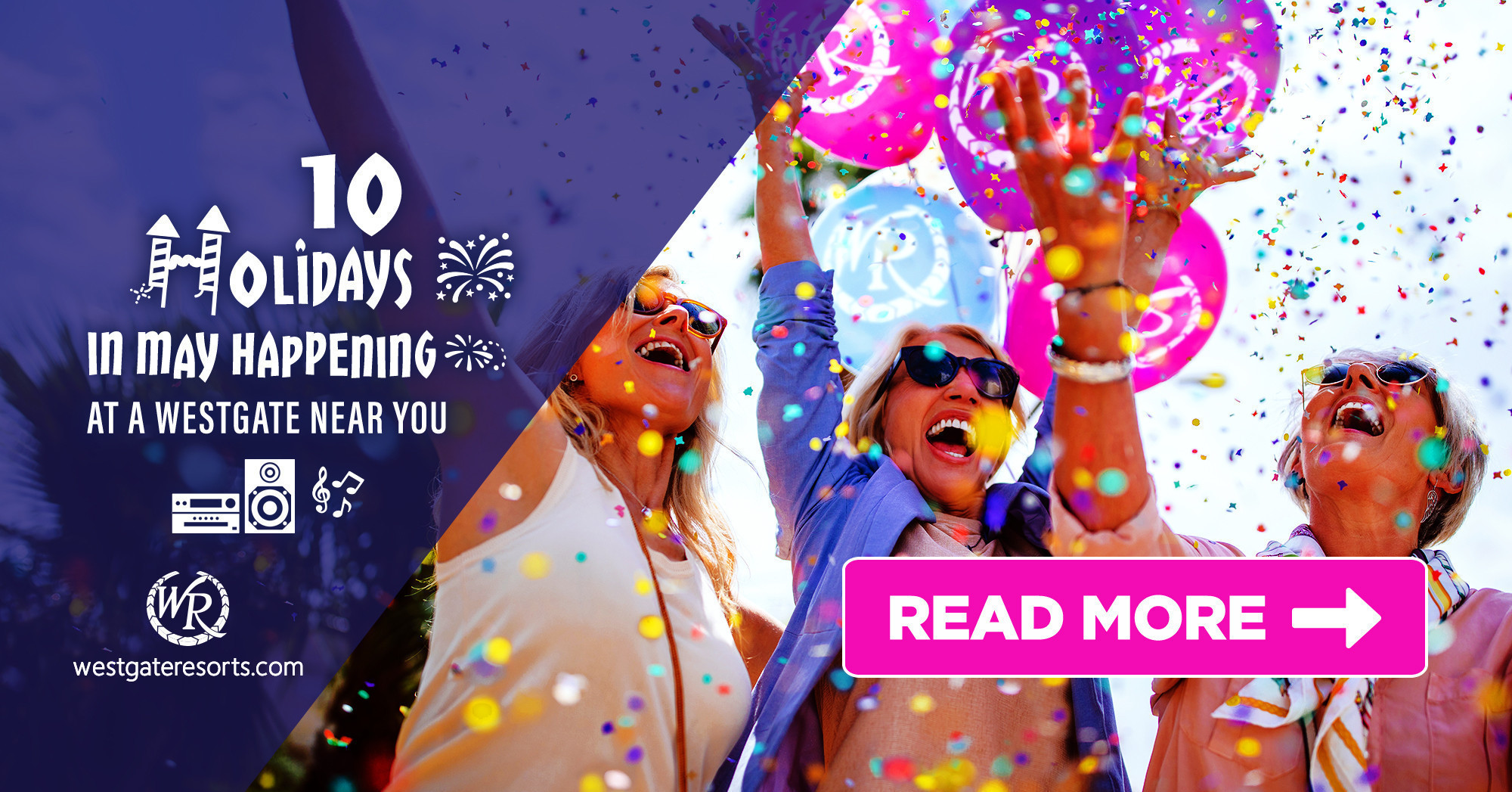 At Westgate Resorts, when you Check-In, there's a LOT to Check-Out! Your vacation awaits! Start planning your next vacation today or talk with a vacation planner at 888-852-2959 or 407-355-2690.
* Westgate Resorts is in no way affiliated with the attractions featured in this article. Items or places listed are current as of the publishing date of this article. Please call or visit the respective website for the most up-to-date offerings and details.
When You Check-in, There's a Lot to Check Out
Sign up for our newsletter and check-in to great offers, secret stuff, and special events.