Discover the History of Orlando Florida!
The History of Orlando Florida: Walking Into The Past
Looking for things to do in Orlando on the historical side? You're in luck! A short drive from the wonderful world of Disney, downtown Orlando features multiple historic neighborhoods and more than 50 national historic landmarks. Now you can experience the other side of Orlando by taking a Downtown Orlando Historic Districts Walking Tour. Guided tours are available once per month, or you can download a walking tour map and Guide to your phone or computer (http://www.cityoforlando.net/city-planning/historic-preservation/walking-tours/) to experience the historic sites on your own schedule. The tour route is approximately 2.5 miles.
Discovering the History of Orlando Florida, One Block At A Time
Spring Break Florida - Discover the Historic Side of Orlando, FL
On October 1, 1971, a little place called Walt Disney World opened in central Florida and eventually made an Orlando vacation one of the most popular destinations in the world. But the history of Orlando begins long before Walt Disney purchased land for his theme parks and even long before air conditioning was a thing.
Today, some of that illustrious history is on full display during a most interesting Downtown Orlando History Tour. The special 1.5 hour walking tour takes place once a month and focuses on the unique architecture of some of Orlando's oldest and most treasured buildings.
I started my free walking tour on a bright sunny morning at the Downtown Orlando Information Center where I was joined by 10 others. While waiting for the 9:30 am tour to start, our photos were taken and we received a personalized, commemorative Historic Walking Tour postcard featuring those pictures.
Right on schedule, we were met by our tour host, Richard Forbes. The City of Orlando's Historic Preservation Officer, he would quickly prove to be a walking encyclopedia of Orlando history knowledge as well as a most personable host.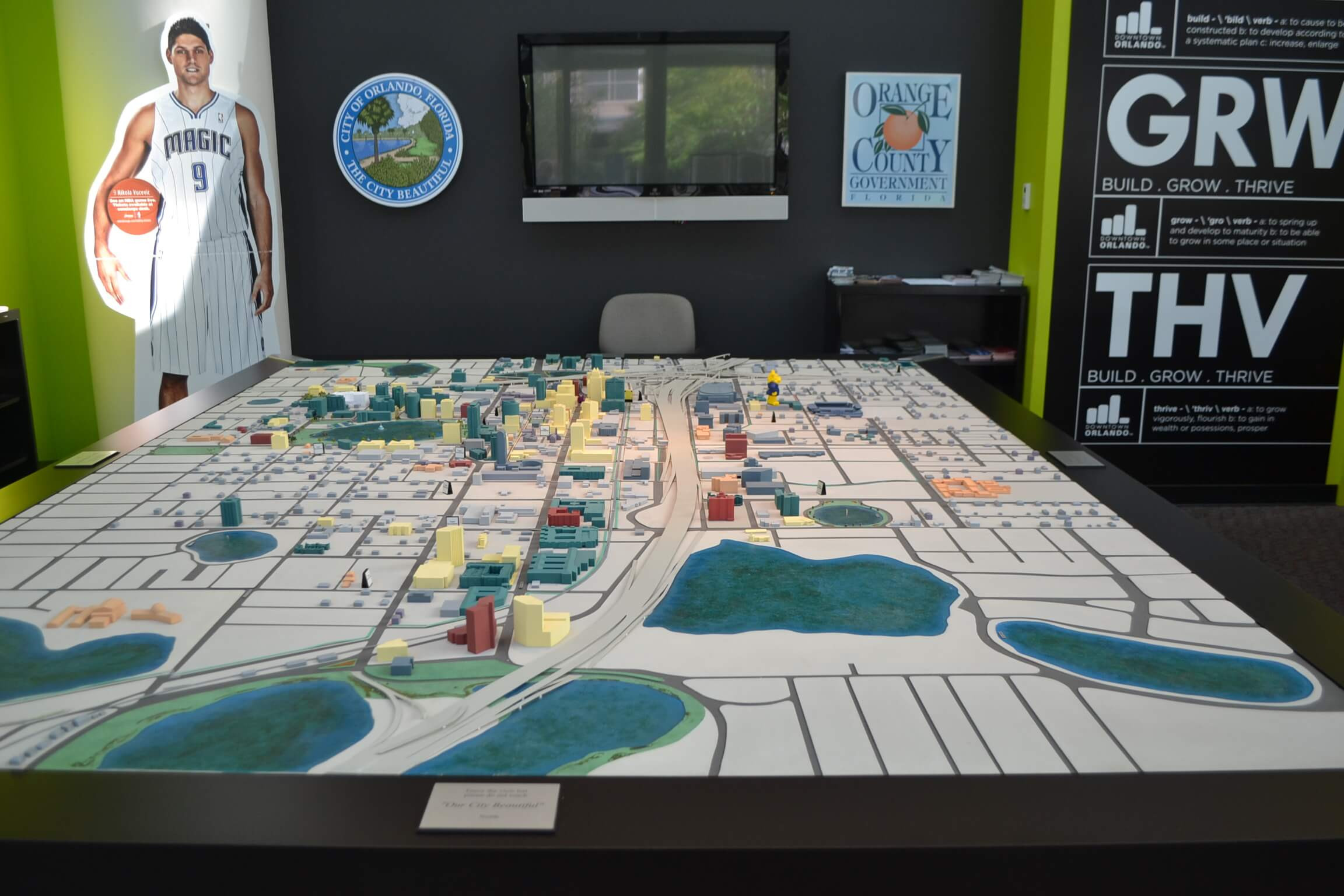 The Model Of A City Beautiful
After a brief introduction and a look at the scale model of Orlando that can be found inside the Information Center, we headed out to begin our walking tour. First stop was the First National Bank building, constructed in 1930 by architect Howard M. Reynolds. One of the first Art Deco buildings in Orlando, the building features etched columns and a variety of unique Egyptian motifs.
And What's The Matta With Terra Cotta?!
Next door was the Kress Building, offering an elaborate façade. The S.H. Kress Company used architecture as a unique branding tool for its stores. Architect Edward F. Sibbert created modern designs by utilizing decorative terra cotta and Art Deco styling. Built in 1936, the Kress store mantra was to be a vital piece of the downtown by providing inexpensive but quality merchandise as well as convenient downtown lunch counters.
Exquisite brickwork was accented by art deco designs of parrots swooping down toward the ground.
Chug On In For A... Hamburger?
Heading west down Church Street, we came across the Old Orlando Railroad Depot. The railroad originally arrived in Orlando in 1880, bringing goods from Jacksonville and points north. The first depot was run from the Bumby Hardware store before a wooden station was constructed in 1881 and another in 1886. But the iconic Orlando Depot was built by Henry Plant and opened in 1890. Still sitting elegantly next to the tracks, this beautiful depot takes you back in time and you can almost see and feel the bustling presence of passengers under the overhangs and waiting areas near the tracks. Certainly the depot was the first symbol that Orlando was growing and would soon become one of Florida's major cities.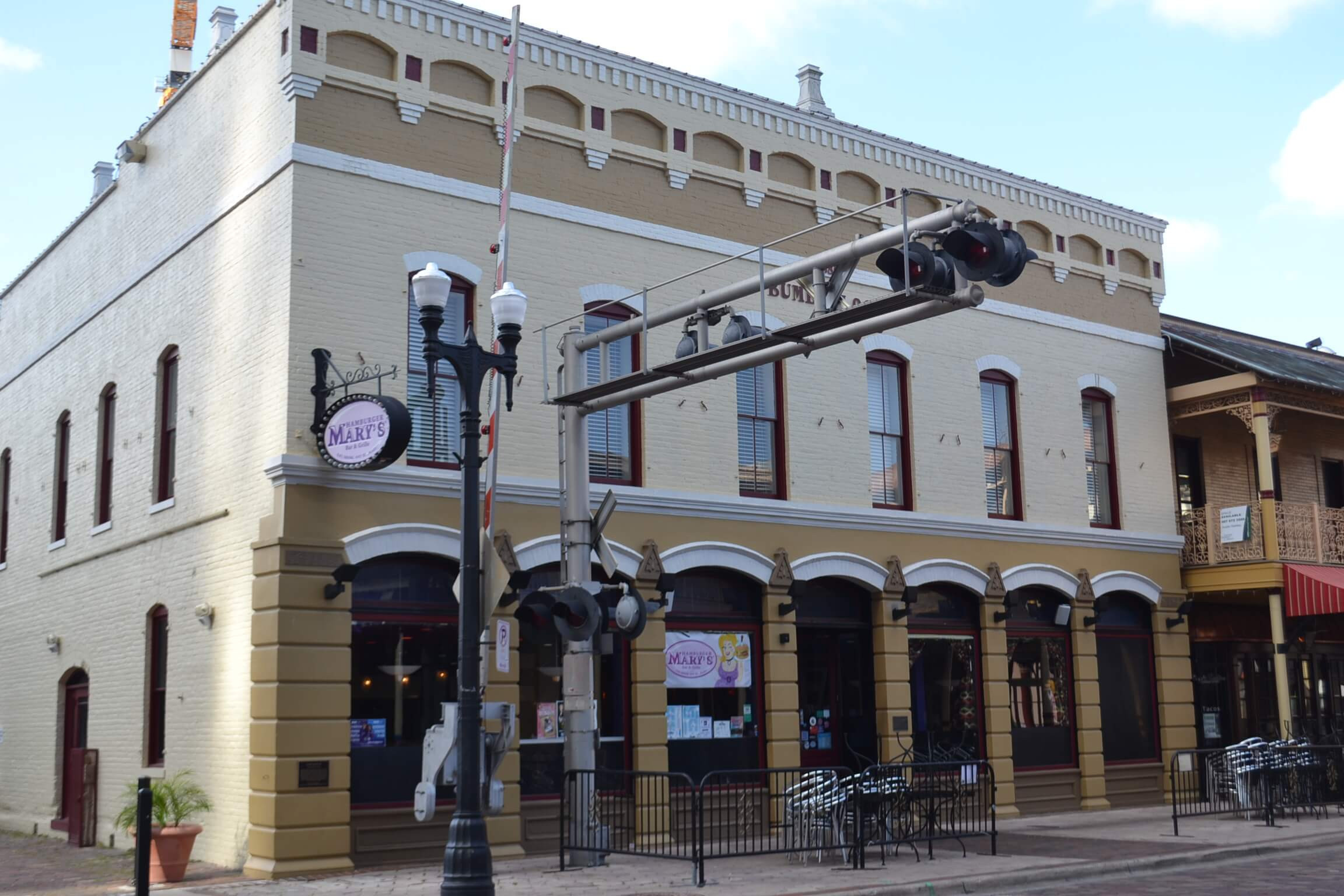 Directly across the tracks is the old Bumby Hardware, an elegant brick building with Art Deco designs, columns and arched windows. Now owned and maintained by Mary's Hamburgers restaurant, the Bumby building still exudes it historic charm of yesteryear.


Continuing down Church Street, the tour reached the old Slemons Department Store. William Slemons had this beautiful tan brick storefront constructed in 1924. It features stylish iron railings, columns, a covered front façade area and window canopies.
Though we were just getting started, our tour had already seen plenty just by strolling a few blocks along Church Street. At every stop along the way, our guide offered plenty of insight and tidbits into the architectural style and unique history of each building. And he was always ready, willing and waiting to take questions.
Now we would turn north along the railroad tracks and follow the path of Gertrude's Walk, an urban trail named after Gertrude Sweet. The walk follows three city blocks and is marked by bronze plaques of Gertrude's likeness. The path and the railroad occupy what was once Gertrude Avenue. Charles Sweet, an engineer and surveyor and one of Orlando's first mayors, laid out much of Orlando's street network. He named the city's widest street after his beautiful sister who was named "the most beautiful woman in Orange County." Gertrude's Walk took us up to W. Pine Street where we found another batch of spectacular buildings. The first was the Carey Hand Funeral Home. This 1920 ornate brick structure designed by F.H. Trimble featured elegant white archways. The funeral home was the first of its kind in Florida, offering both a chapel and the first crematorium in the south. The building also offered rooms where surviving family could stay while waiting for the funeral of their loved one.
Meanwhile, across the street was the Elijah Hand Building, constructed in 1905. The elder Hand was the first funeral director in the area to use embalming. Prior to embalming, the deceased were buried same day or the following morning. But the use of embalming gave reason for the Carey Hand Funeral Home to necessitate guest rooms.
Special alert for baseball fans. Further down the block we encountered the Tinker Building. The brick façade features blue and green accents and was built in 1925 to house Joe Tinker's real estate offices.
Tinker, of course, was better known for his days as a professional baseball player with the Chicago Cubs and Cincinnati Reds from 1902-1916. He was a member of a Cubs team that won four National League pennants and two World Series titles from 1906-1910. The building front features a plaque commemorating his accomplishments. However, I noted that the plaque itself is erroneous. It states that Tinker "helped the Cubs win the World Series in 1906, '07, '08 and 1910." While it's true the Cubs played in those World Series, they only won championships in 1907 and 1908.
Shortstops & Double Plays!
The shortstop was also part of the famed double play combination with Johnny Evers and Frank Chance – a combination immortalized in a poem (Baseball's Sad Lexicon published by Franklin P. Adams in 1910) as "Tinker-to-Evers-to Chance." A slick infielder, Tinker's legend grew substantially because of the poem.
After his playing career ended, Tinker came to Orlando to manage the Orlando Tigers minor league team and took advantage of a 1920s Florida land boom to open his real estate business. Tinker was inducted into the National Baseball Hall of Fame in 1946.
Continuing down Pine Avenue, we came across the eye-catching Rogers Building. Built by Englishman Gordon Rogers in 1886, the building jumps out at you with its bright green walls, rows of tall windows and maroon trimming. The Queen Anne style construction was completed with metal siding and decorative pieces shipped from England.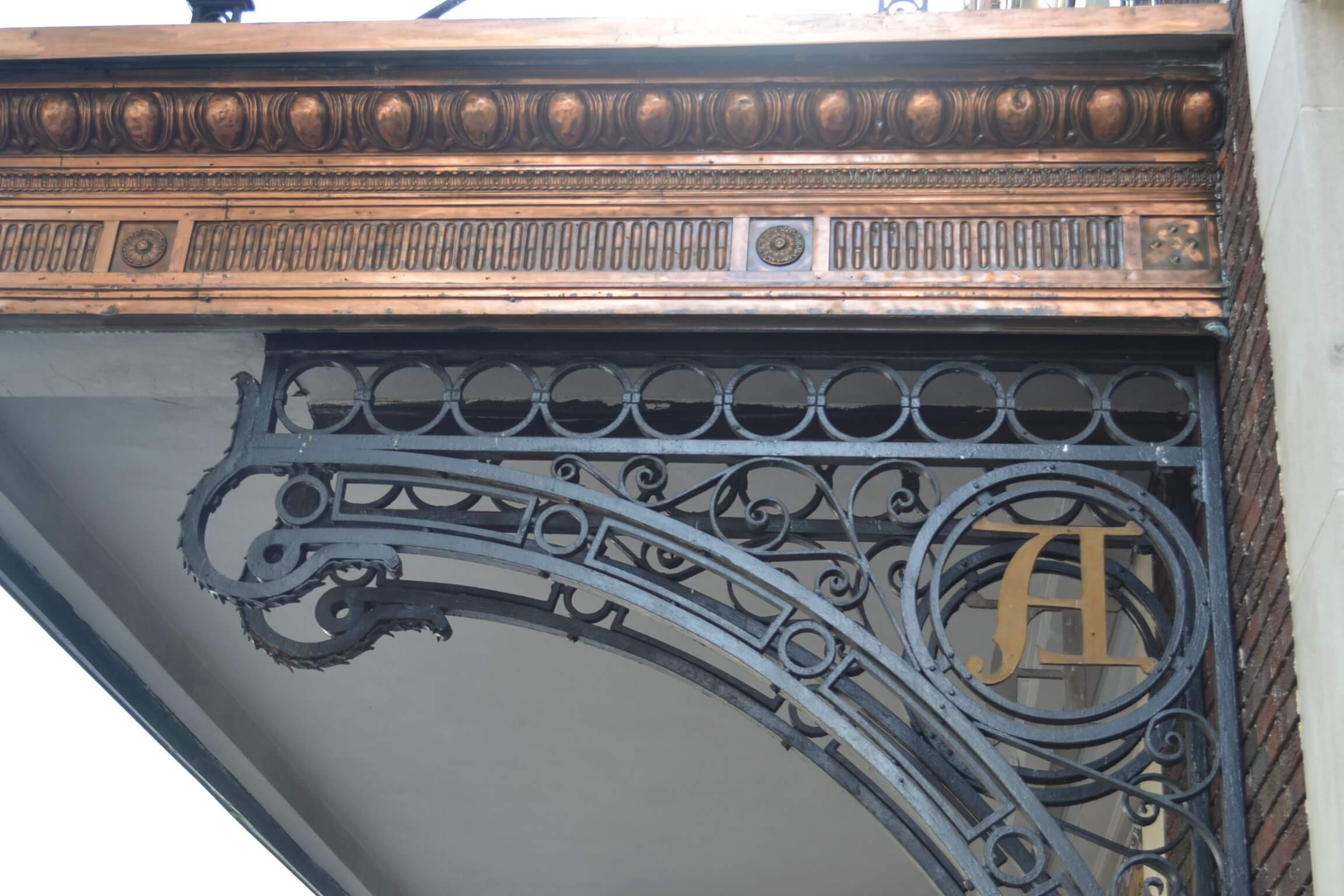 Upscale Hotels Make There Way To Orlando!
Next up came the Angebilt Hotel. Constructed in 1923 by building Joseph Ange and architect Murray S. King, the Angebilt was downtown Orlando's crown jewel – a dramatic 11-story, million dollar hotel complete with a rooftop garden, restaurant, bookstore, pharmacy and more. The tallest building in Orlando at the time, the former hotel is now filled with offices, but the building still retains much of its original style and heritage.
One of the highlights of the Angebilt lobby is a series of old photographs that show downtown Orlando as it looked in the 1920s and '30s.
Order In The Court!
Our last stop was the Old Orange County Courthouse. Completed in 1927, the building was known as the Million Dollar Courthouse, consisting of county offices, courtrooms and the jail. The spectacular building features tall columns, archways and dramatic lines. Among the events held at the courthouse was the 1980 trial of notorious serial killer Ted Bundy. He was tried and convicted of killing Kimberly Leach. As referenced by the term OLD Orange County Courthouse, the building was replaced by Orange Counties current 23-story courthouse complex constructed in 1997. The old courthouse is now home to the Orange County Regional History Center.
While our tour ended at the history center, it was actually the start of another tour! We were offered the opportunity to enjoy free admission to the History Center and allowed to wander freely through the four-story history museum and its wide range of exhibits.
Permanent exhibits at the museum include central Florida's African American history, an aviation exhibit that includes a replica World War II B-17 bomber, the Cattle and Citrus exhibit, and detailed exhibits on Florida's indigenous people and the first Spanish explorers. You'll also find sections dedicated to a pioneer cabin, Florida's natural environment, Florida tourism and even the opening of Disney World and the theme park era.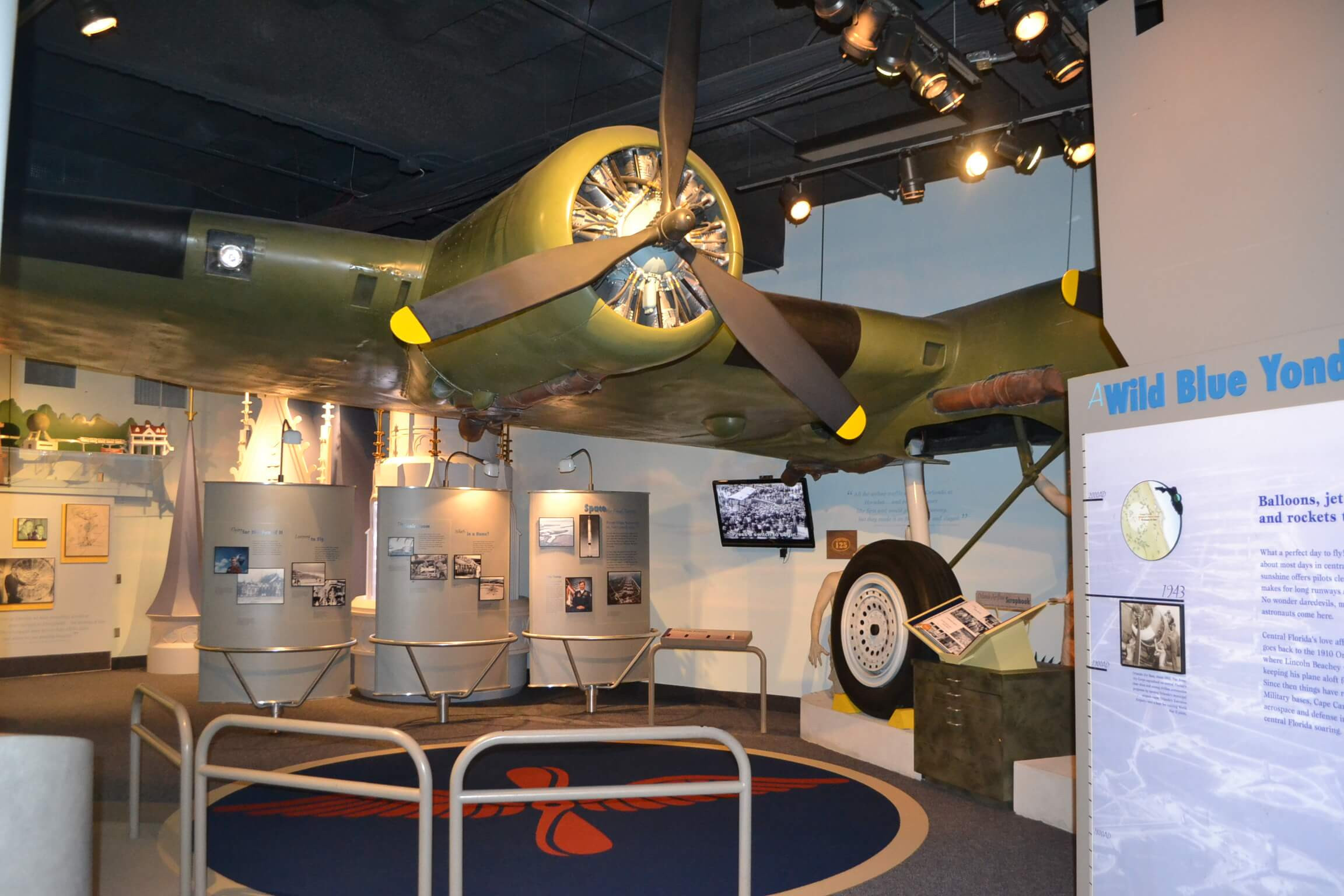 Another highlight of the museum is one of the actual courtrooms, preserved in its original glory, complete with original wooden benches, jury box, etc.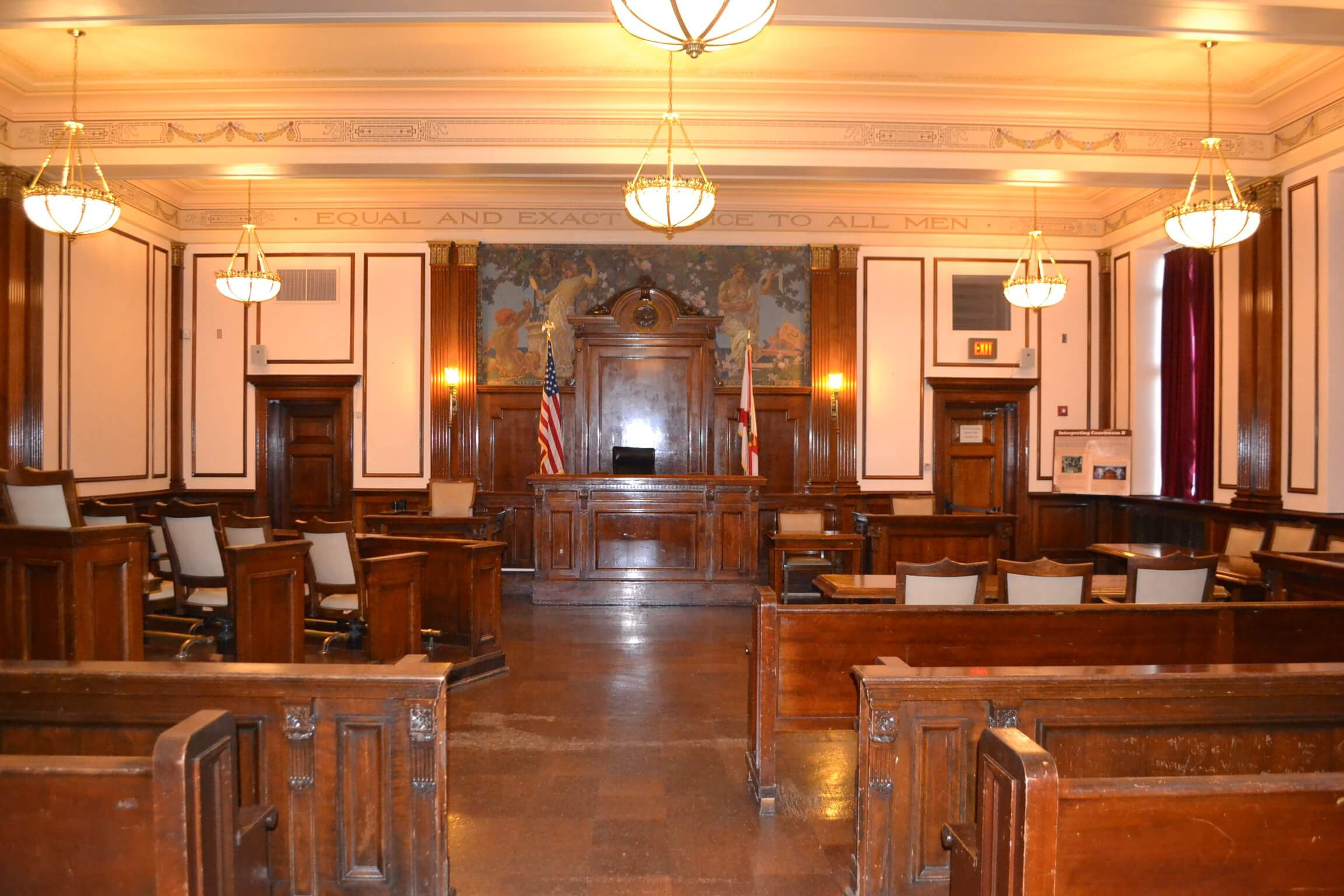 It's easy to spend a couple hours in the history center alone, so be sure to take that into consideration when you plan your walking tour. The museum is also a welcome stop that provides a chance to get out of the sun, enjoy the air conditioning, grab a drink of water or use the restrooms. When you've had your fill of Orlando history, step outside and you'll find a number of local restaurants where you can grab a bite to eat and enjoy lunch in the beautiful courtyard outside the museum. A special compass display in the courtyard also marks the absolute center of downtown Orlando.
Watch out for the alligator statues!
One final note. The City of Orlando has multiple historic neighborhoods and the downtown area we walked has a number of other historic buildings that were not included on the tour.
For more information on tours or an online history tour guide, go to http://www.cityoforlando.net/city-planning/historic-preservation/walking-tours

RELATED ARTICLE: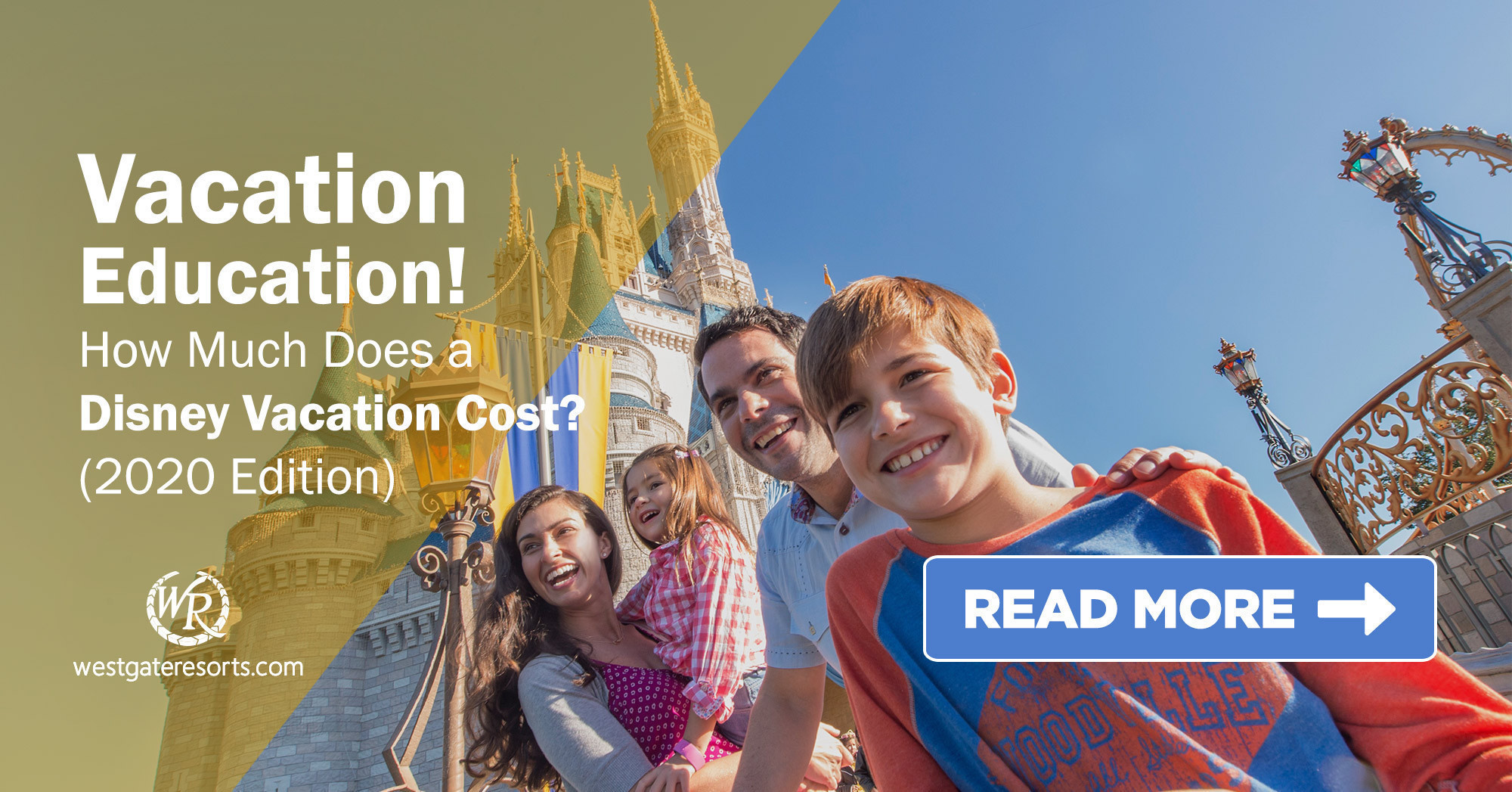 At Westgate Resorts, when you Check-In, there's a LOT to Check-Out! Your Orlando vacation awaits! Explore our Orlando resorts today or talk with a vacation planner at 888-852-2959 or 407-355-2690.
* Westgate Resorts is in no way affiliated with the attractions featured in this article. Items or places listed are current as of the publishing date of this article. Please call or visit the respective website for the most up-to-date offerings and details.
Other tagged pages of interest: orlando hotels near disney, resorts near universal studios orlando, lake buena vista resort, kissimmee resorts, kissimmee hotels, hotels orlando, orlando resorts, resort hotels, staycations
When You Check-in, There's a Lot to Check Out
Sign up for our newsletter and check-in to great offers, secret stuff, and special events.