60 Inspiring Travel Quote Images For Adventure Fuel!
The Best 60 Inspiring Travel Quote Images For Adventure Fuel!
Ready for the most epic travel quote list in the world? Discover these top 60 inspiring travel quote images to further stoke your summer adventure!
We Travel Not to Escape Life, But for Life Not to Escape Us
- Anonymous
- Aesop
The World is a Book, and Those Who Do Not Travel Read Only One Page
- St. Augustine
Travel and Change of Place Impart New Vigor to the Mind
- Seneca
Twenty Years From Now You Will Be More Disappointed by the Things You Didn't Do Than by the Ones You Did Do
- Mark Twain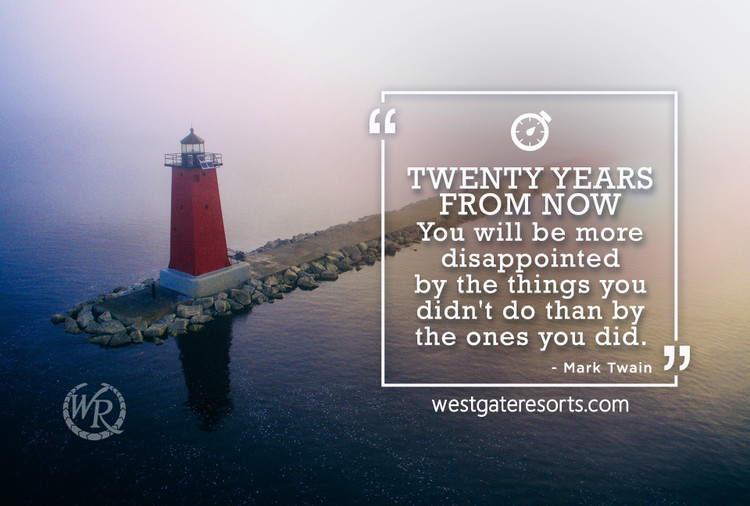 Once a Year, Go Someplace You've Never Been Before
- Anonymous
Travel is the Only Thing You Buy That Makes You Richer
- Anonymous
Traveling Tends to Magnify All Human Emotions
- Peter Hoeg
You Don't Have to Be Rich to Travel Well
- Eugene Fodor
People Don't Take Trips, Trips Take People
- John Steinbeck
Stop Worrying About the Potholes in the Road and Enjoy the Journey
- Babs Hoffman
I Travel a Lot; I Hate Having My Life Disrupted by Routine
- Caskie Stinnett
You Can Shake the Sand From Your Shoes, But it Will Never Leave Your Soul
- Anonymous
It is Better to Travel Well Than to Arrive
- Buddha
Wherever You Go, Go With All Your Heart
- Confucius
The Best Education I Have Ever Received Was Through Travel
- Lisa Ling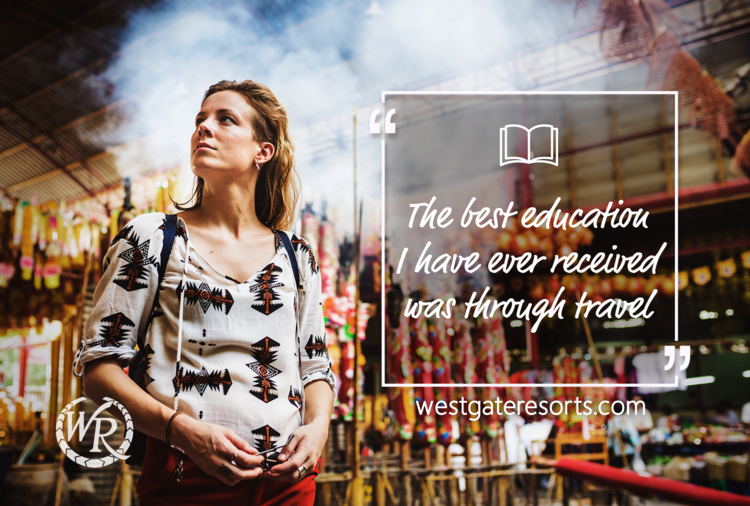 A Good Traveler Has No Fixed Plans, and is not Intent on Arriving
- Lao Tzu
Exploration is Really the Essence of the Human Spirit
- Frank Borman
Travel Can Be One of the Most Rewarding Forms of Introspection
- Lawrence Durrell
All Journeys Have Secret Destinations of Which the Traveler is Unaware
- Martin Buber
Deep Summer is When Laziness Finds Respectability
- Sam Keen
When All Else Fails, Take a Vacation
- Betty Williams
Summertime is Always the Best of What Might Be
- Charles Bowden
In Summer, the Song Sings Itself
- William Carlos Williams
Summer Means Happy Times and Good Sunshine
- Brian Wilson
A Vacation is Having Nothing to Do and All Day to Do It In
- Robert Orben
Everything Good, Everything Magical Happens Between the Months of June and August
- Jenny Han
Summer is a Completely Different Experience When You Know How to Grill
- Taylor Swift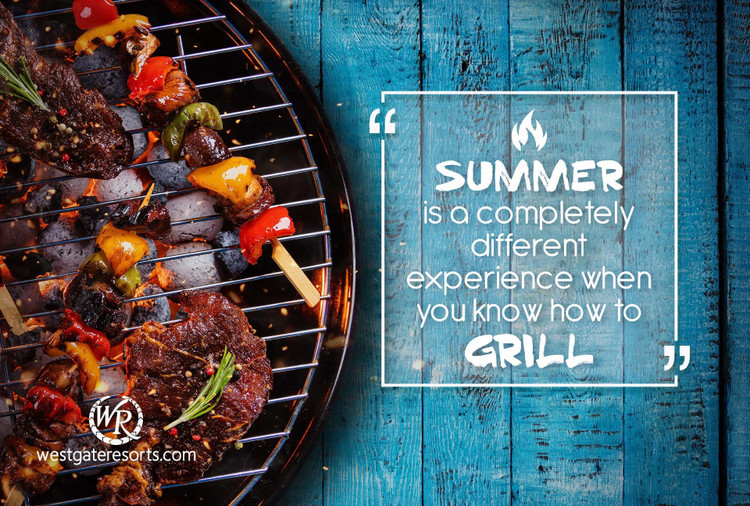 In Wintertime I Like to Wear Flannel Button Down Pajamas, and in Summer I Prefer to Wear, Well... Nothing
- Phoebe Tonkin
Write About Winter in the Summer
- Annie Dillard
- Dylan Lauren
My Summer Reading Suggestion: Pick a Really Famous, Really Long Novel
- Maria Semple
Two Roads Diverged in a Wood, and I – I Took the One Less Traveled By
- Robert Frost
Life is Either a Daring Adventure or Nothing
- Helen Keller
Catch the Trade Winds in Your Sails. Explore. Dream. Discover.
- Mark Twain
Every Man Can Transform the World From One of Monotony and Drabness to One of Excitement and Adventure
- Irving Wallace
One Must Maintain a Little Bit of Summer, Even in the Middle of Winter
- Henry David Thoreau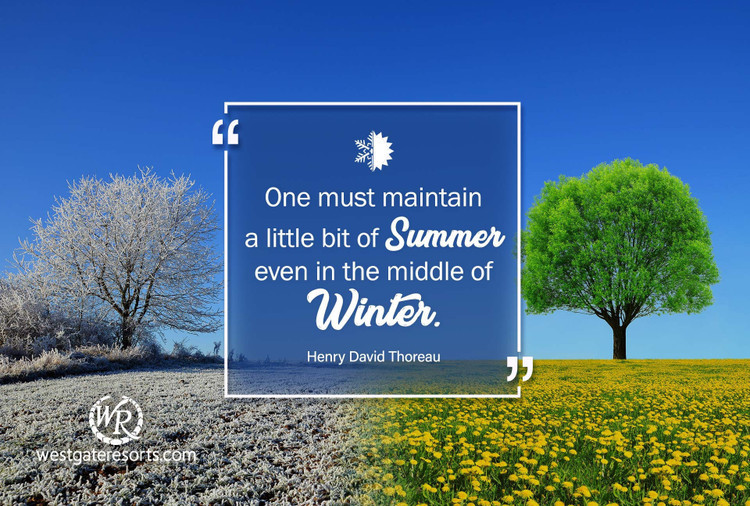 The Gladdest Moment in Human Life, Me Thinks, is a Departure Into Unknown Lands
- Sir Richard Burton
Be Fearless in the Pursuit of What Sets Your Soul on Fire
- Jennifer Lee
Water is the Driving Force of All Nature
- Leonardo da Vinci
The Cure for Anything is Salt Water - Sweat, Tears or the Sea
- Isak Dinesen
If There is Magic on This Planet, It is Contained in Water
- Loren Eiseley
Traveling – It Leaves You Speechless, Then Turns You Into a Storyteller
- Ibn Battut
- Hans Christian Andersen
- Anonymous
Dare to Live the Life You've Always Wanted
- Anonymous
Don't Listen to What They Say. Go See.
- Anonymous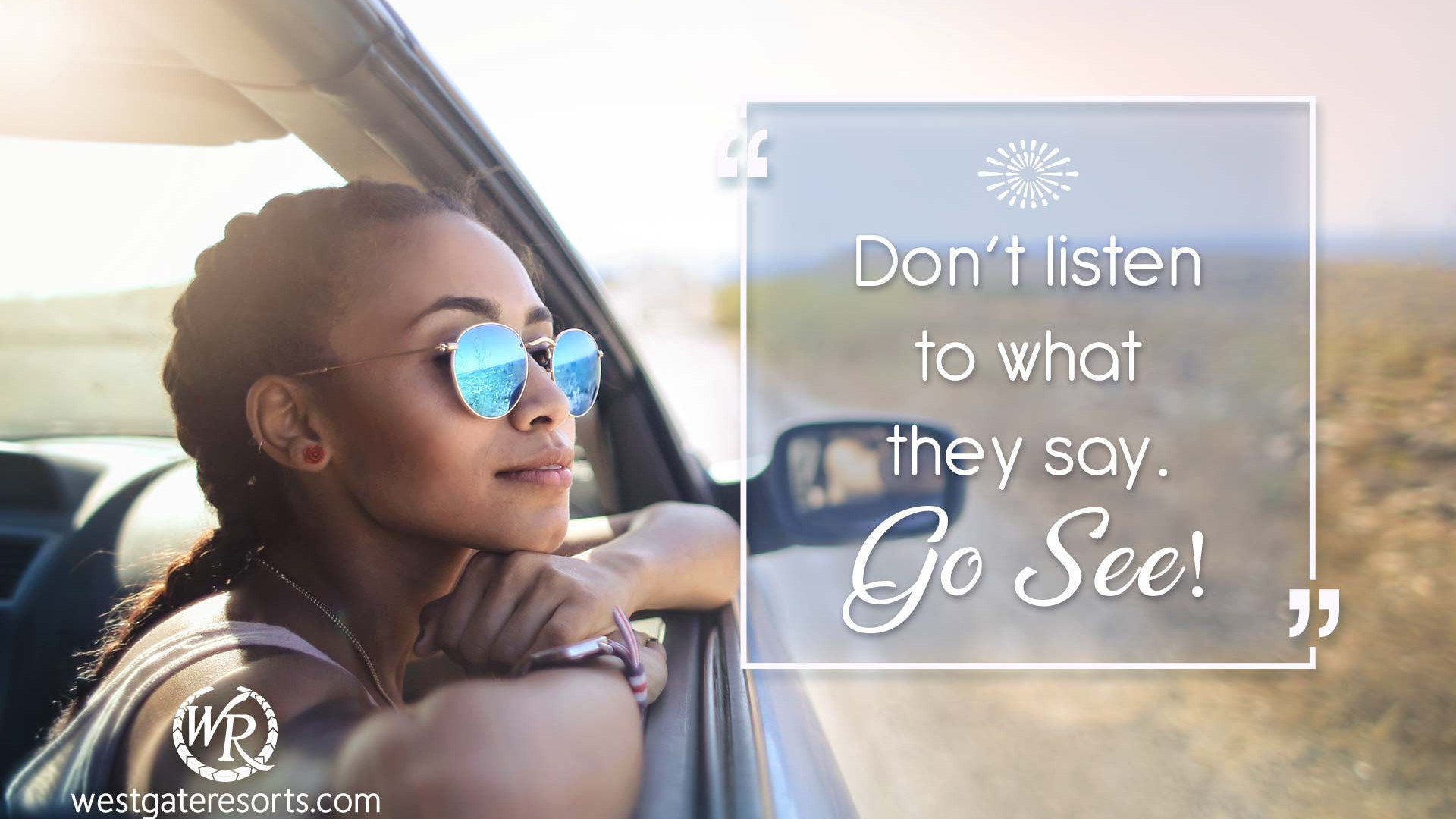 Not All Those Who Wander Are Lost
- J.R.R. Tolkien
Life is Short and The World is Wide
- Simon Raven
Life is a Journey. Make the Best of It.
- Anonymous
Blessed Are The Curious For They Will Have Adventures
- Lovelle Drachman
The Only Trip You Will Regret is The One You Don't Take
- Anonymous
I Haven't Been Everywhere, But It's On My List
- Susan Sontag
If Traveling Was Free, You'd Never See Me Again
- Anonymous
- Anonymous
Fill Your Life With Experiences, Not Things
- Anonymous
It's Better to See Something Once Than to Hear About It a Thousand Times
- Anonymous
There Are Far Better Things Ahead, Than Any We Leave Behind
- C. S. Lewis
- Anonymous
Never Go On Trips With Anyone You Do Not Love
- Ernest Hemingway
Love These Great Motivational Travel Quotes?
Explore even more quotes on our travel blog, as well as loads of fun, new specials like our Silver Dollar City packages and beach vacation deals! Whether it's great discounted Orlando Disney tickets, a stay at our world-class Smoky Mountain resort, a day in the life of our Daytona Beach resort, great discounts on cheap resorts in Orlando Florida, or all the great gaming activities baseball season has to offer at our Las Vegas hotels, you can explore our travel blog for all the great resort destinations we have to offer!
At Westgate Resorts, when you Check-In, there's a LOT to Check-Out! Your vacation awaits. Start planning your next vacation today or talk with a vacation planner at 888-852-2959 or 407-355-2690.
Other tagged pages of interest: orlando hotels near disney, resorts near universal studios orlando, lake buena vista resort, kissimmee resorts, kissimmee hotels, hotels orlando, orlando resorts, resort hotels, staycations
When You Check-in, There's a Lot to Check Out
Sign up for our newsletter and check-in to great offers, secret stuff, and special events.