8 Family Road Trip Ideas to Try
8 Family Road Trip Ideas to Try
There might be no greater sense of freedom than the one felt while driving on an open road with a full tank of gas. Road trips are a fantastic vacation option for families, as you control every aspect of the trip: the route, the distance, the time spent in each place, where you'll stop and when. You'll save more and see more than you ever thought possible and avoid the hassle that is mixing kids and airplanes. Explore your home state, drive through the Southeast, lay your head at one of Westgate's Orlando hotels or explore the entire country – the possibilities are endless!
No matter how meticulously you plan, it's a tried and true fact – the best memories from any road trip come from the unexpected stops along the way. The best souvenirs will come from a random roadside stand or gas station and the best meals you eat will be from the diner you stumble upon after you take the wrong exit. If you're heading out during the holidays, be sure to check out the worst days to travel by car at Christmas then load up your squad, fill up the tank, and buckle up for these 8 road trip ideas to try for your next family adventure!
1 | Hit the National Parks in an RV | An RV road trip just might be the quintessential summer staple of the American family. Nothing bonds a family more than driving around in 300 square feet of shared living space. While on the road, your RV is your car, hotel, and roadside diner all in one. And there are no travel destinations in the U.S more RV-friendly than the National Parks. While the national park system reaches every corner of the U.S, the majority are clustered in the western portion of the country, especially in California, Colorado, Utah, and Arizona. Some of the most popular are also located here, including Grand Canyon National Park, Zion National Park, Yosemite National Park, Arches National Park, Rocky Mountain National Park, and more! If you want to hit as many as you can, start your journey in northern California! Beginning at Redwood, make your way south and marvel at the sights of Yosemite and stare up at the great Sequoia trees. From there, head into Arizona and visit the Grand Canyon. No matter what time of the year you're traveling, the north rim is always less crowded than the south! Finally, explore the ancient cave dwellings of Mesa Verde in Colorado before heading into Utah on your way back to California.
2 | Get Your Kicks on Route 66 | Perhaps the most famous road trip route in America, U.S Highway 66, otherwise known as Route 66, runs for nearly 2,500 miles from California to Chicago. This is a great road trip option, as the route is clear and concise, and you can start from various locations in the U.S depending on where you live. Route 66 is one of the original roads of the American highway system and has been romanticized countless times in pop culture – your kids may even recognize the scenery from the hit animated film Cars! Stay at the historic Blue Swallow Motel in New Mexico or spend the day exploring the fossilized trees of Petrified Forest National Park in Arizona – some of the trees found here fell around 200 million years ago!
3 | Drive the Pacific Coast Highway | If you ever find yourself on the west coast, driving this scenic highway is a must. It's twisty and curvy and the views are plentiful! Start as far north as you can, in San Francisco, and drive south toward San Diego so you're better able to pull off the road to take pictures and admire the incredible views of the Pacific Ocean and the cliffs of the California coastline. Stop must-do stops along the 650-mile route include Half Moon Bay, Hearst Castle, Santa Barbara, Malibu, and San Juan Capistrano! Bonus points if you can squeeze your family into a convertible for maximum Cali-free-spirit vibes!
4 | Explore the East Coast | One of my favorite childhood memories is of the summer we spent driving up the east coast, from our home in Florida all the way up to Maine! If you take your time, this journey can take a month or longer. The further down south you begin your trip, the more you'll notice the changes in scenery and atmosphere – from the fireflies and warmer evenings of Georgia, North Carolina, and South Carolina, to the cool nights and coastal breezes of the New England states. Once you make it all the way to Maine, Acadia National Park is awesome for kids and adults alike who enjoy tiny sea critters and water! Enjoy exploring the endless amounts of tidepools and the creatures that live on the rocks there.
5 | Go Camping Through the South | The south is the perfect region to test your outdoor skills. Throw a tent and some chairs in the trunk, pack some essentials, and reserve campsites along your desired route – often for less than $40 bucks a night! Kampgrounds of America are a great option when traveling through the south. More commonly known as KOA, this chain of campgrounds with locations all across the country. Their campsites are basic, and their bathhouses are typically very clean – plus, the grounds often include fantastic family-friendly amenities like community fire pits, general stores, playgrounds, and even pools. Campground hopping during a road trip is an incredibly fun and cost-effective way for families to spend quality time together outdoors.
6 | Explore the "4 Corner" States | Ever dreamt of standing in four places at once?! This bucket list item can be achieved at the Four Corners Monument – the quadripoint where the states Colorado, Utah, Arizona, and New Mexico all meet! The monument marks the boundary between two Native American governments, the Navajo Nation and the Ute Mountain Ute Tribe Reservation, and individuals from each can be found nearby selling traditional crafts, pottery, and jewelry. The four states that meet at this intersection have so many awesome spots to hit if you decide to explore them individually. Spend a morning in Colorado driving through the mountains at Rocky Mountain National Park, then explore the shops and restaurants of Estes Park in the evening. On your way through New Mexico, be sure to stop in Santa Fe for some delicious southwestern cuisine – a style that's distinctly New Mexican. In Utah, you'll be amazed at the natural rock formations that encompass the landscape, especially at the national parks that represent the holy trinity of massive rocks: Zion, Bryce Canyon, and Arches!
7 | Spend the Weekend in New England | Barry Manilow wasn't messing around when he wrote that classic love song...there's nothing quite like a weekend in New England! Except maybe, an entire road trip. New England is a unique region on the east coast made up of the following states: Connecticut, Rhode Island, Massachusetts, Vermont, New Hampshire, and Maine. These are the smallest states in the U.S but they sure pack a punch! This gorgeous area is known for its vibrant fall leaves and distinct colonial-style homes. Visit ivy league campuses, explore the grounds of the Salem witch trials, dine on fresh-caught lobster, and marvel at t. My recommended route: New Haven, Newport, Cape Cod, Plymouth, Boston, Salem, and Bar Harbor.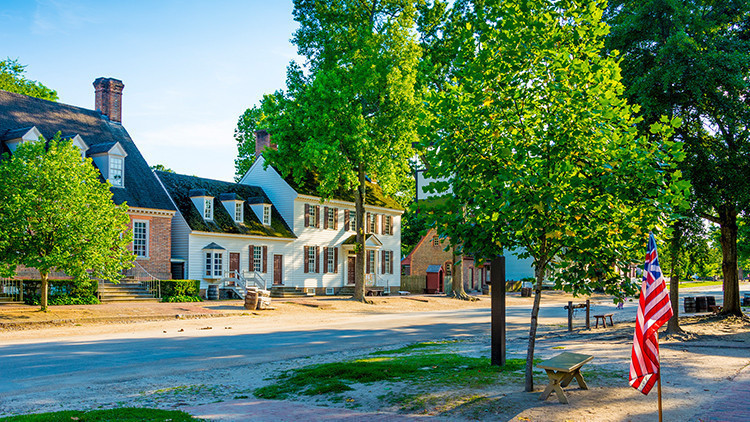 8 | Take A US History Lesson | Take the time to explore any city on the east coast and you're likely to run into a historical site or monument or two along the way. This portion of the country represents the 13 original colonies and is stuffed to the brim with history! For an educational road trip, make your first stop in Williamsburg, Virginia. Colonial Williamsburg is a 300-acre living history museum, where the traditions of 18th-century colonial America are shared 365 days a year. Walking the grounds, you'll notice traditional colonial jobs, clothing, and architecture. Once you've experienced how the people of Virginia once lived, it's time to continue your journey north, 150 miles to Washington, DC. While there are plenty of hotels in the city center, you can cut costs by staying in nearby Alexandria, Virginia. Spend a day or two of your trip exploring the monuments on the national mall. Finally, end your blast from the past trip with a stop in New York City. While NYC is known nowadays for its vibrant and diverse culture, food, and modern skyscrapers, back in the late 1700s, looming historical figures like George Washington and Alexander Hamilton could be seen walking the streets of lower Manhattan! Visit Kip's Bay and you'll be walking the site of a battle in the Revolutionary War, or grab a beer in Fraunces Tavern – which served as a headquarters for Washington during the war!
Last Trip Tips
Road trips are proof that the real fun is always in the journey, not the destination. Whether you're the type to plan your route down to the mile or wing it entirely, as long as the playlist is quality and you love the company you keep, you are almost guaranteed to have a good time. Don't forget to pack a cooler of drinks and ample snacks, and to switch off drivers every few hours if possible. If you're planning long stretches of rural driving, get gas when you see it – don't take chances! And most importantly, never hesitate to make unplanned stops. You never know who you'll meet or what you'd find. If you're to start planning your road trip and want some more tips, check out our Travel Blog for even more family trip ideas! Happy travels!

RELATED ARTICLE:
At Westgate Resorts, when you Check-In, there's a LOT to Check-Out! Your vacation awaits! Start planning your next vacation today or talk with a vacation planner at 888-852-2959 or 407-355-2690.
* Westgate Resorts is in no way affiliated with the attractions featured in this article. Items or places listed are current as of the publishing date of this article. Please call or visit the respective website for the most up-to-date offerings and details.
When You Check-in, There's a Lot to Check Out
Sign up for our newsletter and check-in to great offers, secret stuff, and special events.