How to Cook in a Hotel Room and Save Money [Updated 2023]
How to Cook in a Hotel Room and Save Money [Updated 2023]
What is the average cost of food at Disney World? It's no secret that Disney is expensive. The average family spends between $200 to $250 per day during their trip. That's $1,000 in less than a week! In fact, with so many restaurants near Disney World, it's easy to spend even more just for meals on a 5-day Orlando vacation.
While you definitely should try some of the amazing local fare, you can also save money by cooking in your hotel room. And with so many grocery stores near Disney World plus Marketplaces at Westgate properties, cooking your own meal to save a few dollars is a lot easier than you may think.
Take for instance, Westgate Vacation Villas Resort. When you stay here, you'll have access to a fully stocked Joe's Marketplace & Deli complete with on-site grocery shopping and quick dining for the whole family. Even better, each hotel room comes with its own fully equipped kitchen with a refrigerator, stove – even pots, pans and silverware included. This means you have everything you need so you can meal prep before you go to Disney for a more affordable and nutritious trip.
What to Cook in a Hotel Room: Hotel Room Breakfast Ideas
Before you start cooking in your hotel room, take some time to work out a food budget and meal plan for the duration of your stay. This is especially important if you or your family follow a special diet.
With so many dining options to choose from, both in the parks and around them, it's easy to see how your spending can quickly take a turn for the worse when it comes to your wallet.
Hotel room cooking is a cheaper alternative that allows you to customize your meals, cook foods quickly, and even pre-prep meals to store in your hotel room fridge for grab-and-go snacking.
Even better, there are plenty of quick, easy and healthy recipes that can be made in hotels with fridge and microwave options that allow you to cook delicious meals.
As they say, breakfast is the most important meal of the day but it shouldn't be the most expensive! A hotel with stovetop cooking and coffee maker can easily help you recreate some of the most popular Disney breakfast options without spending a fortune.
Let's take a look at two of the most popular Disney World recipes that we've transformed into easy hotel meals.
How to Make: Tonga Toast from Disney's Kona Café at Disney's Polynesian Resort & Peanut Butter & Jelly Milkshake from 50's Prime Time Café at Hollywood Studios.
Real Suite Eats! Presented by Westgate Resorts from Westgate Resorts on Vimeo.
Do the Math: Tonga Toast
Tonga toast costs $16 per serving at Disney's Polynesia Resort. For a family of four, that's $64 just for breakfast! Instead of forking over the extra dollars, you can spend less by picking up some ingredients from the Marketplace at Westgate Vacation Villas or a local grocery store.
Hotel Room vs. Disney
Kona Cafe at Disney's Polynesian Resort
Fully Equipped Kitchen at Westgate Resorts
Serving Size
1 sandwich (toast)
1 sandwich (toast)
Cost per sandwich
$16
$12
Total cost for family of 4
$64
$48**
*Sliced bread used as a substitute for Texas Toast in this recipe. **Total cost based on full grocery list of ingredients purchased in conventional units at The Marketplace. Prices based on the current cost of items at the time of writing.
There are even delivery options that can bring the groceries directly to your room when you shop at the Marketplace!
Do the Math: Peanut Butter & Jelly Milkshake
Is there anything that pairs better than peanut butter and jelly? This wildly popular drink at Hollywood Studios' 50's Prime Time Café costs $9 a cup with no refills. For a family of four, that's $36. Compare the savings when you make the same shake in your room!
Hotel Room vs. Disney
50's Prime Time Cafe at Disney's Hollywod Studios
Fully Equipped Kitchen at Westgate Resorts
Serving Size
1 milkshake
1 milkshake*
Cost per milkshake
$9
$5
Total cost for family of 4
$36
$20**
**Total cost based on full grocery list of ingredients purchased in conventional units at The Marketplace. Prices based on the current cost of items at the time of writing.
And the bonus! In a hotel, you can make multiple milkshakes for a fraction of the total cost a typical family would spend on these tasty treats at Hollywood Studios.
These milkshakes are perfect for wrapping up lunch or can be enjoyed as a standalone dessert for a separate meal.
Other Easy Hotel Room Breakfast Ideas
There are tons of quick and easy recipes that are inexpensive to make in a hotel room. Rather than splurge at a Disney resort restaurant, try a few of our top picks that can be easily made in your hotel room.
Breakfast ideas: Breakfast cereals with milk | French Toast and fresh strawberries | Granola bar with orange juice | eggs and bacon | potato and scrambled eggs | fresh fruit bowls | fruit smoothies | egg salad sandwiches | chicken noodle soup | corn bread | pancake | deli meat sandwiches | mac and cheese
Pro Tip: Bring hotel room cooked meals and snacks along as you explore Disney World and Orlando.
Where to Find the Best Ingredients
If you're staying at Westgate Resorts, the Marketplace is the easiest place to find toiletries, groceries and vacation essentials. The Marketplace has a large selection of food, snacks, and beverages, including chilled wines, ice-cold beers, and nonalcoholic drinks. Bottled water and juices are always available for you to stock up on before your big day out.
In addition to buying all the ingredients needed for hotel room meals, made-to-order deli staples, like salads, sandwiches, and subs with fresh meats and cheeses are also available.
For even greater variety, head to your local grocery store close to Disney World for even more ingredients. If you're in the mood to head out for a meal, there are also a number of options that deliver or allow you to pick up meals to go. Don't miss out on Orlando's I-Drive; International Drive restaurants offer a diverse collection of cultural culinary delights, including Italian eateries, Thai food, Mexican restaurants, and more.
There are also plenty of beloved American staple chain restaurants, as well as entertainment hotspots like Dave & Buster's and Kings Dining and Entertainment.
For adults, nearby downtown Orlando bars offer everything from upscale dining atmospheres to lively party scenes. Their unique menus also present a fun opportunity to try local cuisine while enjoying a night on the town.
Preparing Your Area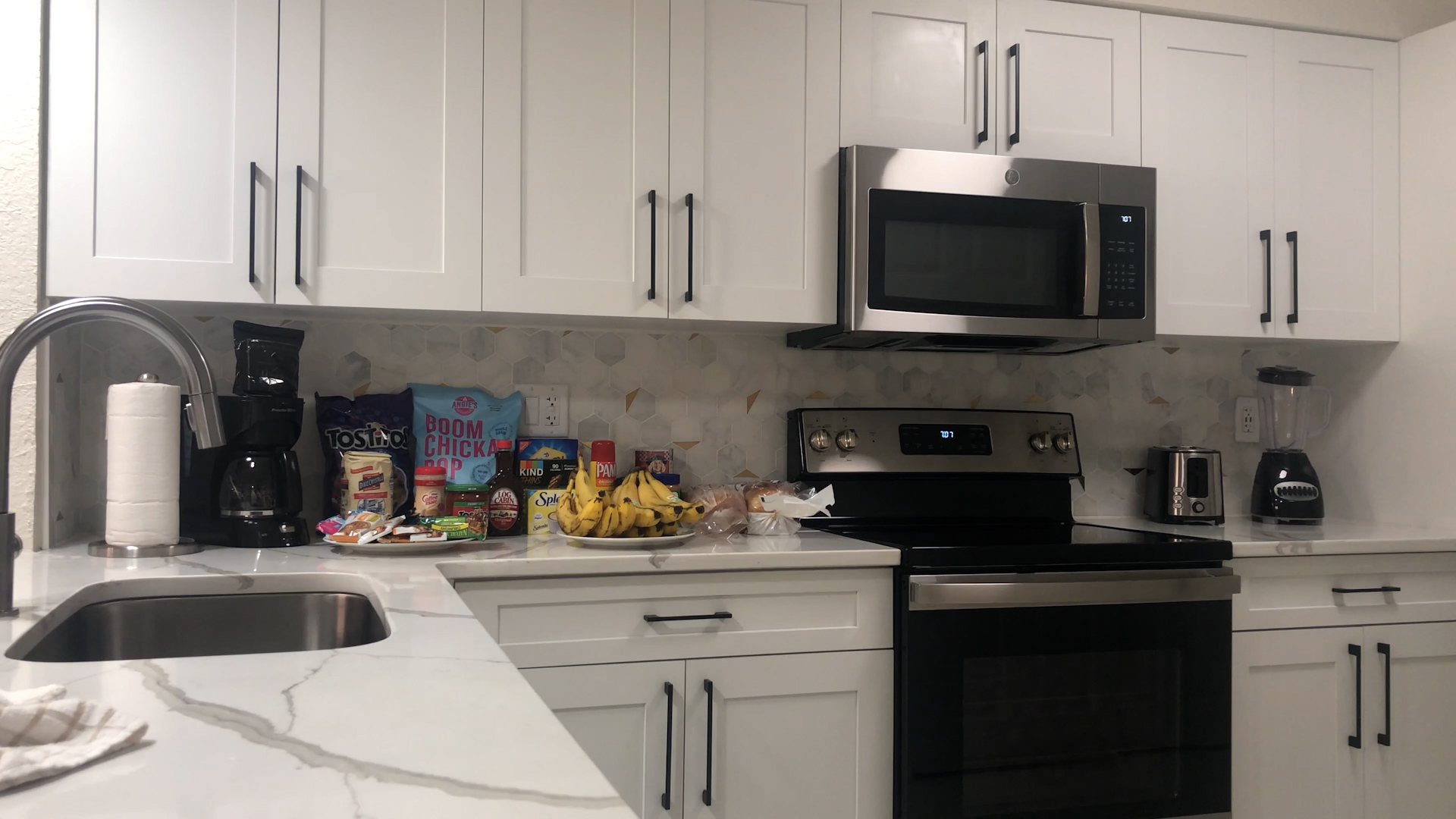 Once you've gotten your ingredients, set up a prep area in your hotel room kitchen using the cooking appliances and cookware that come with your room. At Westgate Vacation Villas, everything you need to cook delicious meals with no hassle will already be there.
You'll find full kitchens with a fridge, blender, and stove, and a cookware collection complete with bowls, plates, and silverware you'll need to prepare your recipes.
Here's all you need to make Tonga Toast and Peanut Butter Milkshake
Cookware | 2 Medium bowls (to roll toast and dip toast) | 1 fork (to blend) | 1 whisk (or fork) | 1 large pan | 2 knives (to slice bread and cut banana) | 1 blender | 3 spoons | 4 cups (to serve milkshake) | 4 plates (to serve toast)
Cook Your Meal
Tonga Toast Recipe & Prep
This delicious sourdough toast is dusted in cinnamon and stuffed with sweet bananas. It's a hearty way to start the day, and it will leave everyone feeling ready to kick the day off on a high note.
Peanut Butter & Jelly Milkshake Recipe & Prep
This sweet milkshake is sure to become a favorite for kids and kids-at-heart. An easy and fun 50's-inspired recipe, you'll surely find yourself recreating this again after you've gone home.
Presentation: Where to Eat
Once you've finished preparing your meal, that's when the fun really starts: eating! The best part is, you can choose where you want to enjoy your masterpiece.
If you have little ones who want to get up and go, pack a picnic basket or head to the park.
If you want to have a slow start to the morning, eat on your hotel balcony or in the fully equipped kitchen in your room.
No matter what you choose, your delicious eats can be enjoyed your way on a cheaper budget.
Frequently Asked Questions
No, visitors are not permitted to bring electric stoves, hot plates, electric skillets, or burners. All of the Westgate Lakes kitchenettes include everything you need to safely cook in your room.
If you are unable to prepare what you'd like in the kitchenette, there are plenty of restaurants, bars, and delivery options available. Our staff will happily help you find the perfect meal for your stay.
Yes! Our one and two-bedroom villas have kitchenettes with all the appliances you need to prepare meals. In our studio villas, we provide guests with a microwave to heat up food or prepare microwavable meals purchased at the Marketplace on the property.
One and two-bedroom villas have all the appliances guests need to prepare their own meals. All accommodations come with refrigerators, microwaves, toasters and coffee pots.
Studio villas have microwaves whereas one and two-bedroom villas have stovetops, ovens and microwaves to reheat your food.
Unfortunately, guests are not permitted to bring small appliances into their hotel rooms. These include slow cookers, toasters and hotplates. The only cookware you may use are the ones provided to you free of charge inside your kitchenette.
Yes, Disney does allow guests to bring food from outside. However, you can't bring in any type of food in glass containers, and the food must not need reheating in the park itself. You are allowed to prepare meals in your hotel room.
We suggest packing sandwiches and cold cuts that you make yourself. Wrap them in foil, so you can easily throw out your waste with no hassle at the park.
Final Tips on Cooking in a Hotel Room to Save Money on Food on Your Disney Vacation
Your next trip to Disney should be all about fun and magic. Choose a hotel that allows you to prepare your own meals, so you can eat healthy, save money, and focus on spending time at the park with your favorite characters.
Learn more about Westgate Vacation Villas Resort and check out the rest of our Travel Blog for vacation tips, tricks and savings.

RELATED ARTICLE:
At Westgate Resorts, when you Check-In, there's a LOT to Check-Out! Your Orlando vacation awaits! Explore our Orlando resorts today or talk with a vacation planner at 888-852-2959 or 407-355-2690.
* Westgate Resorts is in no way affiliated with the attractions featured in this article. Items or places listed are current as of the publishing date of this article. Please call or visit the respective website for the most up-to-date offerings and details.
When You Check-in, There's a Lot to Check Out
Sign up for our newsletter and check-in to great offers, secret stuff, and special events.