The 10 Best Places to See NYC Fireworks You'll Never Forget
The 10 Best Places to See NYC Fireworks You'll Never Forget
Summer is right around the corner, so you know what that means! It's time to start planning where you're going to watch fireworks on the 4th of July. While some people search for things to do outside NYC, others are content to stay in the Big Apple and watch the fireworks.
The thing is, the city is pretty big, so you need the inside scoop to find the best places to kick back, light your sparklers and enjoy the fireworks display. But wait! The fireworks don't kick off until after dark, so what do you do in the meantime?
From finding the perfect July 4th brunch spot to strolling across the Brooklyn Bridge, there are plenty of fun things to do in NYC.
Where to Watch Fireworks in NYC
With Macy's 47th Annual Fourth of July fireworks display being a few weeks away, it's never too early to embrace your patriotic spirit.
And with so many places along the Hudson River, Brooklyn and even down in Coney Island, Times Square definitely isn't your only option this Independence Day.
Check out our roundup of the 10 best places to watch NYC fireworks on the Fourth of July. With different vantage points around the city, this is the ultimate list to the top firework views in the city.
1 | Westgate New York Grand Central | Whether you're in the mood for a staycation or are visiting the Big Apple for the first time, why not make the most out of Independence Day weekend?
Book a luxury suite at the Westgate on East 42nd and enjoy everything the city has to offer. If you're an out-of-towner, you can check out the historical sites in NYC before the fireworks. Afterwards, you can explore the many jazz clubs NYC has to offer or head over to a local deli to grab a late-night snack.
Westgate's prime location also gives you easy access to Grand Central, the Empire State Building, iconic Bryant Park and even some of the best Escape room NYC spots!
If you prefer to stay close to the hotel, Westgate has everything you need at your fingertips. You can enjoy casual fare at Tudor City Tavern before you head to the rooftop or your private balcony to enjoy the firework display!
WHERE: 304 E 42nd St, New York, NY 10017 | WHO: 212-986-8800
RELATED ARTICLES:
The 6 Best Places to Watch Manhattanhenge 2023
The 20 Best Rooftop Restaurants in NYC [2023 Guide]
45 Fun Things to do Alone in NYC [2023]
2 | The Greens at Pier 17 | If you're searching for the ultimate spot to watch fireworks in NYC, look no further than The Greens at Pier 17! Nestled in the heart of the Seaport District, this lush urban oasis offers unbeatable views of the dazzling pyrotechnics display over the East River.
As you settle onto a cozy, socially distanced lawn pod, you'll be surrounded by the vibrant atmosphere of fellow fireworks enthusiasts, making for a truly memorable experience. Don't forget to grab a delicious bite from one of the local food vendors, or toast the night away with a refreshing cocktail from the outdoor bar.
Trust us, with its enchanting ambiance and front-row seats to the fireworks, The Greens at Pier 17 will quickly become your go-to spot for celebrating special occasions in the city that never sleeps.
WHERE: 89 South St, New York, NY 10038 | WHO: 919-512-7540
3 | Four Freedoms Park on FDR | Ride the iconic Roosevelt Island tram over to FDR Four Freedoms Park and enjoy beautiful views of the 4th of July fireworks.
Even when it isn't time for the light show, Four Freedoms Park is a beautiful place to take a break from the hustle of the city. Enjoy strolling throughout the four-acre park that was made in honor of Franklin D. Roosevelt.
From the park, you can enjoy pristine views of the East River, Queensboro Bridge, and a beautiful tree-lined alley that makes for excellent photo-ops.
WHERE: 1 FDR Four Freedoms Park, Roosevelt Island, NY 10044 | WHO: 212-204-8831
4 | Empire State Building | Voted America's #1 attraction, the Empire State Building is a can't-miss stop for anyone new to the city. It's also a phenomenal place to take in the Fourth of July fireworks; from the top of the building, you can see up to 80 miles away, all the way across NYC into New Jersey, Connecticut, and even some parts of Pennsylvania.
On July 4th, the Empire State Building features unbeatable 360-degree views, a delicious array of appetizers, a two-hour open bar, and a live DJ. It's the greatest viewing party in Manhattan with the best view of the city.
WHERE: 20 W 34th St, New York, NY 10001 | WHO: 212-736-3100
5 | Summit One Vanderbilt | Take Independence Day to new heights as you watch the fireworks 1,100 feet above Manhattan at Summit One Vanderbilt.
Conveniently located near Westgate Grand Central, this viewpoint is the ideal spot for anyone 21+ who wants to mix and mingle while they appreciate the show.
The all-glass, panoramic floor, walls, and ceiling make the fireworks spectacular feel truly surreal. The 2023 Summit One Vanderbilt 4th of July fireworks package includes exclusive access to all three floors and an open bar.
You will have no trouble getting the absolute best fireworks photos from this spot, especially with the windowless effect created by non-reflective glass.
WHERE: 45 E 42nd St, New York, NY 10017 | WHO: N/A
6 | Watermark Beach Bar | Enjoy the breeze and view at this open-air cocktail bar at Pier 15. Their Fourth of July party features an exclusive menu of tasty American treats, like a Beach Kebab with molasses-thyme-marinated beef tenderloins, char-grilled corn on the cob, and Red, White & Boozy Jell-O shots.
The view of the East River and Brooklyn bridge make the perfect backdrop as the magnificent fireworks light up the night sky.
The Fourth of July bash will kick off early in the day, so you can spend the whole afternoon under the sun with music, great food, and special cocktails at this beach-themed restaurant.
WHERE: 78 South St Pier 15, New York, NY 10038 | WHO: N/A
7 | Gantry Plaza State Park | With fantastic views of Midtown, Gantry Plaza State Park is a convenient viewing spot in Long Island City, located in Queens.
Built on a former dockyard, the park includes long stretches of NYC skyline views and many spots perfect for settling in to enjoy the fireworks. There are four different piers connected to the park, offering plenty of opportunity to catch incredible firework views and video footage.
WHERE: 4-44 47th Rd, Queens, NY 11101 | WHO: 718-786-6385
8 | Pilot in Brooklyn | When you think of Independence Day, you likely think of backyard BBQs and lounging by the pool. But what if you enjoyed this Fourth of July differently, like eating at a floating oyster bar on a historical boat, while taking in the views along the East River?
If that sounds like your kind of scene, then look no further than Pilot. Hop aboard the 1924 schooner for a 4th of July fireworks special featuring fresh oysters, cocktails, and unobstructed views of the Macy's fireworks show.
You'll find the boat docked at Pier 6 on the north side of the Brooklyn Bridge.
WHERE: Pier 6 Brooklyn Bridge Park, Brooklyn, NY 11201 | WHO: https://crewny.com/pilot
9 | Marsha P. Johnson State Park | Located in Williamsburg, this park offers beautiful waterfront views of Midtown Manhattan, perfect for enjoying the fireworks display. Formerly called the East River State Park, this stretch of seven acres in Brooklyn is a popular spot among locals.
With lots of open green space, you can easily have a great 4th of July picnic or pitch a lawn chair to enjoy the views.
WHERE: 90 Kent Ave, Brooklyn, NY 11211 | WHO: 718-782-2731
10 | Hunter's Point South Park | Another great spot to watch the fireworks in NYC is Hunter's Point State Park in Queens.
Across from Manhattan, you'll be able to enjoy plenty of skyline views along with amenities like a dog run, a bikeway, picnic terraces, and comfort stations. The Hunter's Point South Snack Bar includes an outdoor cafe and over 2,000 square feet of space to stretch your legs and take in the sights.
WHERE: Center Blvd, Long Island City, NY 11101 | WHO: 212-639-9675
Use Our Handy Map to Find Your Way Around!
YOU MAY ALSO LIKE:
The 10 Best New York City Tours for Tourists!
The 10 Tallest Buildings in NYC
The 20 Best Food Tours in NYC to Sink Your Teeth Into! [UPDATED 2023]
Last Tips for Seeing the 4th of July Fireworks in NYC
Make sure that you check the official fireworks schedule on Macy's website, so you know exactly where the show is set to take place. The location changes each year, so the optimal views will depend on where the displays are set off.
If you aren't sure which spots offer the greatest sights, don't hesitate to ask your hotel concierge. At Westgate Grand Central, team members are always available to recommend the best spots in the city for any occasion.
And if you're looking for some good food, check out some awesome NYC food tours. For more travel tips and tricks, visit our Westgate Resorts Travel Blog.

RELATED ARTICLE: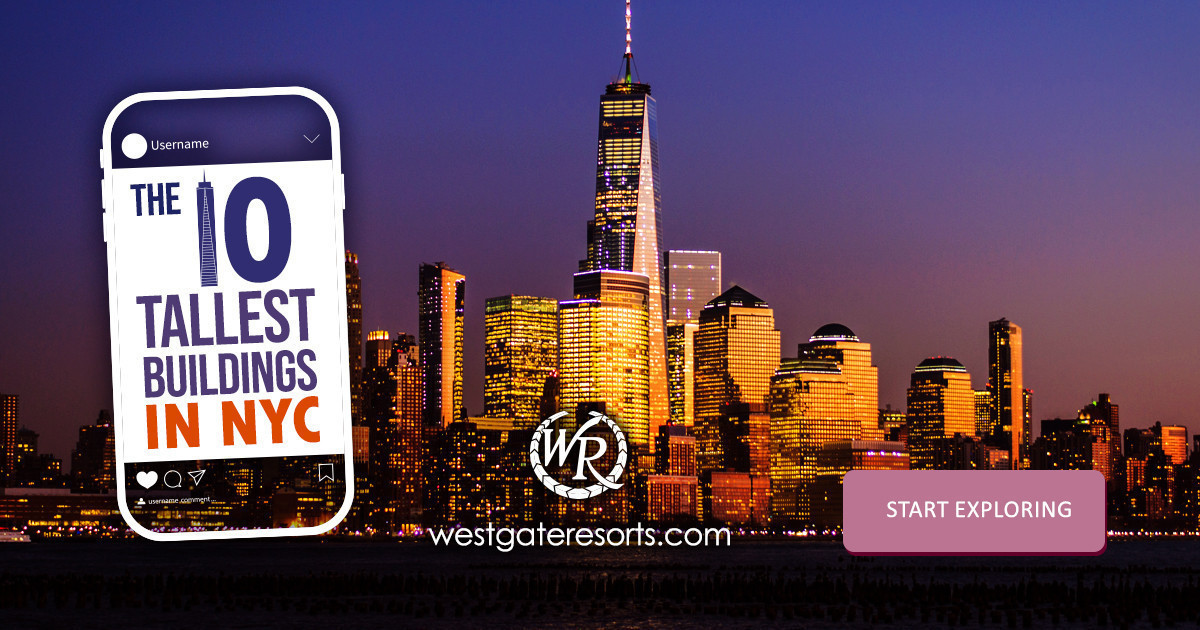 For more information, please contact a Vacation Specialist at 888-852-2959. Westgate Owners: To book your week online please visit: https://my.westgateresorts.com.
At Westgate Resorts, when you Check-In, there's a LOT to Check-Out! Your New York City vacation awaits! Explore our New York City hotel today or talk with a vacation planner at 888-852-2959 or 407-355-2690.
* Westgate Resorts is in no way affiliated with the attractions featured in this article. Items or places listed are current as of the publishing date of this article. Please call or visit the respective website for the most up-to-date offerings and details.
When You Check-in, There's a Lot to Check Out
Sign up for our newsletter and check-in to great offers, secret stuff, and special events.