The 10 Tallest Buildings in NYC
10 Tallest Must-Visit Buildings in NYC
New York, New York, home of Broadway, billboards and towering skyscrapers. New York is full of things to do in NYC, but the city is an attraction in itself. From the Freedom Tower to the Empire State Building, the iconic skyline is home to some of the tallest buildings in New York – and the world!
Whether you're visiting New York for the first time or are a local, the tallest buildings in The City That Never Sleeps will continue to be awe-inspiring, along with the many historical sites in NYC.
New York is known for a lot of things, from delicious slices of 'za to the Statue of Liberty. But what's truly remarkable is the number of massive buildings that have been constructed on this little east coast island. With multiple buildings that make the world's tallest lists, New York City has truly earned its place as one of the best places in the world.
Tallest Buildings in the World's Most Famous Skyline
If we're being honest, there is no shortage of tall buildings in New York. Each of these mammoth skyscrapers features its own unique architectural style and distinct features. Top architects around the world have dreamed of having their designs added to the world-famous New York skyline.
While some skyscrapers, like the Empire State Building, are instantly recognizable, others are less obvious. But if you look carefully at the skyline, can you tell which buildings are the tallest? Fortunately, we've got you covered with everything you need to know about the tallest buildings in New York City.
1 | One World Trade Center | Also known as the Freedom Tower, One World Trade Center is located in the financial district in Lower Manhattan. Standing proudly at 1,776 feet, it's the tallest building in New York and the western hemisphere. It was built as a replacement to the original World Trade Center after the Sept. 11, 2001, attacks.
The new One World Trade Center was designed by Chicago-based architecture firm Skidmore, Ownings & Merrill (SOM) and opened to the public in 2014. The building features observation decks on the 100th, 101st and 102nd floors. Visitors will find that the building and the surrounding area is also packed with top-notch restaurants and shopping.
A stone's throw away is 3 World Trade Center. Located at 175 Greenwich Street, 3 World Trade Center is also one of the tallest buildings in New York City, standing at 1,079 feet.
WHERE: 285 Fulton St, New York, NY 10007 | WHO: 844-696-1776
RELATED ARTICLES:
10 Historic Cocktails That Made It to Manhattan's Top Shelves
12 Top Foodie Destinations NYC Locals Keep Hidden
A Quick Guide to The History of New York City
The 20 Best Bottomless Brunches NYC Locals Are Crazy About!
2 | Central Park Tower | A little further uptown in Midtown Manhattan is the Central Park Tower. Towering at 1,550 feet, it's the tallest residential building in the world. As you can imagine, this prestigious building features luxury residential units with some of the best views of Central Park that money can buy.
The building was designed by Adrian Smith + Gordon Gill Architecture. It features interiors designed by Rottett Studio and offers sprawling amenities, like indoor and outdoor pools, spas and a movie theatre. Central Park Tower residents also have access to a grand ballroom and private restaurant staffed by Michelin-starred chefs.
This shimmering building has impeccable views, but since it's a residential building, it's unfortunately not open to the public. If you're walking by at ground level, you can't miss this building as it also features a massive five-floor Nordstrom retail store.
WHERE: 217 W 57th St, New York, NY 10019 | WHO: 212-957-5557
3 | 111 West 57th Luxury Condominiums | Just a few blocks away on Billionaire's Row (aka West 57th) is the Steinway Tower. Like Central Park Tower, 111 West 57th is a residential building featuring modern ultra-luxury condos. Every unit in this building occupies at least one full floor, making it the perfect abode for those with a little extra dough to spend on a place to call home.
The art-deco building gives off very similar vibes to the Empire State Building, with its pre-war, tapered bronzed look. The 1,428-foot building was designed by SHoP Architects, while the interior was designed by Studio Sofield. Residences enjoy access to all the amenities, including a fitness center, lounges, libraries and, of course, a pool. It even boasts a porte cochère, a covered vehicle shelter and entrance, a rarity in the Big Apple.
With its prime midtown location, 111 West 57th Street features stunning views right down the center of Central Park. Unfortunately, these views are currently limited to residents and their guests since the building is not open to the public.
WHERE: 111 W 57th St, New York, NY 10019 | WHO: 212-935-5757
4 | One Vanderbilt | Just a few blocks away from the famous Grand Central Station (and Westgate New York Grand Central) is One Vanderbilt. The fourth tallest building in New York City comes in at just over 1,400 feet (1,401 to be exact) and has 93 floors.
One Vanderbilt was designed by Kohn Pedersen Fox Associates, a New York City-based firm. The glass design makes the building fit right in with the sky. But you'll notice the slightly tapered, step-like sections at the top.
The building is a mix of office spaces and some shopping. Since opening in 2020, the One Vanderbilt Summit has been open to the public. But it's more than just views of the city. The Summit features art exhibitions, dining and a lounge. Plus, you'll get to step out on the two glass ledges and stand above the city, literally, right on top of Madison Avenue. On a beautiful day, you can step out onto the terrace to soak up the sun!
WHERE: 1 Vanderbilt Ave, New York, NY 10017 | WHO: N/A
5 | 432 Park | Stark and tall, 432 Park is another addition to New York's collection of super tall residential buildings. It's one of the most prestigious addresses in New York City. Even Jennifer Lopez and Alex Rodriguez once called this building home.
432 Park Avenue was designed by Rafael Viñoly and sits proudly at 1,396 feet. There are 92 floors of residential units in this sleek and minimalist-inspired building. The concrete and glass give this slim and elongated building a very clean and sharp look. Residents have access to a 24/7 concierge team that can handle everything from walking your dog to art restoration.
While we'd love to visit for a celeb sighting, like its other residential NYC counterparts, 432 Park Avenue isn't open to visitors. According to the 432 Park website, one of these sought-after units will run you between $7 million to $16 million.
WHERE: 432 Park Ave, New York, NY 10022 | WHO: N/A
6 | 30 Hudson Yards | Hudson Yards is one of the latest neighborhoods to pop up in New York City. You'll know you're in Hudson Yards when you spot The Vessel. You can't miss the massive copper-colored structure and observation deck that looks like a honeycomb. While Hudson Yards has certainly made a splash, it's also home to another massive New York skyscraper, 30 Hudson Yards.
Towering at 1,296 feet, it's another Kohn Pedersen Fox Associates project. This one features a very angular and modern design. The building is primarily an office space – the second tallest in New York. Office workers enjoy panoramic views of the city and easy access to the restaurants and shops in the Hudson Yards' neighborhood.
Visitors can experience 30 Hudson Yards for themselves by visiting The Edge. Calling itself the highest outdoor sky deck in the western hemisphere, this platform juts out from the building at about 100 stories above ground and features a jaw-dropping glass floor.
WHERE: 30 Hudson Yards, New York, NY 10001 | WHO: N/A
7 | Empire State Building | There wouldn't be a list of the tallest buildings in New York without the Empire State Building. It's one of the biggest tourist attractions in New York City and the world.
Designed by Shreve, Lamb & Harmon, this pre-war building was the tallest in the world until the early 70s. The building's distinct art deco style and spire make it an easy building to spot in the skyline. Standing tall at 1,454 feet (to the top of the antenna), many lucky office workers get to spend their weeks right in this national historic landmark.
For the rest of us, we can either take an elevator to the observatory on the 102nd floor (or scale the building like King Kong.) As you enjoy the views, you'll also get to explore the exhibits that display the history of the Empire State Building. You'll learn about the building's construction, as well as its use as a lookout in World War II.
While certainly a New York must-see, many argue that the Empire State Building isn't the best place to see the city since you won't get to see the building in the NYC skyline. Fun fact, the Empire State Building has a tradition of changing its lights on the building to reflect holidays and occasions throughout the year. Keep your eyes peeled to the night sky!
WHERE: 20 W 34th St, New York, NY 10001 | WHO: 212-736-3100
8 | Bank of America Tower | Midtown is clearly the place to be for skyscrapers because the next tallest building on our list is also found in the middle of Manhattan.
Designed by Cook + Fox architectural firm, the Bank of America Tower (also known as One Bryant Park) is 1,200 feet to the top, featuring 55 floors. The angular, tapered shape helps it stand out from the surrounding buildings. Although, its height helps too.
The building is also known for being one of the leading projects in design sustainability and energy efficiency. The Bank of America Tower was the first skyscraper in the U.S. to be awarded the LEED (Leadership in Energy and Environmental Design) Platinum certification by the U.S. Green Building Council.
The building houses many different commercial and office tenants, most notably Bank of America. It was developed by the Durst Organization, one of the oldest family-run real estate companies in New York.
While the building itself is not open to the public, the plaza and outdoor spaces are free for visitors to roam. But if you're really curious about what the view looks like from the 55th floor, you might have some luck trying to score a job with one of the tenants!
WHERE: New York, NY 10036 | WHO: N/A
9 | Chrysler Building | Like the Empire State Building, the Chrysler Building is a pre-war New York City skyline icon. While also an art deco landmark, the Chrysler Building stands out with its ornate crown.
Unlike many modern glass buildings, the Chrysler Building is made of brick and stainless steel, giving its signature silver look. It was completed in 1930 and designed by architect William Van Alen. At 1,047 feet tall, including the spire, it was the tallest building in the world at the time, but only briefly. It was quickly overtaken by the Empire State Building.
Primarily an office building now, the Chrysler Building's upper floors aren't open for visitors. However, the lobby and main level are open to the public. The marble lobby is worth a visit alone, even if you can't see the view from the top. Even the elevator doors are a work of art. It's the perfect detour if you're nearby at Grand Central.
Keep an eye out for the intricate art deco elements that were common in the 20s and 30s. See if you can spot the eagles or gargoyles in the building's design.
WHERE: 405 Lexington Ave, New York, NY 10174 | WHO: 212-682-3070
10 | Brooklyn Tower | Last but not least, let's take a step away from Manhattan and cross the bridge to the Brooklyn Tower.
While we normally think of Manhattan as skyscraper central, downtown Brooklyn is ready to join the party with 9 Dekalb. This SHoP Architects project is a mixed-use building, including apartments, office spaces and shopping. The building's unique design is "modern skyscraper meets classic art deco New York," standing at 1,066 feet. Influenced by the design of the historic Dime Savings Bank, the hexagonal shape and columns are a completely unique addition to the boroughs.
The condo portion of the building starts on the 53rd floor and features everything from studio units all the way to four-bedroom units, boasting unique views of New York City and surrounding skylines. Amenities include an athletic club and even a coffee bar in the lobby. The building's pool also looks like something right out of a Vegas pool party.
9 Dekalb is brand new, but it seems unlikely that non-residents will gain access to the stellar views. Perhaps making a friend at the lobby coffee bar will get you exclusive access. It's worth a try.
WHERE: 9 Dekalb Avenue, Brooklyn, NY 11201 | WHO: 718-858-0909
YOU MIGHT ALSO LIKE:
The 10 Best Restaurants in Chinatown NYC
The 20 Best Rooftop Restaurants in NYC
The 10 Best Antique Stores NYC Locals Search for Vintage Treasures
Use Our Handy Map to Find Your Way Around the Concrete Jungle
Final Thoughts on NYC's Tallest Buildings
If you're an architecture fan or just love to marvel at these massive skyscrapers, New York City is the place for you. There is no shortage of history or incredible buildings to explore. There are countless interesting facts about NYC you definitely should know if you're visiting. Plus, check out some awesome NYC food tours if you're in the city.
Remember, when you're ready to put your feet up from a day of exploring the Big Apple, Westgate New York Grand Central is ready to welcome you for a good nights' rest. For more NYC travel tips, guides and best restaurants to visit, check out our Westgate Resorts Travel Blog.

RELATED ARTICLE: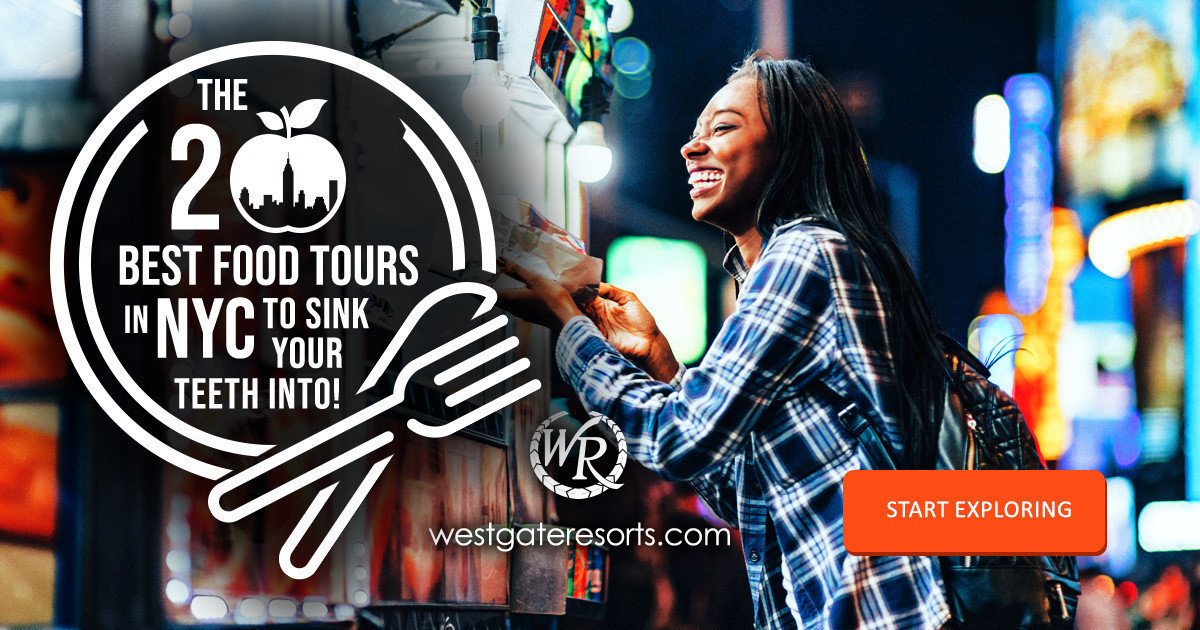 At Westgate Resorts, when you Check-In, there's a LOT to Check-Out! Your vacation awaits! Start planning your next vacation today or talk with a vacation planner at 888-852-2959 or 407-355-2690.
* Westgate Resorts is in no way affiliated with the attractions featured in this article. Items or places listed are current as of the publishing date of this article. Please call or visit the respective website for the most up-to-date offerings and details.
When You Check-in, There's a Lot to Check Out
Sign up for our newsletter and check-in to great offers, secret stuff, and special events.