15 Fun Things to do at Westgate River Ranch Resort & Rodeo
15 Fun Things to do at Westgate River Ranch Resort & Rodeo
Whether you're looking for a fun-filled day or weekend away in nature, Westgate River Ranch has something for everyone. From peaceful evenings by the river to exciting rodeo adventures, the ranch is a piece of Old Florida you don't want to miss! So, pack your saddle bags and head on over to the most sought-after dude ranch in Florida.
Fun Things to do at Westgate River Ranch Resort & Rodeo
From the Cowboy Adventure Park to line dancing at the saloon, Westgate River Ranch Resort & Rodeo is fun for the whole family. Whether you're horseback riding, skimming the water on an airboat, going on a swamp buggy tour, skeet shooting or petting animals at the farm, you'll never run out of things to see and do!
Without further ado, let's check out all the fun things to do at River Ranch for all ages!
1 | Cowboy Adventure Park | Get ready to wrangle up some excitement with a wide range of activities that will make your cowboy dreams come true! Grab your boots and don your cowboy hat because the Cowboy Adventure Park offers an impressive array of activities suitable for everyone.
Experience a mechanical bull, rock climbing, tractor racetrack, gem mining and more! Bring the kids or the kids at heart for a day of fun!
There are always amazing events happening year-round at Westgate River Ranch. This fall, check out The Haunting of River Ranch, a Halloween event featuring a haunted house, hayride, fall festival and so much more.

2 | Swamp Buggy | If off-roading is your idea of fun, you'll love taking a swamp buggy ride. During this 40-minute excursion, you get to sit high up in a buggy and take in everything River Ranch has to offer. Not only is there plenty of wildlife to photograph, but you'll love seeing all the wildness you never knew existed in Florida!
RELATED ARTICLES:
Digital Detox for Kids [31 Tips and Activities Included]
10 Best Hayrides in Florida that Will Leave You Hay-ppy!
50 Places to Visit in Orlando for Free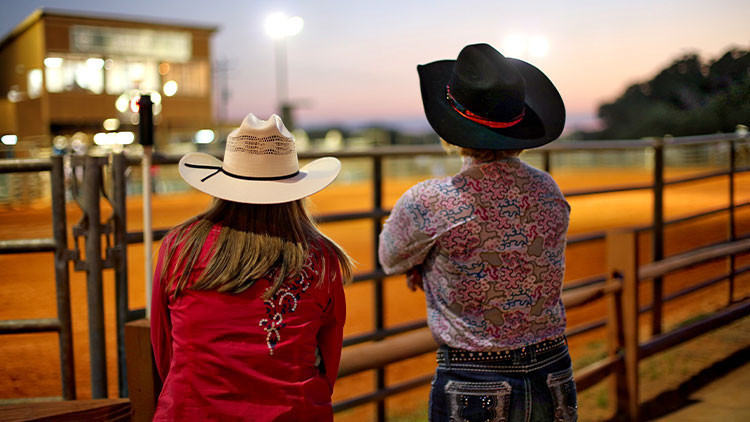 3 | Rodeo Night | If you always wanted to go to the rodeo, you won't want to miss the one at Westgate River Ranch. Held every Saturday night, you and your family can saddle up at the best Orlando rodeo arena and watch contestants try their hand at calf roping, barrel racing and bull riding.
Westgate recently added 1,500 seats to the rodeo arena to expand capacity for future events. A three-window food trailer, called Graze, was also added to the arena to better serve guests their food and drink items. A retail store, featuring Westgate River Ranch merchandise and rodeo attire, is also available for those attending the festivities.
After each rodeo, head on over to the saloon for drinks and dancing. With the addition of beer buckets - "More Buckets Than Ever" - and more bartenders, you're sure to have a good ol' time.
Pro Tip: Be sure to check out the Rodeo "Graze" Food Trailer for delicious bites.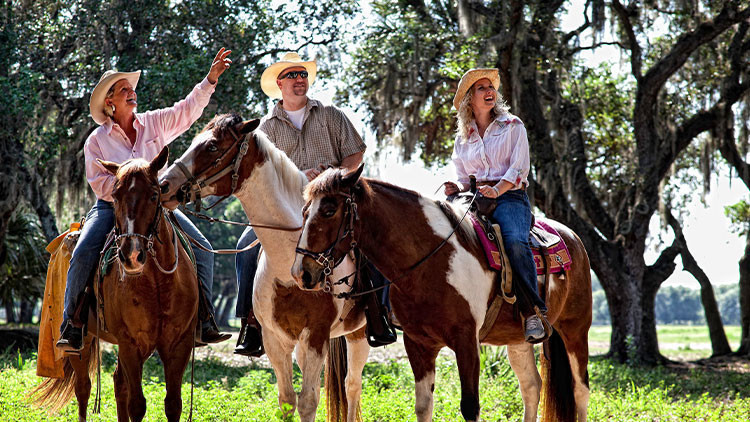 4 | Go Horseback Riding | Is a dude ranch really a dude ranch if you don't go horseback riding? River Ranch has plenty of scenic trails where you can go horseback riding in Orlando and enjoy the view with your own personal tour guide. Be sure to wear closed-toe shoes and jeans to ensure the most comfortable ride possible.
5 | Grab a Bite at the Smokehouse on the River | Horseback riding, ziplining and swamp buggy riding really works up an appetite, so why not grab a bite at Smokehouse on the River?
Here, you'll find all of your favorite smokehouse favorites and plenty of kids' meals to keep smiles on their faces. Oh, and the atmosphere is one for the books. The restaurant overlooks the beautiful Kissimmee River and is one of the best riverfront restaurants in the area.
You'll feel like you stepped right into a western movie as soon as you walk through the door. Boaters can even drive their boat up, park and grab some food to go. How cool's that?!
If you need to wet your whistle afterwards, you can head over to the River Ranch Saloon for a cold one, country music, and of course, plenty of line dancing.
Coming Soon: Quick served smoked barbecue to go AND Pizzeria with delivery option available!

6 | Take an Airboat Tour | If swamp buggies aren't your thing, you can always take an airboat tour on the gorgeous Kissimmee River. For 40 minutes, you'll learn all about River Ranch as you get to see Florida's most interesting wildlife, like bald eagles, turtles, alligators and hawks.
7 | Go Skeet Shooting | Whether you're an avid marksman or just starting out, River Ranch has skeet shooting to help you make your mark. The ranch has on-site expert instructors to ensure your safety, as well as plenty of space for those who love shooting sports. Guests who have their own equipment are more than welcome to bring it along.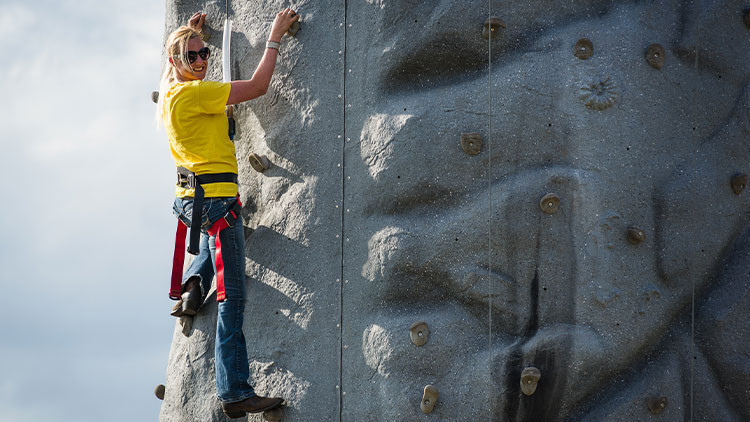 8 | Scale a Rock Climbing Wall | Climbers experienced and new will love climbing the rock wall at River Ranch. You can test your agility while being spotted by Westgate's experienced staff who make sure you're safe every step of the way. If you're new to River Ranch, you can find the best rock climbing in Orlando next door to the River Ranch Saloon. The rock climbing wall is open Wednesday to Sunday weather permitting.
9 | Go Fishing | Warm breezes, sunny skies and plenty of fishing opportunities are also what you'll find at River Ranch. Newbies to fishing can cast their line into the Kissimmee River, while experienced fishermen may want to head out to Lake Okeechobee for a peaceful day of fishing and relaxation. If you don't have a fishing license, that's OK. You can pick one up at the marina, and you can even rent your fishing equipment if you don't have any.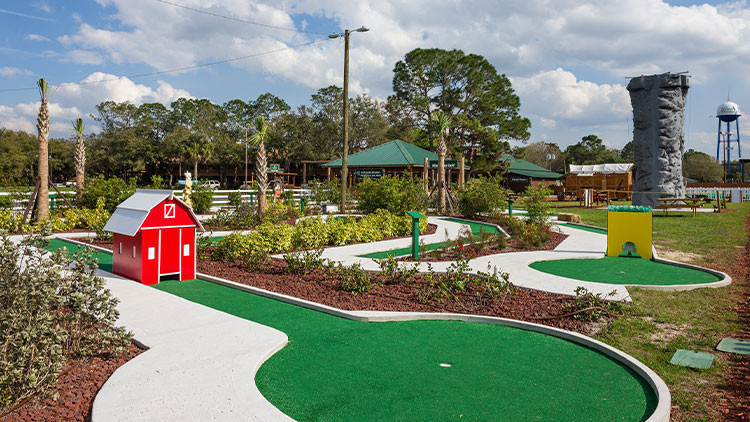 10 | Play Miniature Golf | Who says miniature golf is only for kids? People of all ages can enjoy an afternoon of mini golf at River Ranch. The golf course is located right behind the general store, so it's easy to find. And don't worry if your little ones win, you can always try another round!
11 | Find Your Way Out of an Escape Room | Flash back to the Old Wild West. You are trying to escape the clutches of the sheriff and need to find your way out of town ASAP. You and your posse need to figure out brain-teaser puzzles to make your getaway.
12 | Ride a Mechanical Bull | Ever wanted to know how it felt to be a real cowboy? At Westgate River Ranch Resort & Rodeo, you can get the full western experience by taking a ride on the resort's one-of-a-kind mechanical bull!
13 | Cruise the Kissimmee River on the Kissimmee Queen | Once you're done bucking with the broncos, reconnect with your loved ones on a one-hour river cruise along the Kissimmee Queen River Cruise.
Get up close and personal with the wildlife, take in the gorgeous scenery and relax as you cruise through the peaceful waters.
14 | Play Horseshoes | There's nothing quite like popping open a cool, refreshing beverage and playing horseshoes with your friends and family.
Beneath shady trees, you can shoot the breeze and see who can get the highest score as you enjoy a relaxing afternoon. When you get hungry, you and crew can head over to some River Ranch restaurants for a bite.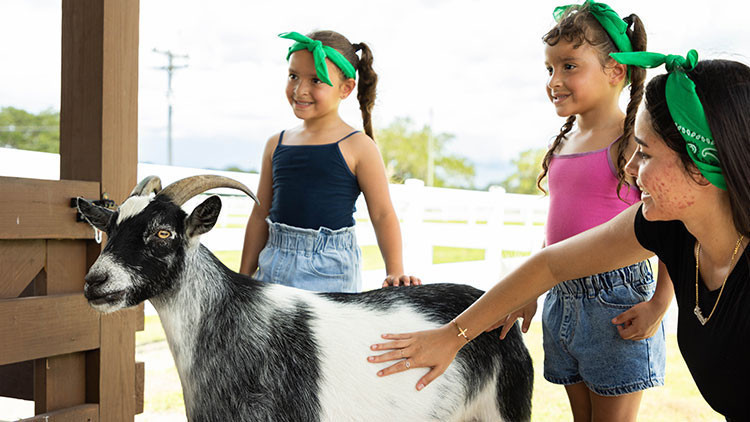 15 | Visit the Petting Zoo | It doesn't matter if you're a kid or a kid at heart, nobody can resist the opportunity to visit River Ranch's petting zoo. There are plenty of exotic, yet friendly animals you and your family can interact with such as sheep, turkeys, mules, goats, peacocks and so much more.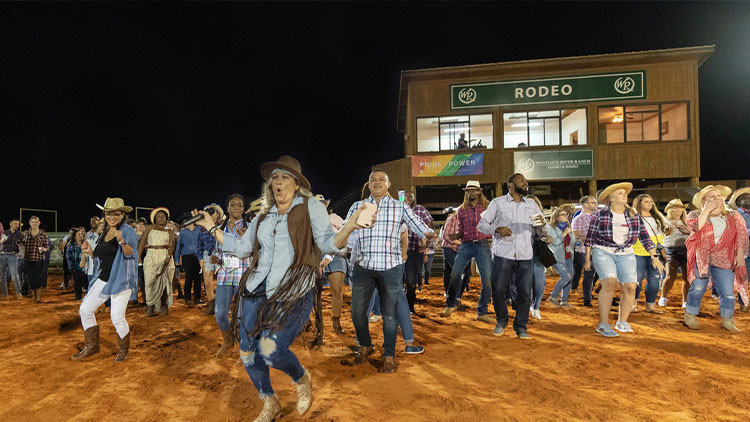 BONUS #1 | Dance at the River Ranch Street Party | The River Ranch Street Party is where you learn the true meaning of a hoedown. Grab your friends and family to sing, dance to live entertainment and play a variety of fun games right after the Saturday Night Rodeo!
BONUS #2 | Glamp in Luxury | From teepees to Conestoga wagons and luxe tents, Florida glamping at River Ranch is like none other. These accommodations are private and fully equipped with every amenity of home but so much more! If you get the chance to stay in a luxury teepee, think of the memories you'll make. It's a stay you won't ever forget.
BONUS #3 | Enjoy S'more 'n Pours | If you're a fan of bourbon and s'mores, you can't go wrong with River Ranch's S'more 'n Pours add-on. It's a s'mores kit to enjoy by the fire while you sip on a bottle of Buffalo Trace® bourbon. The ooey-gooey experience under the night sky is sure to leave you warm and fuzzy and satisfy your sweet tooth.
YOU MAY ALSO LIKE:
10 Best Hayrides Near Tampa that Locals Love to Recommend
The 12 Best Family Travel Blogs You Need to Read
8 Top Spots to Find the Best Archery Orlando Locals Recommend
Your Dude Ranch Awaits
Whether you're looking for a fun-filled day or a weekend away glamping in nature, Westgate's River Ranch has something for everyone. From peaceful evenings by the river to exciting rodeo adventures, this is one western adventure you don't want to miss! So, pack your saddle bags and head on over to Westgate River Ranch!
For more travel and food guides to our different resorts across the country, visit our Westgate Resorts Travel Blog.

RELATED ARTICLE:
At Westgate Resorts, when you Check-In, there's a LOT to Check-Out! Your vacation awaits! Start planning your next vacation today or talk with a vacation planner at 888-852-2959 or 407-355-2690.
* Westgate Resorts is in no way affiliated with the attractions featured in this article. Items or places listed are current as of the publishing date of this article. Please call or visit the respective website for the most up-to-date offerings and details.
When You Check-in, There's a Lot to Check Out
Sign up for our newsletter and check-in to great offers, secret stuff, and special events.