Digital Detox for Kids [31 Tips and Activities Included]
Digital Detoxing for Kids: Tips Every Parent Should Know
Think back to your childhood. You probably spent a lot of time outdoors, enjoyed trips to the library, playing with your friends, and making memories that didn't revolve around a screen. Today's kids don't know a world before the internet, and many of them are even developing technology dependencies before they're 3 years old. Digital detox activities for kids are one of the best things you can do as a parent, and it's a great chance to reevaluate the role tech plays in your kids' lives.
Although digital devices are immensely helpful, they can also hinder development. It's important for children to have a firm grasp of reality and understand that the digital world may be limitless, but the real world is where life truly happens. A digital detox retreat is not only helpful for kids but for adults too!
Benefits of Digital Detox for Kids
Children need to develop digital literacy while they're young, but they also need to learn healthy tech habits along the way. Teaching kids about boundaries, internet safety, and the potential negative effects of social media in age-appropriate ways is important.
It's equally crucial for you, their caregiver, to make sure they're not being exposed to any content they shouldn't be. Children and even teens shouldn't have unsupervised access to the internet; instead, use apps and tools to ensure that your children are only accessing content that's beneficial to their mental health and emotional development.
As they develop these skills from a young age, children and teens can grow into healthier, happier adults who know how to balance technology with their real lives.
RELATED ARTICLES:
50 Ways to Do Digital Detox Every Day
10 Best Hayrides in Florida that Will Leave You Hay-ppy!
8 Top Park City Golf Courses to Tee Off At
Why Kids Need a Digital Detox
There are many reasons why kids can benefit from a break from electronics, including:
● Fewer behavioral issues
● Improved development
● Less eye strain
● Improved posture
● More physical activity
● Better sleep
● More social engagement
Although the internet can be great for learning and connection, it also takes a toll on physical and mental health. Children who spend too much time on screens are more likely to develop emotional problems, struggle with self-regulation, and have difficulty getting enough exercise.
They also tend to spend less time interacting with peers face-to-face. This leads to fewer close relationships and poorer social skills. While playing video games may be a fun way for your kid to connect with their friends, they need time away from screens to learn how to really communicate and bond with others.
Even though we love how awesome modern technology is for kids, we also think it's important for the whole family to stay connected in the real world. That's why a digital detox is the perfect way to get together and have some screen-free fun!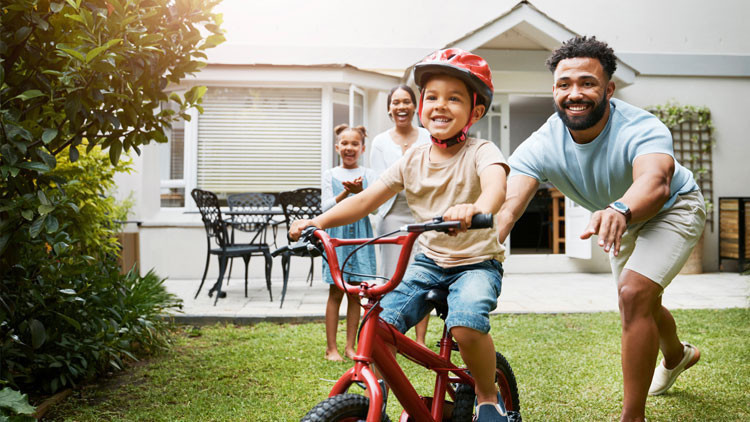 Tips for a Successful Digital Detox for Kids
The thought of switching off your kids' beloved tablets or smartphones might be scary. You may have gotten comfortable with them sitting in front of the TV or watching Netflix when you're busy or keeping them quiet in the store by letting them play a game.
Digital detox is a big change, but it has tons of benefits that make it well worth the initial discomfort. The most important thing is to make sure you aren't painting technology as evil to your kids. Instead, you should focus on how amazing it is to do fun things offline, like playing games, sports, and discovering new hobbies.
Focus less on what you're taking away and what you're giving to your children instead. This is where a successful detox is made or broken — you have to have activities planned that will prevent boredom and make the transition from screens to real play time exciting.
Set Clear Boundaries: For some families, a mini detox is a good start. In some cases, they can't even avoid tech entirely, so they set time limits instead and even set reminders on kids' phones and devices, so they know when it's time to log off.
Make Device-Free Zones: Dedicate bedrooms as screen-free spaces and enjoy your meals together as a family without a TV show playing or tablet in sight. Place handy baskets around the house that you can easily deposit devices in when you aren't using them.
Encourage Alternate Activities: Have suggestions on hand to answer your children when they inevitably ask, "What am I supposed to do?" They can read books, play outside, make art, and spend time together as a family.
Lead by Example: Make sure you're talking the talk! Don't encourage screen-free time among your kids but sit on the couch scrolling through social media. A digital detox can be a great family commitment that leads to a happier home and better mental health for everyone.
Implement Regular Detox Periods: Consider going without screens for a few hours every evening for bed or having device-free days. Weekends make the perfect opportunity for the household to go on an adventure together rather than lying around on their phones and computers.
Take a Tech-Free Vacation: Take your digital detox on the road at a digital detox resort and have a blast at a resort with tons of activities to keep you busy. Westgate River Ranch has several detox retreat activities and is one of the most fun places you can ever take your kids! You'll all have a ball learning what to do at a dude ranch.
Digital Detox for Kids: Activities and Ideas for a Screen-Free Time
Now that we've covered the things not to do and the downside to having too much screen time, here's a long list of fun alternatives we're sure that your kiddos will enjoy! These fun activities include arts and crafts, outdoor activities, and fun games that will challenge their minds and help them develop patience, problem-solving, and creativity!
By creating a digital detox for kids, you can ensure your little ones are developing properly and getting to experience the best parts of childhood. Dig in!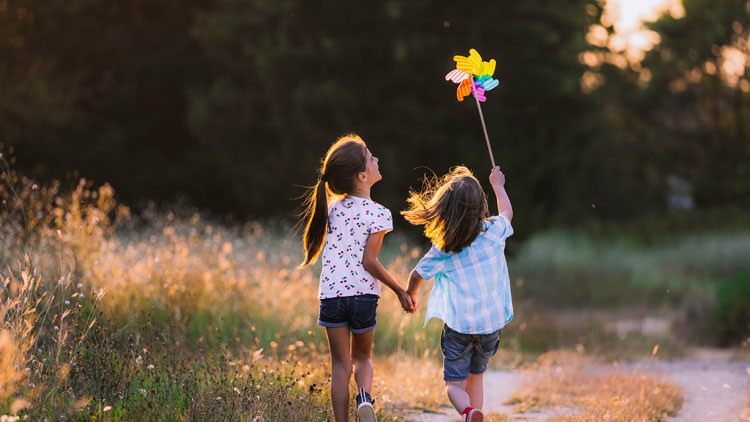 Nature & Outdoor Activities
1 | Camping | Head out for an adventure at Westgate River Ranch, learn bull riding songs, and don your best rodeo fashion! Or head out to one of the many campgrounds throughout the United States to introduce your kids to life in touch with nature.
Don't worry, you don't have to go completely without modern amenities. There are many camping in style rentals to choose from that have electricity and water hookups. You can also check out our list of the best campgrounds for Florida families to inspire your next trip!
2 | Nature Walks | Get outdoors and explore the world around you! Take a family trip to a national park, and venture through local trails, forests, or other locations. Nature walks are also a fantastic way to teach kids about the planet, ecosystem, and local wildlife.
3 | Bike Rides | Take a ride through the neighborhood or bring your bikes to a nearby nature spot and explore. Just make sure always to follow trail rules and never ride without a helmet! Also, be mindful when riding on uneven terrain. It can be more challenging for kids, so be sure to choose trails that are family-friendly.
4 | Stargazing | Telescopes are a miraculous invention that so many children (and adults!) have never personally encountered. Learn about constellations together and have fun discovering the wonders of the night sky.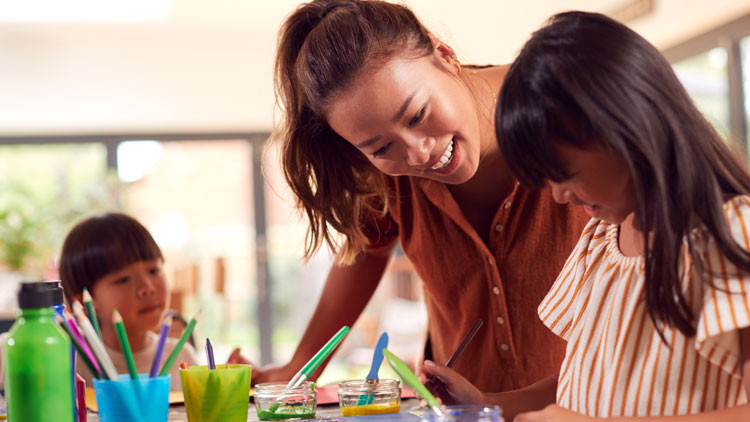 Arts & Crafts
5 | DIY Craft Projects | There are so many ways to turn trash into treasure! Look up DIY crafts for kids that will help you turn recyclables into works of art. For example, you can paint portions of an egg carton and turn them into flowers or turn plastic bottles into hand-painted storage containers for pens and pencils.
And of course, nothing beats classic crayons. Grab a pack and start having fun! Make your own coloring books and draw fun pictures for each other.
6 | Painting or Drawing | Creativity helps kids in so many ways. From better mental health and emotional development to motor skill development, there's always a good reason to encourage artistic expression.
7 | Photography | Teach kids how to take pictures on a traditional camera, or even a disposable one! They'll likely be amazed to see the pictures come to life once they're developed. Capture moments together, and even give them photography scavenger hunts to inspire them.
8 | Music | Music is healing for all ages, and it's a universal language that we all love. From babies to teens, music can be a great digital detox activity that encourages self-expression. Whether it's drums, guitar, piano, or a classical instrument, music is one of the best screen-free hobbies for kids.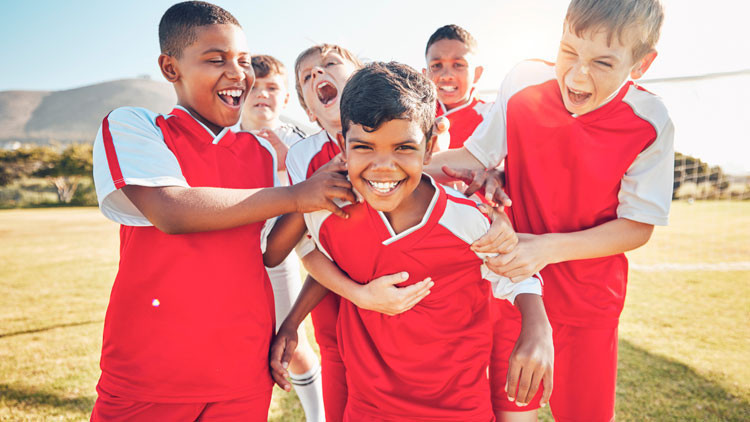 Physical Activities & Sports
9 | Team Sports | Signing up for a sports team will give your child something to look forward to. They'll need to practice each week as they form new friendships, build self-confidence, and develop teamwork skills.
10 | Dance | Nothing beats busting a move! They can join a class or just have designated dance time at home to boogie down. Family dance parties might just become your new favorite thing.
You can also make this educational by showing kids music from different parts of the world and various time periods.
11 | Yoga | Even kids can benefit from the calming effects of yoga. Learning to focus on different parts of their body and breathing can soothe their minds and lead to fewer tantrums and behavioral issues.
Look up yoga for kids lessons on YouTube and try some routines together!
12 | Martial Arts | Whether it's karate or taekwondo, martial arts are a great way for kids to develop self-esteem and discipline while getting a good workout. Classes are available for all age levels, including preschoolers, so give it a shot. Hi-yah!
Board Games and Puzzles
13 | Traditional Board Games | Games like Monopoly, Uno, and Scrabble are great for kids' brains, but they also offer hours of entertainment and quality time on family night! These classics also show kids they don't need a video game to have fun.
14 | Jigsaw Puzzles | Puzzles are a fun pastime that allows for family collaboration and problem-solving skills. Have fun putting the pictures together, then picking out your next project. Make some tasty snacks and spend an afternoon or evening making a special image together.
15 | Card Games | Got any kings? Go fish! Playing card games together is a fun way to engage kids without using a screen. Teach them how to play Uno or just classic Go Fish for hours of fun.
Reading & Writing
16 | Library Visits | Take kids on an adventure to the local library. They'll have a blast picking out their books, and then spending hours reading through them at home. You can also teach them a bit about how library books are organized, how libraries work, and how to learn things without a computer.
17 | Story Writing | Nothing beats creating your own adventure. Let your little ones wow you with their own stories, which they can also illustrate! You can also try a family roundtable story where each person writes a portion of the story, and the next person adds to it.
18 | Book Clubs | Kid book clubs encourage reading and social interaction. Children listen to stories or read one and then discuss it with their peers. If you can't find any locally, consider arranging one in your house or with your kids' friends!
19 | Journaling | Even for children, journaling is a good way to help children develop emotional awareness and self-esteem. They can also get creative and have fun expressing their thoughts, feelings, and dreams in their own notebook.
Cooking & Baking
20 | Simple Recipes | Teach kids cooking basics with simple recipes like grilled cheese, salads, and basic desserts. Spending time in the kitchen helps them learn measurements, science, and nutrition all in one!
21 | Theme Nights | Have a blast cooking different types of food throughout the week. You might have Indian Mondays, Sushi Night, or Taco Tuesdays!
22 | Baking Days | What kid doesn't love sweets? And let's be honest, we do, too. On baking days, learn a new recipe together that will help you and the kids craft a sweet treat, whether it's a cake, cookies, or breakfast muffins.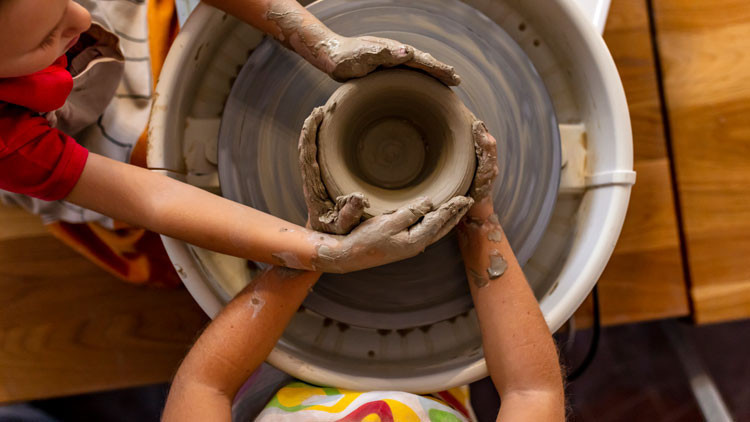 Workshops and Clubs
23 | Local Workshops | Sign up for pottery lessons or look for kids' workshops that include science experiments or theater plays.
24 | Clubs | Clubs are a good way for kids to expand their social circles and learn new skills. From drama club to a hobby group in the community, explore your options. You might be surprised how many kids' activities there are in your area!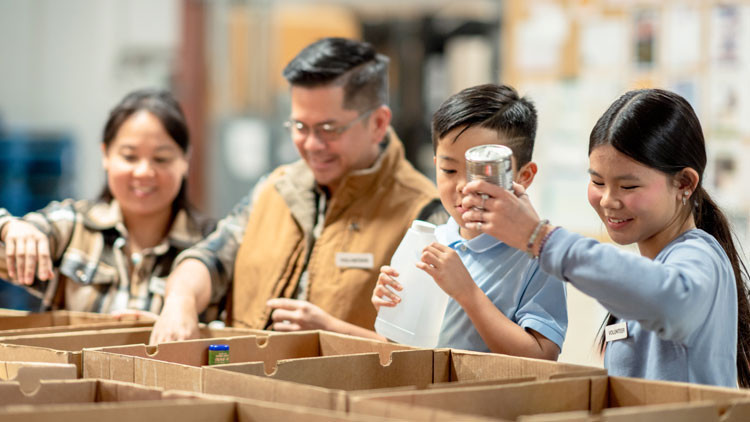 Volunteering and Community Service
25 | Local Community Centers | Help kids build empathy and understanding for others by performing cleanups, packing care packages, or helping the elderly.
26 | Animal Shelters | Spend time taking care of pets in need at an animal shelter. Not only will they learn responsibility, but kids will also enjoy getting to spend time with adorable dogs, cats, and small animals.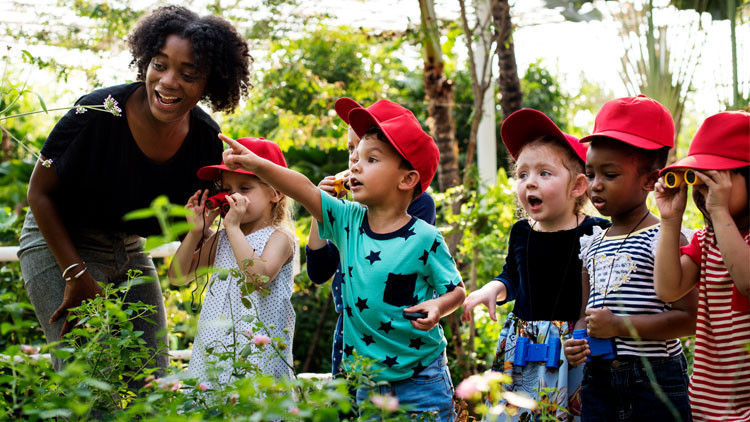 DIY Science Experiments
27 | Kitchen Science | Teach your kids fundamental science using household items like flour, yeast, and baking soda. Just search "kitchen science experiments for kids" and enjoy the dozens of activities you can do with ingredients in your fridge and pantry.
28 | Gardening Experiments | Learn about plants and photosynthesis by planting your own garden and discovering how different plants grow in different seasons.
Mindfulness and Meditation
29 | Kid-Friendly Meditation | Help your child learn the basics of meditation with a kid-friendly guided meditation. These are available in both apps and on YouTube. Breathwork and grounding are emotional regulation techniques that can make your child feel more balanced and reduce stress, anxiety, and frustration.
30 | Deep-Breathing Exercises | These are good ways to teach kids how to self-soothe. It can be valuable when they're learning how to deal with the discomfort of eliminating unhealthy habits from their lives.
31 | Mindfulness Walks | Go on a walk together and observe the world around you without any distractions. Stop and appreciate the trees, flowers, and sounds in the neighborhood or at a park.
YOU MAY ALSO LIKE:
The 20 Best Smoky Mountain Hiking Trails to Level Up Your Trek!
15 Beaches Near Orlando, Florida
Finding the Right Balance
Digital detoxes for kids are a great way to help your family feel more centered. We think that while technology is an amazing learning tool, it should be balanced with real-life activities that make life rewarding.
By setting boundaries and helping kids build new hobbies, you can show them how to live a well-rounded life beyond screens.
For more ways to disconnect from technology and reconnect on vacation, visit our Westgate Resorts Travel Blog.

RELATED ARTICLE: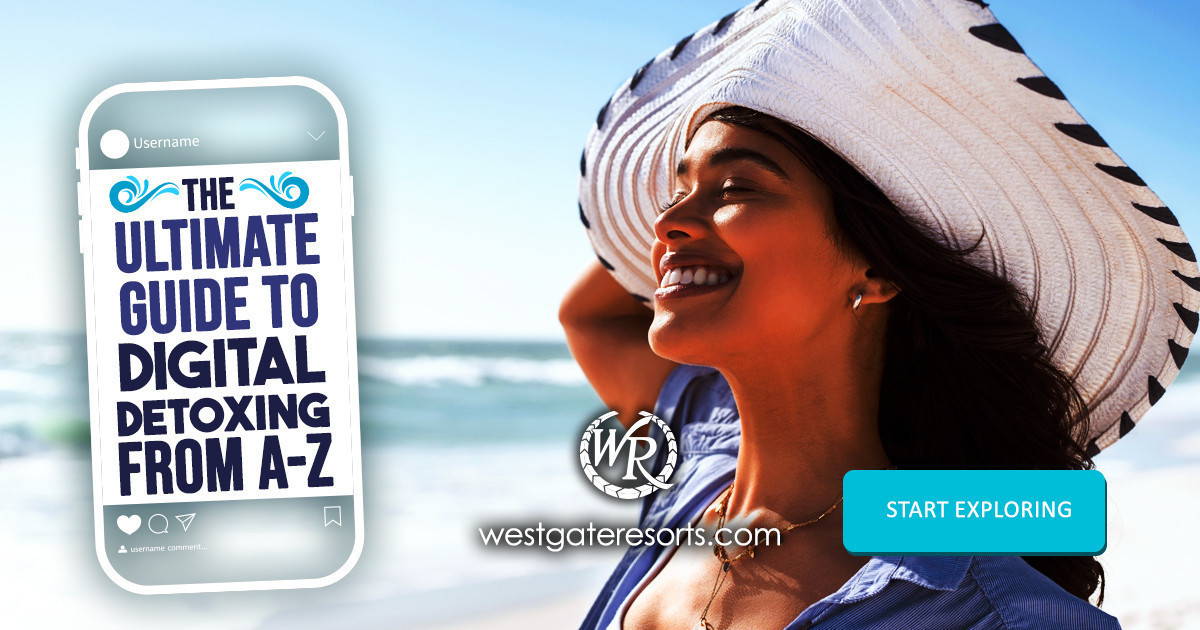 At Westgate Resorts, when you Check-In, there's a LOT to Check-Out! Your vacation awaits! Start planning your next vacation today or talk with a vacation planner at 888-852-2959 or 407-355-2690.
* Westgate Resorts is in no way affiliated with the attractions featured in this article. Items or places listed are current as of the publishing date of this article. Please call or visit the respective website for the most up-to-date offerings and details.
When You Check-in, There's a Lot to Check Out
Sign up for our newsletter and check-in to great offers, secret stuff, and special events.