10 Best Hayrides in Florida that Will Leave You Hay-ppy!
10 Best Hayrides in Florida that Will Leave You Hay-ppy!
When you think about the Sunshine State, the top haunted mazes in Florida probably aren't the first thing that comes to mind. But the thing is, it's one of the best places to celebrate fall.
Not only can you run through haunt mazes in Florida, but you also get to pick pumpkins, sip cider, and stay at the Westgate River Ranch camping site with luxe teepees and luxurious glamping cabins.
The Best Haunted Hayrides Florida is Known For
Florida might not have falling leaves, but it still offers plenty of family-friendly entertainment to enjoy the autumn season. Read on to discover the best places to take a hayride or even check out the scariest haunted houses in Orlando!
1 | The Haunting of River Ranch | At River Ranch Resort & Rodeo, a spooktacular new event is coming this Fall: The Haunting of River Ranch! Experience the thrill of a lifetime as you venture through a haunted house filled with mystery and terror.
Bring your family and friends along and uncover the secret of why River Ranch is haunted! Shake off the shivers down your spine by visiting the many food stands and win Halloween-themed prizes at the game booths!
WHERE: 3200 River Ranch Boulevard, River Ranch, FL 33867 | WHO: 863-692-1321
RELATED ARTICLES:
10 Best Hayrides Near Tampa that Locals Love to Recommend
10 Haunted Places To Visit In Myrtle Beach
12 Things Most People Never See on The Haunted Mansion Ride at Magic Kingdom!
2 | Sykes Family Farms | With 50 years worth of farming experience, Sykes Family Farms continues the tradition of providing a family-friendly experience and "agritainment!" See in action how milk is obtained by visiting the cow milking stations, place your bets on the exclusive duck racing, and navigate your way through Syke's corn-fusing 9-acre corn maze!
Got a special event plan and need a venue that captures the essence of fall? Syke's Family Farms has plenty of barns for guests to rent out and host the agrarian party!
WHERE: 5995 Brough Rd, Elkton, FL 32033 | WHO: 904-692-1370
3 | Coon Hollo Farm | Are you looking for that picture-perfect pumpkin? Do you want to experience what it's like taking care of farm animals? Coon Hollo Farm has everything needed to provide you with an authentic fall experience! After frolicking in the pumpkin patch, spoil your sweet tooth by purchasing homemade baked goods.
Get ready for the hayride of a lifetime as you make your way to feed the cows! For those looking for something a bit more thrilling, become one with the wind as you speed down the 50-foot sack slide. Hit the bullseye by participating in the archery field!
WHERE: 22480 N US Hwy, Micanopy, FL 32667 | WHO: 352-318-9258
4 | Hunsader Farms | Located in Bradenton, Florida, Hunsader Farms offers pumpkin picking, has a petting zoo, and even a pumpkin festival where you and the kiddos enjoy hayrides, corn mazes, train rides, and of course chainsaw sculpting classes!
Choose the perfect jack-o-lantern candidate from hundreds of locally-grown pumpkins and gourds! End your adventure by taking a family photo in a scenic spot or by using one of Hunsander's backdrops.
WHERE: 55 CR 675 Bradenton, FL 34211 | WHO: 941-322-2168
5 | Amazing Grace Family Farms | Pumpkins, crop mazes, hayrides, Amazing Grace Family Farms have it all. Families who come here can create a lifetime of memories in just a few short hours.
Watch your children skip across the corn cribs, take scenic photos with the whole farm as your backdrop and select the most appealing pumpkin from the patch. And even though it isn't one of the most haunted places in Florida, you can still enjoy some fall fun at Amazing Grace!
Feeling a little competitive? Then, test your might in a game of tug-o-war! Interact with the local farm animals and bet on whose duck will win the next big race. All of these activities and more await you at Amazing Grace Family Farms!
WHERE: 4251 State Rd 21, Green Cove Springs, FL 32043 | WHO: 904-284-2949
6 | Sweetfields Farms | Book your tickets for you and your family at Sweetfields Farms; the farm where all of the fall magic happens! Wander around the pumpkin patch with your children, then figure your way out of the tricky corn maze.
Take a tour of the whole farm by going on a hayride and enjoy some fine farm dining at the participating vendors! Find out who's the best in the family by playing a fun game of jumbo foosball.
WHERE: 17250 Benes Roush Rd, Brookesfield, FL 34604 | WHO: 352-279-0977
7 | The Little Farm | Bet you never thought you'd be taking a hayride in Miami, did you? Yep, it's true. At Little Farm, city-dwellers can experience what life is like in the countryside. Learn how to interact with and milk the goats, see what the bees are up to by visiting the apiary, and take your children on a pony ride!
What's more, is that you can also take a once-in-a-lifetime hayride. Little Farm also has catering from local food vendors, so you can eat your fill after strolling through its extraordinary butterfly garden.
WHERE: 13401 SW 224th St, Miami, FL 33170 | WHO: 305-258-3186
8 | Farmer Mike's | Looking for the freshest produce in Bonita Springs? Farmer Mike's is here to serve! Ripe apples, voluminous bananas, juicy peppers, eggplants, and fresh tomatoes; Farmer Mike's has a wide variety of fruits and vegetables for everyone to enjoy! When you're done shopping at the farmer's market, why not stroll through the corn maze?
If you visit during October, you'll be given the opportunity to find your way through the haunted corn maze! Got a birthday coming up and want to make it an unforgettable experience? Farmer Mike's lets you reserve a private 50x50 pavilion to use at your leisure!
WHERE: 26031 Morton Ave, Bonita Springs, FL 34135 | WHO: 239-498-4576
9 | Harvest Moon Fun Farm | Want to have a fun and wholesome adventure with your family? Then, book your tickets for Harvest Moon Fun Farm! At Harvest Moon Fun Farm, you and your family "fall" in love with what we have to offer.
Make your first stop at our petting farm; home to all sorts of snuggly creatures such as rabbits, goats, pigs, and our prized mammal: Scarlett the Llama!
Need a new assortment of flowers for your home? Come assemble your own bouquet of sunflowers! Bring your children along and have them see what farm life is all about by taking a hayride. Fancy yourself a thrillseeker? Traverse down the Haunted Trail and see if you can survive…
WHERE: 15990 Stur St, Masaryktown, FL 34604 | WHO: 800-373-4811
10 | Bedner's Farm Fresh Market | Bedner's Farm is a place that has a rich history. Founded in 1960, Bedner's Farm continues to uphold its agricultural legacy left by its progenitor, Arthur Bedner.
Here, you'll find some of the freshest fruits and vegetables in Florida! It's also home to fun events such as hayrides, pumpkin patch expeditions, petting zoos, and one of the biggest corn mazes around.
WHERE: 10066 Lee Rd, Boynton Beach, FL 33473 | WHO: 561-733-5490
Satisfying Your Fall Cravings
Even though Florida doesn't have the traditional fall foliage you might be used to, it still has plenty of fun, not to mention super spooky things to do. So, whether you want to hop on a hayride or find your way through a corn maze, Florida's got you covered!
For more travel guides and fall fun around Central Florida, visit our Westgate Resorts Travel Blog.

RELATED ARTICLE: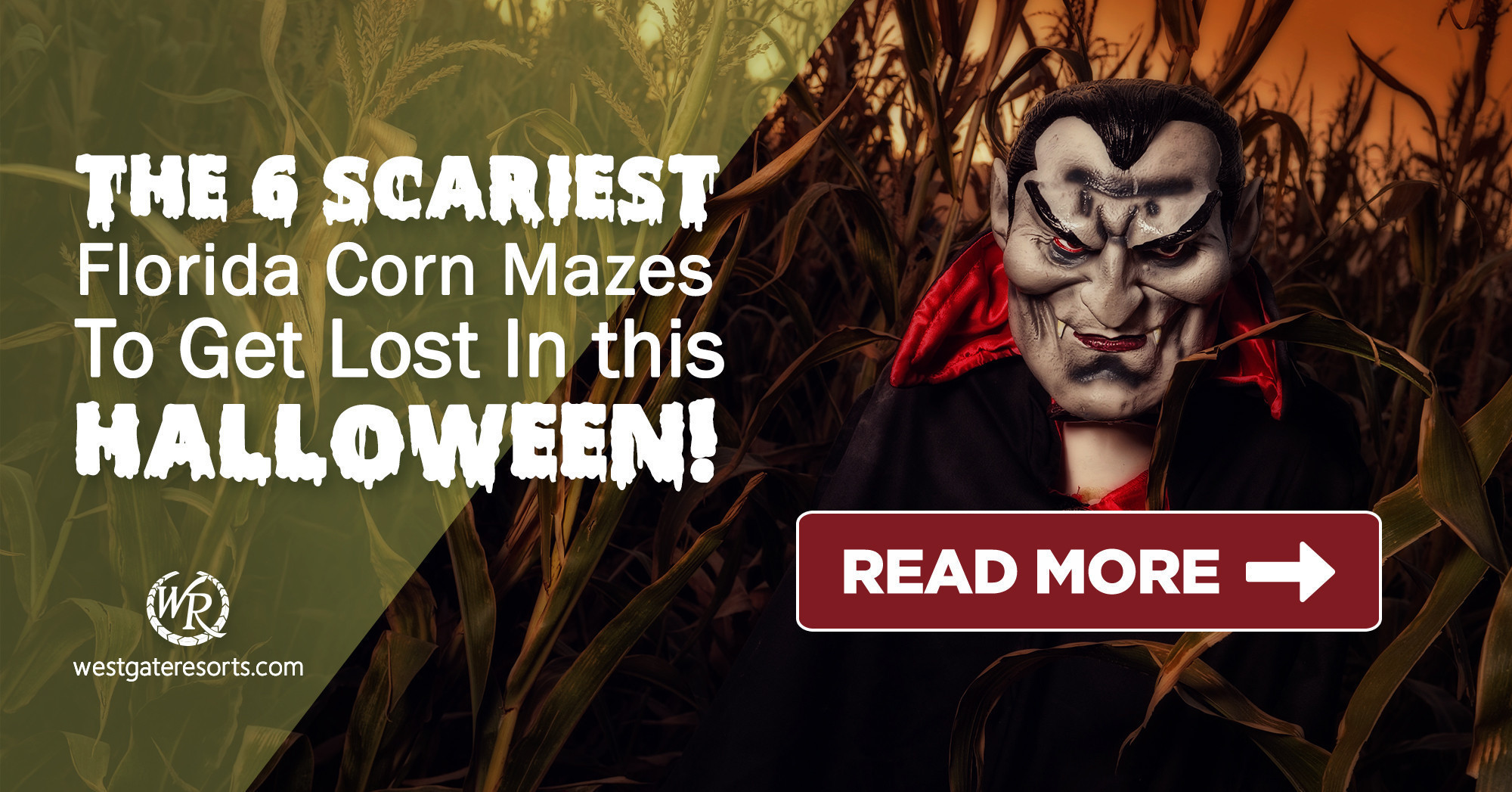 At Westgate Resorts, when you Check-In, there's a LOT to Check-Out! Your vacation awaits! Start planning your next vacation today or talk with a vacation planner at 888-852-2959 or 407-355-2690.
* Westgate Resorts is in no way affiliated with the attractions featured in this article. Items or places listed are current as of the publishing date of this article. Please call or visit the respective website for the most up-to-date offerings and details.
When You Check-in, There's a Lot to Check Out
Sign up for our newsletter and check-in to great offers, secret stuff, and special events.