The 15 Most Haunted Places in NYC You Need to Visit!
The 15 Most Haunted Places in NYC You Need to Visit!
"The boundaries which divide Life from Death are at best shadowy and vague. Who shall say where the one ends, and where the other begins?" – Edgar Allan Poe
Horror movies filmed on location in New York City run the gamut from established classics such as Rosemary's Baby (1968) and more offbeat cult films like Basket Case (1982) and Jacob's Ladder (1990) to total turkeys such as the execrable Friday the 13th Part VIII: Jason Takes Manhattan (1989). In addition, we would be remiss not to acknowledge the NYC-based 1984 horror-comedy classic Ghostbusters! However, for a real taste of the macabre, nothing beats visiting actual ghoulish and creepy landmarks throughout the Big Apple that reportedly have exhibited paranormal activity of one form or another over the years. Whether you wish to try your hand at ghost hunting and explore haunted mansions, sinister townhouses, scary Escape Rooms, ghostly theaters, spooky restaurants, possessed hotels, creepy churches or even Harry Houdini's gravesite, here are the 15 most haunted places in NYC you need to visit (note that some of these sights are private residences and not open to the public, so you will only be able to catch a glimpse of those ghostly sites from outside) – And if you survive the terror, unwind with your favorite adult beverage at any of the best rooftop bars in NYC!
1 | Morris-Jumel Mansion | Built in 1765 and listed in the National Register of Historic Places, the Morris-Jumel Mansion (AKA "Mount Morris") in Washington Heights is the oldest house in Manhattan and originally served as the summer house of Colonel Roger Morris (1727-94), a highly decorated British Army officer. In the fall of 1776, the mansion briefly served as the headquarters for General George Washington and his officers during the Revolutionary War. In 1810, Eliza and Stephen Jumel purchased the Georgian-style mansion. Eliza reportedly had an affair with Aaron Burr (the former vice president who had killed Alexander Hamilton in a duel) and soon thereafter Stephen died mysteriously from a "pitchfork accident." According to popular rumors of the time, Eliza actually buried Stephen alive! Eliza and Burr divorced three years later, Burr soon died and Eliza eventually had a mental breakdown that lasted until she died in 1865 at the age of 90. Today, the Morris-Jumel Mansion is allegedly haunted by at least five spirits, including Eliza (in 1965 she allegedly shushed a group of rowdy schoolchildren who were taking a tour of the mansion), Stephen Jumel, Aaron Burr, a servant girl who reportedly committed suicide by jumping out of a window and even the painting of a Revolutionary War soldier that occasionally comes to life (a la the talking portraits that populate Hogwarts Castle!). If you're interested in possibly running into any or all of these restless spirits, the Morris-Jumel Mansion is open for self-guided tours every day but Monday.
WHERE: 65 Jumel Terrace, New York, NY 10032 | WHO: (212) 923-8008
2 | The Dakota | Not only is the Gothic-style Dakota building, which first opened its doors in 1884, one of the most exclusive residences in Manhattan, but it's also reportedly one of the most haunted buildings in NYC! Tragically, John Lennon of Beatles fame was murdered outside of the Dakota on December 8, 1980 (Yoko Ono still lives at the Dakota and claims she once viewed Lennon's ghost sitting at his legendary white piano). When he was alive, Lennon apparently told Ono he witnessed a "Crying Lady Ghost" in the Dakota. Other ghosts witnessed by Dakota residents over the years include a playful girl in a yellow dress and a very creepy looking short guy donning an ill-fitting wig. In addition, paranormal activity reported at the Dakota includes phantom footsteps, mysterious noises and objects moving on their own. By the way, scenes from the 1968 horror movie classic Rosemary's Baby directed by Roman Polanski were shot at the Dakota, which is located at Central Park West on 72nd Street for the morbidly curious.
WHERE: 1 W. 72nd Street, New York, NY 10023 | WHO: N/A
3 | "House of Death" | Few buildings in NYC have a more sinister reputation than the so-called "House of Death" near Washington Square Park in Greenwich Village that has become widely known as "the most haunted building in New York." According to legend, the 19th-century brownstone got its macabre name due to the myriad of mysterious and violent deaths that took place in the building over the years, along with an extraordinary level of reported paranormal activity reported here. Legendary author Mark Twain lived in the building for a year (1900-01) and his ghost – clad in his signature white suit and coolly smoking a cigar – has been spotted here. In fact, a plaque outside the building states, "In this house once lived Mark Twain (Samuel Langhorne Clemens), author of the beloved American classic The Adventures of Tom Sawyer." In 1987, the building was also the site of the tragic murder of six-year-old Lisa Steinberg by her father, Joel Steinberg, a former criminal defense attorney. Last but not least, Jan Bryant Bartell, an off-Broadway actress/poet and longtime resident of the "House of Death," wrote a compelling 1974 memoir about her paranormal experiences there titled Spindrift: Spray from a Psychic Sea.
WHERE: 14 W. 10th Street, New York, NY 10011 | WHO: N/A
4 | One if By Land, Two if By Sea | An immensely popular West Village eatery, One if By Land, Two if By Sea is housed in a former carriage house built in 1767 that once belonged to Aaron Burr (1756-1836), who served as vice president under Thomas Jefferson (and is also notorious for fatally wounding Alexander Hamilton in a duel). Not only is Burr said to haunt the dining establishment, but also the spirit of his daughter, Theodosia, who disappeared at sea while aboard the schooner Patriot somewhere off the coast of North Carolina in 1813. Diners and restaurant employees have reported such paranormal activity as getting shoved by an invisible hand, paintings falling off walls, flickering lights, plates flying across the dining room and even earrings pulled from ears. By the way, the eatery appears at No. 5 on Architectural Digest's list of the "Most Romantic Restaurants in the World." Movie buffs will want to know that the private upstairs dining area at One if By Land, Two if By Sea reportedly once served as actor Steve McQueen's apartment.
WHERE: 17 Barrow Street, New York, NY 10014 | WHO: (212) 255-8649
5 | New Amsterdam Theater | Now leased by Disney Theatrical Productions and currently home to the hit musical Aladdin, New Amsterdam Theatre boasts a rich history as Broadway's oldest theater and an official New York City Landmark that is also listed on the National Register of Historic Places. Built in 1902-03, the New Amsterdam Theatre also features a resident ghost, none other than Ziegfeld Follies chorus girl and actress Olive Thomas, who was known as "The Most Beautiful Girl in New York City" before dying in Paris in 1920 at the age of 25 after swallowing a lethal dose of mercury bichloride pills (which her husband, Jack Pickford, brother of actress Mary Pickford, was using to treat his syphilis). The ghost of Thomas has often been spotted hanging out both onstage and in the backstage of the theater.
WHERE: 214 W. 42nd Street, New York, NY 10036 | WHO: (212) 282-2900
6 | Kreischer House | A creepy Queen Anne Victorian-style mansion that sits empty on Staten Island, the allegedly haunted Kreischer House contains 25 rooms and was built around 1885 by German immigrant and "brick-factory baron" Balthasar Kreischer. One of Kreischer's twin sons later committed suicide in the mansion. In 2005, the property's caretaker Joseph "Joe Black" Young (who was also a hitman for the mob!) murdered a fellow mobster named Robert McKelvey inside the mansion, dismembered his body and burned it in the basement furnace. Over the years, visitors have reported strange voices and lights emanating from the house, along with sightings of the ghosts of both Kreischer song, as well as a former cook. By the way, the Kreischer House served as a filming location for HBO's period crime drama Boardwalk Empire and was also featured on the reality TV series Paranormal Lockdown. In addition, actor Aaron Paul ("Jesse Pinkman" from Breaking Bad) visited the Kreischer House during an episode of the TruTV series Super Into.
WHERE: 4500 Arthur Kill Road, Staten Island, NY 10309 | WHO: N/A
7 | The Manhattan Well | The infamous "Manhattan Murder Well" trial took place in 1799 after carpenter Levi Weeks was accused of the strangulation murder of his girlfriend Gulielma "Elma" Elmore Sands and throwing her body into a well in an area of Manhattan that was then known as "Lispenard Meadow." Wells, the brother of influential builder Ezra Weeks, was later acquitted in a controversial verdict. Today, the remains of the notorious well can be found inside the COS SoHo clothing store on Spring Street. Elma's ghost can allegedly be heard shrieking from deep down in the well, as well as sometimes wandering around the streets of SoHo. The Travel Channel has included the Manhattan well as one of its "10 Most Haunted Places in America."
WHERE: 120 Spring Street, New York, NY 10012 | WHO: N/A
8 | St. Mark's Church in-the-Bowery | The ghost of Peter "Peg Leg" Pete Stuyvesant, the last Dutch colonial governor-general of New Amsterdam (the original name of New York), reportedly haunts St. Mark's Church in-the-Bowery, which dates to 1660 and is the second-oldest church in Manhattan. Visitors to the landmark East Village church have witnessed Stuyvesant roaming the church grounds, ringing church bells, singing hymns loudly in Dutch and committing other assorted acts of mischief. Self-guided walking tours of St. Mark's are available, so you may be able to get the opportunity to document a personal encounter with old "Peg Leg" Pete!
WHERE: 131 E. 10th Street, New York, NY 10003 | WHO: (212) 674-6377
9 | Merchant's House Museum | A National Historic Landmark, the Merchant's House Museum is housed in an 1832 Federal-style brick townhouse in the East Village often referred to as the "Most Haunted House in Manhattan." The dwelling is allegedly haunted by the ghost of a miserly spinster named Gertrude Tredwell, who rarely left the house from her birth in 1840 until she died in 1933 at the age of 93. In addition to witnessing Gertrude wander around the house in a shabby brown dress, visitors have reported unexplained sounds, lights and smells throughout the Merchant's House Museum.
WHERE: 29 E. 4th Street, New York, NY 10003 | WHO: (212) 777-1089
10 | Hotel Chelsea | Immortalized by singer-songwriter Leonard Cohen in his 1974 song "Chelsea Hotel #2," the legendary Chelsea Hotel has served as a celebrity haunt (no pun intended!) over the years for the likes of Jimi Hendrix, Janis Joplin, Andy Warhol, Madonna, Bob Dylan, William S. Burroughs, Dee Dee Ramone, Patti Smith, Dylan Thomas (who actually died here in Room 106), R. Crumb, Tennessee Williams, Stanley Kubrick, Arthur Miller, R. Crumb and many others. In addition, many ghosts reportedly haunt the Chelsea Hotel – including Dylan Thomas himself, as well as a survivor of the Titanic known as Mary, who haunts the fifth floor. In addition, Nancy Spungen, girlfriend of Sex Pistols' bassist Sid Vicious, was stabbed to death in Room 100 of the Chelsea in 1978 (although Vicious was charged with the murder, he died of a heroin overdose before standing trial). By the way, the Chelsea was featured on an episode of Celebrity Ghost Stories featuring actor Michael Imperioli ("Christopher Moltisanti" from The Sopranos).
WHERE: 222 West 23rd Street, New York, NY 10011 | WHO: N/A
11 | Machpelah Cemetery | No list of haunted places in NYC is complete without an eerie graveyard and the creepy Machpelah Cemetery (a Jewish cemetery founded in 1860) in Queens ranks right up there since it's the final resting place of none other than legendary escape artist Harry Houdini (real name: Erik Weisz), who died on Halloween night in Detroit at the age of 52 in 1926. Houdini's wife, Bess, held a séance at the grave every October 31 until her death in 1943 in a desperate (and ultimately unsuccessful) attempt to contact the famed illusionist from beyond the grave. As you might expect, Houdini's grave draws significant crowds every Halloween night.
WHERE: 8230 Cypress Hills Street, Ridgewood, NY 11385 | WHO: (718) 366-5959
12 | White Horse Tavern | In addition to haunting the Hotel Chelsea (see No. 10), the ghost of Dylan Thomas gets around and is also known to hang out at the White House Tavern, where the legendary Welsh poet allegedly drank 18 straight whiskies on the night of his death at the age of 39 in 1953. Thomas has been witnessed lounging around his favorite table at the famous watering hole and even stealing shots from the bar on occasion. A notable "bar for writers," the White Horse Tavern, which was established in 1880, has been certified as a National Poetry Landmark by the Academy of American Poets.
WHERE: 567 Hudson Street, New York, NY 10014 | WHO: (212) 989-3956
13 | Washington Square Park | A bustling gathering place in the heart of Greenwich Village and surrounded by New York University, Washington Square Park has a rather dark history that dates to its use as a hanging ground during the American Revolution (the 350-year-old "Hangman's Elm" still stands in the northwest corner of the park as the oldest known tree in Manhattan). The patch of land where Washington Square Park now sits was later used as a public burying ground and an estimated 20,000 bodies are reportedly buried here. Needless to say, visitors to Washington Square Park have often reported paranormal activity such as ghostly figures wandering around late at night (often mistaken for inebriated college students making their way home from the bars!).
WHERE: At the base of 5th Avenue, New York, NY 10012 | WHO: N/A
14 | Empire State Building | The ghost of a woman dressed in 1940's attire and sporting bright red lipstick reportedly haunts the observation deck on the 86th floor of the world-famous Empire State Building, which rises 1,454 feet above the Midtown Manhattan skyline. The ESB specter apparently is none other than Evelyn McHale, who committed suicide at the age of 23 by jumping from the observation deck and landing on a limousine parked at the curb in 1947. Because of the calm demeanor of her body resting peacefully atop the crushed car, McHale was labeled "The Most Beautiful Suicide" after a photo of the gruesome act appeared in Life magazine. Pop artist Andy Warhol later used the photo in one of his works titled Suicide (Fallen Body).
WHERE: 20 W. 34th Street, New York, NY 10001 | WHO: (212) 736-3100
15 | McCarren Park Pool | Plenty of strange occurrences have been documented late at night at the McCarren Park Pool, which first opened in 1936 at McCarren Park in Brooklyn. According to legend, the ghost of a young girl who drowned in the pool can be seen roaming around and crying out for help. Of course, there doesn't seem to be any public records of the alleged death, but the rumors persist – making McCarren Park Pool one of the most haunted places in Brooklyn! By the way, the McCarren Park Pool was featured during a chase scene in the low-budget 1983 movie Vigilante (AKA Street Gang), which starred Robert Forster and Fred Williamson.
WHERE: 776 Lorimer Street, Brooklyn, NY 11222 | WHO: (718) 218-2380
BONUS | Sleepy Hollow/Tarrytown | Just 30 miles north of New York City lies the tiny village of Sleepy Hollow and adjacent Tarrytown, the area where author Washington Irving (1783-1859) set his acclaimed gothic short story "The Legend of Sleepy Hollow," which features the infamous ghost known as the "Headless Horseman." Considered one of the "Most Haunted Places in the World," Sleepy Hollow hosts an annual Halloween event called Horseman's Hollow that boasts 15 days of "haunted mayhem." Listed on the National Register of Historic Places, the Sleepy Hollow Cemetery serves as the final resting place of Irving and also was a filming location for the Ramones' 1989 "Pet Sematary" music video.
WHERE: Sleepy Hollow, NY 10591 | WHO: N/A
ROAD TRIP | Amityville Horror House | A tiny village on Long Island located about an hour's drive from Manhattan, Amityville is home to the notorious haunted house that spawned the seemingly endless Amityville Horror franchise of books and horror movies. The site of a gruesome mass murder in 1974, the eerie Dutch Colonial-style house was then purchased by the Lutz family, who claimed that the intense amount of paranormal activity – including mysterious noises, green slime oozing down the walls, swarming flies, a secret room painted blood red and a demonic red-eyed pig named "Jodie" – drove them out just 28 days later. The Lutz's horrifying (and controversial) account of their experience was documented into a bestselling 1977 book authored by Jay Anson entitled The Amityville Horror, which was turned into a 1979 supernatural horror film of the same name in 1978 and followed by the churning out of a multitude of mediocre sequels, including Amityville 3-D (1983), Amityville: A New Generation (1993) and Amityville Death House (2015), among many others. Since the house is a privately owned residence, please just drive slowly by and gawk or take a photo from the sidewalk, so you do not in any way disturb the current residents.
WHERE: Amityville, NY 11701 | WHO: N/A
Ready to Begin your Spooky Quest?
Use our handy map to discover the scary side of NYC! From haunted hangouts, frightening tours to peculiar sights and so much more, visit these famous attractions to see these creepy spectacles in Manhattan.
Have a Fiendishly Fun Time Exploring NYC's Most Haunted Destinations!
An exploration of the most haunted places in New York City is just the tip of the iceberg when it comes to bucket-list activities in the Big Apple! When you've had your fill of chasing ghouls throughout the five boroughs, enjoy all of the other fun things to do in New York City such as enjoying your favorite cocktail at one of the many rooftop bars in Manhattan or historic NYC taverns, as well as checking out some of the most weird things to do in NYC at night! In addition, be sure to take advantage of New York City hotel discounts, so you can enjoy incredible savings while experiencing all the best that NYC has to offer!
Related Article: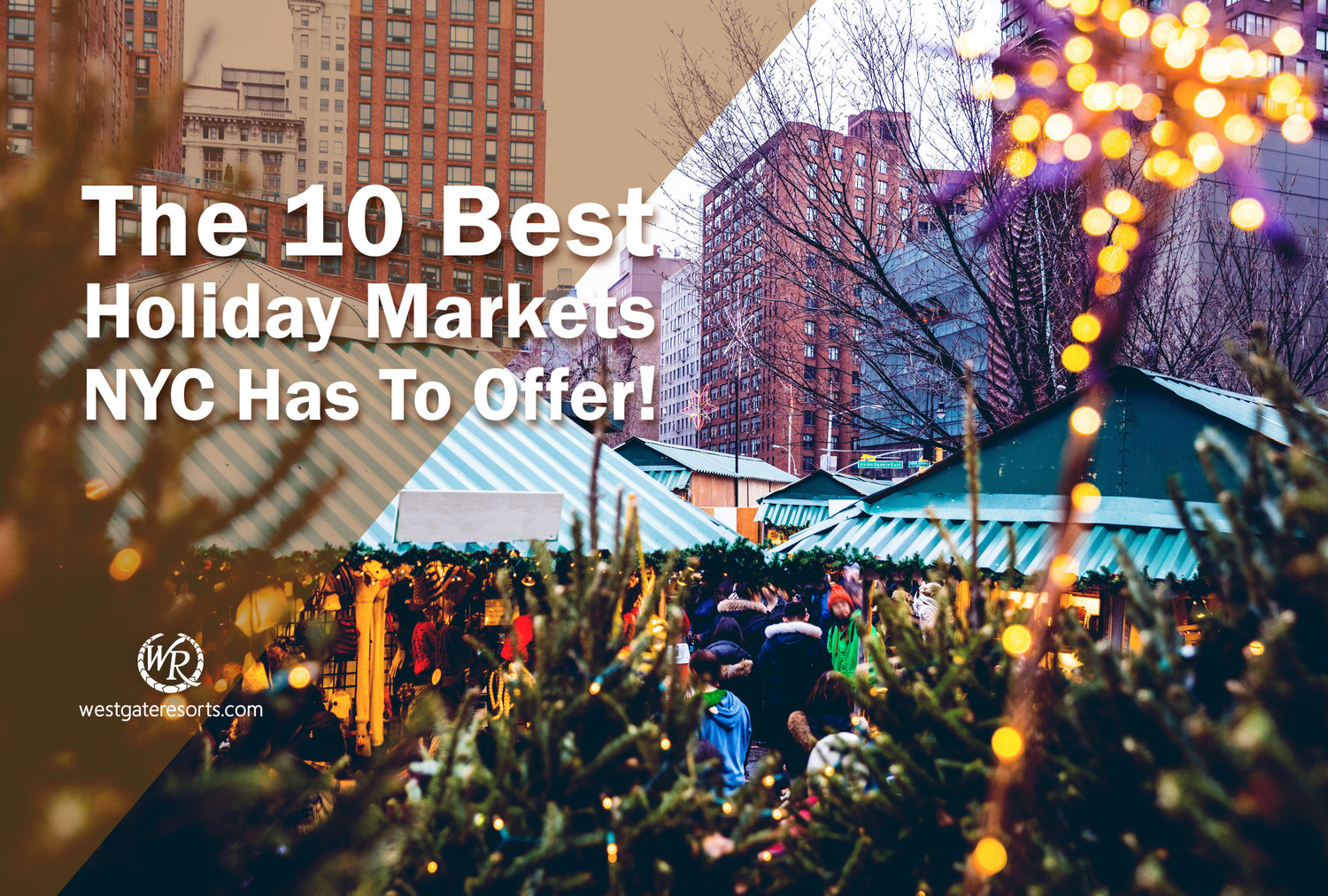 At Westgate Resorts, when you Check-In, there's a LOT to Check-Out! Your New York City vacation awaits! Explore our New York City hotel today or talk with a vacation planner at 888-852-2959 or 407-355-2690.
* Westgate Resorts is in no way affiliated with the locations/markets featured in this article. Menus, services and products listed are current as of the publishing date of this article. Please call or visit the respective market for the most up-to-date offerings.
Other tagged pages of interest: midtown east hotels, things to do near Grand Central Station, NYC nightlife, holiday bars in NYC, karaoke NYC, wine bars midtown NYC, rooftop bars NYC, hotels, staycation
When You Check-in, There's a Lot to Check Out
Sign up for our newsletter and check-in to great offers, secret stuff, and special events.