The Ultimate Guide to Tudor City Manhattan
The Ultimate Guide to Tudor City Manhattan
With gleaming skyscrapers and a bustling cityscape, The Big Apple is truly the city that never sleeps with a long list of things to do in NYC. Right in the center of all that action is its most densely populated borough, Manhattan. While more recognized for being a world-class financial and cultural hub and historical landmarks such as the Empire State Building and neon-lit Times Square, tucked away in the East side of Manhattan is Tudor City– a quaint and quiet neighborhood complex.
Tudor City Manhattan NY
Tudor City is located on the southern edge of Turtle Bay, right between 40th and 43rd Street, and near Murray Hill. The neighborhood is easily accessible through bus, PATH train or Subway lines 4, 7, E, F and S. While only a short stroll from Midtown, Tudor City is an area of its own and makes for a great escape from the hustle and bustle of East New York. The centrally located "city within a city" is quite small and only takes up a few square blocks made up of a distinct architecture and a few interesting spots to explore. Since Midtown and Grand Central are close by, there are also a couple of affordable to high-end hotels located just a comfortable distance away.
If you're looking for a relaxing day out on your vacation in New York City, here is the ultimate guide of things to do in Tudor City.
1 | Stay in a Historic Hotel | As one of the most historic neighborhoods in the Big Apple, Tudor City is home to plenty of historic NYC hotels that showcase the classic elegance and old school charm mixed with modern marvels which make the 'city in a city' remarkable. Take for instance, the hotels near Grand Central Station – our own Westgate New York Grand Central – excuse the shameless plug – renovated to the tune of $20 million to preserve pieces of the past while adding upgrades of luxury is one of those relics of the past that holds the secrets and stories of old NYC. Whether you're a history buff, lover of architecture, or just trying to find a nice hotel, you will find a stay at one of Tudor City's historic hotel not only fascinating but an educational vacation in and of itself!
2 | Admire the history-rich architecture and the streets | One of Tudor City's top selling points has to be the buildings and streets of this historical site named in 1988. Unlike the cutting-edge Manhattan skyline, the streets here are lined with Tutoresque, arguably Neo-Gothic style buildings that bring you back to a time as early as the 1920s when they were first built. With new developments on each side of this elevated enclave, the 19th century Tudor-revival residential area here is well-maintained and worth exploring with a camera. From stone walls to decorative entryways, you'll definitely leave with a good picture or few.
2 | Explore the landmarks… for free! | When in New York City, you'll probably expect to spend quite a bit on entry fees for famous attractions and landmarks. But not in Tudor City. There are two landmarks in the enclave, Church of the Covenant and Prospect Tower. The former is a Presbytarian house of worship established in 1871 and can be easily spotted wedged between two towering buildings. Its stark Victorian-Gothic red brick walls is one of the oldest structures and has a long standing history to back it up. Another impressive structure here is Prospect Tower, and the pride of Tudor City. While it is an apartment complex and the only way to explore the walkways behind stained glass panels is to rent a room, this outside itself is a sight to behold.
3 | Venture around the "Secret Garden" | Nestled along Tudor City Place is the Tudor City Greens: an urban oasis hosting two landmark parks. The parks are the heart of the city, well-loved and used by its 5,000 local residents. Tudor City Greens is maintained by an appointed board and volunteers dedicated to preserve the beauty and nature through frequent efforts and maintenance. Venturing through the grounds, you'll find perfectly landscaped flora in a quiet setting perfect for an afternoon picnic or a stroll. If you're lucky, you might arrive on days where the board hosts events that you can enjoy with family or friends. These programs usually take place during the summer or festive season and can be found on their website.
4 | Check out the Tudor City Bridge | At the end of Tudor City Greens is where to find the Tudor City Bridge. New York City is home to a whopping 2,027 bridges, out of which 10 have achieved landmark status. While not as renowned as the striking Brooklyn Bridge, or TV's Manhattan Bridge, Tudor Bridge is a gem of its own. Also known as the Tudor City Overpass, this is arguably the enclave's most photogenic spot, with a view of 42nd Street from above.
5 | Get down to some retail therapy | Unlike "tourist" New York, Tudor City holds a certain unique beauty – and one great thing is, it is surprisingly affordable. There are a plethora of stores and hidden gems around every corner of the area. From florists to shoe stores, and women's clothing to art galleries, there is something for every shopper in Tudor City. The best part? It doesn't come with the marked-up price tag you find in most uptown boutiques. The area is largely localized, which means that whatever you're getting is at a price point for residents.
6 | Take a one-day fitness class | While enjoying life's more peaceful pleasures, it is worth checking out the fitness studios in the enclave. From yoga to dance classes or the regular gym, Tudor City has a few studios that are great for shedding some vacation weight. Studios here usually offer a trial package that consists of a session or two, which is useful since the area is accessible from many hotels in New York City.
7 | Grab a fresh cuppa' to perk up | Whether in the morning or midday, there's nothing a freshly-brewed coffee cannot fix. Tudor City boasts an extensive range of cafes for tired travelers to take their pick. Choose to have your coffee to-go and grab a bite at Chelsea Bagels. Or if you need a break, Madmen Espresso or Ground Central are perfect places to sit in and watch people go by.
8 | Go on the ultimate food hunt | When it comes to a vacation in The Big Apple, it's hard to ignore that it is a culinary mecca of thousands of delis, restaurants, food stops, and historic bars. Some of which are located right in Tudor City! Over the years, Grand Central Station has evolved into a bustling food district, leading to some of that culinary action moving into Tudor City. If you're looking for fine Michelin-starred fare, Sushi Yasuda serves up authentic Japanese sushi in a traditional setting. Or if you're feeling fancy, head to Osteria Laguna for glamorous Italian cuisine. For those who want a quick bite, there is the iconic Shake Shack, and the Tudor City outlet is great to escape the crowds you usually find in the nearby outlets.
9 | Have a family day out in the kid-friendly neighborhood | Tudor City is home to many families. This also means it's the perfect area for families with children to explore on vacation. Younger children may not find sites like Tudor-revival buildings or churches interesting, and understandably so. Parents can bring them to frolic about the Tudor Cove or Mary O'Connor playgrounds.
10 | Walk about in a film junkie's dream | The impressive streets of Tudor City are also the backdrop of many legendary films in cinematic history. For digital souvenirs and bragging rights, bring along your phone or camera to snap shots for Instagram. Reenact exciting scenes from legendary New York-based films like Scarface, The Godfather III and Taxi Driver, or even the more recent Spider Man franchise.
Last Tip for Things to do in Tudor City
For a true glimpse into old New York City, look no further than Tudor City in Manhattan. Here, there are plenty of interesting activities to give you a taste of the history and culture behind the striking landmarks. For the full Tudor City experience, book a room at Westgate New York Grand Central, so you're always a stone's throw away from the enclave's marvelous offerings.
Looking for things to do outside NYC? Check out our travel tips and tricks about NYC and other exciting destinations listed on our Travel Blog.

RELATED ARTICLE: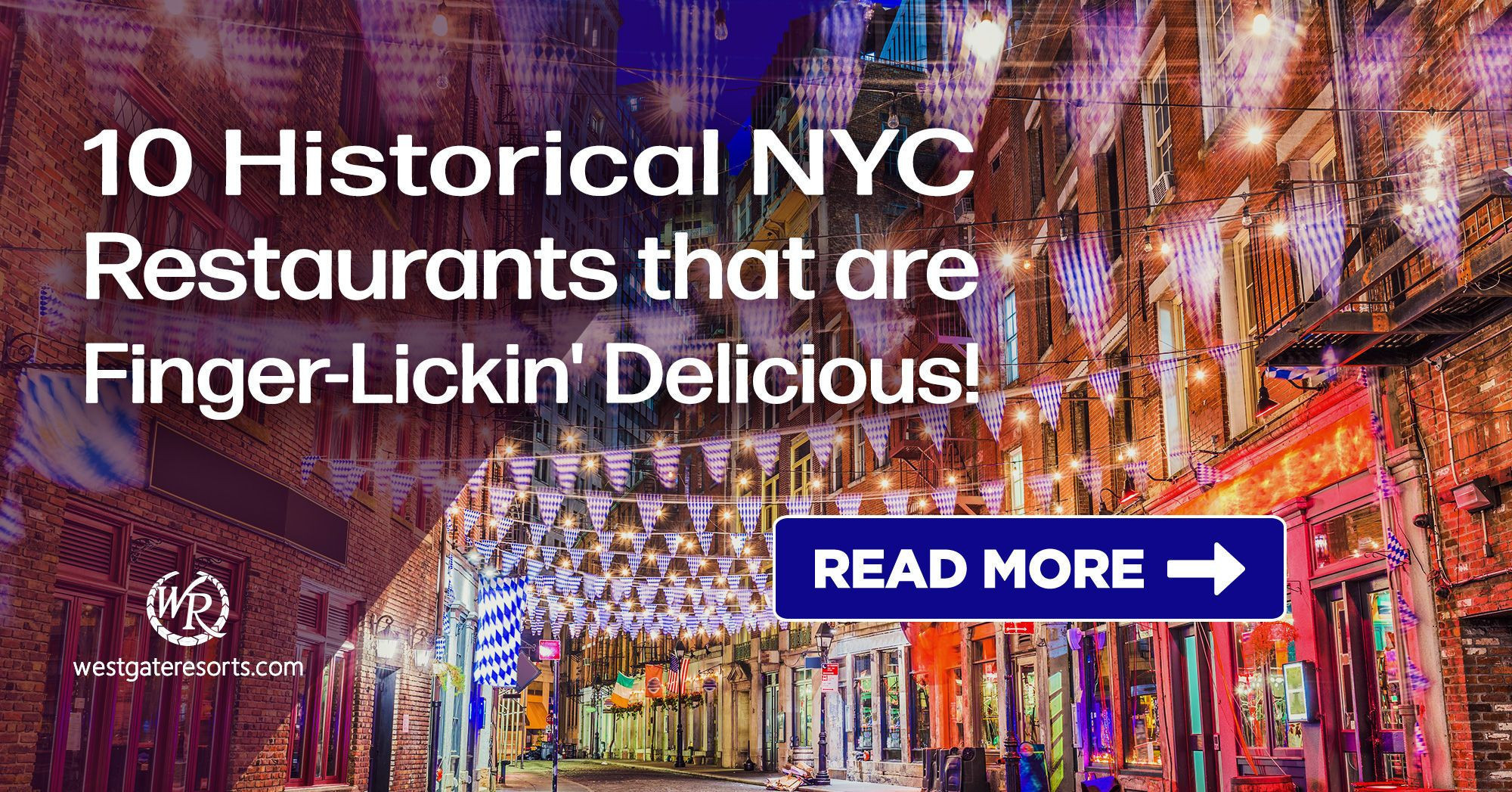 For more information, please contact a Vacation Specialist at 888-852-2959. Westgate Owners: To book your week online please visit: https://my.westgateresorts.com.
* Westgate Resorts is in no way affiliated with the attractions featured in this article. Items or places listed are current as of the publishing date of this article. Please call or visit the respective website for the most up-to-date offerings and details.
When You Check-in, There's a Lot to Check Out
Sign up for our newsletter and check-in to great offers, secret stuff, and special events.