The Ultimate Guide To Staying Offsite (Off Property) Disney World
The Ultimate Guide To Staying Offsite (Off Property) at Disney World
With the plethora of fun things to do in Orlando, it's no surprise that millions of people make their way down to the hot and humid city in the heart of Florida each year. Popular tourist spots in Orlando include Icon Park and the abundance of nearby International Drive restaurants, Gatorland, Universal Studios and of course – Walt Disney World! For people all around the world, treating their family to a Disney vacation is a bucket list item that cannot go unfulfilled. A dream is a wish your heart makes, and if your heart is dreaming of Disney you've come to the right place! But just how realistic is this dream, budget-wise? It's no secret to hardcore Disney lovers that the price of admission has skyrocketed since the park first opened to the public. In fact, the rise in Disney ticket prices often far exceeds the rate of inflation. When Magic Kingdom first opened its gates backed in 1971, the price of a general admission adult ticket was just $3.50. If we adjust that price for inflation, a single day would have set you back a little over $20. Today, a standard single-day adult ticket is $109. When Disney introduced the annual pass in 1982, a whole year of Disney magic could be experienced for $100. In 2020, an annual pass set you back a whopping $999. Though if you consider the cost of a single day admission, the steep price tag associated with an annual pass becomes well worth it after only 10 visits to the parks. If visiting Disney World multiple times throughout the year is not a feasible option for you, you'll need to budget your visit even more closely, noting you'll likely need to account for hotel accommodations, dining, and park costs for your entire family. Let's dive into everything you need to know!
Disney World Onsite Vs Offsite
Many families dream of an all-inclusive Disney vacation – which includes accommodations at one of Disney's many on property hotels and resorts. Disney offers a wide selection of resorts ranging in price, including their Value Resorts, Moderate Resorts, Deluxe Resorts, Deluxe Villa Resorts and Disney Springs Area Hotels. Disney's Moderate Resorts, like Disney's Port Orleans – French Quarter, can end up costing you big bucks in the long run when you factor in additional costs like the entertainment and dining options that you'll partake in when staying on Disney property. Plus, the average room night in a Value or Moderate resort can cost you upwards of $250 or more. The time of year that you choose to visit can also drastically affect your room rate. The most cost effective (and least crowded) times to visit Walt Disney World Resort are typically January through early February, late April, and then August through October, as these are the months of the year that most kids are in school and families find it more difficult to schedule vacations. The most expensive (and busiest) times to visit Disney include Spring Break/Easter in late March and early April, Memorial Day weekend, Thanksgiving week and all of December, when locals choose to visit the parks and take advantage of cooler temps, and tourists are escaping the snow from up north. If it's the only time that works for your family, visiting Disney during peak season is still possible, especially if you consider staying at a resort off property.
Is it Better to Stay at Disney World or Offsite?
Before booking your Disney World vacation, consider what options you may have to shave some dollars off your bill. Take the time to figure out what aspects of your Disney vacation are more important to you. Do you want to be the first one in line at the gates of Magic Kingdom each morning? Is being able to prepare healthy meals for your family important to you? Will there be time during your vacation to sit back and lounge by the pool or enjoy some activities? How long do you plan to stay? According to various experts, a 6-to-7-day stay allows you the most time to experience the best of Disney. With four theme parks (Magic Kingdom, Epcot, Disney's Hollywood Studios and Disney's Animal Kingdom), two water parks (Disney's Blizzard Beach and Disney's Typhoon Lagoon), the massive Disney Springs entertainment-shopping-dining complex, ESPN Wide World of Sports Complex, and four golf courses, there is a lot to do and squeeze into your trip! It can seem a bit overwhelming and crowded, especially during the busy season. Staying at a resort off Disney property is provides you with a major opportunity to save while experiencing all the comforts of home during your getaway. Let's dive deeper!
Tips for Staying Offsite at Disney World
When vacationing with the entire family, comfort is key – this is especially true when you'll be returning to your room after spending 12 hours on your feet in the Florida heat! When choosing a resort offsite, look for hotel accommodations with full kitchens and grocery stores nearby. For instance, the One-Bedroom Grand Villas at Westgate Town Center feel like home and give your family plenty of space to spread out, offering 905 square feet of living space, including full kitchens featuring a microwave, coffee maker, refrigerator, and dishwasher. They are also fully equipped with eating utensils, pots, pans, and dishes. Plus, conveniently located off 192 in Kissimmee, the resort is 0.3 miles from a Walmart Supercenter. This makes it easy to stock up on fresh foods and drinks to prepare easy and delicious meals and enjoy huge savings. You won't even have to leave your room to get your morning cup (or two) of coffee in before heading to the parks. When you're ready to relax, the master bedroom comes with a king bed and master bathroom, equipped with a huge jetted tub and walk-in shower. Other areas include a separate living room with a Queen Sleeper Sofa, dining room area, washer and dryer, and furnished balcony or patio so you can soak up the Florida sunshine and enjoy the views!
You'll also want to look for offsite resorts that offer activities that your entire family can enjoy. After all, when you're in vacation mode even adults start to act like kids again! Westgate Town Center Resort has its own water park right on site, Shipwreck Island Water Park, plus 14 heated outdoor pools and hot tubs, an 18-hole dinosaur-themed miniature golf course, a lakeside marina and paddleboats, plus a movie theater dedicated to showing classic Disney movies. All of these activities are completely free for Westgate Owners and allow you to unwind after a long day of exploring the parks and the greater Orlando area.
The timeless real estate mantra holds true – location, location, location! In order to avoid the headache that comes along with fighting Orlando traffic, choose an offsite resort or hotel that is still in close proximity to the parks. Westgate Town Center Resort is conveniently located just off 192 in Kissimmee, less than 4 miles from the entrance to Disney's Animal Kingdom, less than 5 miles from Disney's Hollywood Studios, and just 6 miles from the ticket plazas for entry to both EPCOT and the Magic Kingdom. You won't even have to get on the interstate to get your day at the park started. Plus, Westgate Town Center is also a less than 15 minute drive to Disney's Lime Parking Garage, giving you direct access to the mega-popular entertainment-shopping-dining complex, Disney Springs.
Consider the average cost of Disney vacation when deciding whether or not to stay onsite or off. You'll likely need to account for airfare, hotel accommodations, dining, and park costs for your entire family. 3-day tickets to the park (allowing you access to 1 park per day) for a family of 4 are currently going to set you back a little over $1,300. Ticket costs aside, even the cost of Disney souvenirs has risen drastically within the last few years. One of Disney's most popular accessories, specialty mouse-ear headbands, are considered a must have by many and have experienced a huge jump in price in recent years. Previously going for as little as $15.95, by 2018 ears could set you back as much as $24.99. In 2021, most Disney ears are priced around $29.99. You should also consider the cost of feeding your family throughout your trip. While you'll want to enjoy a few nice meals out during your vacation, if you don't prepare some of your own meals for your days at the parks, you could be looking at potentially thousands of dollars in additional expenses. There are more than 100 quick-service dining locations throughout Walt Disney World Resort, and with kids' meals and entrees running from $7-$12 or more (without a drink), dining costs can add up very quickly. When you choose an offsite resort, like Westgate Town Center, each villa contains a full-sized refrigerator so you can store things like sandwich meats, water bottles, and fresh fruits and snacks to pack for your lunches in the park.
Staying off site allows you the opportunity to explore other areas near Disney. There are tons of options for family fun, like the abundance of free things to do in Kissimmee. Enjoy the classic American fun of Old Town USA, an iconic amusement park featuring a variety of weekly entertainment options from their Classic Car Show to the Old Town Farmer's Market. Old Town USA always boasts several unique dining and shopping options, plus classic amusement park rides and attractions like a Carousel, Ferris Wheel, and much more. See how the locals live by paying a visit to Main Street in historic Downtown Kissimmee or spend the day strolling lakeside in the charming town of Celebration – originally developed by the Walt Disney Company!
When dining out, consider exploring restaurants OFF Disney property. Westgate Town Center Resort offers several delicious dining options right on property, including Villa Italiano Chophouse, serving up authentic Italian cuisine with fresh ingredients and house-made recipes. Some of their dinner options include Short Rib Ravioli, Fettuccini Alfredo, Spaghetti Puttanesca, Veal Picatta, Chicken Parmesan, and plenty of pizza! They also offer the perfect kid portions of Italian classics and American favorites like chicken fingers and mac n' cheese, so there's something to satisfy every member of your family. If you're looking to score the perfect seat for the big game during your vacation, stop by Drafts Sports Bar & Grill for the perfect bar-food served in front of the big screen. Start with their famous Tatchos, crispy tater tots loaded up with your favorite nacho toppings. For your entrée, choose from classics options like a Philly Cheesesteak Sandwich, Drafts Famous Burger, Top Sirloin Steak, or Drafts Stadium Dog. Check out the chart below to see how much your family can save during your vacation by dining OFF Disney property!
Benefits of Staying Offsite at Disney World
Ready to save? Consult the chart below to find out just how much you can expect to pay for a traditional Disney vacation versus the incredible savings you can enjoy when you seek out much more affordable options such as vacation packages and vacation ownership:
EXPENSE

Walt Disney World Resort Area Hotel/Resort

Westgate Resorts Hotel

Westgate Vacation Package

Westgate Vacation Ownership

Stay (One Week)*

$1,630.00

$1,115.00

$429.00

$0.00

Dining (One Week)**

$1,998.00

$972.00

$972.00

$972.00

Activities

$50/day or $350/week

FREE

FREE

FREE

EXPERIENCE

Distance

7.5 miles to Disney's popular Pandora - World of Avatar attraction, Flight of Passage at Disney's Animal Kingdom

3.5 miles to Disney's popular Pandora, - World of Avatar attraction Flight of Passage, Disney's Animal Kingdom

3.5 miles to Disney's popular Pandora, - World of Avatar attraction, at Flight of Passage at Disney's Animal Kingdom

3.5 miles to Disney's popular Pandora - World of Avatar attraction at Flight of Passage at Disney's Animal Kingdom

Room

6-Day Stay River View Room: Sleeps up to 4 guests 2 Queen Beds 1 Child-Size Pull-Down Bed or 2 Queen Beds

6-Day Stay One-Bedroom Grand Villa: 905 sq. ft. of deluxe space

Sleeps 4 guests

King Bed & Queen Sleeper Sofa Full kitchen

Refrigerator

Microwave

Coffee Maker Washer/Dryer

Cable TV (with Premium Channels) Balcony/Patio with Dining Set

6-Day Stay One-Bedroom Grand Villa: 905 sq. ft. of deluxe space

Sleeps 4 guests

King Bed & Queen Sleeper Sofa Full kitchen

Refrigerator

Microwave

Coffee Maker Washer/Dryer

Cable TV (with Premium Channels) Balcony/Patio with Dining Set

6-Day Stay One-Bedroom Grand Villa: 905 sq. ft. of deluxe space

Sleeps 4 guests

King Bed & Queen Sleeper Sofa Full kitchen

Refrigerator

Microwave

Coffee Maker Washer/Dryer

Cable TV (with Premium Channels) Balcony/Patio with Dining Set

TOTALS

$3,978

$2,087

$1,041

$972
*One week stay rates based on rate shop performed at the time of writing for Westgate Town Center Resort, dates 8/22-8/28 at Best Available Rate and/or Discount Rates currently offered. One week stay rates for Disney's Port Orleans Resort – French Quarter, listed as moderate resort type on wdwinfo.com, calculated based on Average Room Rate of $271.67 per night listed on disneyworld.disney.go.com. Westgate Vacation Package rate of $429 available at the time of writing, and subject to eligibility, Terms and Conditions, and presentation/touring requirements. Westgate Vacation Ownership cost of 'FREE' stay does not include maintenance fees or other individual agreements at time of purchase for vacation ownership. Terms and Conditions apply.
**One week's worth of Dining calculated for a family of 4 at 3 meals per person, per day, utilizing U.S. Government recommended food allowances versus food allowance provided under Low Cost Plan guidance via USDA Food Plan guidelines, versus current Disney Deluxe Dining Plan at current 2021 rates.
Bottom line
As you can see, the options for the ultimate Disney vacation do not end once you venture off Disney property. With some smart planning, your entire family can enjoy all the elements of the ultimate Disney vacation, without breaking the bank. Booking resort accommodations off Disney property options allow you to navigate around Disney's seemingly ever-increasing prices and give your family an amazing Disney vacation experience that's still convenient and full of fun. Once you crunch the numbers, vacation ownership through Westgate Resorts is your best bet when it comes to enjoying a lifetime of affordable Disney World vacations! Plus, Westgate Owners also enjoy savings up to 30 percent off nightly rental rates at Westgate's other resort properties in premier travel destinations throughout the United States, including Las Vegas, Park City, Myrtle Beach, Gatlinburg, New York City and more!

RELATED ARTICLE: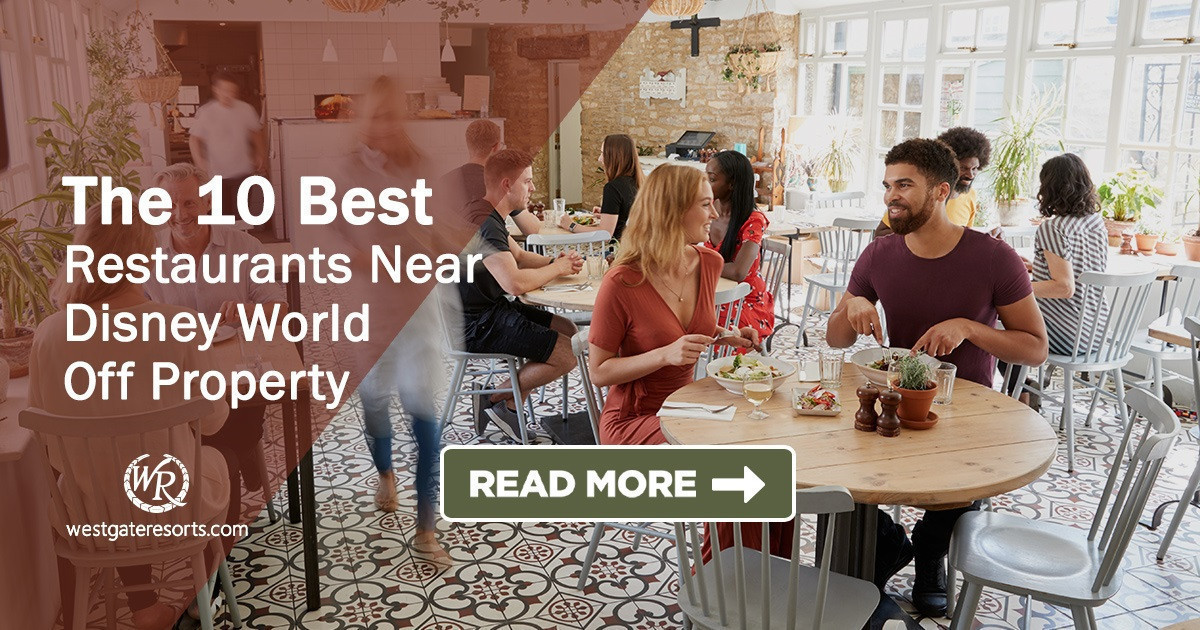 At Westgate Resorts, when you Check-In, there's a LOT to Check-Out! Your Orlando vacation awaits! Explore our Orlando resorts today or talk with a vacation planner at 888-852-2959 or 407-355-2690.
* Westgate Resorts is in no way affiliated with the attractions featured in this article. Items or places listed are current as of the publishing date of this article. Please call or visit the respective website for the most up-to-date offerings and details.
When You Check-in, There's a Lot to Check Out
Sign up for our newsletter and check-in to great offers, secret stuff, and special events.