Fresco Italiano at Westgate Las Vegas Resort & Casino Earns Ranking as TripAdvisor's #1 Rated Italian Restaurant In Las Vegas
Aug 07, 2020
Fresco Italiano joins Westgate's Edge Steakhouse as Westgate's Second TripAdvisor's #1 Rated Restaurant.
LAS VEGAS – Westgate Las Vegas Resort & Casino proudly announced today that Fresco Italiano is now ranked as TripAdvisor's number one Italian restaurant in Las Vegas, and number eight overall amongst more than 3,400 restaurants in Las Vegas. Fresco Italiano joins another Westgate Las Vegas restaurant, the nationally renowned Edge Steakhouse, at the top rating in the steakhouse category. Both restaurants are under the direction of Executive Chef Steve Young.
"This top ranking on TripAdvisor is a tribute to the hard-working and dedicated staff at Fresco Italiano," said Mark Waltrip, Chief Operating Officer at Westgate Resorts. "It's an even more remarkable achievement that under Executive Chef Steve Young's leadership, two of our fine dining restaurants are at the top of each of their respective categories in a market that is full of celebrity chefs and incredible culinary competition."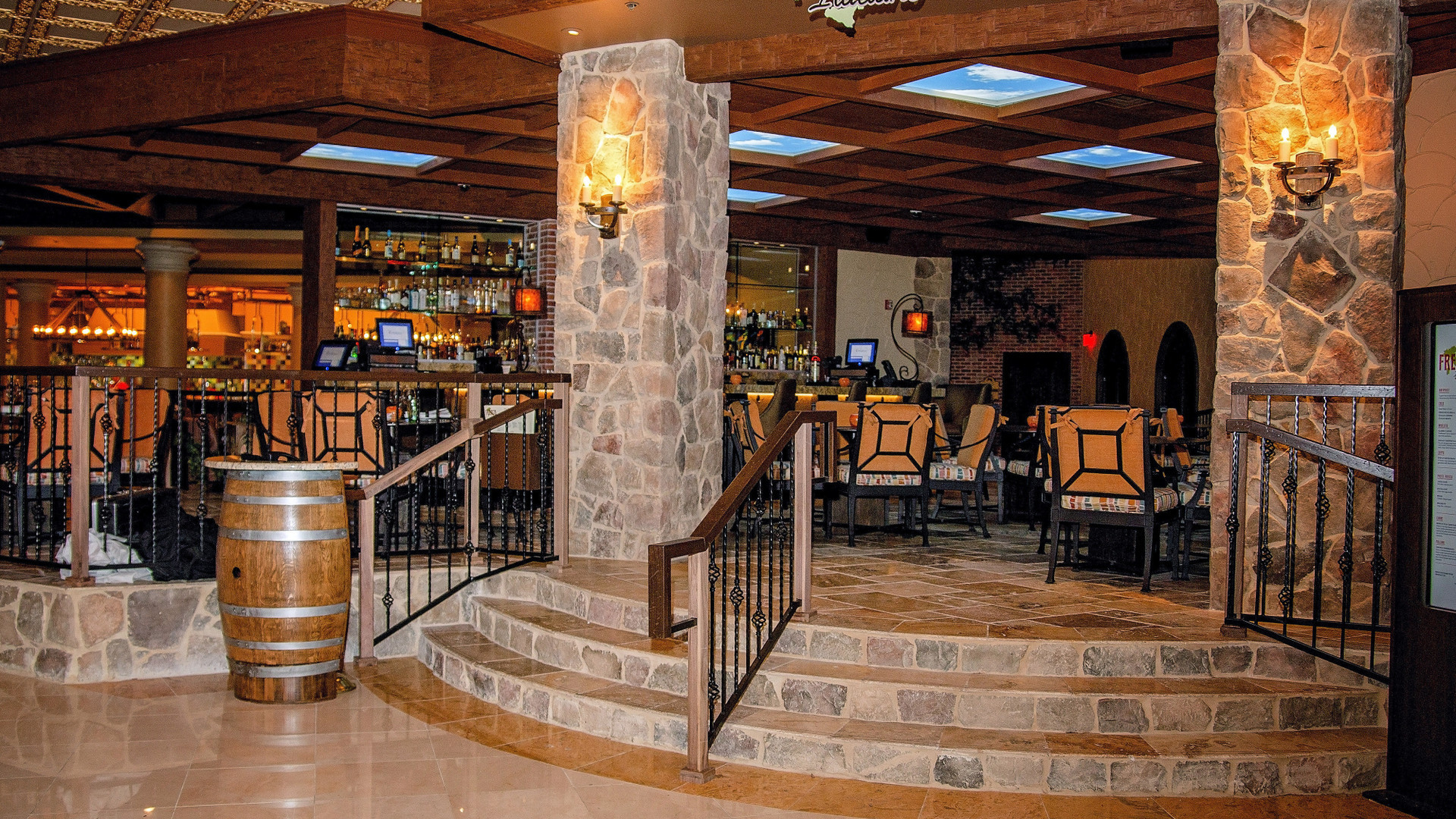 Westgate Las Vegas Resort & Casino President and General Manager Cami Christensen added "I'm extremely proud of what the Fresco Italiano team has accomplished and so excited that our guests have the opportunity to dine at two of the very best that Las Vegas has to offer, right next door to each other right here at Westgate Las Vegas."
Executive Chef Steve Young, took the reigns at Fresco Italiano in addition to his leadership role at Edge Steakhouse in 2019, and since that time Fresco has rapidly moved up the TripAdvisor ratings. Along with the outstanding menu of authentic Italian dishes, Chef Young credits the success to the entire staff for their limitless commitment to customer service in a warm, friendly environment. Not a stranger to awards and accolades, Chef Young was a past Las Vegas Weekly/Vegas Inc 40 Under 40 Honoree and was named the 2019 Executive Chef of the Year at the annual Silver State Culinary Awards.
ABOUT FRESCO ITALIANO
A design inspired by an authentic Tuscan villa located inside the Westgate Las Vegas Resort & Casino, award winning Executive Chef Steve Young has created the perfect blend of menu options that highlight his Italian culinary passion and skill. Enjoy Italian-style cuisine defined by freshness and simplicity, like hand-crafted flat breads baked in a stone-fired pizza oven, produced with imported Italian flour and family recipes, along with custom dishes matching favorite pastas with fresh sauces. Choose from entrées featuring Bone-in Veal Chop Parmigiana, Osso Buco, Frutti di Mare or Lemon & Rosemary Roasted Chicken, slowly cooked in natural juices and enhanced with fresh herbs and garden vegetables.
ABOUT EDGE STEAKHOUSE
With locations at Westgate Park City Resort & Spa and Westgate Las Vegas Resort & Casino, Edge Steakhouse delivers a cutting-edge culinary experience that takes the traditional American-style steakhouse to a new level. The menu at Edge Steakhouse features top quality USDA Certified Prime Aged Beef, Snake River Farm Wagyu Beef, and fresh fish and seafood, along with a variety of unique tableside dining experiences, including a fresh seafood tower, a tableside prepared Caesar Salad and an array of micro-desserts. Edge Steakhouse also boasts a full bar with specialty drinks, comprehensive wine list and extensive selection of domestic, international and local beers.
ABOUT WESTGATE LAS VEGAS RESORT & CASINO
Westgate Las Vegas Resort & Casino, the iconic world-class destination and the home of Legendary Vegas Fun, offers a unique blend of amenities and excitement with all your favorite table games, hottest slots on the market, incredible restaurants, endless entertainment, more than 225,000 square feet of meeting space and the world's largest Race & Sports SuperBook®, which is home to Nevada's largest wagering system and more than 4,500 square feet of state-of-the-art HD video screens, in a comfortable, smoke-free environment. Westgate Las Vegas provides a range of culinary adventures with eight Las Vegas restaurants, including the world-famous Benihana, the award-winning Edge Steakhouse, now rated the best steakhouse in Las Vegas, Fresco Italiano and the newest addition Bar Sake & Robata Grill.
The home of legendary performer Barry Manilow, the property features entertainment options in the International Theater and the Westgate Cabaret and has recently undergone nearly $275 million in renovations that has encompassed every square inch of the property, including the addition of 300 timeshare villas, a new suite of fine dining restaurants, a fully renovated pool deck, 2,100 remodeled Luxe Rooms & Signature Rooms and the luxurious Serenity Spa in Las Vegas, which was awarded the 2017 Forbes Travel Guide Four-Star Award. For more information or to book our Las Vegas hotel and casino, call toll free at (800) 732-7117 or log on to WestgateLasVegas.com.
###
Westgate Las Vegas Press Contact:
Gordon Prouty, Vice President of Public Relations and Community Affairs
Email: gordon_prouty@wgresorts.com
Tel: (702) 732-5273
Jessica Murray, The Zimmerman Agency
Email: Jmurray@zimmerman.com
(850) 668-2222