Westgate Resorts Reveals Details of $3.2 Million Renovation of Westgate Branson Woods Resort
Apr 05, 2021
BRANSON, Mo. – April 5, 2021 – Westgate Resorts announced today the details of the newly renovated Westgate Branson Woods Resort following the completion of a $3.2 million remodel. Now open to the public, the updates give a fresh look to the premier resort in the Heart of the Ozarks.
From new curtains to framed artwork capturing the picturesque panorama of the resort's surrounding scenery, families can now enjoy a refinished retreat that invokes the spirit of Westgate Branson's outdoor leisure and adventure into its cozy guestrooms. The updated accommodations feature freshly painted walls and décor in light, airy tones and textures, stunning new flooring, updated kitchen appliances and luxury bathroom fixtures, including bright vanities and countertops with added back-lit mirrors.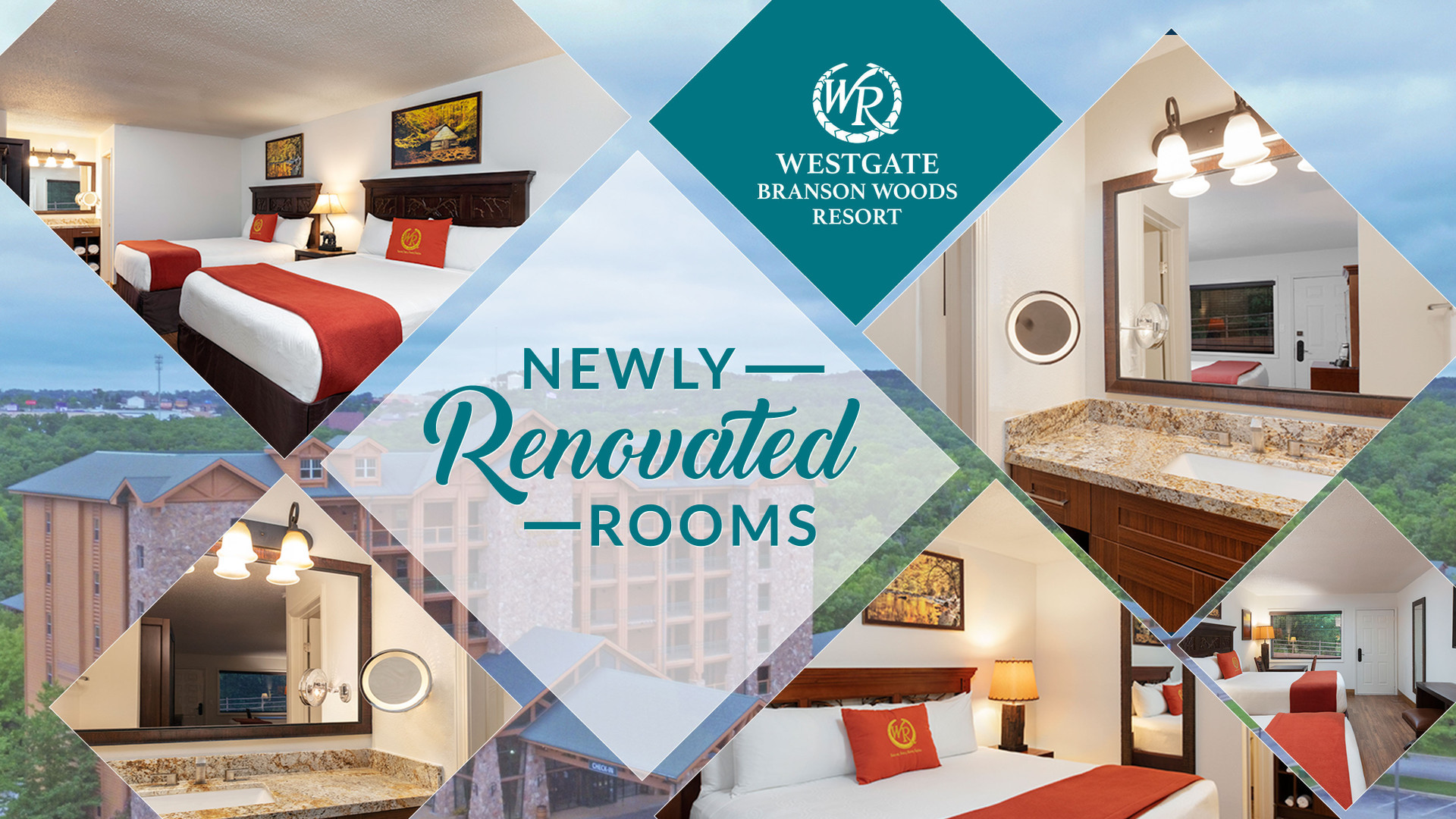 The multi-million-dollar upgrade also brings an all-new spa to the outdoor heated pool, allowing visitors to enjoy a relaxing dip with a breathtaking view no matter the time of year.
Resort guests and owners can take advantage of these latest upgrades alongside the endless possibilities for memories offered by Westgate Branson Woods. Whether it's searching for beautiful waterfalls, venturing out for a hike, spending the day at nearby Silver Dollar City, or just enjoying the scenic view of the surrounding Ozark Mountains, the resort's location offers an adventure perfect for every traveler.
Westgate Branson Woods Resorts is proud to practice the Westgate Resorts comprehensive health and safety protocols outlined in WestgateCARES. The program is an all-encompassing strategy that exemplifies how the company has safely reopened its resorts, hotels, restaurants, retail outlets, spas, casinos, and other amenities. WestgateCARES details the specific procedures that meet, and in most cases, exceed all governmental directives. For more information on the WestgateCARES program, please visit www.WestgateResorts.com/Cares/
Westgate Branson Lakes Resort, the sister property to Westgate Branson Woods Resort, had also announced the completion of an $8.2 million resort renovation in November 2020. For further details about the updates at Westgate Branson Lakes Resort, visit www.WGBransonLakes.com.
ABOUT WESTGATE RESORTS
Westgate Resorts is the largest privately held timeshare company in the world and one of the largest resort developers in the United States. Founded in 1982 by David Siegel, the company is headquartered in Orlando with 7 Orlando hotel resorts, and 27 themed destination resorts nationwide, featuring more than 15,000 luxury villas and hotel rooms in popular vacation destinations throughout the United States such as Miami, Orlando and Cocoa Beach, Florida; New York City, New York; Park City, Utah; Las Vegas, Nevada; Gatlinburg and Pigeon Forge, Tennessee; Myrtle Beach, South Carolina; Williamsburg, Virginia; Branson, Missouri; Mesa, Arizona; and Tunica, Mississippi. Most Westgate Resorts locations feature a variety of unique restaurant, retail and spa concepts, including Villa Italiano Chophouse, Drafts Burger Bar, Edge Steakhouse, Westgate Marketplace & Deli and Serenity Spa by Westgate. For more information about Westgate Resorts, visit www.westgateresorts.com.