The 20 Best Food Trucks Orlando Locals Lunch At!
The 20 Best Food Trucks in Orlando
Locals and tourists alike scour Orlando at lunchtime, looking for new flavors and cutting-edge tastes to add a much needed "bump" in the middle of their workday.
As if the best restaurants in Orlando Florida (including those amazing restaurants on International Drive), weren't enough, many locals search out fast food for a quick bite or turn to a traditional sit-down restaurant, and even more turn to food trucks to indulge in new tastes at a low price point and fast turnaround time.
Food trucks offer curated menus and can be found all over the city at lunchtime. Sometimes, they gather in one spot, making it easy to sample cuisines from all over the world.

Food Trucks Downtown Orlando
Chances are you've seen food trucks in Downtown Orlando and all over the city. These kitchens on wheels serve culinary creations made by innovative chefs who take their delectable dishes on the road. Instead of lunching at a chain restaurant or going through the drive-thru, try a few from our list of the best food trucks that Orlando locals lunch at!
1 | Cruisin Cuisine | Looking for some familiar soul food? Cruisin Cuisine offers diverse comfort food classics like sandwiches, egg rolls, and skewers.
Burger fans will love their burger, which is topped with an incredible secret sauce. You can't miss Cruisin Cuisine's meatballs- they are tossed in BBQ reduction made with banana and coconut to give you the perfect savory and sweet experience.
No matter where you are visiting from, you'll find a familiar soul food favorite on this menu.
RELATED ARTICLES
10 Things to Do in Downtown Orlando to Get Your Groove On!
The 15 Best Bars in Downtown Orlando
The 10 Best Restaurants Near Disney World Off Property
2 | Lee's Famous Cheesesteaks & Wings | Run by a group of Philadelphia transplants, Lee's Famous Cheesesteaks & Wings gives you authentic Philly cuisine in the heart of Orlando. And they take their menu seriously: you'll also find wings, hoagies, and cheesesteaks daily.
But don't let the simple, straightforward menu fool you. They offer customized options to suit every palette. Their wings are always perfectly cooked and coated with Buffalo hot sauce, sticky sauce, garlic parmesan, or BBQ sauce.
3 | Peru Power Food Truck | Peruvian food is quickly becoming a popular choice amongst foodies in the Orlando area. You can trust Peru Power to offer authentic, high-quality cuisine with incomparable flavors.
It's hard to pick the highlights off their extensive menu because it's full of home run dishes. The chicken and rice bowl with homemade chimichurri and incredible ceviche always hits the spot.
The popular burger "A lo Pobre" is topped with sweet plantains, fried eggs, and golf dressing accompanied by hot and crispy fries.
Honestly, there is no wrong choice when it comes to the Peru Power Food Truck!
4 | Guacamoli | Run by the Tinjaca family, who brought you the wildly successful Kalabi Haus, Guacamoli offers Mexican cuisine with a focus on- you guessed it!- guacamole!
You'll find various guac options from mild to spicy made from seasonal ingredients and creative pairings, like pomegranate and mango. Pair your favorite with anything on the menu.
Choose a bowl, burrito, or tacos and stuff them with your choice of protein. Guacamole offers steak and chicken, as well as non-meat options like jackfruit, impossible meat, and pulled mushrooms, making this an excellent option for a lunch group with diverse dietary needs.
5 | Moto Food Truck | Moto Food Truck started with a mission to cook the most delicious street food you can find in Florida. Their devout following of foodies will tell you their mission has been accomplished.
Everything on Moto's menu is cooked low, slow, and de-elicious! The pork burger and mac (yes, you read right!) are perfect for satisfying your inner carnivore.
Be sure to try the paratha, a freshly baked Indian-style flatbread stuffed like a taco that will give you an out-of-body experience and satisfy your wildest foodie craving.
6 | The Big Cheese Truck | Remember those basic grilled cheese sandwiches from your childhood? Well, they've grown up.
The Big Cheese Truck offers innovative sandwiches and Canadian flair that highlight a variety of delectable cheeses. No matter what your taste buds call for, you'll find it here.
Order The Big Cheese, made with American, Swiss, and Mozzarella cheese if cheese is what you crave. Looking for a taste of the ocean? Choose the Lobster Grill made with thick Texas toast and melted white American cheese or the Salmon Grill, topped with a savory Italian bruschetta.
7 | Chicken Waffle Grill | The name says it all: Chicken Waffle Grill specializes in the southern-style comfort food we all love. Their chicken and waffle dish is perfectly cooked every time.
What sets them apart is the variety of ways they cook up chicken and waffles. Go classic with the Chicken Gravy Supreme or be adventurous and try something new with the Red Velvet Chicken - a crispy piece of fried chicken on a warm red velvet Belgian waffle.
8 | J's Cone Zone | Want to beat the Florida heat with some frozen treats? J's Cone Zone offers a classic ice cream truck menu with creamy soft-serve ice cream cones in vanilla and chocolate. Can't decide? Choose a swirled cone!
They also carry your favorite pre-packaged novelties and can whip up classic ice cream sundaes with your favorite toppings. Don't forget the whipped cream and cherry on top!
9 | Chief's Chill-Out | Look for Chief's Chill-Out to find the perfect after-meal treat. Owned and operated by a veteran, they offer the ultimate selection of cold desserts.
Their shaved ice is super fluffy and comes in an assortment of classics like cherry and blue raspberry and exciting flavors, such as watermelon, lime, and the popular "mystery" flavor.
Craving ice cream? Their soft-serve cones can't be beaten - especially when topped with your favorite sprinkles.
10 | Chicken Bites | This food truck has taken exotic Brazilian cuisine and made it accessible to the masses. Chicken Bites offers coxinha, a classic Brazilian snack that consists of shredded chicken covered in dough. It's battered and fried after being molded into the instantly recognizable tear dropped shape.
Each coxinha is stuffed with tasty ingredients, like chicken and cream cheese or shredded beef and spinach.
Chicken Bites even offers sweet treats to enjoy after your favorite version of coxinha. The mini churros dulce de leche and Nutella bites will satisfy any sweet tooth.
11 | SMAC Food Truck | A food truck dedicated to mac and cheese? Yes, please! SMAC Food Truck's menu is full of every type of the classic, creamy pasta dish you can think of- and then some! This spot is an excellent choice for vegetarians and meat-eaters alike.
The Classic SMAC is made with the house blend of cheddar and Monterey Jack cheeses, topped with scallions and crunchy Panko breadcrumbs. Adventurous foodies rave about The Jack SMAC- a whiskey and bacon mac and cheese dish topped with cornbread breadcrumbs.
If you have kids with you, order The Pip Squeak- a smaller portion of the signature Classic SMAC topped with everyone's favorite goldfish crackers!
12 | APP's Wings, Tostones & Burgers | APP's Wings, Tostones, And Burgers offers Latin-inspired street food that can't be beaten. The full menu showcases an array of appetizers and entrees that will satisfy even the pickiest of eaters.
For an appetizer, try the empanadillas, filled with shredded chicken breast, tomatoes, onions, and mashed potatoes and filled in your choice of Jalapeno-ranch or pink sauce.
With so many main courses available, it's hard to make a wrong choice. From grilled cheese to the Colombian burger, you'll have to visit this food truck more than once to sample everything worth trying!
13 | Treehouse Truck | When you visit Treehouse Truck, you can expect to find a variety of food for the soul. The menu is full of burgers, cheesesteaks, and even unique items like deep-fried Oreos.
They have a burger for every day of the week. Rachel's Goat Cheese Burger features a fresh, half-pound patty topped with airy, whipped goat cheese, organic greens, and a drizzle of balsamic glaze. Looking for something traditional? You can't go wrong with the All American- a classic burger with American cheese, lettuce, and tomato.
And don't worry about the authenticity of the cheesesteaks- a native Philadelphian is behind the grill, ensuring you get a taste of Philly with every order.
14 | Arrested Appetite | Arrested Appetite has a worldly menu that will stop you in your tracks. Make sure you bring a big appetite because there is a lot to try!
This food truck offers street food elevated with gourmet ingredients. Gorge yourself on The Pig, a pulled pork sandwich paired with creamy coleslaw. The Warrant offers a tostones crab cake sammie filled with fresh pico and guacamole.
For dessert, try the guava cheese mini empanadas. Street food fans will be glad they found the Arrested Appetite food truck.
15 | Burger Lab | Combining the art of cooking with science, Burger Lab brings molecular gastronomy to the streets. Their mouthwatering flavors attract locals and visitors alike lining up around the block.
Burger Lab's handcrafted burger creations are perfectly seasoned and feature fresh, mouthwatering ingredients. Their Donger burger is served on a toasted glazed donut and features a beef patty, American cheese, and crispy smoked bacon.
No matter which burger creation you choose, you'll find yourself wanting another!
16 | Up In Smoke BBQ | This food truck strives for BBQ perfection- and delivers! Up In Smoke BBQ cooks small batches of fresh, high-quality meat to pair with their excellent sides.
Between their custom blend of woods and homemade seasoning rubs, you won't find BBQ like this anywhere else!
17 | Monsta Lobsta Truck | Bringing a taste of Maine to Central Florida, Monsta Lobsta truck focuses on making delicious, nutritious, and mouthwatering lobster rolls. Their fresh ingredients are locally sourced, making them a step above the rest.
Never had a lobster roll before? This portable sandwich is filled with fresh lobster tossed with mayo on a toasted roll. This truck has toppings that take the rolls to the next level no matter what your taste buds crave!
18 | Bloque 45 | Offering an assortment of classic street foods, like tacos, choripan, burgers, and wings, Bloque 45 offers options galore.
The Sandwich De Pernil, complete with savory pork, letters, tomato, and garlic sauce on a French baguette, will have your mouth watering.
More of a burger type? The Bloque 45 signature burger comes with a trifecta of proteins (beef, chicken, and pork) topped with bacon, cheese, and all the fixings.
19 | El Cubanito Subs | El Cubvanito Subs sells the best Cuban sandwiches in Orlando, and they have the receipts to prove it! Winner of several elite food truck awards, this establishment offers full rosters of all-star sandwiches.
You have to start with the Cuban sandwich to see what all the hype is about. Don't forget their homemade flan for dessert!
20 | Tacos Mazatlan- Orlando | Tacos are the epitome of Mexican street foods- and no one does it better than Tacos Mazatlan-Orlando. If you can fit in in a taco, it's probably on their expansive menu!
Starting with a fresh, handmade corn tortilla, the chefs at Oactos Mazatlan load your tacos with your meat of choice, as well as classic, fresh Mexican toppings.
Don't skip the homemade tortilla chips and fresh guac- they will have you devouring every last bite!
Find The Best Food Truck In Orlando
Mouse ears aren't the only thing worth visiting Orlando for. From Mexican cuisine to comfort food favorites, Orlando food trucks are the hidden gems of the culinary scene.
They offer an unparalleled experience that a sit-down restaurant can't compare to. That's why Orlando locals flock to food trucks at lunchtime. Convenience, value, and gourmet food? Yes, please!
So take their word for it and give one of these twenty best food trucks in the Orlando area a try at lunchtime. You won't be disappointed!

RELATED ARTICLE: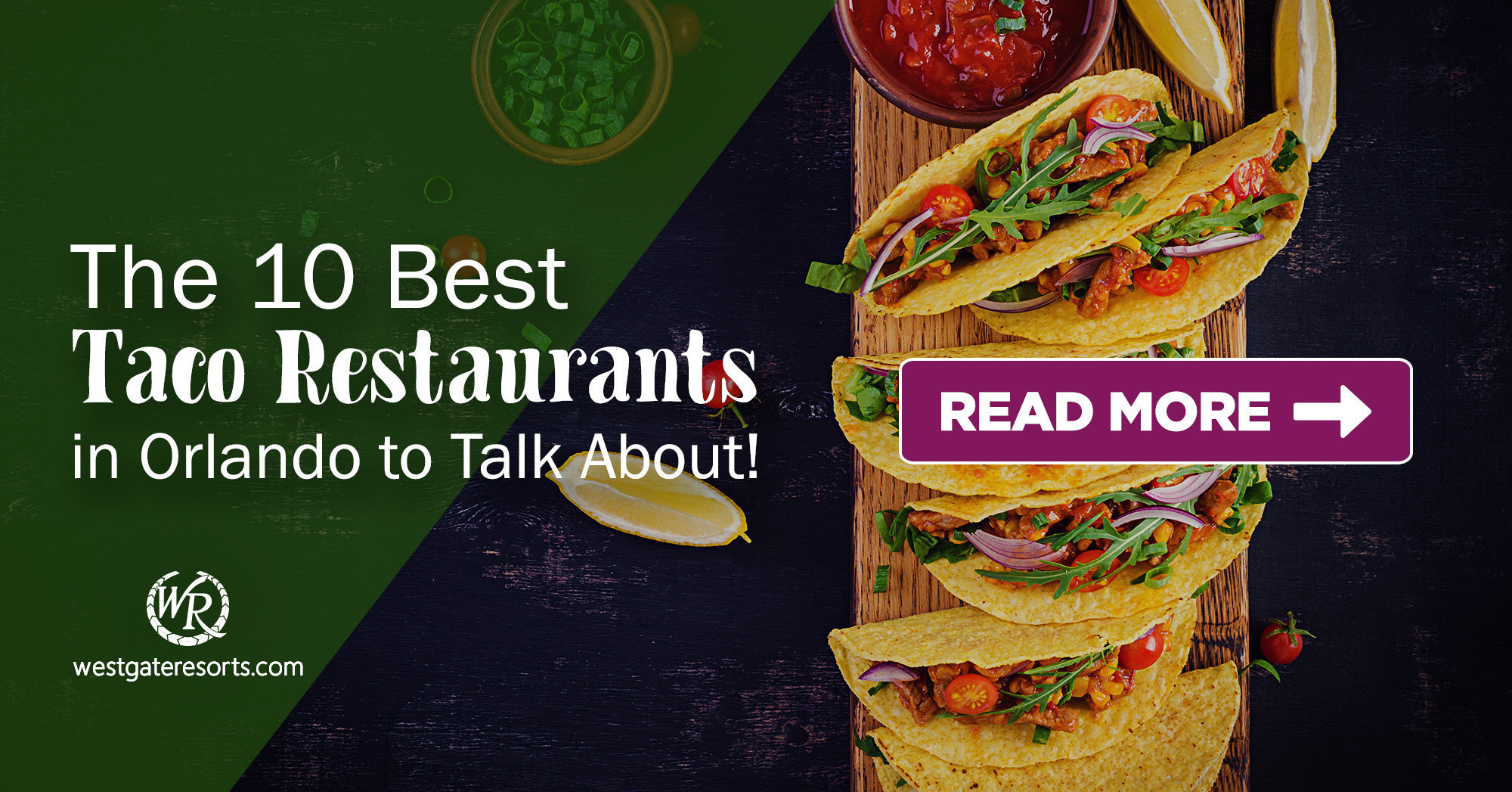 At Westgate Resorts, when you Check-In, there's a LOT to Check-Out! Your Orlando vacation awaits! Explore our Orlando resorts today or talk with a vacation planner at 888-852-2959 or 407-355-2690.
* Westgate Resorts is in no way affiliated with the attractions featured in this article. Items or places listed are current as of the publishing date of this article. Please call or visit the respective website for the most up-to-date offerings and details.
When You Check-in, There's a Lot to Check Out
Sign up for our newsletter and check-in to great offers, secret stuff, and special events.