20 Spring Break Ideas for Families on a Budget
20 Spring Break Ideas for Families on a Budget
It's time to pull the plug on your Zoom life – at least for a week! If you feel like your family has been tethered to their computer screens for the past year, a Spring Break vacation is exactly what you need to refresh and reset as a family, while having a ton of fun. The best part? It doesn't have to break the bank. There are plenty of incredible hidden gems and drivable cities across the country that offer affordable accommodations and memorable attractions.
Whether it's the fun things to do in Orlando, or points of interest NYC offers, there are more than enough options for an epic Spring Break vacay, so pack your bags and plan your itinerary – here are 20 Springs Break Ideas for Families on a Budget!
1 | Cocoa Beach, FL | Cocoa Beach is a quintessential Florida beach town, offering classic beachside hotels, a family-friendly surf, and tons of local shops and restaurants. When it comes to spring break, Cocoa Beach is less likely to be filled with crazy college students, so it's the perfect option for families looking to have some fun in the sun. Plus, it's primely located just about an hour away from Orlando. Jetty Park is a nice option for families, as it features clean restrooms and great views of the cruise ships docked at port. It can be a bit crowded during peak times of the year, so a hidden gem amongst locals and Florida natives is Cherie Down Park – a lot smaller but if you can find a spot it offers free parking, restrooms and easy access to the beach. After your beach day, be sure to check out the iconic Ron Jon Surf Shop. At 52,000 square feet, it's the largest of its kind in the world! End your perfect beach day with a few sunset drinks on the historic Pier – located at the end of the 800-foot boardwalk, Rikki Tiki Tavern features both tasty concoctions and spectacular ocean views.
2 | Gatlinburg, TN | The Great Smoky Mountain National Park is the most visited national park in America, welcoming in over 12.5 million people each year. Gatlinburg is the town at the base of the park entrance and an ideal spot for an affordable spring break vacation. Gatlinburg can be quite touristy, but that's what makes it fun! Downtown Gatlinburg is very walkable, with its quirky shops, museums, and pancake eateries. You might notice an excessive amount of pancake houses in Gatlinburg, just go with it and make sure you stop by at least once during your visit. Anakeesta, a theme park above the tree line, is a popular spot for families to spend the day, with all-day general admission passes going for just $25 for adults and $18 for kids. Get your adventure on with their zip line, mountain coaster, and treetop skywalk – over 800 feet of hanging bridges to walk among the trees. Other Gatlinburg must-dos include Ripley's Believe It Or Not and the Mystery Mansion, an elaborate haunted house open year round. And for the adults? The Ole Smoky Moonshine distillery!
3 | Sedona, AZ | Sedona, Arizona is a vibrant little desert town that has it all: stunning natural attractions, delicious dining, quirky art galleries, and a captivating history told through the bright red rock that surrounds the area. If you're not afraid of a bumpy adventure, strap into one of their famous Pink Jeep Tours for some serious off-roading. If you're looking to get wet, check out Slide Rock State Park, located just 7 miles north of Sedona, it's a popular spot for families to cool down, hang out, and escape the desert heat. Its name literally comes from the 80-foot natural water slide formed from the rocks in the bed of Oak Creek. The water is cold and the rocks are slippery, but hours of family fun can be had here for just $20 per car (March 1-May 22). Don't forget to bring in your own food – the dry rocks above the slide provide the perfect spot to sit and have a picnic!
4 | Orlando, FL | The theme park capital of the world, it's no secret that Orlando prioritizes family fun. Though if you're vacationing on a budget, you might want to avoid the parks entirely. Orlando's Icon Park offers entertainment options for everyone in the family, from thrill seekers to those who prefer to take things slow. Adrenaline junkies rejoice – here you can take a ride on the world's tallest swing ride, the Orlando StarFlyer, or take in the sites on the massive Wheel at Icon Park. If you prefer to stay two feet on the ground, explore Madame Tussauds wax museum or the SEA LIFE Aquarium. Disney Springs is another must-do for families and Disney-lovers on a budget. You could enjoy hours strolling here without spending a dime and just soaking in that Disney magic. Of course, there's tons of exclusive Disney merchandise available for purchase here if you want to take some of that magic home with you. You can also indulge in some serious sweets at Sprinkles Cupcakes or Gideon's Bakehouse, bowl at Splitsville, or see Orlando from 400 feet up in the world's largest hand-painted helium hot air balloon!
5 | Glenwood Springs, CO | Known for its relaxing hot springs, this lesser known mile-high city 3 hours from the Denver International Airport is the ideal spring break destination for families. In addition to its hot springs resort, which boasts the largest mineral hot springs pool in the world, you'll also find ancient caves to explore and America's only mountaintop amusement park! To enjoy Glenwood Caverns Adventure Park, you'll have to take a gondola to the top of the mountain. Spring pricing begins March 12, 2021 – get access to the gondola, cave tours, and a multitude of thrill rides and family-friendly attractions for $47 bucks for adults and $42 for children. If you're looking for free fun, Glenwood Springs is nestled perfectly in the Rocky Mountains and offers tons of stunning views and easy to moderate hikes. One of the most popular is the trail that leads to the grave of Doc Holliday – a famous gunfighter and gambler that died in the town in 1887.
6 | Lumpkin, GA | If you've never heard of Lumpkin, Georgia – trust me, you're not alone. But tucked into this small town 140 miles south of Atlanta is a hidden gem for nature lovers that makes for an excellent spring break getaway for families on a budget. Providence Canyon State Park is known as Georgia's "Little Grand Canyon." The park features over 1,000 acres of unique geological formations and vibrant red dirt. You can hike for hours and its trails provide a great mix of shade and sun. The best part – admission is just $5 a car. Nearby accommodations are slightly hard to come by. The closest, however, is Florence Marina State Park, just down the road, offering campsites and rustic cabins that feature full kitchens and bathtubs. Omaha Brewing Company, a fantastic spot for a great selection of locally brewed beers, is less than 10 minutes down the road. For dinner, venture across state lines into Eufaula, Alabama. This historic city boasts Civil War-era cemeteries, mansions, and tons of Southern small town charm. Check out Cajun Corner for some tasty fare with New Orleans flare.
7 | Williamsburg, VA | Colonial Williamsburg is where history comes to life! It's impossible to visit Williamsburg without learning a thing or two about the old colonial way of life in America. The living history museum is a popular attraction for students and families – you can spend a full day exploring the grounds and a single-day ticket is just around $30 for adults and $15 for kids. Visit the Governor's Palace, learn how to build with wood in the Carpenter's Yard, and visit the Weaver to see how clothes were made in the 18th century. When you're ready, transport back into modern times with a visit to Busch Gardens! If you've ever been to the Busch Gardens in Tampa, Florida this one is totally different and is themed after different cities across Europe. If the weather is warm enough, there's also an awesome water park to check out, Water Country USA – be sure to double check the hours of operation before planning your visit.
8 | Grand Canyon National Park, AZ | With nearly 6 million visitors annually, Grand Canyon National Park is one of the most popular destinations within the United States national park system. It offers panoramic views of one of the 7 natural wonders of the world. If you've never been, this spring break is the perfect opportunity to do so! The North Rim of the canyon is still closed for the winter, with their 2021 season set to begin just in time for summer, on May 15. However, the South Rim is open and accepting visitors this spring. For families on a budget, camping is available near the canyon beginning March 1st at Mather Campground – sites run for as little as $18 a night! Entrance fees to explore the park all day are $35 per vehicle. Be sure to pack some blankets and jackets and hang around after your daytime hikes – the real magic of the canyon is revealed as the sun goes down. The canyon totally transforms and changes color, from the oranges, reds, and greens that are visible during the day to being blanketed in hues of amber, pink and purple. Seeing a Grand Canyon sunset is totally bucket list worthy.
9 | Myrtle Beach, SC | Myrtle Beach is one of those beach towns that becomes absolutely packed during the summer months, so spring break is a great time to visit. Myrtle Beach is known for excellent seafood, seaside amusement parks, and of course – its beaches. North Myrtle Beach is great for that classic beach-town atmosphere, lined with beachside eateries and providing views of amusement park rides. Head to Family Kingdom Amusement Park for great pricing and the most fun in Myrtle Beach! You can buy an all-day unlimited attraction wristband for just $30 and enjoy all the thrill rides, family rides, and kiddie rides your heart desires.
10 | Gettysburg, PA | A visit to Gettysburg is sure to be both educational and fun! Pay a visit to the Gettysburg National Military Park to learn about the Battle of Gettysburg, one of the most crucial battles of the Civil War, taking place in July of 1863. After learning all about what occurred on the battlefield, it's worth paying a visit to the Jennie Wade House, a museum dedicated to the home life of civilians during wartime. Jennie Wade was a young woman who was working in her kitchen when two stray bullets pierced through her door, claiming her life. Like most towns with a long and rich history, you might be interested to spend some time with spirits of the past. You can also visit the Gettysburg National Cemetery or take a walking ghost tour of a historic house. The cemetery contains over 3,500 graves from the Civil War, including the graves of hundreds of unidentified soldiers. It's also home to the Lincoln Gettysburg Address Memorial – the site of the president's world-famous speech!
11 | Mammoth Cave, KY | Ever spent the day exploring pitch black passageways 300 feet underground? That might sound daunting, but Mammoth Cave National Park makes visiting this incredible geological feature possible for thousands of families a year. Mammoth Cave is the longest known cave system in the world, with over 400 miles of known subterranean passages. The park offers a few different types of tours, varying in duration and difficulty level. They even offer a self-guided tour where you can explore some of the most popular areas of the cave system at your own pace, including its historic entrance, Rotunda, Giant's Coffin, and more. Each room of the cave is well lit and includes safe and sturdy stairwells and paths to guide you around the cave, but park rangers will encourage you to consider what it might have been like for the first humans who ventured into the cave's blackness nearly 5,000 years ago. If you end up looking for something to do above ground, Kentucky Down Under Adventure Zoo is just 15 minutes from Mammoth Cave. Included in the cost of admission? Access to their Outback, where you can stroll through an open field with kangaroos! It only costs $1 to feed them and you're guaranteed a great, up close and personal selfie with a kangaroo. In Kentucky?! Who would've thought!
12 | Washington D.C | As the nation's capital, Washington D.C is not at all short on things to do. Packed tightly within its 68 square miles are dozens of museums, monuments, historical sites and government buildings. If your kids just learned about the three branches of the federal government over Zoom, a trip here will help bring the classroom to life! The Capitol, Supreme Court, and White House are all located in D.C and represent each facet of the American legal system at their highest level. When it comes to museums, the Smithsonian is fantastic and typically offers free admission 365 days a year but is currently closed due to the pandemic. Be sure to double check the websites for museums for reopening dates before your trip. In the meantime, head outside for some fresh air and explore the National Mall, home to some of the most captivating monuments to our nation's history – from the Washington Monument to the Vietnam Veterans Memorial. This area is very walkable and if you're lucky, your visit just might coincide with the spring cherry blossom bloom! The National Cherry Blossom Festival takes place from March 20 to April 11 each year.
Pro tip – hotels in the D.C area can be quite pricey – stay in nearby Alexandria, Virginia for a much more affordable visit!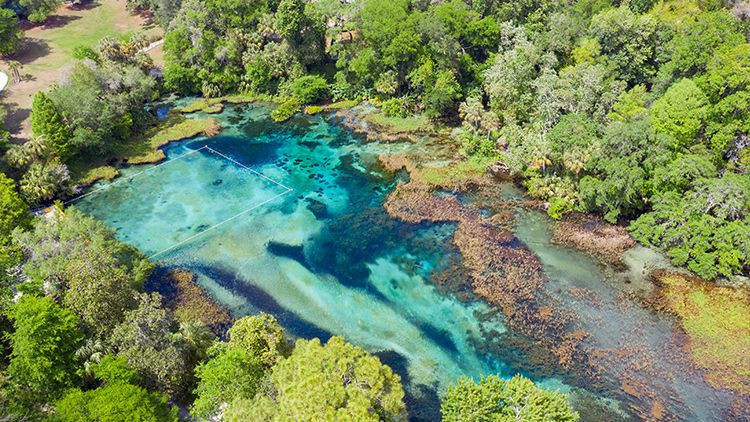 13 | Gainesville, FL | Situated in between Orlando and Jacksonville, Gainesville is a small town with big energy. Typically, Gainesville is packed to the brim with college kids on every corner. Home to the University of Florida, more than 50,000 students call this Florida town their temporary place of residence. But Gainesville is also a great city to visit for a family-friendly spring break trip on a budget. When you first arrive, spend the day exploring the university campus, checking out the iconic Century Tower and Ben Hill Griffin Stadium, known amongst Gainesville natives and students as The Swamp. If you have any pizza lovers in the fam, for dinner head over to Satchels Pizza, a super quirky pizza joint where you can dine on your pie inside an old Volkswagen van. Gainesville is also primely located less than an hour from three of the best natural springs in Florida – Blue Springs, Ichetucknee Springs, and Ginnie Springs! Florida springs are refreshing, relaxing, and fun for the entire family. Whether you like to swim, float, or sunbathe on land, the springs have something for everyone. Ginnie Springs has higher fees but provides quality inner tubes and is very well maintained. Gilchrest Blue Springs State Park is super laid back and charges just $6 a car to enter. The area near the swimming hole also features a snack bar with cheap treats along with picnic tables and tons of shade.
14 | Atlanta, GA | Known for its sports teams and southern hospitality, Atlanta is a vibrant city whose culture is the perfect mixture of modernity, history and tradition. There are tons of things to see and do in both downtown Atlanta and in the surrounding suburbs and nature areas. In the city center, visit the Georgia Aquarium, World of Cocoa-Cola, or the Atlanta Botanical Gardens. You can also learn about important aspects of the Civil Rights Movement by visiting the childhood home of Martin Luther King Jr. Escape the city with a day trip to Stone Mountain Park, just 25 miles outside of Atlanta. The park features 15 miles of hiking and trails with varying ranges in difficulty. The Walk-Up Trail is only 1 mile and features views of downtown Atlanta and the Appalachian Mountains. There's even a snack bar at the summit, which is over 1,600 feet above sea level! Similar to the Wizard of Oz, you just follow the painted yellow line along the trail and you'll reach the top in no time.
15 | Destin, FL | Located in the panhandle of Florida, Destin is a popular spring break beach destination for those in the south – its much easier to get to than other beaches in Florida, as it's just an hour from Mobile, 3 hours from Montgomery, and 4 hours from New Orleans. With its beaches on the Gulf of Mexico, its waters are turquoise and crystal clear! Because of this, it's the ideal spot for snorkeling, fishing, and boating. There are tons of great rental and tour spots for visitors looking to experience Destin like a local. Visit the Destin Harbour Boardwalk for some great restaurants with fresh seafood and fun beachy vibes! And for a fun, super-soaked day off the beach, head to Big Kahuna's Water & Adventure Park to race down rides and slides and float down a lazy river. All day fun can be had here for less than $50 bucks a person.
16 | St. George, UT | St. George is known for its close proximity to both Zion National Park and Bryce Canyon National Park, two of the most popular national parks in the state, each known for Utah's signature vibrant red rocks and one of a kind geological structures. If you decide to make a visit to Zion's most popular hiking area, the Narrows, make sure you wear shorts and mentally prepare to walk around the rest of the day with soggy socks – a hike through the Narrows requires getting your feet wet in the river that passes through the appropriately-named gorge. When it comes to Bryce Canyon, no visit is complete without venturing down into the canyon itself. The preferred method for many? Horseback! There are several companies to choose from that will outfit each member of your family with a horse or mule for as little as $68 per person. The guides that lead these tours are well versed in the history of the canyon and will keep you entertained with interesting facts and cowboy stories!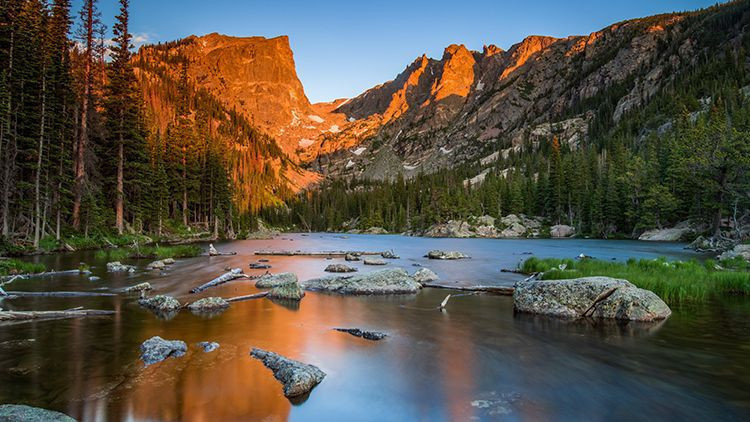 17 | Estes Park, CO | The quaint town of Estes Park is sometimes referred to as the gateway to the Rocky Mountains. Spend the morning and afternoon hiking and driving the winding roads that make up the national park, making sure to stop at every lookout spot to take in the panoramic mountain views. Check their website before your visit to ensure the roads and trails you want to explore are open and in good condition. While typically open late-May, if you have the chance, make your way up to the Alpine Visitor's Center along Trail Ridge Road for breathtaking views as well as snacks and gifts. Fun fact – this is the highest elevation visitor center in the National Park System at 11,796 feet! If you're looking to fully immerse yourself in nature, the hike starting at the Bierstadt Lake trailhead is easy to moderate, with an excellent payoff at the top. The end of the trail opens up to a stunning alpine lake surrounded by forest. Keep your eyes peeled – I've spotted several moose here, nestled beneath the trees or taking a drink from the lake! Once back in town, a stroll through the main downtown streets offers plenty of shops and eateries. For the kids and candy lovers – check out all of the shops that specialize in freshly made taffy! For lodging, the Estes Park KOA Campground is a great, affordable option and is super convenient in terms of location. Fans of Stephen King's horror movie classic The Shining will be excited to pay a visit to the historic Stanley Hotel – one spooky night in this hotel in the 1970s became the inspiration for King's famous novel! Some of the rooms are even known to be tied to certain paranormal spirits…Don't fear, even if you can't manage to book a stay here, they also offer fabulous daytime and nighttime tours, starting at as little as $23 per adult and $17 per child.
18 | Custer, SD | South Dakota is one of the least populated states in the country but don't let that fool you – it's absolutely worth paying a visit to! Home to the iconic Mount Rushmore memorial and surrounded by the natural beauty of the Black Hills mountain range, lovers of nature and classic Americana will find lots to do in this expansive midwestern state. The small city of Custer has tons of old Western charm including a picturesque downtown featuring classic saloons, cafes, and specialty shops boasting Western wear, leather, jewelry and more. A visit to Mount Rushmore is a great spring break option that won't break the bank! There is no fee to get in to see the Mount Rushmore memorial, just a $10 parking fee that gets you in to park for the rest of the year – so you can come and go as many times as you'd like during your trip. There are several paved paths that make taking in the monument and its history easy from any angle. You'll also want to spend a day exploring Custer State Park, keeping your eyes peeled for some of the 1,500 gigantic buffalo that roam within the gates. You won't have to look too closely – they're hard to miss! You might even see one cross the road in front of your car. Take your time enjoying the scenic highways and byways that wind through the sprawling park. Be sure to stop for some pictures and a picnic at Sylvan Lake, one of the most recognizable spots in the park, known for its rock formations and its feature in the second National Treasure film! If for any reason you missed out on a buffalo sitting in the park, you may just into some of the majestic beasts back in town – stunning statues of the animal were hand-painted by a local artist then placed on various street corners in downtown Custer.
19 | St. Augustine, FL | Did you know that St. Augustine is considered the oldest city in America? The city has come a long way since 1565 and is a great place for an affordable spring break getaway! Known for its 17th-century Spanish fort, the Castillo de San Marcos, as well as its guided ghost tours, exploring St. Augustine's history is both fun and interactive. Admission fees for the fort are just $15 for adults and free for anyone under the age of 16! The Old Jail After Dark Trolly Tour takes you inside the city's old jailhouse. A truly hands-on experience, you'll get up close and personal with the spirits that haunt the jail using the latest ghost hunting equipment. The city is also home to Flagler College, formerly the Hotel Ponce de Leon – one of the first buildings in the nation to receive electricity and a stunning example of Spanish Renaissance architecture that is a popular spot for visitors. St. Augustine is a very walkable city, with the historic downtown area offering tons of unique bars, eateries, and shops just steps away from the hotels that line the water.
20 | Branson, MO | Did you know that Branson is known as the Live Entertainment Capital of the World?! This family-friendly city has over 60,000 theater seats for watching incredible live entertainment. While some live shows may be put on hold due to the pandemic, there's still plenty to check out in Branson! Located in the heart of the Ozarks, Branson is surrounded by lush, green mountains, so it's a great place to unwind and spend time outdoors – from hiking to enjoying water sports out on one of Branson's three major lakes. You'll also definitely want to spend a day at the popular amusement park Silver Dollar City, known for its thrill rides and 100 resident craftsmen that create and share the heritage of American crafts daily. They have experts demonstrating the making of everything from leather and pottery to furniture and candy. Another super unique attraction in Branson – the Titanic Museum. The museum gives guests the Titanic experience, from receiving a passenger boarding ticket to hearing stories about real passengers and browsing actual artifacts from the ship's wreckage. It's an awesome educational experience for kids and adults alike.
Final Thoughts about Springs Break Ideas for Families on a Budget!
There is truly nothing like the lasting memories created during a family vacation. There is fun to be had in every corner of the U.S – you just have to know where to look!
Many of the family-friendly destinations on this list are cities that boast parks within the National Park System. Since most require an entrance fee of $20-$25 per vehicle, it might be worthwhile for your family to consider if you plan to visit more than a couple of these parks during the year. If you plan to visit several parks, they offer their America the Beautiful – The National Parks and Federal Recreational Lands Annual Pass. For just $80, your family can access over 2,000 federal recreation sites! Looking for even more vacation ideas, tips and insider tricks? Be sure to check out our Travel Blog.
Stay safe and happy travels!

RELATED ARTICLE: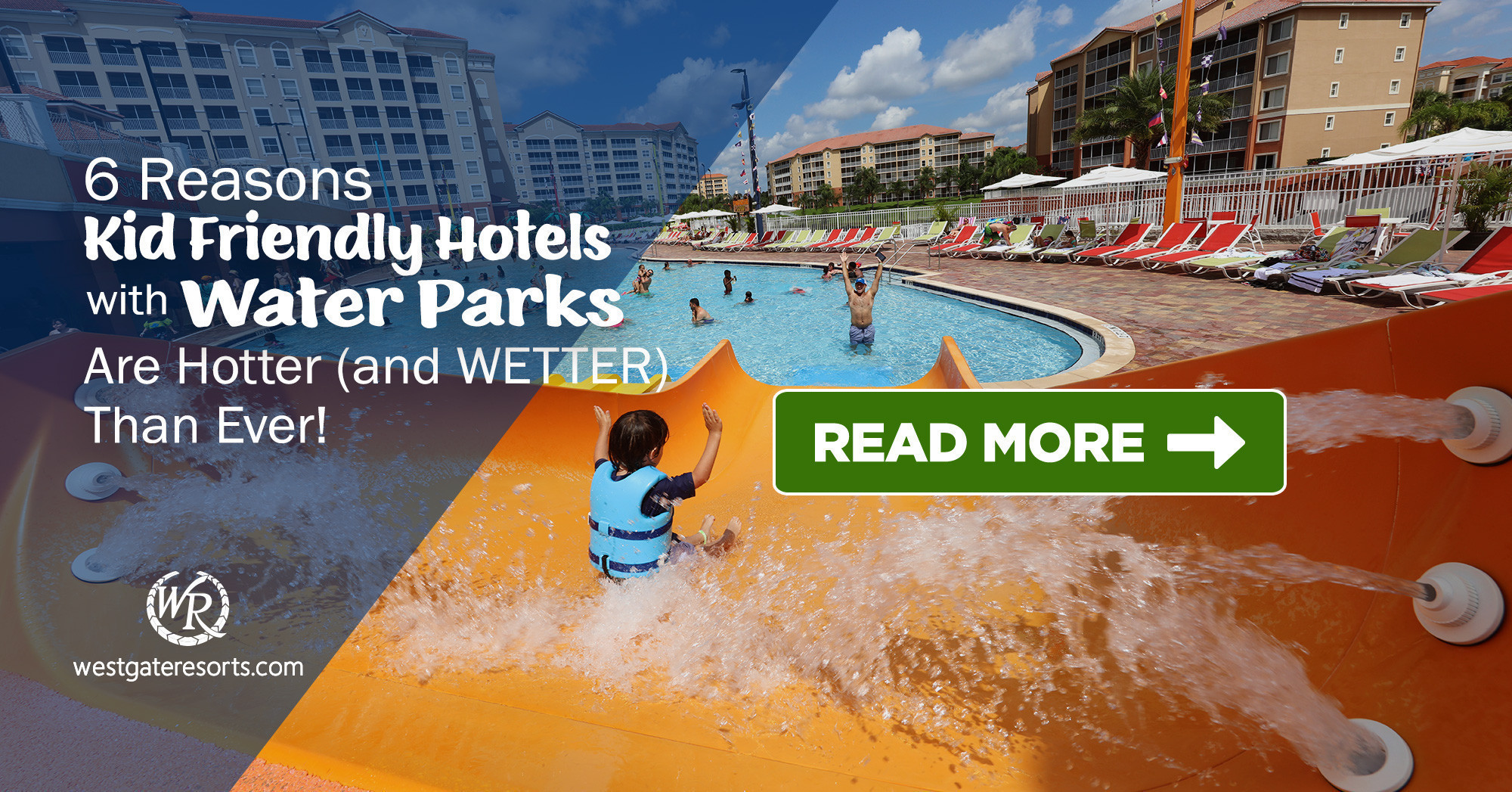 At Westgate Resorts, when you Check-In, there's a LOT to Check-Out! Your vacation awaits! Start planning your next vacation today or talk with a vacation planner at 888-852-2959 or 407-355-2690.
* Westgate Resorts is in no way affiliated with the attractions featured in this article. Items or places listed are current as of the publishing date of this article. Please call or visit the respective website for the most up-to-date offerings and details.
When You Check-in, There's a Lot to Check Out
Sign up for our newsletter and check-in to great offers, secret stuff, and special events.