Getting Sick on Vacation: How to Save Your Getaway From Ill-Timed Illness
Pack wisely with medicines, supplements and wipes.

Eat a balanced diet of fresh, immune boosting foods.

Stay hydrated leading up to and during the vacation.

Drink alcohol in moderation.

Maintain your exercise routine before and during vacation.

Get enough sleep so you feel rested.

Slow your pace and don't wear yourself out.
Getting Sick on Vacation: How to Save Your Getaway from Ill-Timed Illness
"Afoot and light-hearted I take to the open road/Healthy, free, the world before me …" – Walt Whitman, "Song of the Open Road"
Canadian journalist Marni Jackson once quipped, "The first axiom of the family vacation is that someone, possibly everyone, will get sick." It's true that sometimes the stresses of travel – including but not limited to red-eye flights, multiple delays and cancellations, jet lag, unfamiliar environments and exotic cuisine – can wreak havoc on your immune system. A nagging sore throat, persistent cough, endlessly runny nose, irritating stomach bug and/or all-around fatigue can quickly turn a dream vacation getaway into your worst travel nightmare.
According to Travel + Leisure, "Contagious germs are everywhere when you travel, but ignoring the symptoms of impending illness can destroy an entire itinerary." It doesn't help matters any that "airports and train stations are cesspools of viruses," according to Prevention magazine. In fact, a frequently cited study that appeared in the Journal of the American Medical Association (JAMA) revealed that 20 percent of airplane passengers surveyed reported respiratory infections within five to seven days after their flight. In addition, Dutch researchers have even come up with a term for the travel illness phenomenon, "leisure sickness," which has its origins in stressful conditions like the "difficulties with the transition from work to nonwork, stress associated with travel and vacation, as well as workload and personality characteristics." Fortunately, there are steps you can take to limit your chances of falling ill during your travels, as well as ensure a quick recovery if you or a family members does happen to get sick on the road.
Be Prepared Before and During Your Travels
In order to significantly lessen your odds of getting sick during your next vacation getaway, make sure to follow these helpful travel tips (in addition to washing your hands frequently, of course!):
Pack wisely. Bring along plenty of hand sanitizer and disinfectant wipes (if you are flying to your destination, make sure to sanitize all the surfaces you touch during your flight), as well as a first aid kit for general emergencies. Other items you may want to consider taking on your trip include antihistamine, pain relievers, anti-diarrheal medication, Vitamin C supplements, sunscreen and aloe gel for sunburns. Also, make sure you have extra prescription medication and carry a list that includes all your medications and medical conditions (including allergies) in case of emergency. Finally, don't forget to bring along a good pair of walking/hiking shoes.
Eat a balanced diet. Although vacations provide the perfect excuse to overindulge in the local cuisine, make sure to choose your meals wisely so that you can maintain a semblance of a healthy diet on the road. For example, you can boost your immune system by avoiding unhealthy, processed food and instead choosing fresh fruits and vegetables as healthy snacks in between meals. Consider an egg-white omelet or protein-rich shake for breakfast instead of calorie-laden pancakes and waffles. Also, avoid food from street vendors, stay away from junk food and steer clear of those tempting all-you-can-eat buffets, which can wreak havoc on any sensible eating plan.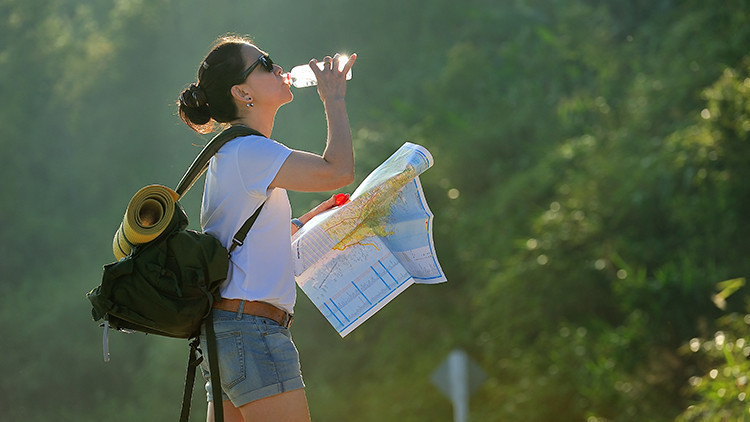 Stay hydrated throughout the day. Drink plenty water throughout the day, especially if you are headed to a theme park in the sweltering summer heat. Make sure to carry a water bottle with you at all times. By the way, symptoms of mild to moderate dehydration include muscle cramps, constipation, dizziness, headache and sleepiness. Note: If you're traveling abroad, make sure to check if the tap water is safe to drink. It you're unsure, always drink bottled water instead (avoid drinks containing ice as well).
Drink alcohol in moderation. Travelers often feel the need to cut loose and party the night away while on vacation (especially cruise passengers!). However, not only is alcohol loaded with calories, but it can contribute to jet lag and tends to disrupt your sleep as well – leading you to become more susceptible to illness. The key to alcohol intake on vacation is to always consume in moderation (and by all means stay away from the hotel mini bar!).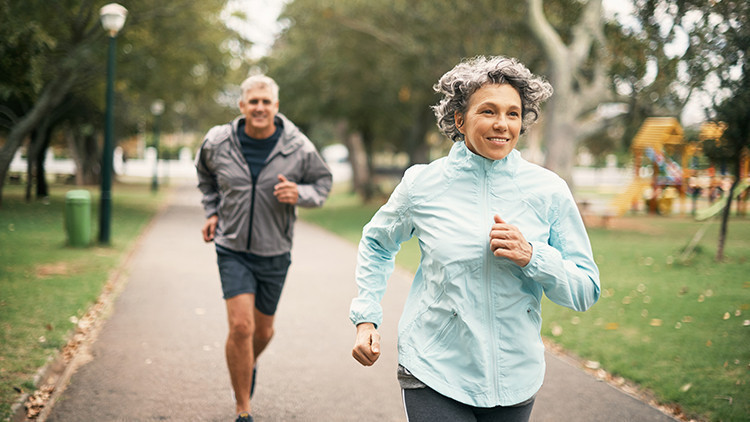 Maintain your exercise routine. When you arrive at your destination, try to forgo the metro or subway as much as possible and simply walk everywhere. Take advantage of your hotel's fitness center or try to get a guest pass at the local gym. If your hotel doesn't have an exercise room, simply work out in your room (sit-ups, push-ups, jumping jacks, etc.) and take a jog through the neighborhood. Also, take the hotel stairs instead of the elevator up to your room whenever possible. Many major cities in the United States have initiated bike share programs or you can simply contact a nearby bike shop and inquire about bike rentals. Bike and walking tours may also be available at your destination such as cemetery tours, architecture tours and even pub crawls. Another good option is to look up nearby hiking trails and rail-to-trail paths. Looking for the ultimate outdoor recreation vacation with endless exercise possibilities? Consider heading out to an authentic dude ranch!
Get enough sleep when you travel. Start good sleeping habits before you leave on your trip and try to get at least 7 to 8 hours of sleep every night while on vacation. In fact, it has been scientifically proven that your body can actually fight sickness and disease better when it has adequate rest. Tips for sleeping better on the road include sticking to the same bedtime routine as home as much as possible, avoiding large meals before bedtime, taking a warm bath before you going to bed and adjusting your sleep schedule if you are traveling to a different time zone.
Slow down and pace yourself. Since you are on vacation and should build in time to relax and unwind, you don't want to overload your itinerary with too many activities. Build in so-called "buffer days" to your itinerary to help you wind down after a long flight or right before you have to head back to work. As comedian Robert Orben once remarked, "A vacation is having nothing to do and all day to do it in."
What to Do If You Get Sick On Vacation
Unfortunately, no amount of preparation is foolproof, so there definitely will come a time when you're feeling rundown during your travels. The good news is that most common illnesses on the road usually only last a day or two, so by following these tried-and-true strategies, you should be on your feet exploring the sights again in no time:
Watch your intake. Most importantly, if you get sick during your travels, get plenty of rest, eat bland foods and drink plenty of water until you feel well enough to resume your vacation itinerary.

Medicate moderately. As soon as cold or flu symptoms start to occur, immediately begin taking over-the-counter cold medications and pain relievers, which will help you get a good night's sleep. We're not saying to start pounding valium or anything - far from it! But keeping symptoms at bay with conventional OTC medication isn't a bad idea, depending on your symptoms. (By the way, don't forget to get your annual flu shot at least two weeks' before taking a trip.)

Find a doctor or clinic. If your symptoms get worse and you need to find a doctor, call your insurance company or visit their website (make sure to pack your health insurance card, so you have all the info you need handy). If you are traveling overseas, get healthcare recommendations from such highly regarded organizations as the International Association for Medical Assistance to Travelers (IAMAT) and International Society of Travel Medicine (ISTM).

Slow your pace. Modify your itinerary and take it easy until you're feeling better. Schedule less-strenuous activities such as guided bus tours (where you can enjoy the sights without exerting yourself), watch a live show or IMAX movie presentation, or simply take the afternoon off and relax on the beach or by the pool. Heed the advice of Carl Honoré, author of In Praise of Slowness: Challenging the Cult of Speed: "The great benefit of slowing down is reclaiming the time and tranquility to make meaningful connections – with people, with culture, with work, with nature, with our bodies and minds."

Family quarantine. Make sure no one else in your family gets sick by taking extra precautions such as washing your hands regularly, carrying your own luggage, and refraining from using anyone else's cell phone or room key. If possible, you might even want to consider booking a separate room for yourself for a couple of nights while you recover.

Staycationize! Take advantage of all of your hotel's amenities during your recovery (consider it as kind of an in-room "staycation") like ordering some room service, taking endless hot baths and/or showers, requesting extra pillows and blankets, and binge-watching Netflix movies on large-screen TVs.

Relax and go with the flow. Last, but certainly not least, make yourself as comfortable as possible and try to maintain a positive attitude. You're on vacation after all, so appreciate the fact that you have some free time to relax and do nothing for a day or two! As the late, great celebrity chef and travel documentarian Anthony Bourdain once remarked, "Travel isn't always pretty. It isn't always comfortable. Sometimes it hurts, it even breaks your heart. But that's okay. The journey changes you; it should change you. It leaves marks on your memory, on your consciousness, on your heart and on your body. You take something with you. Hopefully, you leave something good behind."
So if your annual vacation or family roadtrip is coming up, and you feel a little tickle in the back of your throat coming on, make sure to follow these basic guidelines to head off any potential 'plague' as you head into your precious downtime! Your family will than you for it, and so will your wallet (getting sick on a getaway can sometimes get expensive). It's true that a lot of times sickness can't be helped, but you can still have all the benefits of going on vacation and help yourself if you just take a few minor precautions!
Like our travel blog? Learn more about some sweet romantic getaways, check out these great solo trip ideas just for women, learn how to eat affordably while on vacation, get some great Memorial Day hotel discounts, and figure out your own family bucket list, all right here on the Westgate Travel Blog!
At Westgate Resorts, when you Check-In, there's a LOT to Check-Out! Your vacation awaits. Start planning your next vacation today or talk with a vacation planner at 888-852-2959 or 407-355-2690.
* None of the content in this blog post/repost should be construed as medical advice of any kind. Please see your physician if you have questions related to your personal health, wellness or any symptoms you may be experiencing. Westgate Resorts is not liable for any action taken or course of treatment mentioned by or related to this article.
RELATED ARTICLE:
When You Check-in, There's a Lot to Check Out
Sign up for our newsletter and check-in to great offers, secret stuff, and special events.