10 Antique Stores Las Vegas Locals Visit All Year Long
The 10 Best Antique Stores in Las Vegas
We've all heard about the crazy things to do in Vegas, but there's more to the city than nightlife. If you're looking for things to do during the day in Vegas, then you've come to the right place.
Las Vegas is also known for its antique shopping. Whether you're looking for classic furniture, heirloom jewelry or fine silverware, Las Vegas is a great destination to browse for new treasures. With a plethora of merchants to choose from, Sin City will leave you spoiled. Planning a trip to the city? Make sure these 10 antique stores are firmly on your must-see list!
Antique Stores in Las Vegas, Nevada
Las Vegas is best known for its casinos and world-class entertainment venues, but there's much more to this city than glitz, glamour and debauchery. Las Vegas is a haven for antique collectors, too! If you're going to Vegas alone or spending time as a couple in Vegas, shopping for antiques is a great activity. The city is full of highly rated merchants and retro stores.
You'll find collectibles and vintage knick-knacks for every style, taste and budget. In this blog post, we'll be sharing our 10 favorite antique stores in Las Vegas. So, without further ado, let's dive in!
1 | Charleston Antique Mall | Great variety and affordable prices. Established in 1987, the Charleston Antique Mall is a glorious place indeed. Here you'll find 18,000 square feet of antique goodness. The mall works with upward of 60 seasoned dealers who bring their amazing wares from all around the country. Centrally located near the Las Vegas Strip, it's the perfect place to go after some city sightseeing. They even have an eBay store so you can continue browsing once you're back home!
WHERE: 560 S. Decatur Blvd., Las Vegas, NV 89107 | WHO: 702-228-4783
RELATED ARTICLES:
8 Reasons to Ride with Uber to Your Next Getaway
6 Ways the Westgate Resorts Mobile App Makes Your Life Easier
12 Top Foodie Destinations NYC Locals Keep Hidden
2 | Not Just Antiques Mart | Join in on an antique auction. This consignment warehouse on Western Avenue is a real gem. Here you'll find a vast array of vintage items and collectibles. It also runs a fully functioning auction house, as well as online auctions and eBay sales. Not Just Antiques Mart also specializes in estate sales, so there's always a really eclectic mix of items available. It's definitely worth a visit if you're in town.
WHERE: 1422 Western Ave, Las Vegas, NV 89102 | WHO: 702-384-4922
3 | Antique Alley Mall | Retro paradise. Right in the heart of the Las Vegas Arts District lies Antique Alley. This isn't just an antique store, it's a whole street of antique merchants running between the Stratosphere and Charleston Boulevard. The street is full to bursting with intriguing treasures and fabulous oddities. It's a true retro lover's paradise, and you'll find some great deals too!
Here you'll find everything from classic antiques to vintage items and some retro-style reproduction pieces. At the heart of Antique Alley lies Antique Alley Mall, which is open seven days a week from 10 a.m. to 6 p.m. You name it, they got it.
WHERE: 1126 S Main Street, Las Vegas, NV 89104 | WHO: 702-684-5177
4 | Main Street Peddlers Antique Mall | The self-proclaimed "friendliest" mall in Las Vegas. Peddlers Antique Mall on Main Street is a classic antique mall in the heart of the Las Vegas Arts District. Located on Antique Alley, this 7,500-square-foot showroom is a real treasure trove. The mall prides itself on stocking one of the widest selections of antiques and rare vintage goods in Vegas. This is a place where people go to shop and make friends all at once. The owners' mission is simple: make friends, not customers!
WHERE: 1400 S Main St, Las Vegas, NV 89104 | WHO: 702-476-1400
5 | Las Vegas Antique Center | Best for small trinkets. The Las Vegas Antique Center is a firm favorite for locals and tourists alike. And it's no surprise given its prime location, located just 10 minutes from the Las Vegas Strip. This store specializes in small items that you can pack and take back home with you. There are thousands of trinkets and collectibles, with everything from vintage handbags to figurines. Plus, on the 15th of each month, shoppers can get 15 percent off on all purchases.
WHERE: 608 S Decatur Blvd, Las Vegas, NV 89107 | WHO: 702-462-9555
6 | Vintage Vegas Antiques | Antiques with a funky twist. Vintage Vegas is an antique store with a difference. Here, you'll find the coolest selection of retro items in the city. From vintage casino pieces to "dead people's junk and cool crap" (the store's own words), this isn't your classic antiques store. The shop even makes and sell custom neon signs! Not sure where to start? The staff is always more than happy to help you find what you're looking for.
WHERE: 1229 S Main St, Las Vegas, NV 89104 | WHO: 702-539-0799
7 | Silver Horse Antiques | The department store of antiques. For furniture, lamps, glasswork and other collectibles, look no further than Silver Horse Antiques. The store is set up just like a department store with a designated section for different types of items. The staff really knows their stuff, so come with all your questions and enjoy the experience. To top it all off, once you've picked your trinkets, they'll be rung up on a real antique cash register!
WHERE: 1651 E Charleston Blvd, Las Vegas, NV 89104 | WHO: 702-385-2700
8 | Josette's Antiques | Antiques with a personal touch. In the heart of downtown Las Vegas lies Josette's Antiques. This fabulous antique store is run by Josette and her loveable German Shepherd, Austin! Here, you'll find a real melting pot of antique pieces and vintage gifts. Josette is super welcoming, and her knowledge is second to none. The same can't be said about Austin, but he's pretty cute.
WHERE: 1632 E Charleston Blvd, Las Vegas, NV 89104 | WHO: 702-641-3892
9 | Main Street Mercantile | Perfectly eclectic in every way. If you like eccentricity, then Main Street Mercantile will be right up your alley. This store may be small, but it's perfectly formed and eclectic through and through. Here, you'll find everything from bespoke wear to vintage fashion and unique antiques. Not able to take an item home right now? Don't worry, Main Street Mercantile also operates an eBay store full of great listings.
WHERE: 1235 S. Main Street, Las Vegas, NV 89104 | WHO: 702-592-0929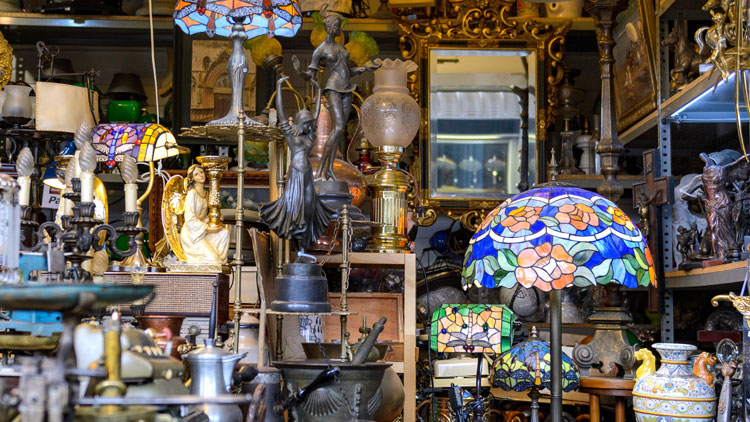 10 | Okie-Dokie's Antiques | Winner of the greatest name for an antique dealer. Okie-Dokie's Antiques & Collectibles has been buying and selling all kinds of collectibles since the 1990s. You'll find this shop in the Tropicana Beltway Center in Las Vegas. Here, you'll find a wide array of sterling silver items, figurines, pottery and china, crystal, Waterford and even Disney memorabilia! Rummaging around this store is like stepping into a treasure trove, so make sure you leave plenty of time to browse.
WHERE: 5130 S Fort Apache Rd, Las Vegas, NV 89148 | WHO: 702-625-6570
Use Our Handy Map to Find Your Way Around!
Last Tips On Las Vegas Antique Stores!
Las Vegas is brimming with amazing antiques, vintage and thrift items. Whether you're an antiques lover or not, step away from the bright lights for a while and take a look. With so many antique stores, malls and markets to choose from, you'll be sure to find that special item. For more travel guides and tips, visit our Westgate Resorts Travel Blog.

RELATED ARTICLE:
At Westgate Resorts, when you Check-In, there's a LOT to Check-Out! Your vacation awaits! Start planning your next vacation today or talk with a vacation planner at 888-852-2959 or 407-355-2690.
* Westgate Resorts is in no way affiliated with the attractions featured in this article. Items or places listed are current as of the publishing date of this article. Please call or visit the respective website for the most up-to-date offerings and details.
When You Check-in, There's a Lot to Check Out
Sign up for our newsletter and check-in to great offers, secret stuff, and special events.