The New York City Family Vacation Guide: 10 Ideas To Try In Central Park!
The New York City Family Vacation Guide: 10 Ideas To Try In Central Park!
"Let the park live in you until it sings you a song." – Zack Love
A veritable paradise for families seeking fun and adventure in New York City, Central Park encompasses 843 acres in the heart of Manhattan and offers something for everyone – including a myriad of playgrounds and ballfields, rock formations and nature sanctuaries, castles and forts, bridges and arches, rowboats and model sailboats, gardens and theaters, eclectic statues and carousels, scenic lakes and ponds, ice skating rinks and pools, amusement parks and much more. In fact, with more than 40 million annual visitors annually, Central Park is the second most-visited tourist attraction in the United States (after Times Square).
Opened in 1859 as the first public landscaped park in the United States, Central Park was the brainchild of legendary landscape architects Frederick Law Olmsted (known as the "Father of Landscape Architecture in America") and his mentor Calvert Vaux. According to Olmsted in Writings on Landscape, Culture and Society, "A park is a work of art, designed to produce certain effects upon the mind of men. There should be nothing in it, absolutely nothing – not a foot of surface nor a spear of grass – which does not represent study, design, a sagacious consideration and application of known laws of cause and effect with reference to that end." Today, Central Park is operated by the Central Park Conservancy and contains 58 miles of pedestrian pathways. In addition, an estimated 305 films have been shot in Central Park – including such classics as The Apartment (1960), Marathon Man (1976) and Ghostbusters (1984) to name a few – making it the world's most filmed location. And who could ever forget Kevin befriending the "Pigeon Lady" of Central Park (much to the chagrin of Harry and Marv!) in Home Alone 2: Lost in New York (1992), or the epic snowball fight and the dreaded Central Park Rangers in Elf (2003)?
Designated as both a National Historic Landmark and New York City Landmark, Central Park serves as "the grandiose symbol of the front yard each child in New York hasn't got," according to the late, great American humorist Robert Benchley. It's also one of the most relaxing places in NYC and a great place for a brief respite from all the hustle and bustle of Manhattan as you and your family unwind and enjoy a rare oasis of nature surrounded by the towering skyscrapers of the Big Apple and one of the best Instagram spots in NYC. Here are 10 ideas to try in Central Park that the entire family will enjoy:
1 | Central Park Zoo | "Discover your wild side" at the Central Park Zoo! Though the actual history of the Central Park Zoo dates to the 1860s with a very informal collection of animals, the present facility opened in the southeast corner of Central Park in 1934 and was renovated in the late 1980s. Operated by the Wildlife Conservation Society (which also runs the Bronx Zoo, New York Aquarium, Prospect Park Zoo and Queens Zoo) and accredited by the Association of Zoos and Aquariums, the state-of-the-art Central Park Zoo features four major zones: Tropic Zone, Temperate Territory, Polar Circle and Central Garden. In addition, the premises include the Tisch Children's Zoo, Dancing Crane Café, 4-D Theater and gift shop, as well as the delightful George Delacorte Musical Clock, which features an amazing sculpture carousel. The diverse range of wildlife that call the Central Park Zoo home include snow leopards, seals, penguins, sea lions, grizzly bears, antelopes, Arctic foxes, wolves, puffins, lions, monkeys, bears, red pandas, snakes, lemurs, river otters and tropical birds.
2 | Belvedere Castle | One of Central Park's best-known family attractions, Belvedere Castle lies just south of The Great Lawn and east of both the American Museum of Natural History and the Swedish Cottage Marionette Theatre (see No. 7). Built in 1889 and overlooking Turtle Pond, Belvedere Castle ("belvedere" being Italian for "beautiful view") sits atop Vista Rock and offers spectacular views of the surrounding Park from its observation decks. Completed in 1872, Belvedere Castle was originally designed by Calvert Vaux and Jacob Wrey Mould as a Victorian-style "folly," but has also served as the official Central Park weather station since 1919. Today, Belvedere Castle contains one of Central Park's visitor centers, a gift shop and the Henry Luce Nature Observatory.
3 | Central Park Carousel | A favorite among Central Parkgoers, the Central Park Carousel (AKA Michael Friedsam Memorial Carousel) attracts nearly 250,000 riders annually is actually the fourth carousel to occupy the site at the southern end of Central Park near East 65th Street. Believe it or not, the original carousel was operated using a mule or horse under the platform, while the next two carousels were steam-powered. The current Carousel, which features 57 hand-carved horses and two decorative chariots, was discovered abandoned in an old Coney Island trolley terminal and relocated to Central Park in 1951. By the way, the Central Park Carousel is featured prominently in J. D. Salinger's classic 1951 novel The Catcher in the Rye: "Then the carousel started, and I watch her go round and round … All the kids tried to grab for the gold ring, and so was old Phoebe, and I was sort of afraid she's fall off the goddam horse, but I didn't say or do anything. The thing with kids is, if they want to grab for the gold ring, you have to let them do it, and not say anything. If they fall off, they fall off, but it is bad to say anything to them."
4 | Heckscher Playground | Since Central Park co-designer Frederick Law Olmsted considered parks strictly to be places for quiet reflection in nature, there is little doubt that he would be outraged by the hordes of hyperactive kids that descend upon any of the 21 playgrounds sprinkled throughout Central Park on a daily basis. However, there is no denying that each of the Central Park playgrounds has its own distinct personality and their immense popularity endures. For example, Central Park's first and largest playground, Heckscher Playground, opened in 1927 and encompasses 1.8 acres in the southwestern corner of the Park near Umpire Rock (see No. 8). Named for notable industrialist and philanthropist August Heckscher (1848 - 1941), the Playground not only features the usual assortment of slides, swings, seesaws, tunnels and bridges, but also a wading pool and unique rock formations to climb.
5 | Alice in Wonderland Statue | Arguably the most popular of the 29 sculptures sprinkled throughout Central Park, the 16-foot bronze Alice in Wonderland statue based on Lewis Carroll's beloved 1865 children's classic, Alice's Adventures in Wonderland, showcases Alice sitting atop a giant mushroom surrounded by her friends – Cheshire Cat, White Rabbit and Dormouse – at a tea party hosted by none other than the Mad Hatter (a caricature of American magazine publisher and philanthropist George Delacorte, who donated the statue in memory of his wife). The statue itself, which children are invited to climb on as a play space, was created by Spanish-born American sculptor José de Creeft (1884 - 1982). Dedicated in 1959 and located directly north of the Conservatory Water near East 75th Street, the Alice in Wonderland statue also contains lines from "Jabberwocky," Carroll's famous nonsense poem: "'Twas brillig, and the slithy toves did gyre and gimble in the wabe."
6 | Wollman Rink/Victorian Gardens Amusement Park | Billed as "Central Park's Most Exciting Attraction," the scenic Wollman Rink lies in the southeast corner of the Park and just west of Central Park Zoo. First opened in 1950, the Rink has served as the backdrop for a variety of movies – ranging from Love Story (1970) and Carnal Knowledge (1971) to Serendipity (2001) and Mr. Popper's Penguins (2011), as well as some memorable episodes of Impractical Jokers. A snack bar on the premises serves hot cocoa and assorted snacks. During the summer, Wollman Rink is transformed into Victorian Gardens Amusement Park, which features a variety of carnival rides, games and food, along with live entertainment for all ages.
7 | Swedish Cottage Marionette Theatre | One of the most unique family-friendly attractions in Central Park, the Swedish Cottage Marionette Theatre has been home to a resident troupe of highly talented puppeteers since 1947. The authentic Swedish Cottage itself was constructed as a traditional schoolhouse in Sweden in 1875, shipped to the United States, displayed at the 1876 Centennial Exposition in Philadelphia, and then dismantled and relocated to Central Park under the guidance of Frederick Law Olmsted the following year. Owned by the New York City Department of Parks & Recreation and operated by the City Parks Foundation, the Swedish Cottage Marionette Theatre is a member of the Historic House Trust. Over the past several winters, the Swedish Cottage has hosted a highly popular presentation of Yeti, Set, Snow!
8 | Umpire Rock | Central Park boasts several impressive rock formations with Umpire Rock (AKA "Rat Rock") arguably being the most popular. The "exposed mound of ancient bedrock" is estimated to be 450 million years old, according to the Central Park Conservancy. Overlooking the Heckscher Ballfield and Heckscher Playground in the southwest corner of the Park, Umpire Rock provides an ideal locale for climbing, bouldering and/or simply enjoying spectacular views of the surrounding midtown Manhattan skyline. Other noteworthy rock formations in Central Park include Summit Rock, Vista Rock, 79th Street Transverse Tunnel and Cop Cot.
9 | Conservatory Water | Prominently featured in E. B. White's classic 1945 children's novel, Stuart Little, Conservatory Water (the original plans for Central Park called for a conservatory that was never built) serves as the prime Central Park locale for Parkgoers of all ages to navigate radio- and wind-powered model boats across its smooth-as-glass surface. The adjacent Kerbs Boathouse offers model boat rentals and the Kerbs Boathouse Cafe. During the winter, Conservatory Water transforms into an ice-skating rink. By the way, both the Alice in Wonderland and Hans Christian Andersen statues can be found near Conservatory Water.
10 | Lasker Pool & Ice Rink | Opened in 1966, the Lasker Pool lies in the northernmost section of Central Park and offers the perfect spot to cool down and beat the sweltering summer heat. Just like Conservatory Water, the Lasker Pool, which overlooks the Harlem Meer, transforms into an ice-skating rink (as well as hosting youth and adult hockey leagues) during the winter months. Plans are underway for a $150 restoration project of the Lasker Pool and surrounding area with construction slated to commence in spring 2021 and completion set for 2024.
BONUS #1 | Balto Statue | A favorite attraction among younger Central Parkgoers, the Balto Statue is located just northwest of the Tisch Children's Zoo and east of the Literary Walk. Sculpted by Frederick G. R. Roth (1872 - 1944), this bronze climbing statue commemorates the heroic Siberian husky sled dog that braved a snow-blinding blizzard in 1925 to deliver lifesaving medicine to residents of Nome, Alaska, during an outbreak of diphtheria. The Balto statue was unveiled that same year with the real Balto in attendance as an honored guest. According to The New York Times, Balto "displayed only dog interest in the ceremony." Named after Samuel Balto, a legendary Sami explorer and adventurer, Balto spent his final years at the Brookside Zoo in Cleveland until his death in 1933 at the age of 14 (he was stuffed and mounted, and today resides as part of the permanent collection at the Cleveland Museum of Natural History). Two other works by Roth, Dancing Goat and Honey Bear, can be viewed at the Central Park Zoo.
BONUS #2 | Turtle Pond | A great locale to spot Central Park wildlife, the Turtle Pond (formerly known as Belvedere Lake) lies at the base of Vista Rock between the Great Lawn and Belvedere Castle. It is home to five species of turtles year-round – Red-Eared Sliders, Snapping Turtles, Painted Turtles, Musk Turtles and Box Turtles – along with an assortment of birds, frogs, fish and dragonflies. Turtle Pond has been designated as one of Central Park's "Quiet Zones," along with Strawberry Fields, Sheep Meadow, Shakespeare Garden, East Green, Conservatory Water, Conservatory Garden and Bethesda Terrace.
Use Our Handy Map To Find Your Way Around Central Park!
Embark on a Fun-Filled Family Adventure in Central Park!
Whether you simply wish to relax and unwind on the Sheep Meadow or enjoy one of the myriad of attractions that make Central Park one of the most popular destinations in the world, you and your family need to experience this oasis of greenery amid the city that never sleeps! While you're at it, don't miss the opportunity to sample all of the other fun things to do in New York City, visit historic NYC taverns, check out some of the most weird things to do in NYC including best karaoke places in New York City and top escape rooms in Midtown NYC. Don't forget to tour the best free museums in NYC , wine bars in Midttown East Manahattan and most of all, save dollars with the best New York City hotel discounts for accommodations ideally located in the heart of Midtown Manhattan East.
At Westgate Resorts, when you Check-In, there's a LOT to Check-Out! Your New York City vacation awaits! Explore our New York City hotel today or talk with a vacation planner at 888-852-2959 or 407-355-2690.
* Westgate Resorts is in no way affiliated with the locations/markets featured in this article. Menus, services and products listed are current as of the publishing date of this article. Please call or visit the respective market for the most up-to-date offerings.
RELATED ARTICLE: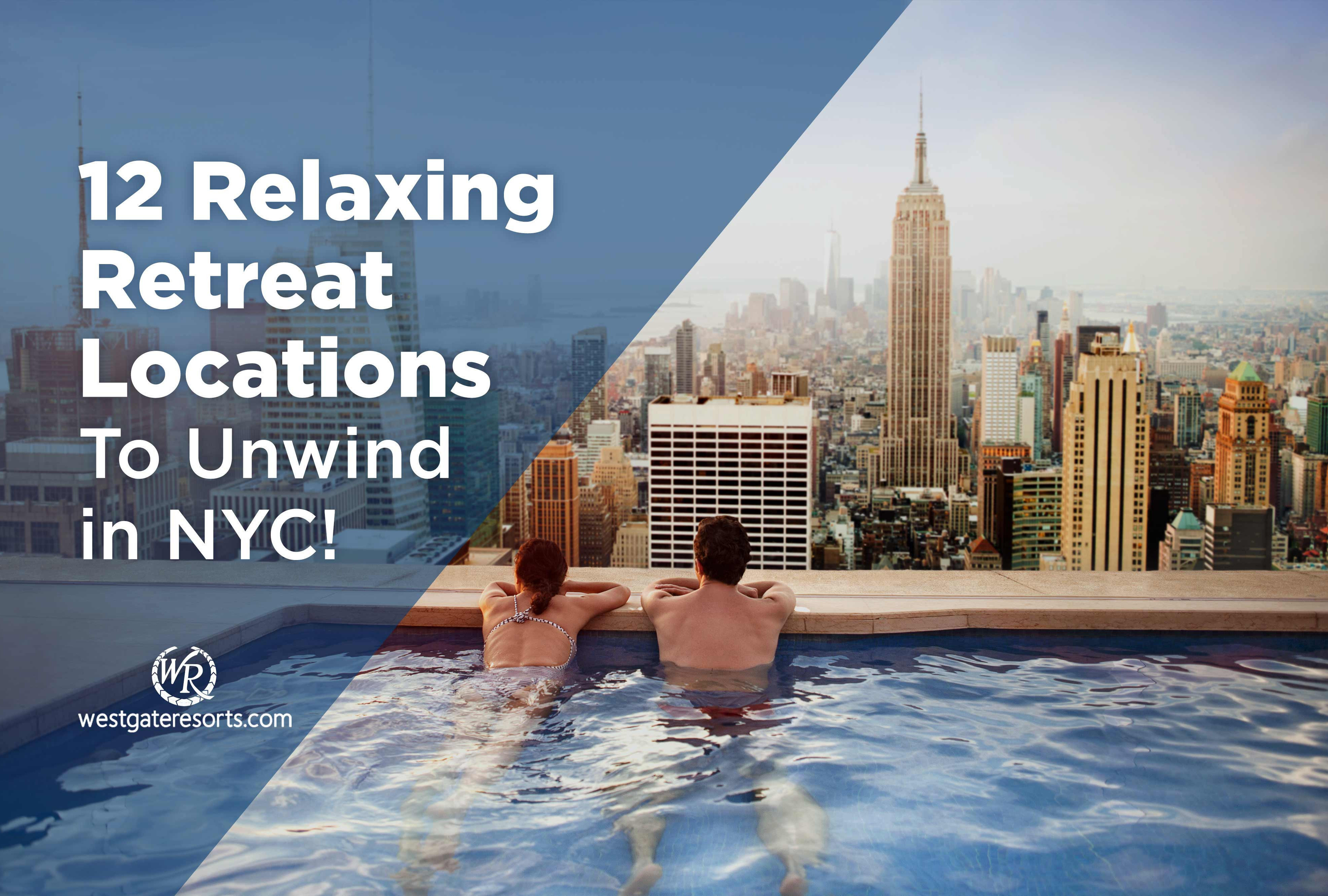 Other tagged pages of interest: midtown east hotels, things to do near Grand Central Station, NYC nightlife, holiday bars in NYC, karaoke NYC, wine bars midtown NYC, rooftop bars NYC, hotels, staycation
When You Check-in, There's a Lot to Check Out
Sign up for our newsletter and check-in to great offers, secret stuff, and special events.